ARCHIVE - FEBRUARY 2006 - TRAVEL TO CHINA!!
---
2/26/06: Today Emma attended a birthday party for her friend Megan, who turned three. We were worried because she didn't take an afternoon nap, and figured she would be tired and cranky. We showed up and she had so much fun meeting everyone and watching everything that was going on. She was given her first balloon, which was lots of fun, but taken away when she tried to take a bite out of it. She really wanted Megan's metallic Elmo balloon (it was shiney!).
She got her first bites of pizza - just the soft crust, and a couple of bites of vanilla cake (which she enjoyed playing with - see the pictures for this!!). Needless to say, she loved both, but her meal mainly consisteded of apple and chicken baby food. I'm wondering how long she'll continue on the baby food when she sees everyone else eating different things.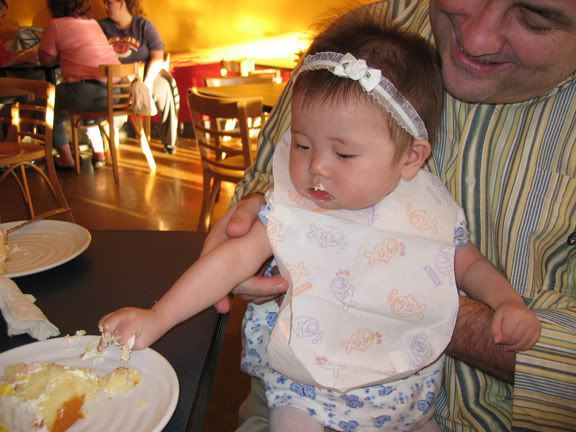 ---
2/23/06: This picture is for Mawmaw who is trying to figure out what an exersaucer is. Emma loves it and has so much fun playing with the toys and jumping around strengthening her leg muscles. We've attached some link-a-doos with toys too, because she's practicing her pitching with toys lately. This way, they don't go too far and she can't use the mutts for target practice.
I've uploaded some pictures of Emma playing with her beautiful new blocks given to her by mommy's friend Rhonda. So do you think we have a future architect on our hands? Not that we're biased or anything, but we think she's brilliant....she kept reaching for the "E" block (she already knows that's the first letter of her name).
Monday will not be a fun day for Emma. She has her first doctor's visit, where they will work her over for about 4 hours. They are going to check to see what immunizations that she has received and to see if we need to re-do any of them. I think we're going to have a cranky baby (and a cranky momma) on our hands after that!
---
2/21/06: Emma had a big day today. She visited mom and dad's co-workers today. They were all very excited to see her and didn't even mind all of the drool. She was rushed around from person to person and she did really well seeing a bunch of new faces. Sorry to be so quick, but we were trying to see everyone before nap time. We expected her to fall asleep in the car seat when we were heading home, but I guess she was hungry, because she pitched a fit and I had to reach around to the back seat and feed her fruit puffs the whole way home. Every time she said "Ummm" she was ready for another one.
She has slept through the night for the last two nights (YEA!!). Now I need to work on my sleeping habits. Whether it is NMS (new mommy syndrome) or adjusting to jet lag, I'm having a hard time sleeping at night. Hopefully that'll be done with soon.
We introduced Emma to bubbles today. We had to close the door to her room because the mutts go crazy over bubbles...can't even say the word bubbles around them, you have to spell it. She was laying in her boppy and wasn't quite sure what to make of them.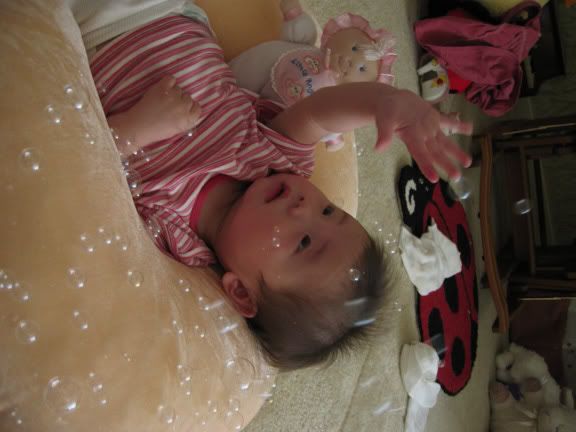 ---
2/19/06: Ok, here you go. Here is the next "fix" for you Emma-web junkies. I've heard from loyal followers that they have missed the daily postings. Life isn't as exciting as it was in China and we're just sitting at home trying to adjust. When we arrived home, there was a stork waiting for us. How many months have we been waiting to see that darned stork, and here he is, right in our front yard.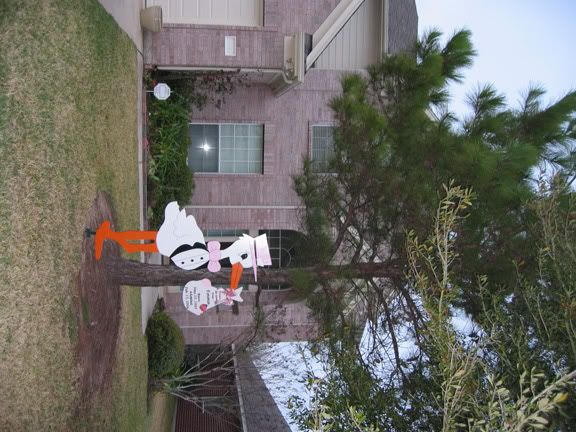 We've been home for about four days and it's been a rough transition with the time change and with a new tooth making an appearance. Emma didn't want to sleep again. She would take a couple of 30 minute naps throughout the day, then be up most of the night. Last night was the first night she (and we) got a decent night's sleep. Hopefully she'll continue that trend and we can get into some kind of schedule. It was probably just because she was exhausted. Ooops, there she goes... she's crying after being asleep for only 15 minutes... looks like we're in for another long night. I think separation anxiety will be a big problem for us. She throws a fit if we are out of her vision. Poor little thing has had so much to deal with in the last couple of weeks.
Other than that, she's done well. She's met a bunch of new people who were very excited to meet the TwoMutts Celebrity. She's already been shopping at Target and the grocery store. She's made an appearance at the local Chinese restaurant and tonight was her first Mexican meal (which she loved both). She's still eating very well and will eat anything put in her mouth. With something new, she'll make a funny face, but continue eating and have her mouth wide open like a baby bird for each bite. I'm sure that will all change and she'll become picky soon.
Emma has met the mutts, and has really taken to them. They, on the other hand, keep looking at us trying to say "When is she leaving???". Every time we leave, they are excited that we come back, but when they see Emma, they have this look of disappointment - Oh man, SHE's back. Emma thinks they are hilarious and given the chance, would love to pull on their ears. We hope that once she reaches the stage of throwing food off of the high chair, they'll be best friends.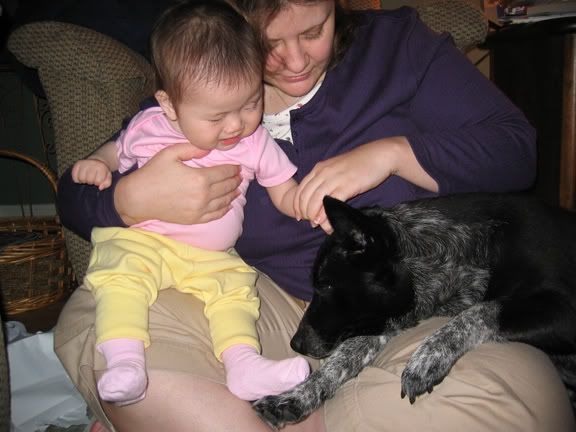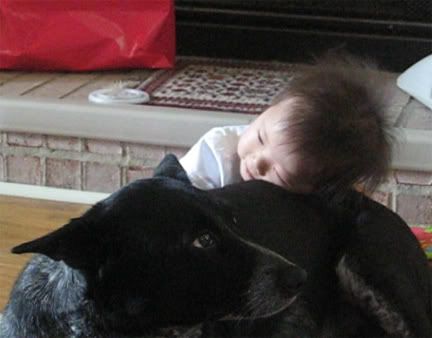 Emma's taken to the car seat pretty well. She doesn't like getting into it, but once the car is moving, she's fine and has even fallen asleep in it (and she told me that she loves the little flowers on it too - just as much as mommy does). Today she got an exersaucer (that belonged to her cousins) and she has loved it so far. It's given our arms a little break, where we can actually do something - it has to be in the same room as us, but at least we were able to unpack some of our suitcases. She went for a ride in her fancy new stroller yesterday. I bundled her up since it got a bit chilly here and threw a blanket over her. She loves the jeep stroller and fell asleep in it before we were three houses down the street. I, on the other hand, was about to fall asleep pushing it, so we cut the stroll short and went home. I know we're going to have fun walks in the future (Thanks Aunt Ginny!!!!).
That's it for this edition of "Day in the Life of Emma". Check back and I'll try to keep you updated with the exciting life of a nine-month old. (and yes, she's still screaming...)
---
2/16/06: HOME!!! We made it home. It feels so good to finally be home. I slept from about 5:30pm to 11:30pm and Emma woke me up. It was so funny to show her around her room. She had the biggest eyes, just looking at the bookshelf and at all of the toys. When we first walked in, she had the biggest smile. It was very cute.
She wasn't the best traveler. She got cranky pretty quickly. We managed to get her to sleep for a few hours in my arms, but we had to make sure her head wasn't flopped into the aisle, because the drink carts were flying around and I was scared they were going to run into her. I know she wasn't too comfortable on the plane, plus she's teething alot right now.
Well, just a short post to let you know that we have arrived home safely. The next few days will be a big adjustment for Emma, but I think she will do fine. She's done so well with all of the transitions in her life for the last 2 weeks. Now on to working on the jet lag thing, since technically it is Feb 16, but it's 12:30 am and we're all up!!
---
DAY 14: February 14, 2006 - Guangzhou
Our last day and last official appointment in Guangzhou (and my last post from China)! This afternoon we have to go to the American consulate to take an oath to swear that we'll take care of our babies and give them a good life. There will be about 60 families there today. Unfortunately, all we can bring there is a baby, 2 passports and ourselves. No bags or cameras. Security issues, I guess. After that, we're free to leave China!
We had our last group meal last night at the Cow Bridge restaurant. It's a Thai restaurant, and it was very good. It was sad, because it's the last few hours with the other families we've been sharing this amazing journey with. We are all Texas families, so hopefully we'll be able to see each other in the future. Tonight is our last night at the White Swan, which we'll spend packing. We bought another suitcase yesterday, which looks like it might be able to last all the way home. We leave early tomorrow morning for our long flight home.
This morning after breakfast, we all met for the official "Red Couch Photo". It's a tradition for adoptive families to take the babies picture on the red velvet couches they have here in the White Swan Hotel. We were pretty lucky and none of the kids were crying. They looked a bit overwhelmed with all of the adults clapping and trying to get their attention. Look at these three cute Jiangxi beauties!
We are so grateful to our families, friends and co-workers for helping to make this dream come true, to the Chinese Center for Adoption Affairs for matching us with this amazing little girl, and to the People's Republic of China for entrusting us with one of their beautiful daughters.
---
DAY 13: February 13, 2006 - Guangzhou
Yesterday we were doing some shopping and one of the store clerks made this for Emma while we shopped. We sure got her name right - Lovely and Strong.
Then at another place, the store clerk gave Emma this little beaded hat. She wore it for about 30 minutes and people on the street were just ohh'ing and ahhh'ing over how cute she was. Of course she was sleeping but when she woke up, she wouldn't have anything to do with it!
Today we are sitting in the hotel room for a couple of hours while our guide walks Emma's Visa application through the US consulate. We have to stay here in case there are some problems with the paperwork and they can call us for any verification. After that, the rest of the afternoon is free (shopping!!). We've gotten Emma several little mandarin type outfits for her to wear for the next few years. They are so beautiful and there are so many choices. You can hear little kids everywhere wearing squeeky shoes. They put little squeekers in the soles of the shoes to encourage little ones to walk. It's pretty funny to hear. But good news, the squeaker can be removed if it gets too irritating. Emma is the proud owner of three pairs (so far).
We had another little milestone this morning. Emma fell asleep on her own for a nap, without being in the stroller, baby carrier or being rocked to sleep. She's such an active little thing and she doesn't want to miss anything. We tried to feed her the bottle at breakfast this morning, but she was too busy looking at all of the other little babies to eat. We found some jarred baby food yesterday. The flavors were very interesting.... Pureed marrow with vegetables, liver and onion paste, but we did find some mixed fruit that she loved. This little girl can also down a bottle in two minutes flat!! She also had some noodles and fried rice at dinner yesterday, which she loved too.
We are so ready to come home, even though we are loving our stay in China and enjoying learning all about Emma's birth country. Living out of a hotel room with a baby is not the easiest thing in the world, especially with our little light sleeper. We are ready to introduce Emma to the rest of her family and help her adjust to life with us (and get some kisses from two fuzzy mutts!!!!!!). Two more days before we can start the long journey home (and what fun that should be!).
---
DAY 12: February 12, 2006 - Guangzhou
We received a treasure today. We had the camera developed that came from Emma's foster family. Unfortunately, only one picture turned out. It is of Emma and her foster mother. She's holding the little panda bear that I had sent with the care package. I hope some other child will enjoy it, as we didn't get it back. I took a picture of the picture so I could post it. We're so happy that at least one photo was good.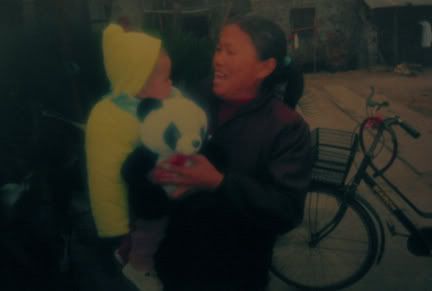 Today we went to Yuntai Gardens. The place was so beautiful and amazingly manicured. The park was full of people as it was the weekend. There was a building full of orchids, and another with bonsai trees. We were trying to take pictures of all three babies in front of some flower beds, and we turned around and saw a bunch of Chinese people were taking pictures of us acting like fools trying to get all of the babies to look our way.
Then we went to the Chen Family Museum that was full of beautiful old jade, porcelin, wood carvings, bronze statues and papercuts. Our guide only gave us 30 minutes at this place so we ran around trying to see everything. They also had some great souviner shops here and we picked up some beautiful treasures.
From the video today, you'll see that little four-toothed Emma thinks it's funny to take the spoon in her mouth and not give it up. We're laughing right now, because she's sitting on my lap while I one-hand type this and she's just cooing and making herself giggle. It's so funny. Now if she would just figure out how to take a nap - life would be great!
---
DAY 11: February 11, 2006 - Guangzhou
Today we had Emma's medical exam so we can get her back into the US. We went early in the morning to beat the rush. Our guide, Nelson is wonderful about getting us in and out of places quickly and before the crowds. The White Swan hotel is full of adoptive families. It looks like every other person is carrying a Chinese baby. I guess that's normal here. The White Swan is a beautiful hotel, I just wish our room was a bit larger. The weather is glorious! We can walk around without coats and gloves, but the babies still need to be layered because this is their winter (even though it's about 75 degrees). This afternoon is the first free time we have here, so I'm sure the other families are out shopping. We're inside with a little cranky monster who doesn't want to take a nap. She's so exhausted and rubbing her eyes, but won't go to sleep. She can throw such a temper tantrum when you put her in the crib. Legs and arms go flying and you can tell that she's just yelling at you to pick her up. I hate to put her in the crib asleep, because I'm sure it's better for her in the long run to be in her crib awake, but for now, we do what we have to, to get her some sleep. Plus with being in the hotel, I'm sure people will probably be calling the Chinese version of CPS on us for letting our baby cry so much.
The medical exam was pretty funny. Of course, she fell asleep in the baby carrier on the walk there. When we got there, the nurse took her temperature (normal), then took her from me to weigh her (16.8 lbs) and she never even woke up. Then we went to the ENT part of the exam. They woke her up and squeeked toys behind her head, then played a little keyboard on the other side to see if she could hear. They looked at her eyes, then attempted to look in her mouth. The next station was the "Medical and Surgical" station where she was stripped down and they stood her up and kept asking me how old she was. I was thinking to myself, well, she wasn't putting any weight on her feet when we first got her, so for 6 days later she's almost supporting her full weight herself, so I think she's doing incredibly well. Then they layed her down and poked around her abdomen and then all of the sudden she peed all over them. That's my girl!!! End of exam!!! That was the entire exam!
Afterwards, one parent from each family gathered and we did some more paperwork. I think this is the last round of forms we have to fill out (here at least). We finished the application for her visa and got her picture attached to it. That should be processed by Monday.
On our walk back to the hotel, we passed by a Catholic church. There was a big gathering and we managed to get some photos. There is also a nice park on the way back. It has a bunch of exercise equipment in there that the local people were using. They were also groups of people doing some kind of dancing and others were playing a form of hacky-sack. The park was also full of bronze statues of kids, and even statues of Americans adopting Chinese babies.
Gotta run. TIME TO SHOP!!!!!!!!!!!
__________________________
Wow, shopping was tiring. There are so many shops. We found the Charity Shop. It's a store where the proceeds go to help the orphanages. We bought Emma a quilt there with Pandas pieced together on a ladybug background. Very cute. I'll take a picture later since she's finally sleeping. We're not even taking her out of her stroller since she's sleeping well.
---
DAY 10: February 10, 2006 - Guangzhou
Today we got Emma's passport and we were able to leave chilly Nanchang. We just got to Guangzhou (and the weather is so wonderful!!!). It was a very long day. Thank goodness it was only an hour flight. Emma screamed the first half of it. Wow, it's really hard to type with a baby helping you out. We just arrived this evening at the White Swan hotel. Our group went to the Cow Bridge restaurant (Thai), but we were so tired, so we just ordered a (very expensive and not so great) hamburger from room service. This will be a pretty short post today, since we're so exhausted.
Emma is still having her little rash break outs. They are like little welts that come and go within minutes, and she is just itching around her head and neck like crazy. We're going to try to go see the doctor tomorrow to see what we can do to relieve her. We're wondering if it is the detergent used in the laundry service. We may try to wash some of her clothes out in hot water. It's only been happening the last couple of days, so that may be the culprit.
Tomorrow we go to get photos for her visa application and get her medical exam so she can enter the US. Then let the shopping begin!!!!!! First purchase will be a cheap stroller. Our backs are killing us from lugging all of this stuff + baby around. Next will be luggage. (oh, Dad, this is probably a good time to tell you this but remember that suitcase I borrowed from you? My curse with flying and damaging luggage has continued, but it wasn't my fault this time. It's still in working order, but on the flight over here, they broke the handle off of the side).
Oh and Emma is a little celebrity. Apparently everyone was excited about the video I posted and it got so many hits that I used too much bandwidth. Blaine's friend who is hosting my site said he's never had one customer go over a gig of bandwidth, so he's upgraded it for a few days.
Well, that's it for today. Goodnight from a sleepy crew in Guangzhou.
---
DAY 9: February 9, 2006 - Nanchang
Today we woke up to a little bit of snow on the roof tops. It's pretty windy and very cold still. The other two families were supposed to make the long trek to visit their orphanages today, but Nelson thought the roads might be too dangerous, so he took us to a cultural museum here in Nanchang. It was four floors and we had the place to ourselves. There was so much beautiful porcelin, which is famous here in Jiangxi province. I just wish I could buy Emma a tea set here. The porcelin is so beautiful, but there is absolutely no room in the luggage. In the museum there was also some embroidered shoes, children's hats, replicas of how people lived and even a bridal cart that would bring a bride to her wedding. It was chilly in there - no heat in the place. I wish it was a little warmer here so we could do a bit more wandering around outside, but it's just too cold. We leave tomorrow afternoon for Guangzhou.
Emma is getting to be a smiley, giggly little girl. She's so precious. When I opened the bathroom door after my shower this morning, she gave me the biggest grin. It looks like she may be having a little allergic reaction to something. When we returned from the museum, she had red welts on her back and around her neck. We stripped her down and gave her a quick bath, just in case it was the clothes making her break out. When we get to Guangzhou, we're going to take her to the doctor. I've heard there's a western doctor (she's from Australia) in one of the neighboring hotels. Emma also has a little bump on the back of her head that we're not quite sure what it is. She itches it from time to time, but it hasn't seemed to change since we've gotten her. Except for the itching, she's getting to be a happy girl. All of the girls in our group seem to be opening up more and more every day. We can actually lay her down on the bed or in the crib for a few minutes without her screaming. She really fights going to sleep. Maybe because of what's happened in the last few days and she doesn't know what she's going to wake up to. She's doing really well considering that we've turned her life upside down.
Today one of our families witnessed at breakfast, one of the foster fathers found his way to the hotel and when he found the little girl he had fostered, he started crying and gave the family a piece of jade for her. He wanted to see her one last time and give her a gift from them. Apparently it was a pretty traumatic for everyone involved. The foster families and adoptive families are not encouraged to keep any contact with each other and usually aren't even allowed to meet. We have no information about Emma's foster family and our guide said that even the orphanage knew little about her, when we asked about her daily routine or even what they called her. One good thing is that we actually received a disposable camera back when we got Emma. When we had first received our referral back in December, I contacted a woman who lives in Texas who sends care packages to your child in the orphanage or foster care. Her father still lives in China, so he sent a small panda bear, some snack type things for the foster family, a note translated into Chinese, saying that we will love Feng Chu Kui forever and provide her a good home, and a disposable camera. I was able to see when the package arrived, but there's never a guarantee that you will receive the camera back. We are so happy to get that camera back and hopefully it'll have some pictures of her with her foster family so we can show her when she gets older. We'll have the camera developed when we get to Guangzhou. Actually I think they gave us the camera back the day we got her, but we didn't know it, because they kept asking everyone in the group who had lost their camera, but nobody had. Then next day when we went to get our official paperwork done, they came back again and said whose camera is this. Then they said it's for Feng Chu Kui, and I remembered the disposable camera. So we almost didn't get it!
Yesterday we bought a "chop" for Emma. It's something that people use in China to officially sign documents (it's like a rubber stamp). Most business people use them for signing contracts. Emma's has her American name and the Chinese symbols for her Chinese name (Feng Chu Kui) with her Chinese zodiac on top of it (she's a rooster). When we received her, the orphanage director gave us a framed Kabuki mask as a gift and the Jiangxi province adoption center gave us a beautiful porcelin vase as a gift. One of the most precious things we'll be returning with (besides Emma) is a little book with our first family picture taken just moments after meeting Emma (with her screaming), saying that China sees us as her parents.
---
DAY 8: February 8, 2006 - Nanchang
Sharon's recipe for a sucessful night's sleep: 3 glasses of Great Wall red wine and a half of an Ambien pill. Blaine is still working on the world's record for how many days someone can stay awake. If anyone knows the record, let us know so he can keep it up. While I did some marathon sleeping, Emma and her daddy took some laps around the hallways in the stroller.
For the poopy diaper updates - the first one was cute. The second one required a bath. That's all I'm going to say about that issue!
Today we took a stroll down the street to the Teng Wang Pavillion. It was really cold outside and we had Emma all layered and covered in her stroller (the hotel provided a crib, stroller and a baby bath tub for us). I checked the weather today and it said we may see some snow tonight and tomorrow. I think it's going to be a nice day to stay inside, however, our thermostat is having issues. I think in China it's either Hot or Cold. Right now we have it turned way up and it's blasting cold air. I hope we won't have to change rooms as our luggage has exploded in here. I even had to go down the hall to one of our travel-mate's room so I could change Emma's diaper without her freezing until they fixed our heat. We can't wait to get to Guangzhou where the weather is more like what we're used to. We are not cold weather folks.
Back to Teng Wang Pavillion. It was beautiful, but I was so concerned about Emma being warm, that I missed most of what the guide had to say about it. Blaine did take some great pictures though. Blaine said that the pavillion was over a thousand years old. Beautiful place with LOTS of stairs!! I lost count how many staircases I carried that stroller down.
There has been a major change in government since we've come to China. They now have a new Emperor.....Emperor Blaine, Dynasty of Gumbo YaYa.
The other people in here have pretty much figured out Blaine's personality. One of the other moms was saying (while this picture was being taken), that Blaine was born in the wrong century and he would have made a great Emperor - "Gumbo for all". After seeing Blaine dress up, little April decided she really wanted to be Mulan. I've posted her picture on the yahoo photo section. She's so cute and was loving playing dress up. Oh, and while we were getting pictures done, a bunch of people were behind us snapping photos and video taping the whole thing, so no telling where pictures of Emperor Blaine will show up! And the bill for the "dress up and photo" session - a whopping $3.
Back to the most important subject I know you're all waiting to read about. Emma is doing well. We've been working on helping her with her upper body strength and in the couple of days she's been with us, we can see a little improvement. I don't think she's ever had any tummy time, because she doesn't know what to do with her arms, so I guess I'll be running to Target for a Boppy when we get home. She's eating really well. We're fortunate that she's not very picky about how she takes her bottle and she's not rejecting our American bottle or nipple. She's eating, in addition to her bottle, baby oatmeal, Gerber fruit puffs, cheerios, noodles, congee, watermelon and a couple of baby bites of Pringles (don't tell our guide about that one!!). She's not as upset to see us, and we don't hear the constant MaMaMaMa, unless she's really tired. This morning at breakfast, she reached up and touched my face and said Mama. I'm not thinking she intentionally called me this, but it was sweet anyway. Our guide seems very concerned about how she's doing. I think he's concerned we may want to give her back (it actually has happend in the past). We're trying to let him know that we expected her reaction to us (especially considering she was in foster care) and that she's coming around and there's nothing she could do that would make us want to return her. She's our little sweet pea.
The breakfast buffets are interesting. You can get almost anything. This morning I saw some barbeque meat, spicy noodles, and fried fish, but you can also get waffles, omelets and cereal. We've ordered a club sandwich and it comes with a fried egg and pineapple in the sandwich.
Driving is very different in China as well. We hear constant horns honking, even from the 11th floor of our hotel. We were on the bus yesterday and I had to ask if we were on a one-way street, because cars were three wide on the street, but no, it was a regular street with everyone trying to pass everyone else at the same time. There are bikes everywhere and they just dodge the cars on the street. Brave people!! Thank goodness for our drivers. We're still hearing fireworks every now and then. It's like one of those huge rolls of fireworks going off. We heard them at 6am the other day. I'm so happy we got to experience a little bit of the Chinese New Year while we are here.
Click here for video. I hope you can see it. Please let me know. We'll try more in the next few days. This is Emma with a stolen teddy bear. We were visiting the other girls and she just loved this little teddy bear belonging to baby Betty. Betty's mom said she never played with it, so Emma made off with it. Emma was taking toys from the other big girls. I think she's going to be the bully on the playground. Little thing, but don't mess with her! So now Emma's little bear proudly wears the name "Betty Bear" in honor of her previous owner.
---
DAY 7: February 7, 2006 - Nanchang
Our trip to China is now half way finished. Today we had a very traditional Chinese day. We went to Walmart then ate lunch at KFC. It was quite the experience. The Walmart looked like it was 2-3 stories high and certain things had to be purchased in certain departments (books and pharmacy items had to be purchased separately). It's the first time we've taken the babies into a public place. They were all strapped into their baby carriers and it seemed like we were a parade of caucasian people with asian babies. People would just come up to you and stare at you. It made us a little nervous. While we were there, some ladies came up to me and told me to pull the sleeve of her outfit down, even though she was sweating in her little fleece outfit, tights, blanket and sitting under my coat. I think one of our other family members got an even stronger scolding because they came up to her and checked to see how many layers of clothing her baby had on. Oh and if anyone is wondering.....KFC in China is not quite the same, which is ok if you like gristly dark meat chicken with the skin still on. I ate just the bread on my chicken sandwich.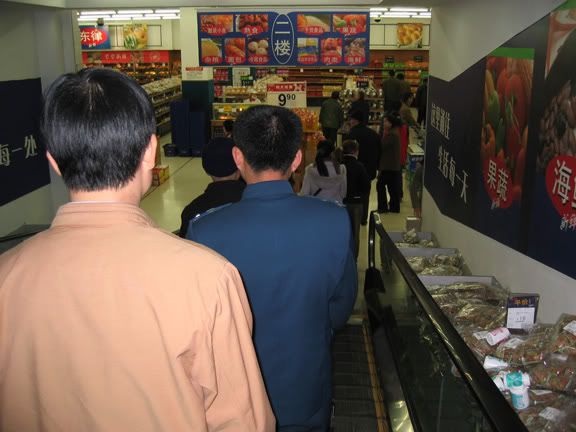 We're still struggling with the sleep issues here. Emma slept last night, after a little help from some baby benedryl (we got the ok from our International adoption pediatrician). After 48 hours and no sleep, it really helped her. However, Blaine and I are walking zombies and weren't even able to sleep at all last night - somehow, even as small as she is, she managed to take up 3/4 of a king sized bed. So we're on our third day awake. One of our families in the group donated something to help our sleep (see picture below). And if anyone knows Blaine, he won't touch the stuff, so lucky me!! The families we're traveling with are wonderful and we're glad to share this experience with them. We can see from the one family who already have two Chinese daughters that they have adjusted wonderfully and are so precious. It gives us hope.
The first day we arrived in Nanchang is a little bit of a blur, but since I didn't have much time to post that day, I'll give you a re-cap. We landed at the airport 2:30pm, got to the hotel at 3pm. Left the hotel at 3:45pm and went to the Jiangxi Adoption center. When our bus arrived, a car arrived too and we all heard a baby inside. They ushered us in and as we waited by the front door, they brought the baby by us. Our guide said he thought it was Emma. I was able to touch her hand as they stood by the front door to punch the code to open it. We followed them in to the official handing-over room and she was there for about 5 minutes with the orphange officials. It was the longest 5 minutes ever. We weren't even sure it was her, but I really thought it was, because of the outfit she was wearing. Just recently I had seen a video of a couple who adopted from the same orphanage and their baby had the same outfit on, plus the orphanage director looked very familiar (I had seen some pictures of him online). I also thought it was her because the other two babies in our group are much older than her. When the other babies arrived, they checked our passports and the letter they had sent us weeks ago, to make sure everything matched and they handed her over to me. She just looked bewildered at first. Then she cried a bit as we watched the others being handed over. We took a few photos with orphanage officials, then we were ushered into another room to take an official family photo and a single picture of Emma. Then it was back on the bus. The whole process took less than 30 minutes.
I don't think I've told you about what Emma came to us in. I've taken a photo and uploaded it to the yahoo page. She had a red puffy outfit with Chinese markings on it and a matching hat. Under that, was a little hand knitted olive green sweater with gray split pants (which didn't make the photo - they really had to be sent out to be cleaned), a very worn t-shirt and split-pant tights under that with a pair of very large pink socks (for maybe an 8 year old child) and her diaper that was just hanging between her knees - not even taped together. And she also had some nasty diaper rash which is getting much better thanks to Boudreaux's!
Emma is a little peanut. We're not sure we believe the updated measurements we received before we left. She's a tiny little thing. One good thing about that is that she's getting the hand-me-downs from the other two girls in our group. She has very wispy brown hair. She has scrawny little legs too. We'll be able to get a better idea of exactly what she weighs when we get to Guangzhou. We're so ready to come home already. Home in a hotel isn't too much fun....but we do love China and are cherishing this time we have with Emma.
We found out that Emma does baby kung-foo in her sleep. Her little arms would rise above her head and then karate chop downwards. She would do the same with her feet. It was funny to watch. One of the other little girls in our group was speaking Chinese in her sleep last night.
That's it for now. I've been partaking of my Great Wall wine while writing this post, so hopefully it's nap time for Emma and mommy.
---
DAY 6: February 6, 2006 - Nanchang
ADOPTION DAY! China officially sees us as Emma's parents today. It's all over for the Chinese side, except we need to be here for three more days so we can get Emma's passport.
The last 24 hours has been difficult for all three of us. I held Emma for about 20 hours and she didn't sleep but about one of those hours, which meant we didn't sleep either. She only likes to be held while I'm standing up, so my arms are numb now. I just don't feel them anymore. Somehow we managed to get on with our daily itinerary. She doesn't want to have anything to do with Blaine, but we are making sure she sees him and he holds her for a little bit each day.
We had some minor victories today. She took her first bottle today. She downed it in about three minutes, so we fixed her a little extra. We're grateful she's not having too many food issues, since yesterday she wouldn't take much of anything. We managed to get her to drink water from a glass, but not a bottle, but today we had more luck. She had congee (like a rice pudding) and a few bites of watermelon for breakfast. We managed to sneak some Enfamil into her lunchtime bottle, so hopefully we're getting some good stuff into her. We also had our first poop today (Emma, that is). Yes, we're officially parents and excited about a poopy diaper. I think that feeling will fade fast.
We also decided to put her in our bed for a nap and just let her scream. It lasted about 45 minutes before she fell asleep for about a half an hour. Little victories. I know she's still exhausted and still crys for MaMaMaMa. I felt bad about letting her scream it out last night because we are in a hotel, and even though most of the people on the floor are adoptive families, I didn't want to keep anyone else awake.
Today at the Jiangxi province adoption center, there were several dozen babies meeting their parents and getting paperwork done like we were. We were happy to find out that Emma was the first baby who's adoption papers were completed in the New Year in Jiangxi Province. The director also gave us a small porcelin vase as a present from the orphanage (this province is famous for making the finest porcelin in the world).
Our group's babies are doing ok. Baby Betty is fitting right into her family of four girls wonderfully. Her sisters are keeping her entertained. And Baby Lan is a bit shut down right now - she's opening up a bit though. She's 19 months old and you can tell she's not showing much emotion right now, but give her some time and I'm sure she'll be a happy little girl. Hopefully in a couple of days her and Emma will adjust to their new families.
Thank you so much for all of the encouraging emails and suggestions of what we can try with Emma. Sorry we can't respond to everyone's emails personally, but I figure this is the best way to keep touch with everyone in such short time. We love hearing from everyone while we're on the other side of the world. And hopefully this post reads ok considering the lack of sleep and little Miss Emma crying in the backround.
I'm feeling like a zombie. That's what 24 plus hours with no sleep will do to you! And check out the rare pictures of Emma in Blaine's arms without her screaming!!! There is one picture of me in front of the Jiangxi Adoption Center with our guide Nelson.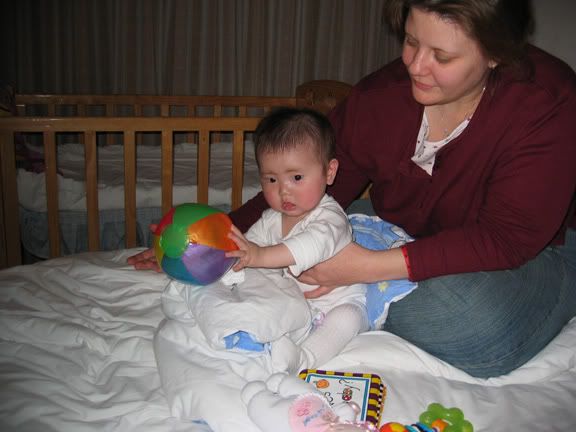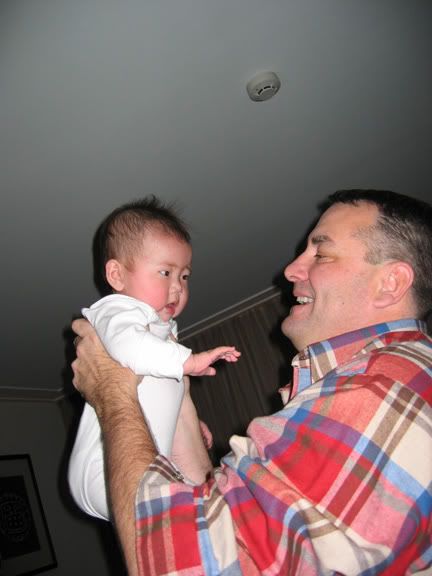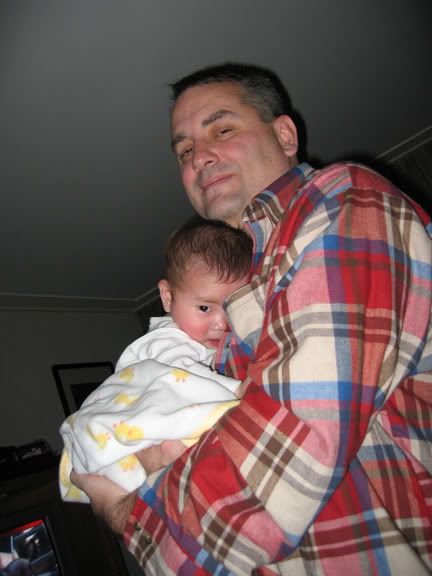 ---
DAY 5: February 5, 2006 - Nanchang
We've got her!!
This will be a very short post, as we have our hands full right now. It's been a really rough transition for Emma. She's very sad and mad right now, calling for MaMaMaMa. She puts her little lip out and starts to cry when she looks at us. It breaks your heart. She's a tiny little thing and we think she's going to need some good vitamins and some extra work when we get home. She has very little muscle tone and I don't think she can even sit up yet by herself. We brought out a couple of toys and that amused her for about 30 minutes. Now she's very tired, but doesn't want to be put down and barely tolerates us holding her.
I'll upload a couple of pictures of a very cute, but mad little girl.
Our first glimpse.
First time holding my sweet baby.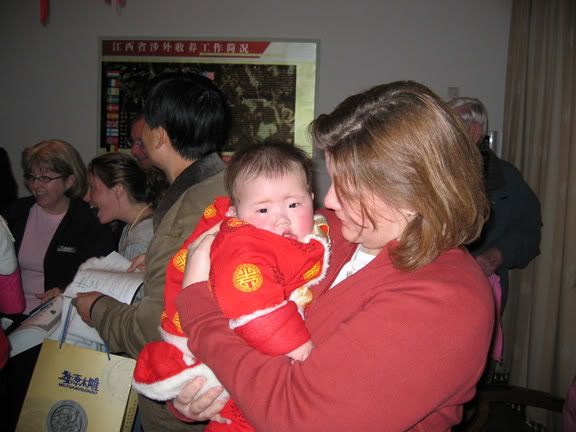 Two crying girls. I told you she was mad!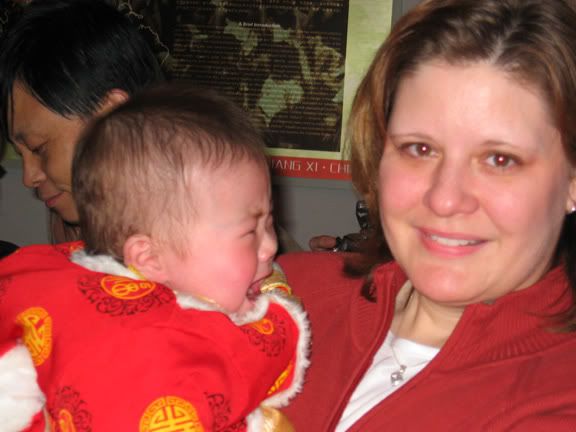 First family picture (with orphanage director)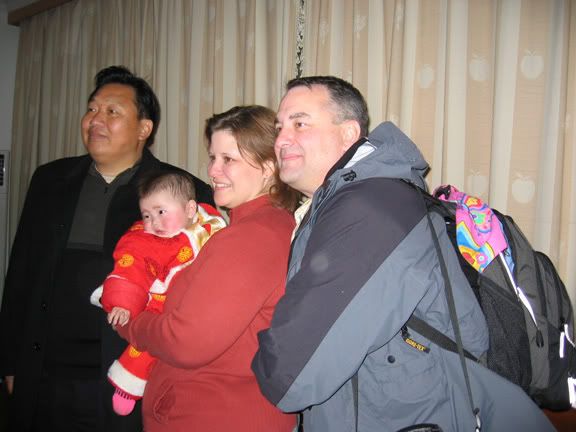 ---
DAY 4: February 4, 2006 - Beijing
5am: Yes, I'm up early again. Jet lag is so much fun. At least my legs aren't sore from the workout on the Great Wall yesterday. Itinerary for today - Tiennamen Square and Forbidden City.
We leave Beijing on Sunday around 11am. We'll arrive in Nanchang, spend an hour at the hotel getting orphanage gifts and diaper bags together, then we'll drive to the Civil Affairs office where we'll meet Emma around 4pm (2 am for those who are trying to figure out what time that is for you). It'll be a Super Sunday for us - just no football!!!!
7:30pm: Another full day of touring and shopping. We started out at Tiennamen Square. We walked around enjoying the immense size of the place. There were people everywhere, since it's the last official day of the Chinese New Year. There were vendors everywhere and people flying kites. We made our way across the street to the Forbidden City. There was one thing that we found at the Forbidden City I would have NEVER imagined. Starbucks. It's official. Starbucks has taken over the world. We stopped in and had a hot chocolate. (Do I have to mention again how cold it is here??) We walked from one side of the Forbidden City to the other - it took about two hours.
From there, we ate another fabulous lunch at one of the local hotels. And our guide brought us to a part of town where they have rickshaw rides. Our poor little guy got a work-out with the two of us!! On the ride, we stopped at a home of a local couple. The gentleman was 79 years old and his wife was 70. They are retired now and suppliment their income by showing tourists how they live. He was an accountant and his wife was a nurse. Over the past ten years, they've shown their home to over 100,000 tourists from 80+ countries. Their home consisted of two tiny rooms. The large room was where they slept, ate, and spent their day. The other small room was a kitchen where they cooked. They had three grown children and 2 grandchildren.
Down the road from the local's home was a frozen river running through town. There were so many people out there ice skating and riding little contraptions made of seats with ski runners and they would push themselves along with ski poles. Others were on bikes, somehow converted so they would move across the ice.
When we returned to the hotel, we arranged to meet Blaine's co-worker, Joanna, who lives here in Beijing. She and her friend brought us shopping at the Pearl Market. That place was amazing. It was wonderful to have a local person helping us and Joanna's friend was a professional shopper and bargainer. She was hilarious and knew just how to bargain. She brought us around and found just what we were looking for. You would walk around the place and vendors would ask "lady, what you looking for? Prada? Gucci?" They had a bit of everything....purses, clothes, shoes and electronics. Upstairs was two floors of just pearls. So overwhelming. You choose what you want, and they finish stringing the pears right before your eyes.
Afterwards, we met our group for dinner. It was fun watching Blaine eat lobster with chopsticks.
Must run and pack. We're off to Nanchang in the morning. Tomorrow is our Forever Family day!!!!!
---
DAY 3: February 3, 2006 - Beijing
I'll be posting more than once today, so I'll post by what time it is...
4:00am: Technically it is day three - 4am in the morning, but it is day three! We managed to stay awake until 8pm then we fell into bed. Gotta be careful how you fall, because the bed is like a brick. Plus it's still Chinese New Year here, so after it got dark, there are fireworks going off all around. This is not a professional fireworks show either, just random people setting them off from their apartment balconies. So the noise is bouncing off of the buildings. It's pretty neat to see them from our window, but I wasn't able to catch any of it with my camera - digital camera delay!!!
We talked to the flight attendant who sat in the little flip chair across from us during take-off and landing and she told us there were 16 families adopting on that flight. Amazing, considering the flight was maybe 1/4 full.
Our guide is Nelson and seems to be a very nice gentleman. We spotted him easily when we cleared customs in the airport and we're grateful that he's here to take care of us. When we exited customs, a few people offered to take our bags, but Nelson shooed them away. He had a small bus waiting for us that took us through town. He pointed out several things on the way, including a medical school, several banks and a new neighborhood being built. He mentioned that only the very rich people live there. It looked just like a middle class neighborhood where we live back home. He said that there are 10 million people who live in downtown Beijing, and even more in the suburbs.
I'm happy to report that my first meal in China agreed with me. Of course, it was Subway, but hey, being that tired, I wasn't up for being adventurous (and it's located right here in the hotel - Yea!!). You know I'm never going to hear the end of that one. Come all the way to China and eat at Subway. I'm also very impressed with how many people we've encountered that speak english. I know that Beijing is a large international city, but I really didn't think the guy that worked at Subway would speak english as well as he did.
We met one of our fellow families last night on the elevator. They are a family of five (including two little Chinese daughters) and they are adopting another child. We only got to speak with them for a moment, but found out they have been here almost a week, and have already toured Shanghai. Their youngest daughter is from Fengcheng, where Emma is from.
And thanks for all of the emails!!! It's wonderful to hear from everyone.
That's it for now, check back later......
8:00pm: Wow, what a long, but incredible day! We started out by meeting our group at 8:30 this morning for the trip to the Great Wall. Before getting there, we stopped at a Jade Factory. It's government run, so you can be assured of quality, but no bargaining. We picked up a couple of treasures there.
Next we stopped at the Great Wall at Badaling. Wow, what an incredible monument. I can't believe we were on the Great Wall. What a moment to remember!! It was much harder to climb than I anticipated. The stairs are not even - some may be two inches high, others are over 2 feet high, and they are worn from so much use. Plus it was VERY cold, so my lungs were screaming at me to take a break. Blaine was the trooper and made it past the third tower, I barely made it to the first, but I did make it! If you look at the photos, you'll see a chain with padlocks. I didn't get the whole story, but I think a husband and wife attach the lock to the chain and throw away the key and it signifies a long life together. While I waited for Blaine to return, I was asked to take a picture of a young Chinese couple with their camera. They thanked me and I was able to respond in Chinese "your welcome" (one of the very few phrases I've learned). I think I shocked them that I knew what to say, but it was apparent that I responded correctly and I didn't say something terribly wrong. I was amazed at the older folks climbing and the people carrying young children up the stairs.
Afterwards, Nelson took us to a restaurant (I almost said Chinese restaurant, but I guess it's all Chinese here). The food was so good and they just kept bringing it out. There were also french fries which pleased the little ones in our group. The restaurant was attached to a Friendship Store, which are also government run. There was also a section that showed workers making cloisonne. It was amazing to see the artists at work, but I can just imagine how long it takes to complete a project. .
After this, we went to a temple (don't remember the name if it right now). It was so beautiful and reminded me of our trip to the temples Bangkok. There were many people lighting incense and praying. There were small children all over and it's so obvious that the babies are so loved by their parents and just doted upon. There was a group of young school children who kept yelling "Hello" to us and seemed very pleased that we understood them.
Then Nelson took us to a market in town. It's open only one week a year - during Chinese New Year. It was wonderfully crazy. There were so many people there. Lots of the young people were wearing funny hats and carrying around pinwheels and the whole place was decorated with red lanterns. The first part was just like the state fair, where it's all of the carnival games. The next part was lots of little stalls where you could buy little toys, games, hats and candy. At the end there were some girls singing kareoke. It was a fun place.
After the market, we drove to the acrobatic show. You could buy popcorn, cokes, beer and even ice cream at the show. Can you believe we actually bought ice cream when it was so cold outside? The show started and these young atheletes are just amazing. They allowed flash photography, so I managed to get some decent photos.
At this point, we are all exhausted and suprisingly the two little ones in our group (April, age 5 and Lily, almost 3) are just starting to tucker out. So Nelson called Pizza Hut and got us some pizza to go. We got the "American Special".....a.k.a: Pepperoni Pizza. Hmm, Pizza Hut tonight, Subway last night, any guesses what we'll have tomorrow? We just got back to our room, and we are so tired. The fireworks are going again, not as much as last night, but we still hear some.
---
DAY 2: February 2, 2006 - Arrive in Beijing
Day one started at 3:30 am with a the ringing of our alarm clock. Everything had been packed and ready to go since last night. We met up with Mom and Dad at 4:30am to make our way to the airport. Check-in went smoothly and everyone boarded the plane and got strapped in, waiting for departure. And then we waited some more. And then even more! Finally a flight attendant came on the intercom saying we were ready to depart, but there was no pilot. Nobody knew where he was! All I could do was laugh. How fitting to begin our journey this way. Of course, I was nervous too, because we only had a couple of hours between flights in Newark. So finally a pilot was found and the rest of that leg was uneventful.
As we took off, I held Blaine's hand, as I usually do, and I was thinking, when we return, my other hand will be holding Emma's. Both my hands and heart will be full!
We boarded the long flight to Beijing, found our seats and waited for everyone to board. Of course, as fate would have it, Blaine's flying curse continued. It's widely known that Blaine cannot fly internationally without a small child within a seat or two of him. In the row next to us, was a mom, her four-year-old son and 3-month-old son. The 4 year old found a new friend on board about his age and the two of them proceeded to play, yell, run up and down the aisles, and play with the emergency exits (yikes!). Then mom gave him "the look" and he settled down for a while. He managed to fall asleep about 20 minutes before we landed, of course. The 3 month old slept almost the entire way. What an angel!
We were also highly entertained during the entire trip, because our seats were located next to the restrooms. People had the hardest time figuring out if they were occupied, then trying to figure out how to open the door. It was clearly marked, but most of the people having difficulties were asian and the words were in English, so we were trying to assist them by using hand gestures to show them how to open the door. I guess this is our start of two weeks worth of sign language. Ok-give me a break. It was a 13 hour flight, we had to amuse ourselves somehow. We were also entertained by a little Chinese girl who kept playing peek-a-boo with us. She was so cute.
Anyway, we're here, but TIRED! Please excuse any typos (sherrie!!), I'm barely awake. I think it's around 3am at home, but 5pm here, so we're fighting to stay awake a few more hours. We turned on the tv at the hotel and the first thing we see is CNN and they are talking about Katrina and Enron, so it's like we never even left home.
Tomorrow we're off to the Great Wall and we meet one of the other families in our group. Please let me know if there are any problems with the website or pictures not loading correctly. Thanks!!!
---
DAY 1: February 1, 2006 - Leave Home (all day in flight)
We made it to Beijing! Please go straight to Day 2, since it's already 5pm on Feb 2nd where I am.
---
2/2/06: My first post from CHINA! Please check my daily journal.
---