Welcome to our adoption website. This is so friends and family can keep up with us during our amazing journey to adopt a baby from China. We traveled to China in February 2006 to bring our daughter Emma home. Our travel journals are archived in the drop-down box under the web buttons. This website continues so Emma's family and friends can continue checking out her progress and daily adventures.
---
12/26/2011: It was an eventful Christmas season. We went to the annual Santa parade on the little Island and saw Santa on his fire truck.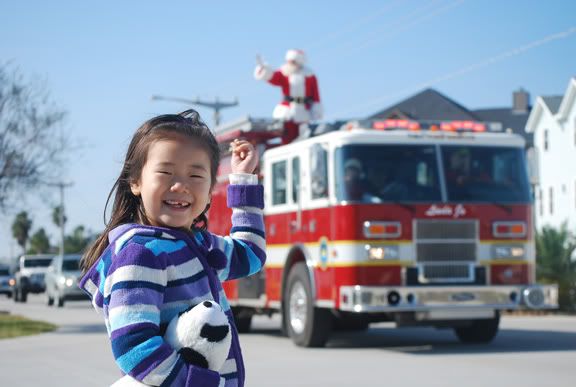 Later we got a personal meeting with him.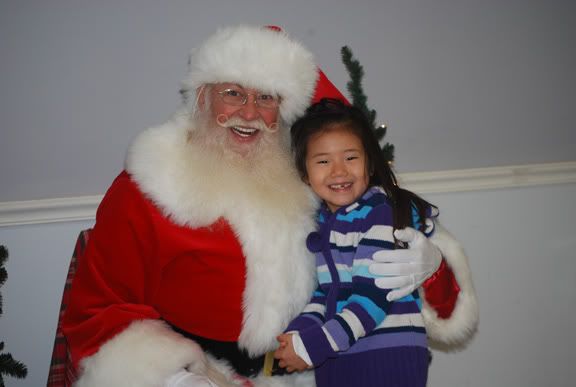 Even Daddy got into the Christmas spirit and had a chat with Santa.
This weekend, even though it was cold and rainy, we managed to go see the Christmas lights again.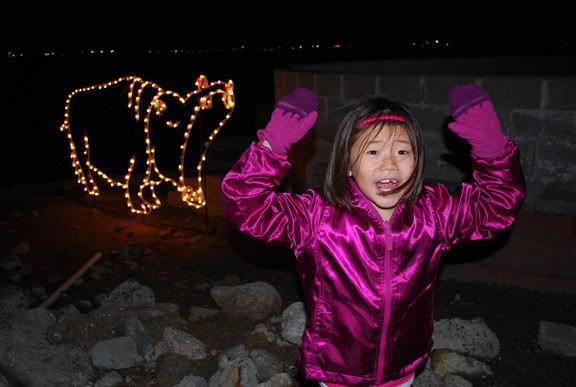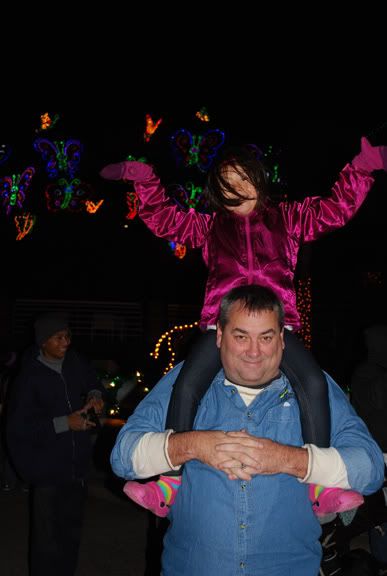 Then it was on to gingerbread house decorating.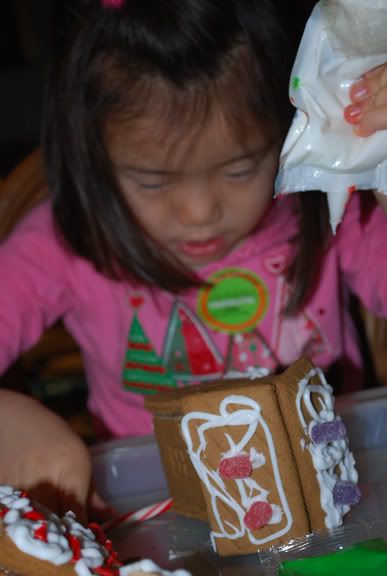 Very serious work.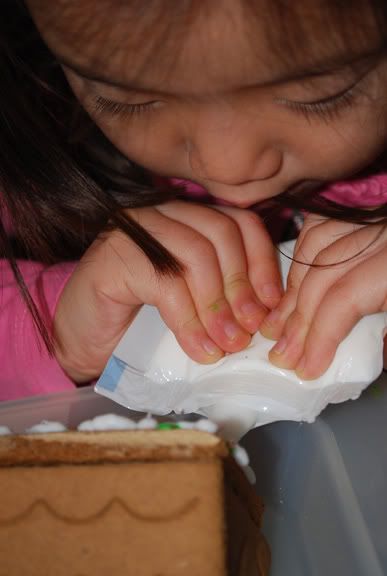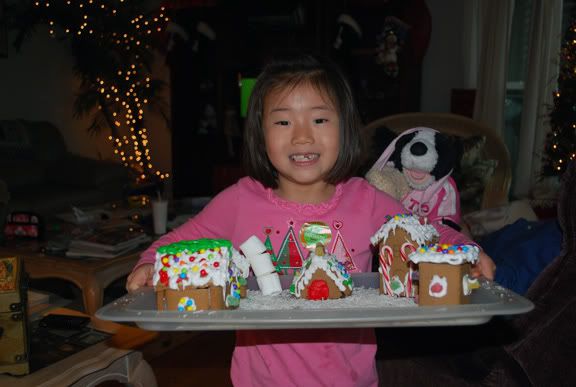 And on Christmas Eve, the opening of one gift. Look who joined our family....another stuffed dog.
Christmas morning started at 5:30, and the fun didn't stop for hours.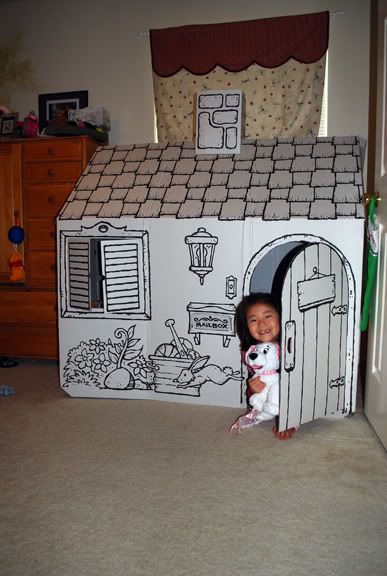 Ho Ho Ho and I hope your Christmas season was as wonderful as ours!
---
12/04/2011: Last month of the year. We've been busy decking the halls and fa-la-la-la'ing.
Our Elf, Mr. Sonny has re-appeared. Actually it took Emma FOUR days to find him. He was sitting and having a tea party with one of her dolls.
This morning he got into my paints and painted a letter to Santa. I think Mr. Sonny is going to be a bit more mischievous this year.
And finally....GLASSES, sort of. Emma had gotten her eyes checked lately and we were certain she was going to need glasses. However, the doctor said her vision was fine. She was very upset, there was crying because she had already picked out several pair that she liked. So this weekend we found a fake pair that was only $3 and she was over the moon. She's been wearing them all weekend, but I told her she couldn't wear them in school, as she'd either lose them, or confuse the teacher. She loves them even though we've been trying to let her know how much of a pain glasses really are.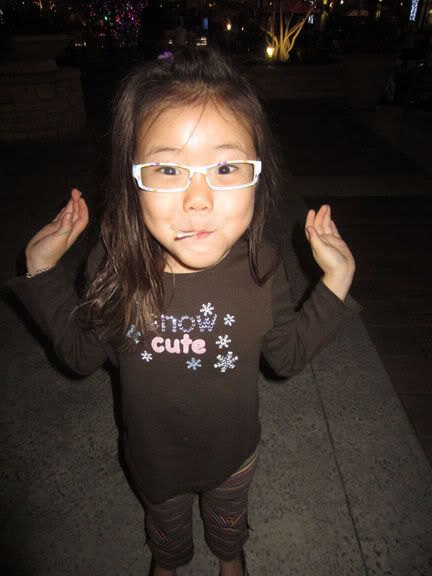 ---
11/22/2011: November is going by so quickly. Look who we ran into already.
I found this fun activity online and had a free afternoon to test it out. Sidewalk chalk paint. It was loads of fun and the rain washed it all away.
Someone wondered if it was edible.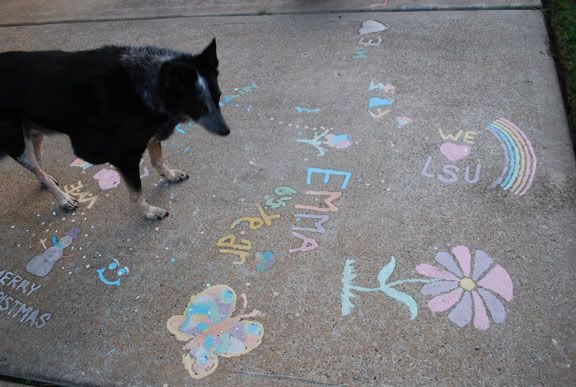 Sorry buddy!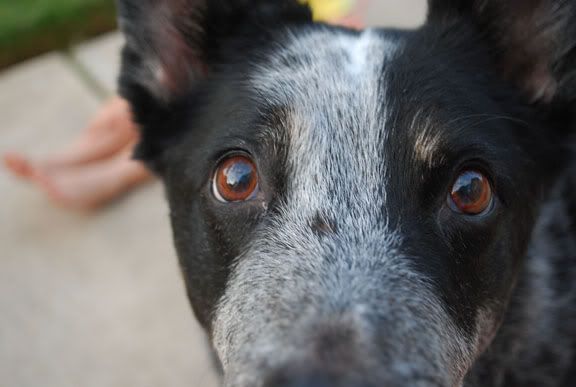 ---
11/21/2011: This past weekend, the hubby competed in a seafood cookoff on the island.
The southern Louisiana way to measure your ingredients.
It was a gorgeous day to be outside and although he didn't have any luck winning with his two dishes, we did walk away with one heck of a raffle prize.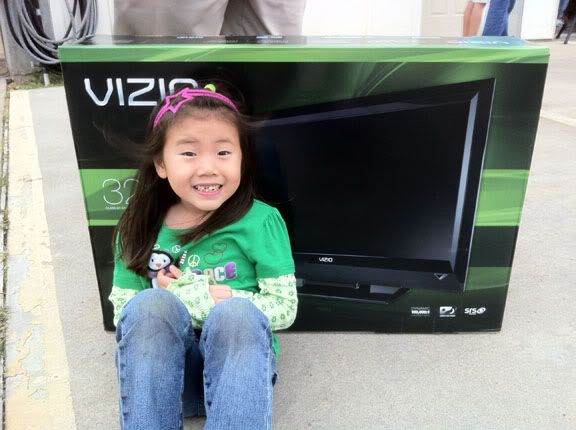 ---
10/31/2011: It was a quick bite to eat, then rush into the costume, throw some sparkly makeup on, rush to the grandparents house to say hi, then it was off to run around the neighborhood for some trick or treating.
Our little butterfly will be having some sweet dreams tonight!! Happy Halloween!!
---
10/30/2011: Happy Halloween! Tomorrow's the big night and someone here is SOOO excited!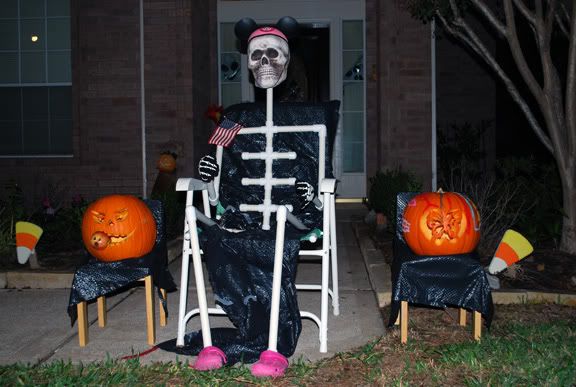 ---
10/30/2011: As promised.... hope this works!
---
10/23/2011: Today was our annual halloween pumpkin painting party. Here we are with the blank canvas.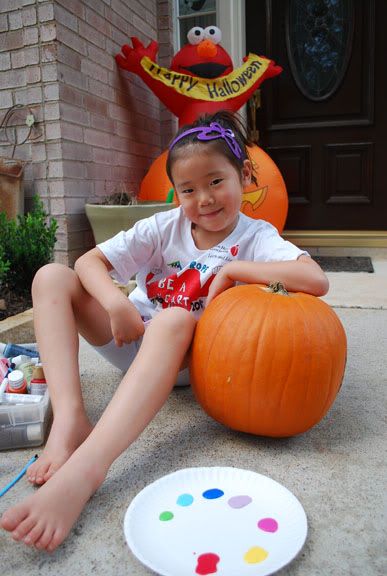 Now the master piece begins.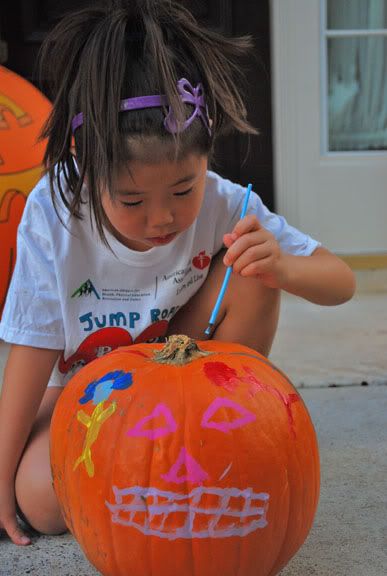 I was shocked to see how much time she was taking, as in years past, the pumpkin painting lasted maybe three minutes.
Then she told me she wanted to bring the pumpkin to the school library, as they are letting the kids bring in pumpkins decorated like story characters. So we got her tiny pumpkin out and I let her choose a character. Any guesses??
Barbie....after a few chocolate covered donuts.
And here she is in her very first karioke performance with my co-worker at her 50th birthday party today. They are singing "you are my sunshine"....the very first song I ever sang to Emma on the first day we met. sniff sniff...
Ok whenever I can figure out how to get the video to load onto a website that doesn't have issues with an iphone rotated video, I'll post it. But take my word for it. It's cute.
---
10/16/2011: Yesterday Emma told me she wanted to "boo" the neighbors, so we cut out some ghosts and attached some treats and snuck around our neighborhood. Well, sneaking is saying a bit much, as she decided to wear rain boots and so it was more like trudging. After a quick shoe change, we headed out.
We also finally got our halloween decorations up and Taz decided to sneak out the front with us and get in the picture.
Today we headed back out to the country and met a friend and a co-worker and their kids at the farm. The pumpkins were plentiful!
After a rough morning, Emma decided she needed to be pulled around. He didn't mind at all.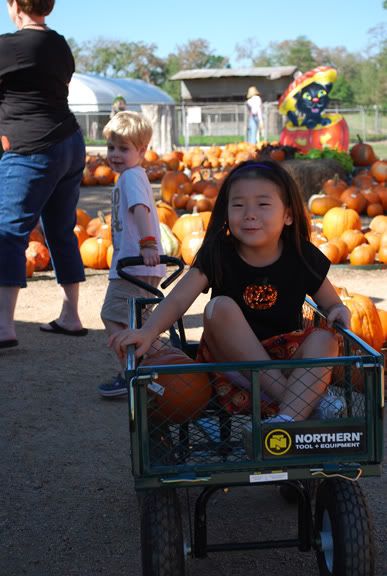 We took a hay ride to a giant tree house, where the kids had a ball playing.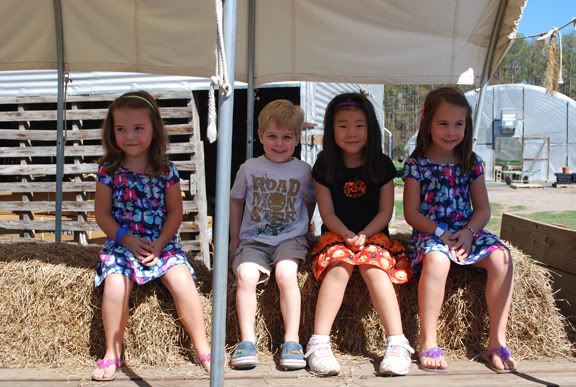 But the best thing all day? Corn grinding. I'm getting one of these for her for Christmas. Luckily no fingers we're left behind in this ancient contraption.
---
10/14/2011: October is just flying by and Emma's teeth are falling out like crazy! She lost number five last night, just as she got into bed, then she jumped up and said "it fell out!!". The tooth fairy sure has been flying through our neighborhood quite frequently.
Yesterday we went for her first eye exam. She was so excited. We were concerned when she mentioned having trouble seeing the board in class, so we had her moved closer. While waiting for the doctor, she even picked out a few pair that she liked. I was a little surprised when the doctor said she didn't need glasses. Yea! However, she was quite upset. She really wanted glasses and voiced her displeasure to the doctor. She did end up leaving with a handful of red licorice she conned from the staff at the front desk.
Last week was the first grade field trip to the farm. It was a perfect day. Not too hot, just a beautiful day. We paired up with one little friend and after a sack lunch, the three of us went anywhere we pleased. We did the hay ride where the kids got to feed the cows some "cow candy" pellets. This turned out to be pretty gross, as the cow that charged up to Emma must have had a cold so she got some pretty nasty mucus on her hands. Thank goodness for the pack of baby wipes I threw in my bag. Afterwards, we did pony rides, train rides, milked a REAL cow (not the fake one like at the rodeo), and then we checked out the petting area. Then the kids got to choose a little pumpkin and take a class photo. It was so much fun. Excuse my quick photo editing to get rid of the school name on her shirt.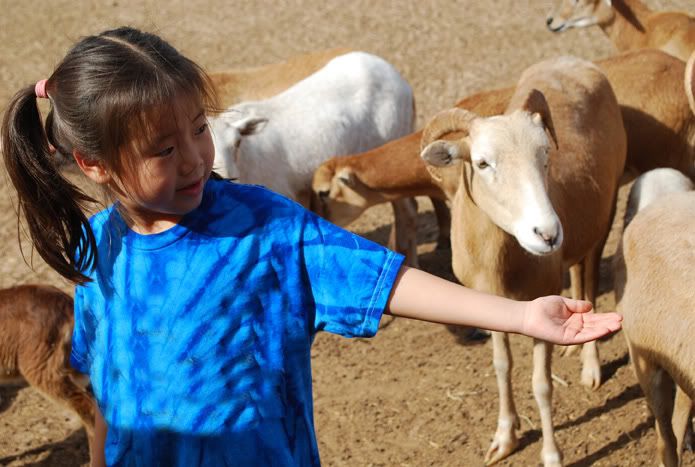 Mr. Snotty: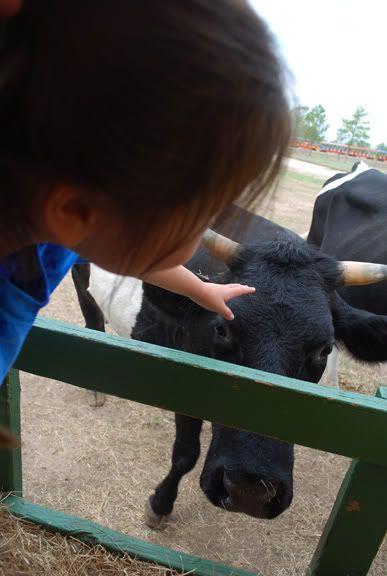 ---
09/28/2011: All she wants for Christmas is her two front....oops, wrong holiday and only one front tooth. Sure is cute to see that gap-tooth grin though. She was so excited when the tooth fairy brought her a gold dollar coin wrapped in a paper dollar.
---
09/26/2011: We found something a little different to do this past weekend. Way down south, there is a place that has stocked ponds and a couple times a month, they open up fishing days for kids. So we packed up Emma's fishing rod and stopped for some live bait and traveled down the long and winding road. First of all, this place was FREE. Really? Is anything free anymore? I was surprised. We made our way to the ponds where there were tons of volunteers helping the kids to scoop the fish out of the water when they caught them, helped them pose for pictures, then let the kids assist when they were releasing the fish.
We found a spot (well, away from any others, so Little Miss Crazy Caster wouldn't hook anyone) and baited our line. We were able to catch a few other of the fishermen's lines, but we weren't lucky today.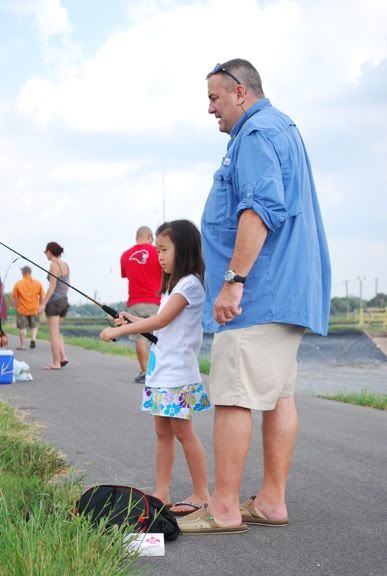 Some of those little bitty kids were catching 30 lb. red fish. Maybe another day. It's still pretty hot here, so we headed indoors to look at some of the aquariums. We spotted the cast of Nemo in this one.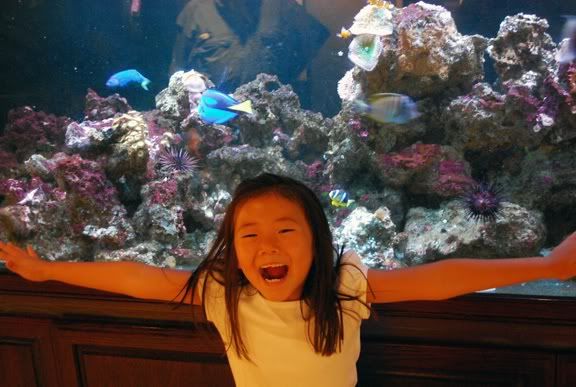 Then on to the "touch tank". There were several blue crabs (missing thier pinchers), sea anemone, and hermit crabs, to name a few of the creatures available for petting.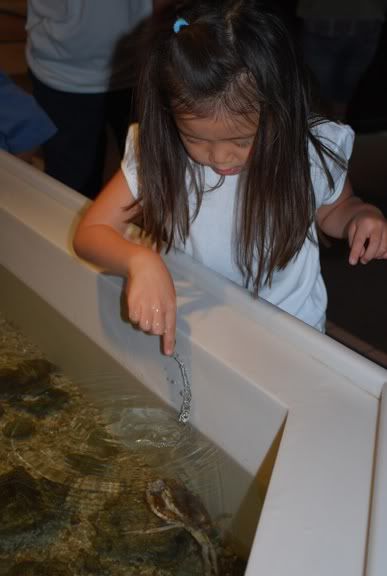 Emma really enjoyed the touch tank, but didn't understand why I didn't want to touch the crabs!
---
09/09/2011: A week late, but here are some pictures from our Labor Day weekend. We spent most of the weekend at home, organizing and cleaning, so for some fun, we went to the big park downtown. We started on the playground on the zip line.
Then on to the slide.
Next, after a quick change, we made our way to the water fountain, which was quite popular with the kids.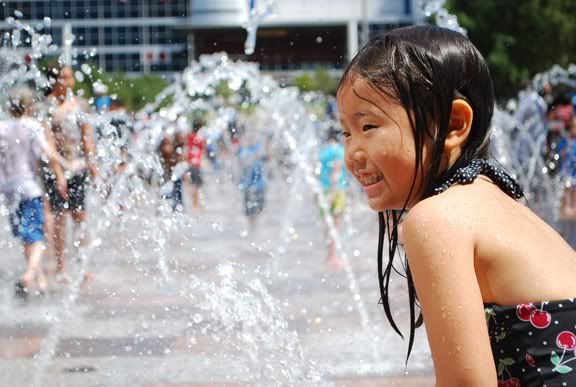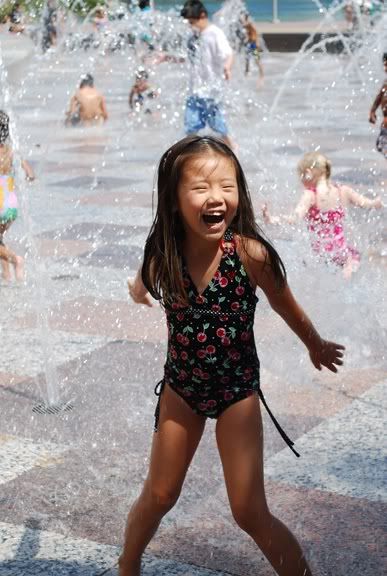 After all that fun, you wouldn't think that the next part was her favorite.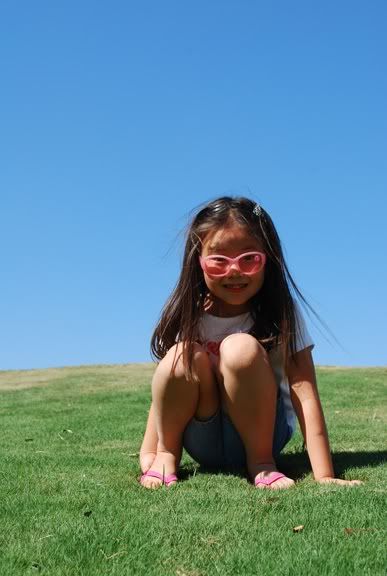 Rolling down the hill.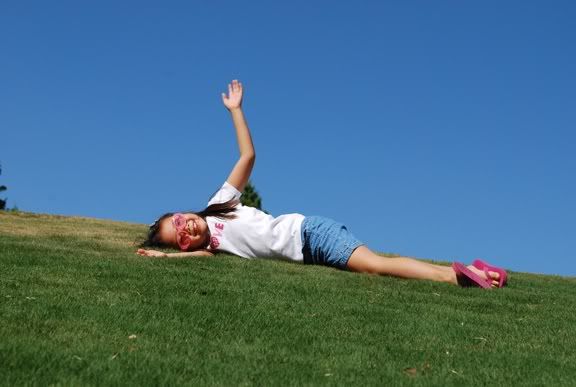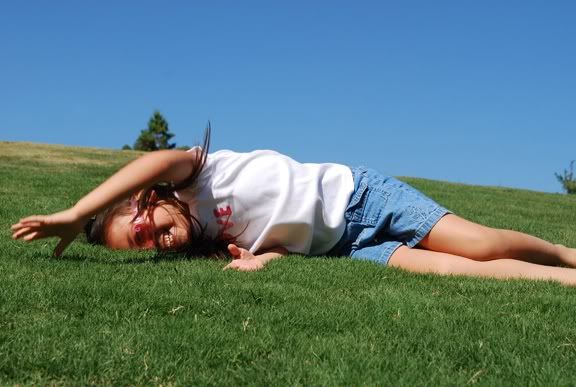 It was a nice way to say GOODBYE to our 100+ degree weather.
---
08/26/2011: BAB. I'm sure most of you moms know what that stands for. Well, for six years we've managed to never step foot in the place. One afternoon, we had a few spare hours and we told her since she was so good this summer and made it through all her summer camps with no problem, we'd get her a treat. So we made our way to the mall into the BAB store. We carefully looked over all the choices of bears, kittens, rabbits and so forth. What does her little heart settle on? It was love at first sight.
Meet Abby. Yes, Emma saw this precious little dog and quickly named her Abby, after our sweet mutt we lost earlier this summer. She got to go through the process of selecting a little heart that would be placed in her new stuffed animal and helped with the stuffing process.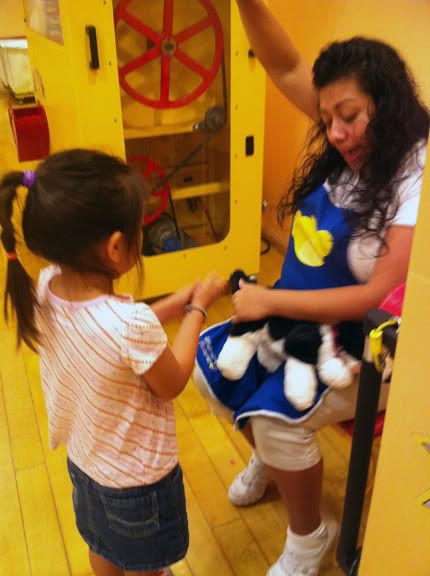 After much decision, Abby ended up with a sparkling purple ball gown, complete with fabric rosette for her ear and to-die-for silver sandals. Abby came with a red collar, just like the one our Abby wore. We took Abby's old name tag from her collar and put it on Emma's new friend. Bittersweet.
The hardest part for Emma was leaving the store with Abby in a BOX!! We made her stay in there till we got home. Abby is now a part of the family, and brings up memories of our sweet baby who is no longer with us.
As you can see, Abby even made it in the first day of school pictures!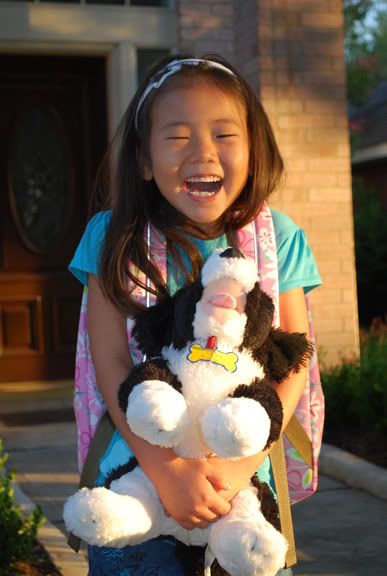 So now Emma is dreaming of going back to BAB and getting Abby some new pj's or other ensembles. Should be interesting.
---
08/26/2011: We survived the first week of first grade. Everyone here is glad to be back in our normal routine. I can't believe we've got a first grader already. Time sure flies. Emma picked out her own outfit this year, and I think she looked pretty darned cute in it. This is also our first year wearing headbands to school. She would never keep them in before, but came home with her headbands every day this week! Yea!
Here we are ready for the school doors to open!
At our desk with a new box of crayons.
We are so excited for this school year. I believe Emma has a great teacher - nominated for teacher of the year in the past and is a big fan of my alma mater! She was a little sad that only a couple of her friends from kindy were in her class this year, but I'm sure she will adjust quickly and make new friends with no problems.
---
08/07/2011: Another scorching weekend. We try to stay indoors as much as possible. After two hours at the water park, I was hit with a bit of heat exhaustion. We hit the rainforest once again. We find it strange that Emma doesn't really care for the zoo, but absolutely loves this place. She loves the butterflies and tried to catch one again.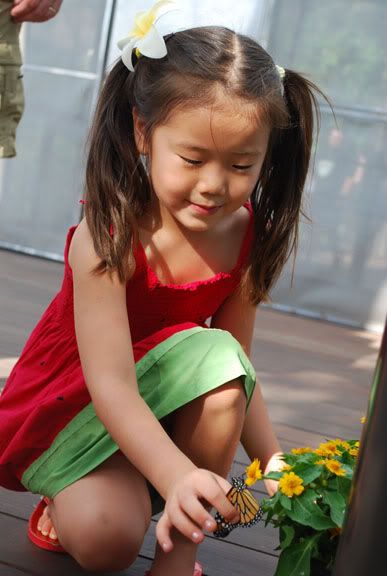 Oops, got away.
This little guy was almost posing for us!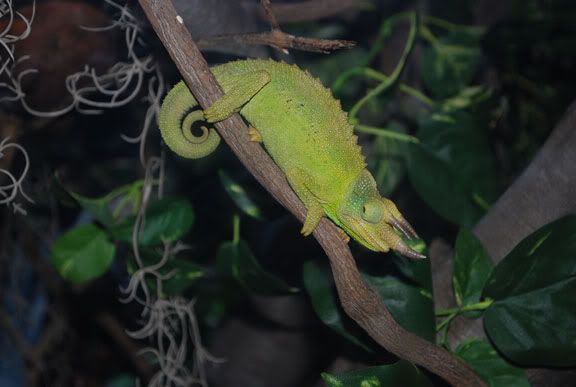 I can't believe the summer is almost over for us, and first grade is right around the corner. She's very ready for first grade. She read a 70 page chapter book in the car this afternoon all by herself. Her reading ability is amazing! This week Emma got a part in her camp play. She was the dormouse in Alice in Wonderland. She had one line and got a laugh out of the audience when she delivered her line. She was definately the loudest in the group. She's really a little entertainer.
---
08/04/2011: How does your child grow an inch in six months and you don't even notice it? We had an appointment with the allergist today. Emma is now 44lbs and 45.5" tall.
---
07/31/2011: Our busy summer continues. With camp, work and visits with friends, life has been hectic, but fun. Emma went to a Helllo Kitty party last week, so I had to make sure she was properly outfitted. I'm loving my embroidery machine and also made this cute skirt to match. She was the belle of the ball. There was also a lady making balloon tiaras and scepters. They didn't last in the 104 degree heat, but they were fun for an hour or two.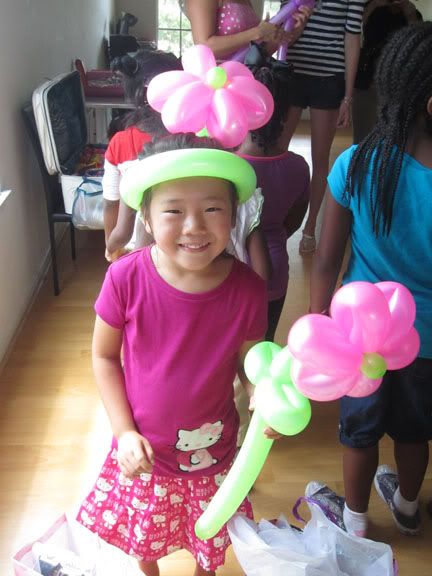 We've been having some "island time" fun as well. This little guy, well, not so little guy came to see what we were up to. He came quite close and I got a good shot of him.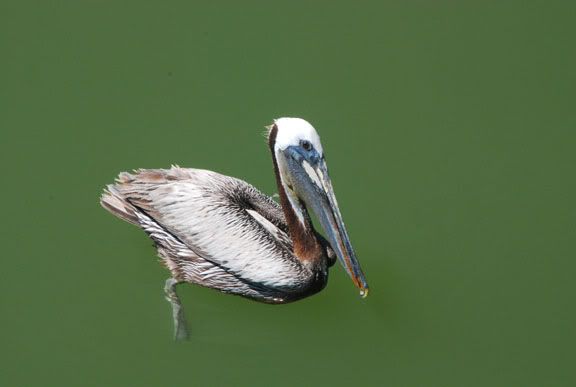 We also had a fun 4th of July golf cart parade. We threw our Mardi Gras beads we've caught in years past. Emma thought it was so much fun, but had a hard time parting with some of the little teddy bears we were supposed to throw to the kids. She conned me into keeping a couple of them.
They have also opened up a fabulous new rainforest attraction near us. Emma LOVES this place and wants to go all the time. Fortunately we're members and can go for free whenever we want. I think she likes the butterflies the best. Now we just have to convince her that we don't need to run through the place.
Our dear friends who moved up north last year came down for a visit. We were wondering how Emma and her little BFF would be with each other, having not seen each other in over a year. It took about three seconds and they were off running and playing again. It was great seeing them again and seeing how much the girls have changed.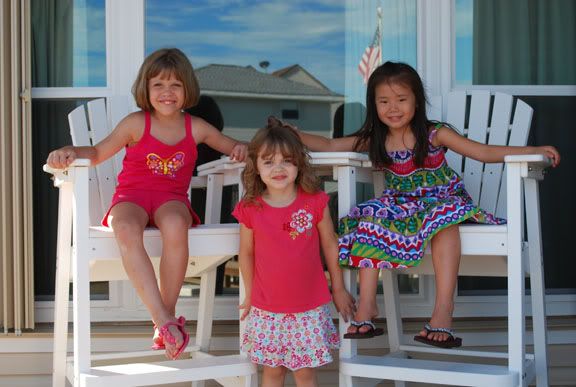 This weekend we had our annual China sisters reunion. We've been fortunate to stay in touch with our travel group when we adopted Emma and we have our reunion every year. It's so important to our girls and Emma had the best time. She had her first sleep over with her little friend Betty. Actually make that TWO night sleep over. Of course they stayed up late and woke up early, but for a first sleep over for both girls, they did great. Here are our five little beauties.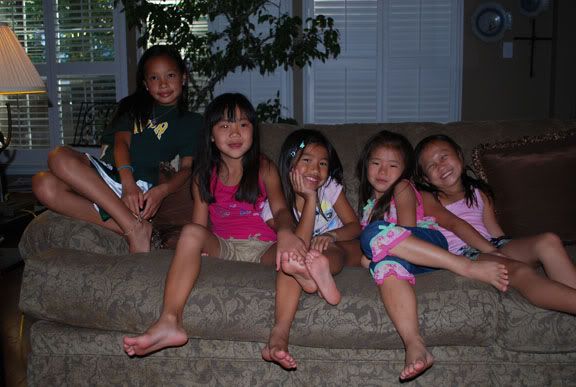 This year we actually got a picture of the entire travel group, not just the girls. The two boys weren't able to travel with us, but were waiting impatiently at home to meet their new little sister.
Blaine reluctantly shared his snack with two little theifs.
Emma and Betty playing with the mermaids.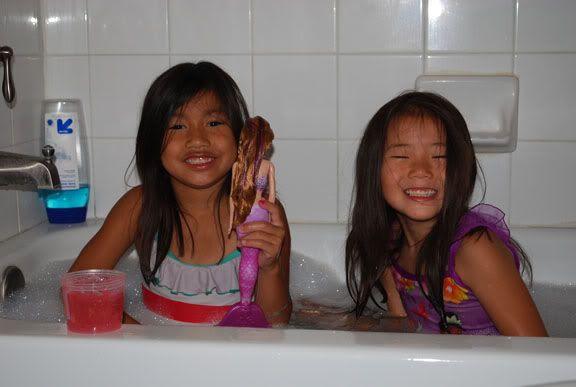 Everyone would just grab a sweet girl as they ran by and steal a hug. Emma didn't mind hugs from Miss Denise at all!!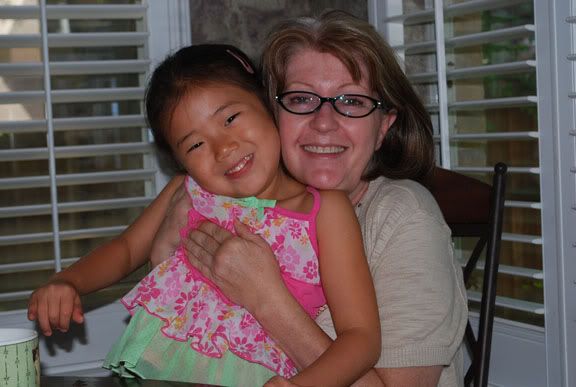 The guys took over the kitchen and cooked a fantastic meal for us. I was the supervisor and taste tester.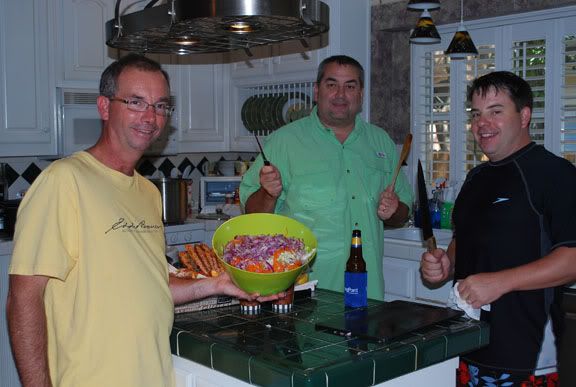 Actually we had SEVEN little asian beauties running around. Another family in the area joined us for some fun. Here are the girls from age 10 to age 4.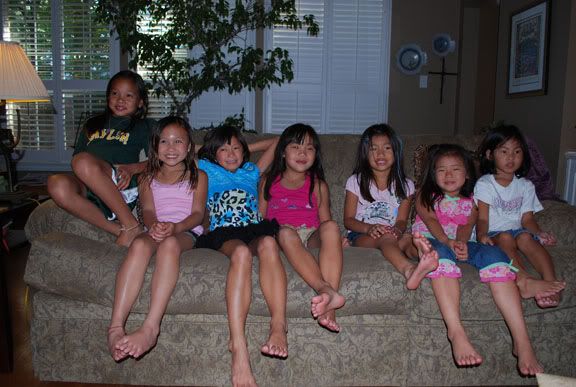 Emma had a blast. Miss Denise had FOUR cats at her house, which the girls chased non-stop. Poor kitties! She also was loving the teenaged boys as well. A little frightening to me and her dad, but at six years old, it was harmless. She got to play the wii with the boys and learned how to play the drums (on the wii).
On the way home we stopped at this beautiful fountain to take some pictures.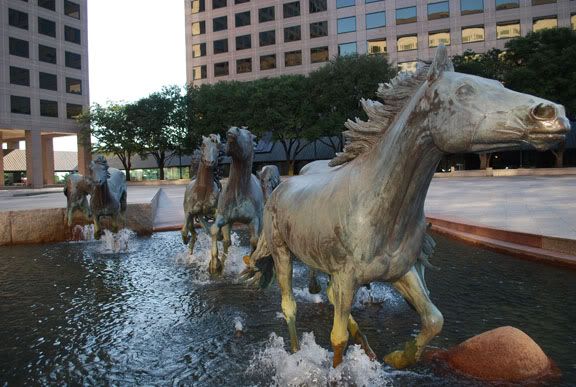 Of course I have to get my cutie in the picture as well!!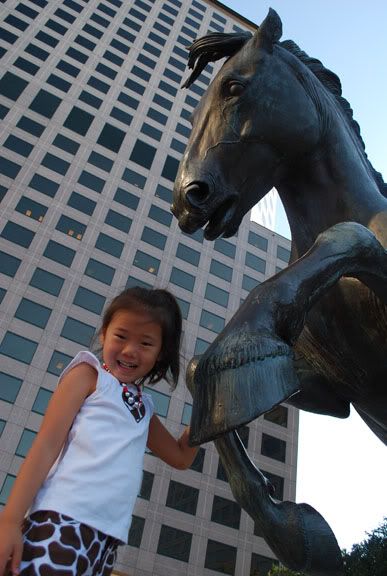 ---
05/26/2011: Update from the last couple months. It's been a busy summer. This is the first summer that Emma is not in daycare, but in day camp all summer. We're trying to mix things up, so she's trying out the Y camp, a couple of different gymnastic camps, a couple of dance camps and an arts/crafts camp. Something different every week! Makes our mornings hectic, to make sure she's got the right "stuff" for that days camp. She seems to be enjoying them all so far. Here are some pictures of our summer so far.
Birthday party pictures from her gymnastics party. What a fun party that was and I'm sure all the moms and dads were glad to be getting an exhausted kid to bring home.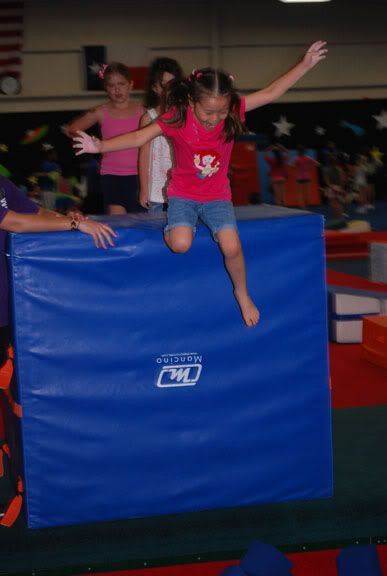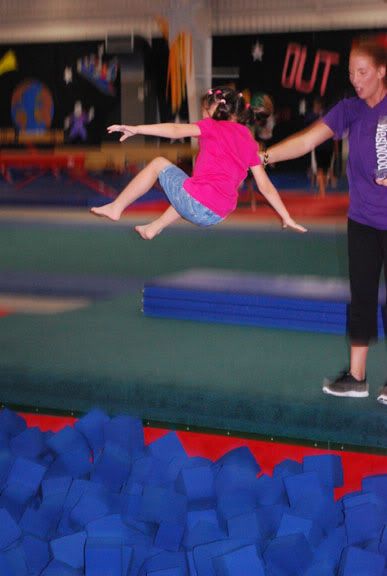 All mom's should be able to just "toss" their kids every now and then. Very therapeutic!!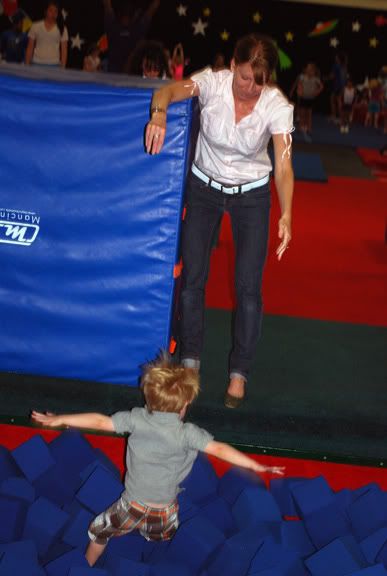 Sprinkler fun: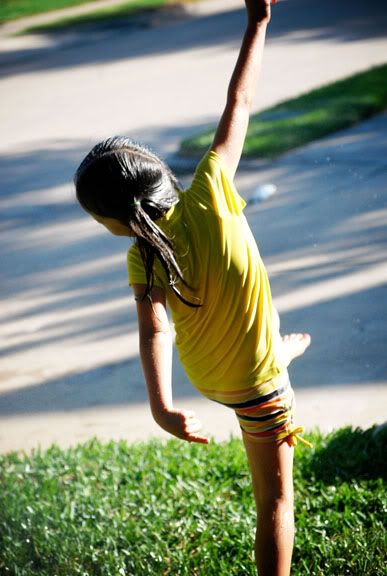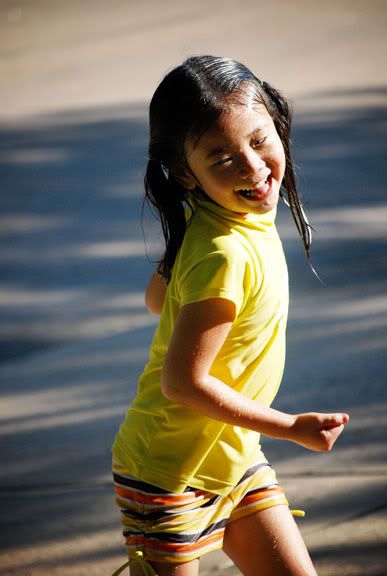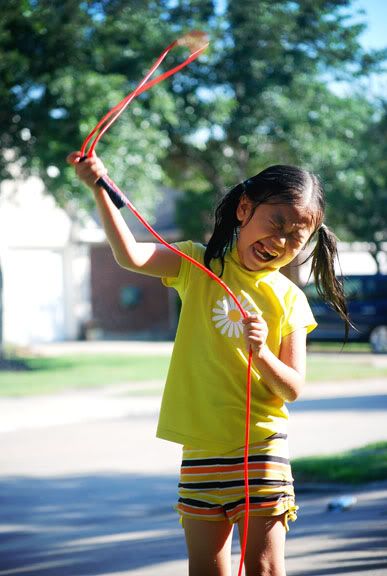 Rainforest Expedition: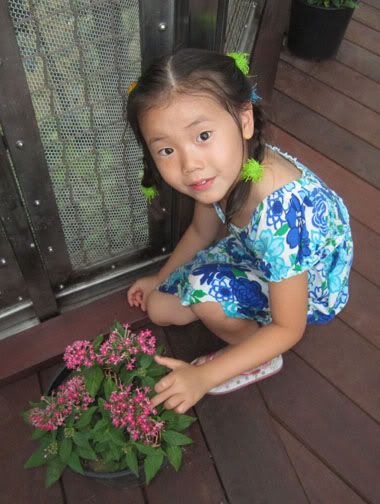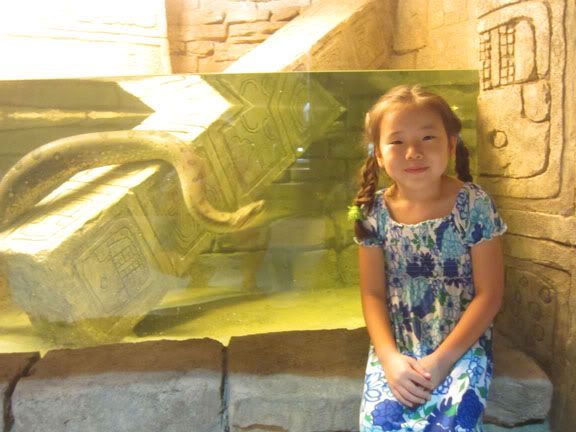 Kindergarten Graduation!!! Zip-a-dee-do-dah, Zip-a-dee-done. My oh my, kindergarten was fun! This video clip was a bit rough, but from ten rows back and all the parents standing up, I was holding my camera up in the air on my tippy toes to catch it.
With the principal and vice-principal getting her certificate. She did a great job and wasn't a bit nervous with hundreds of moms, dads and grandparents in the audience watching.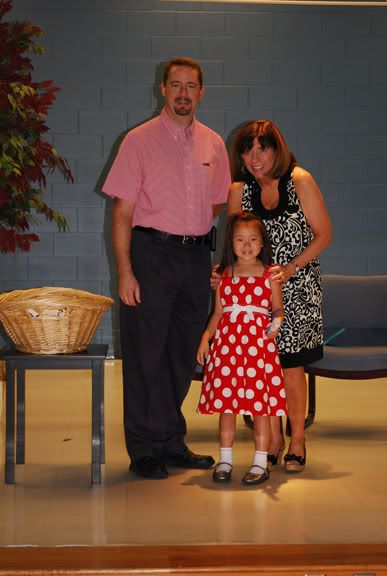 In the beginning of June we lost our sweet Abby-girl. One of the two mutts this website was named after. She's been part of our family for many many years and will be greatly missed. Emma had a hard time with this, as she just adores our sweet mutts.
In the last couple of weeks we've gone to see the sandcastle competition.......
... a goodbye dinner for my brother's family who will be moving overseas....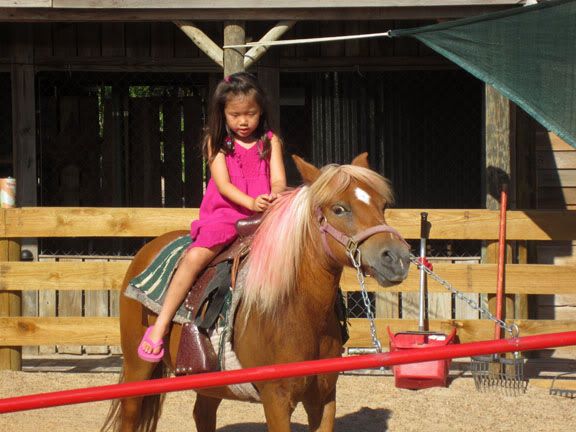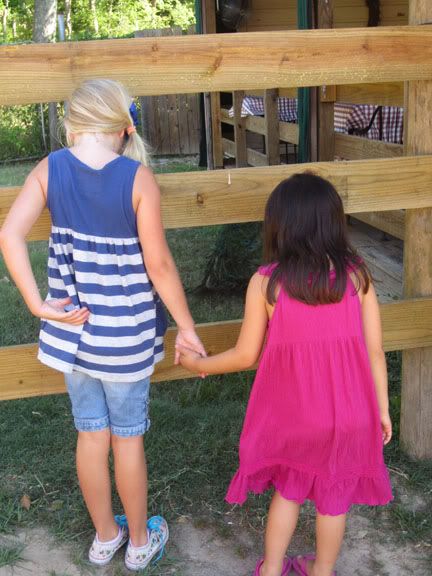 ....a fun day of playing with my camera at the beach....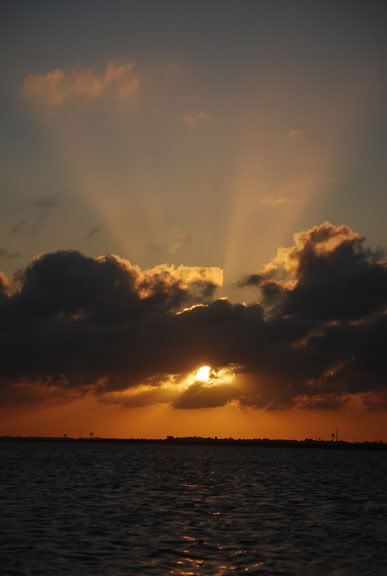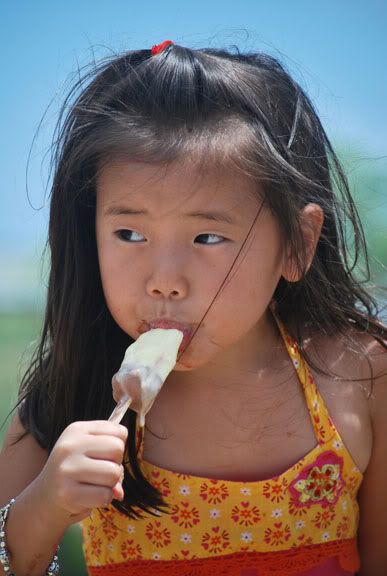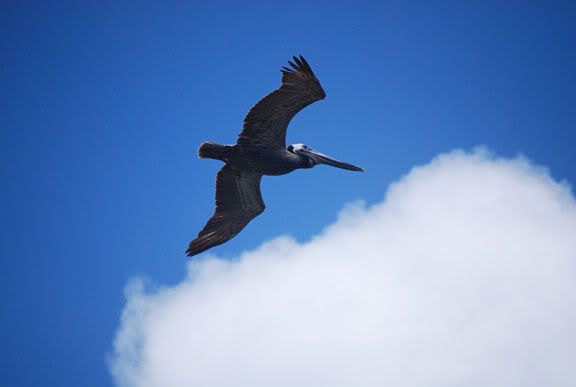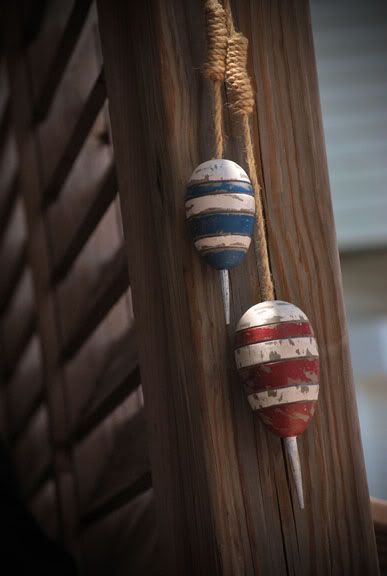 ...and a quick weekend trip to Dallas to visit with great friends.
With Percy, the three-legged cat. Emma so wanted to take him home, and Mrs. Denise, being a vet, would have loved to send one of her rescues to a new home, but alas, with Momma's allergies and Daddy's non-love for cats, it's not meant to be.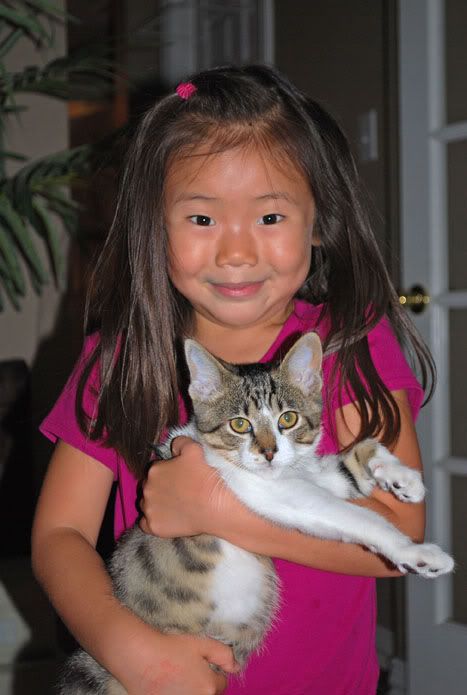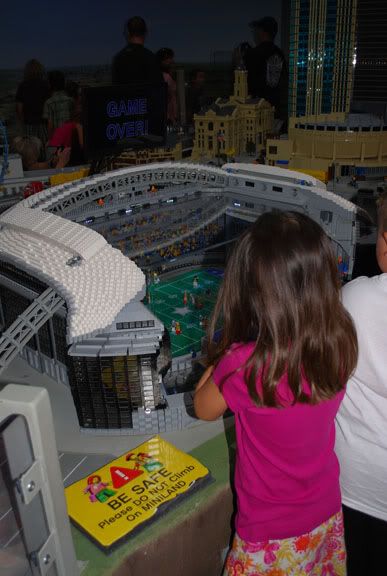 ---
04/30/2011: It's been another long week. The week started off with fever for three days (again) but by thursday she was well and back to school. Thank goodness, because tomorrow we're ready to party! We're having her birthday party tomorrow, so stay tuned for more updates later.
Today we got this little mother's day note home in her backpack. I've been waiting a long time for one of these and this one was hilarious!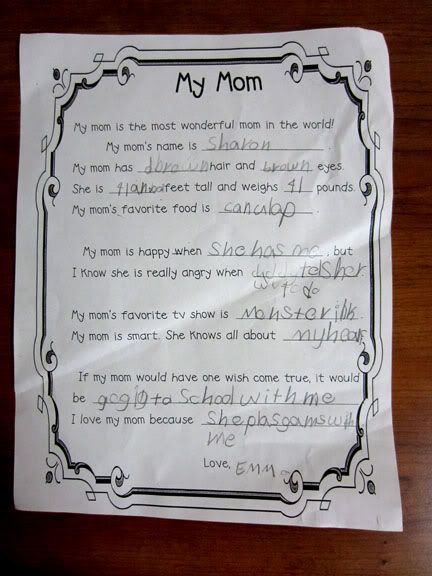 My mom is the most wonderful mom in the world. My mom's name is Sharon. My mom has brown hair and brown eyes. She is 41 and ??? feet tall and weighs 41 pounds. <bless her!!> My mom's favorite food is cantaloupe. My mom is happy when she has me, but I know she is really angry when daddy tells her what to do. My mom's favorite tv show is Monsters Inc. My mom is smart. She knows all about my heart. <awwww> If my mom would have one wish come true, it would be going to school with me. I love my mom because she plays games with me.
Too cute.
---
04/30/2011: It was a birthday party today. Emma and six other little girls got together and had a dress up tea party, complete with glitter makeup. Once everyone got dressed and accessorized, there was a little fashion show, then they got to ice their own pink cupcakes and drink pink lemonade from real tea cups. It was a very pink day.
As a take home gift, each girl got a little ribbon halo. Emma kept saying she was rapunzel.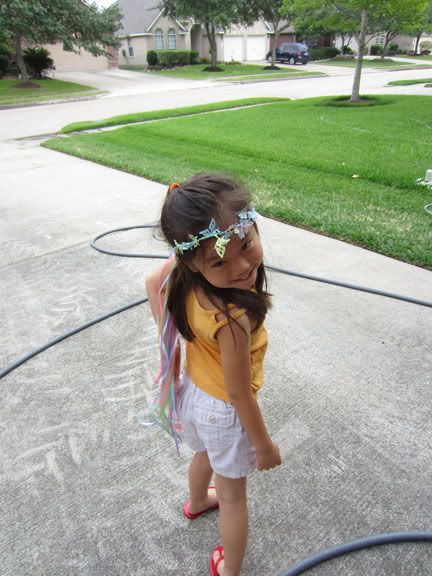 Yesterday we got to try out the new appliance. Emma got a hand-me-down from her cousin that is moving, and was SOOO excited to see this EZ bake oven. We had told her she had to wait till she was 8 years old to get one of these - since that's what it says on the box (and we thought, or were hoping, she'd forget about it too. No way, she's been talking about these things for over a year now). We made some cookies with sprinkles. Six tiny little cookies. Perfect!!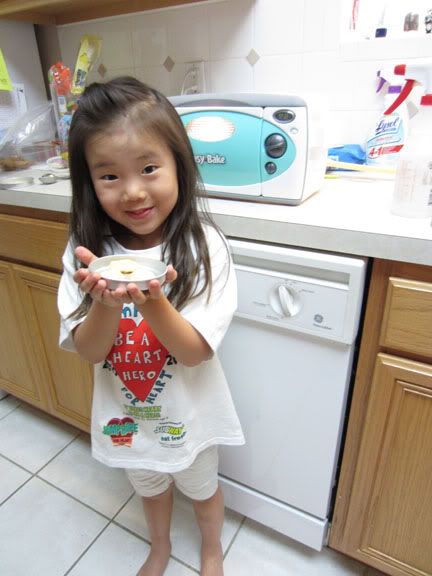 We also have our little nature experiment going right now. We ordered the butterfly habitat and we watched our caterpillars turn into chrysalis', then out came the butterflies. Such a neat thing to watch, although I was told - We saw the same thing happen in school today. Ok I guess her teacher and I are on the same wavelength. This is the only decent picture I got, since they are in a mesh habitat and those little things are hard to photograph!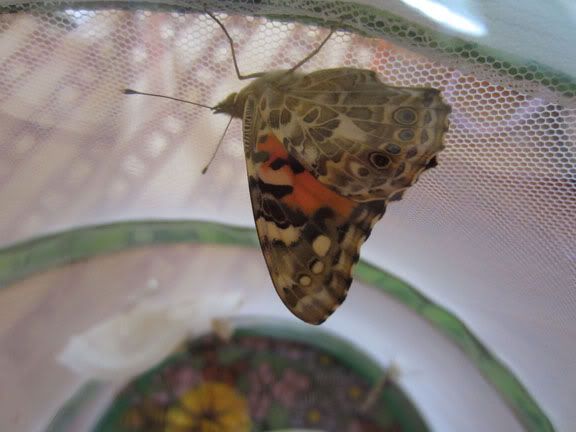 ---
04/27/2011: We had a fun, laid back easter this year. Again this year, we spun the dye on our easter eggs with Mawmaw helping us.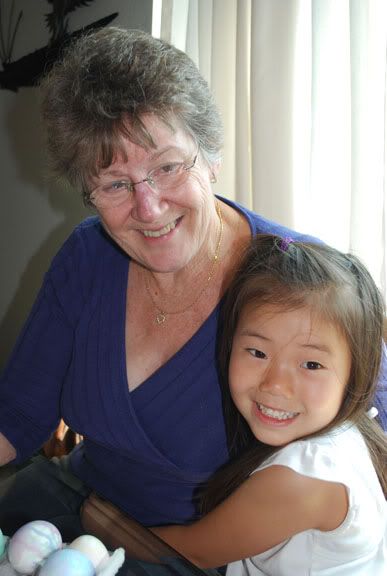 We had a cascarones war on the deck. Confetti everywhere!!
The easter bunny didn't bring too much candy, but there were other fun things - a new cd - someone's favorite singer!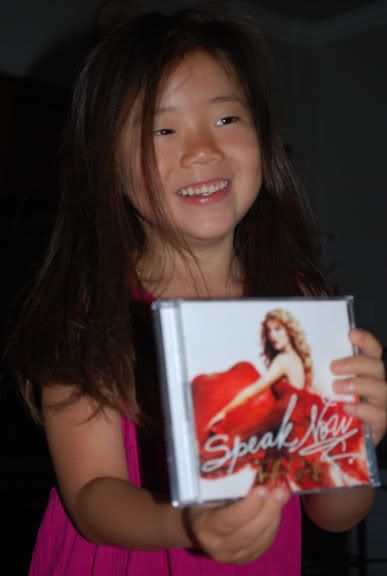 And a pink fedora.
There was a community egg hunt.
And Mr. Bunny came for a quick visit too.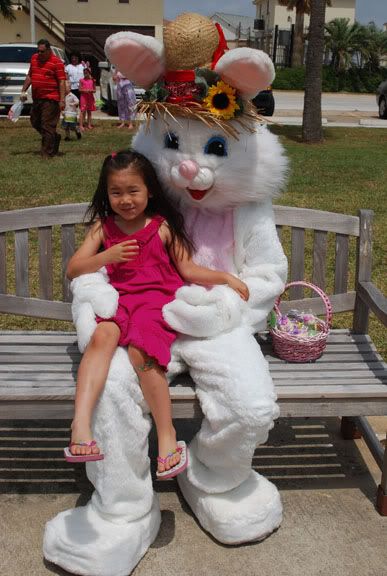 ---
04/17/2011: Just pics. Very tired!!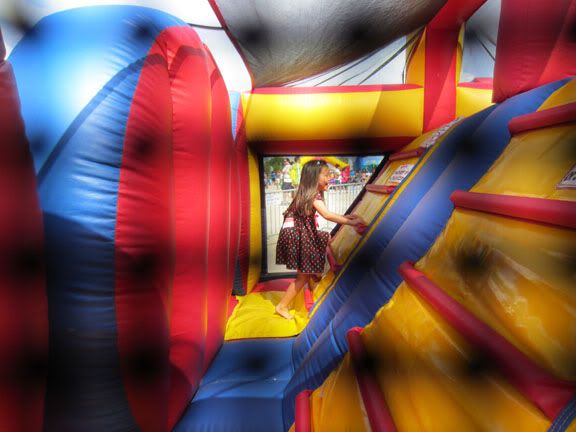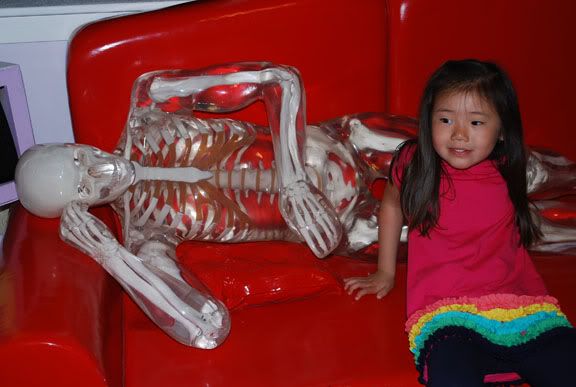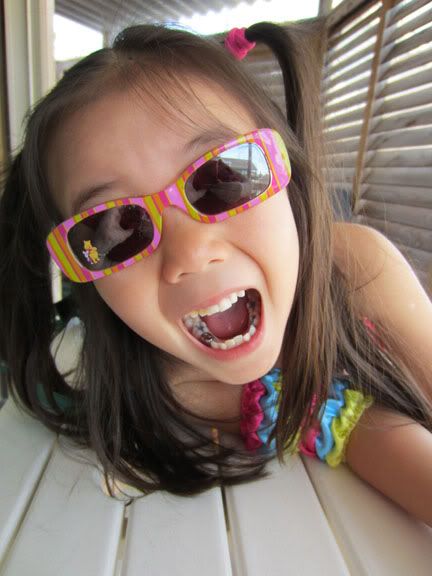 ---
03/29/2011: Because someone asked what the rest of the dress looked like.....
This was the first pitiful place we stopped to take pictures. Terrible bluebonnets!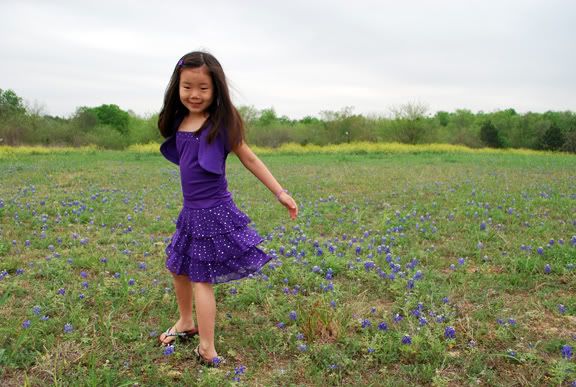 Another.
---
03/27/2011: It's been a rough week. Emma was out of school for spring break, then the next week she was out sick all week. I think a virus hit our house, and hit every one of us. Today was the first day of no fever in a week, so we took our chances and went out looking for bluebonnets. It's been very very dry here lately and bluebonnets love wet weather. We had a hard time finding them in our usual spots, but we did finally find a big field. They weren't as pretty as previous years because of the lack of rain, but we did get our yearly pictures.
---
03/07/2011: It's Mardi Gras time! This weekend we caught a couple of cute parades. The first was the dog parade. There were many different kinds of pooches enjoying their time in the spotlight.
The king made an appearance.
Here's a turtle and an ice cream sundae.
This little guy was ready for the luau.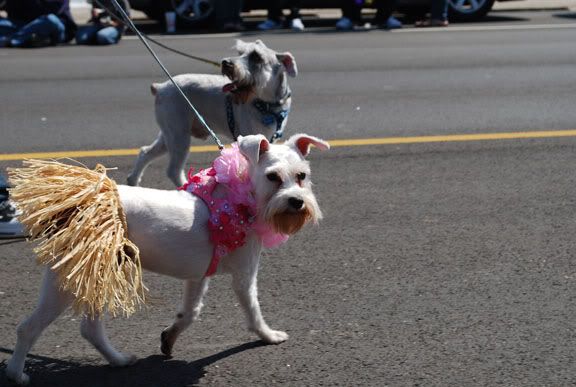 Some were just clowning around.
This cool pooch was my favorite.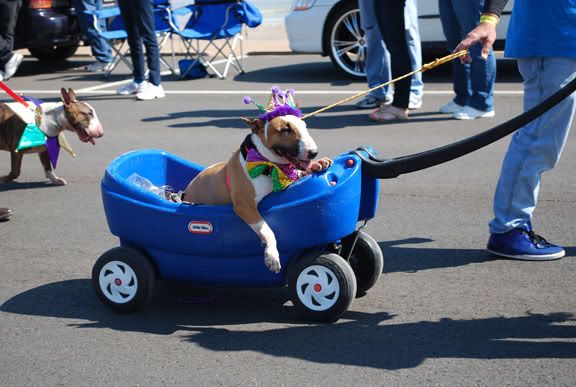 Afterwards was the real parade. Emma is a parade veteran, so she donned her swim goggles. Everyone knows that's the way to avoid beads in the eyes.
There were a couple of fun bands.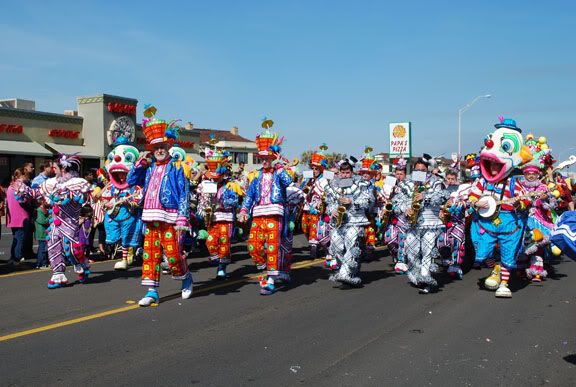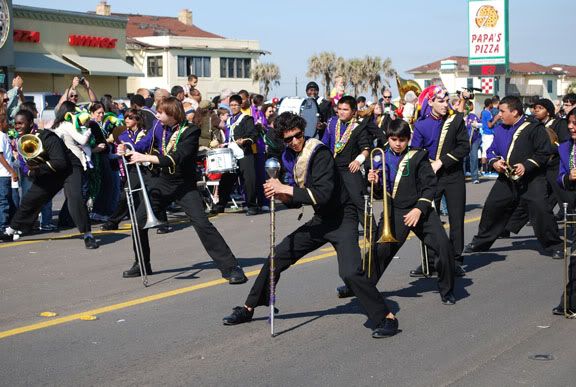 And a fun snake float.
Of course, what's a parade without beads?
And just one more thrown into the mix. Fun with finger paints!
---
03/06/2011: This past week was the kindergarten field trip to the rodeo. There were tons of parent chaperones, thankfully, since there were plenty of school field trips going on at the same time. Our little kinders were easily identifiable with neon green bandanas. Great idea, Miss Kinder teacher!!
There were all types of farm activities: milking the cow...sort of. It was a fake cow and the milk was water, but the kids got a kick out of it.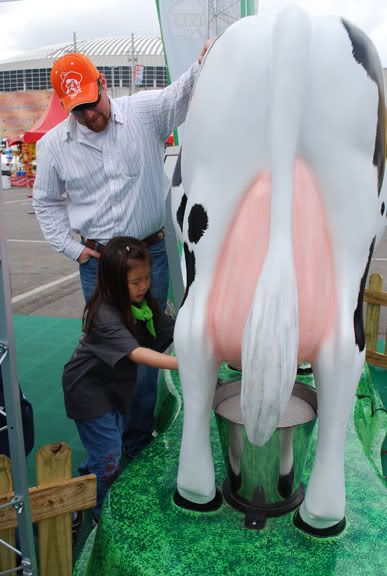 Taking care of our own farm and orchard.
Looking at tons of animals.
And petting the sweetest 12-hour old goat.
These poor kids had to just look at the carnival, since we didn't have time for rides or games. Another day....another day.
---
02/26/2011: Tonight we had the elementary school PTA fund raiser "Sock Hop". Wow, that was fun! First of all, how can you not smile to see about a hundred little girls in poodle skirts. I don't know where the posing comes from, but she just does it naturally. Believe me, I'm not asking her to pose like that!!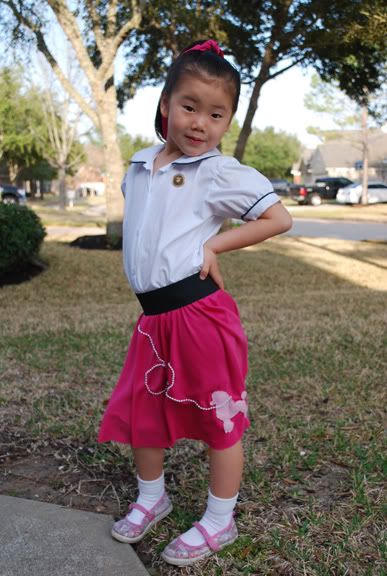 Then add in games, dancing, cake walks, face painting, pizza and candy...can it get better? Oh yes it can!! You can win a raffle prize of a huge basket full of princess things.
This is the most beautiful little play castle. It was a difficult task, but we got Emma to bed after opening the basket up. I took the castle out of the packaging so she can play with it first thing in the morning. Good thing too, because it reminded me of Christmas morning with all the toys in those crazy packages that you have to destroy to open. She's going to love this thing.
We saw quite a few little girls who were staring at that basket as we left the school tonight. Well, I'd better get to bed. I know I'll be busy playing castle in the morning as well. Hmm, wonder if we won anything in the silent auction? Guess we'll find out in the next couple days.
---
02/23/2011: Can't leave out dear old George!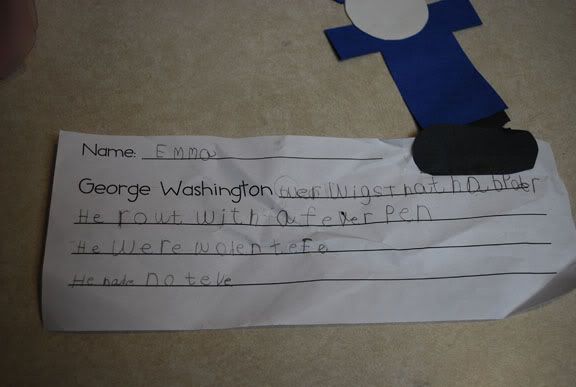 George Washington wore wigs that had powder.
He wrote with a feather (fever) pen.
He wore wooden teeth (tefe).
He had no TV (teve)....oh the horror!!
---
02/22/2011: Presidents Day worksheet...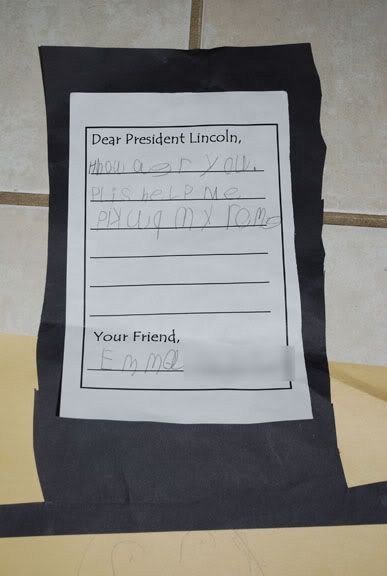 Dear President Lincoln,
How are you? Please help me pick up my room.
Your Friend,
Emma
Poor President Lincoln. Like being president wasn't enough!
---
02/15/2011: The quilt is finished. Well, not the special one. That one is actually under construction, but I HAVE finished my very first quilt. I started this one in 2008 for our first D!sney trip. Didn't quite make it on time, but I found the project in pieces and decided to continue. I finished it the night before Valentine's day and gave it to Emma last night. She was so excited that I had made it for HER. It wasn't very complicated except for the fancy mouse head quilting I decided to do, oh and the binding was probably more difficult with such thick fabric. It turned out pretty cute for a first quilt.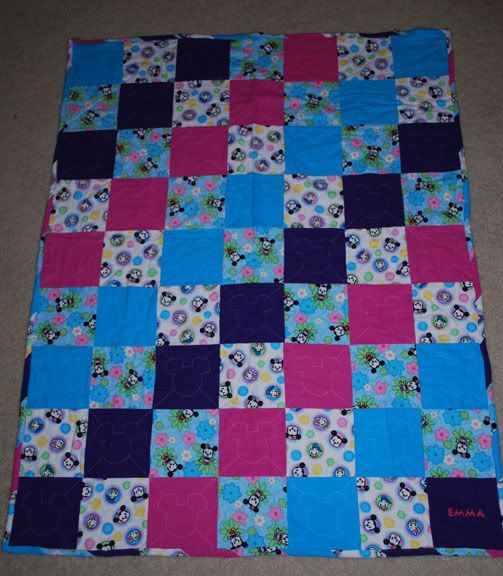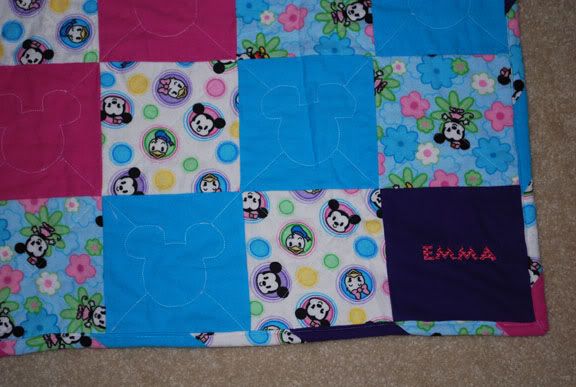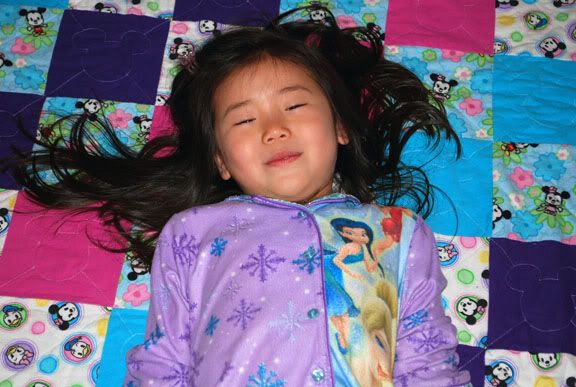 She insisted on sleeping with her "quilty" last night. What a cutie.
Well, it did take 2 1/2 years longer than I intended, but can you blame me. Would you prefer to sew or hang out with this fabulous diva?
---
02/05/2011: Today is our Family Day!! Five years ago we became a family in a chilly government building in China. Today we went out to eat to celebrate. Emma got to pick her favorite restaurant (Asian food, of course). We came home and had a little photoshoot this afternoon. We enjoyed being outside after the freezing temperatures we've had for the past few days. No snow for us, just a few icicles.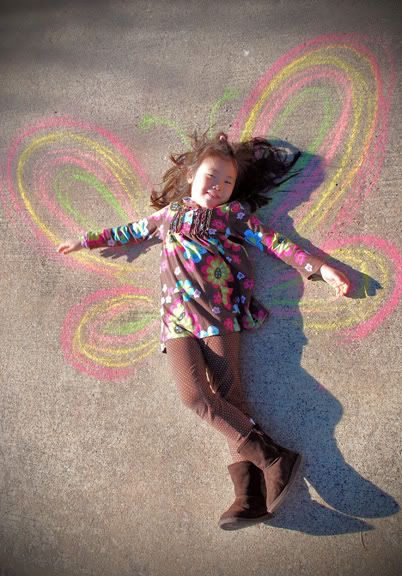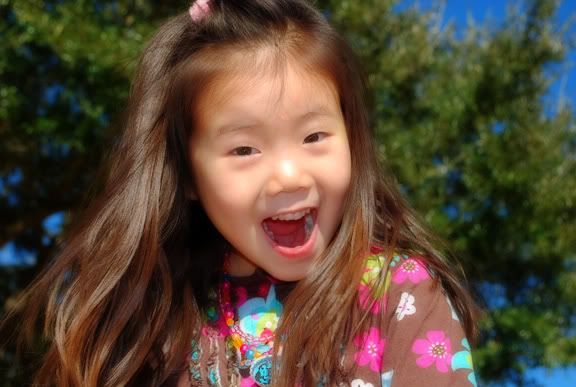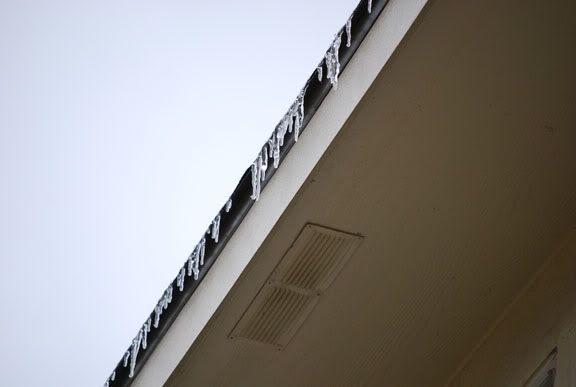 Hmm, seems like we need to check our gutter. Looks like it's about to fall off!!!
---
01/25/2011: Tooth #2 out today! Unfortunately I don't have any cute little gap tooth grin pictures, since the adult tooth has been out behind the baby tooth for weeks now. I told her I couldn't call her "shark tooth" any more. She's happy and is eager to see what the tooth fairy leaves for her tonight.
So I'll just have to leave you pictures of her new car seat.
And a cute, messy hair, day.
---
01/05/2011: Happy New Year!! We had a delightful Christmas and a very happy new year. There was always something going on, so here's our holiday life in pictures.
On Christmas eve, we visited friends and had dinner with the family. Here's the grandchildren about to open their one gift of the evening.
Santa was left his plate of blobby shaped cookies and carrots for the reindeers.
On Christmas morning there was a whirlwind of activity. Opening stockings and presents - most too quick for my camera to catch.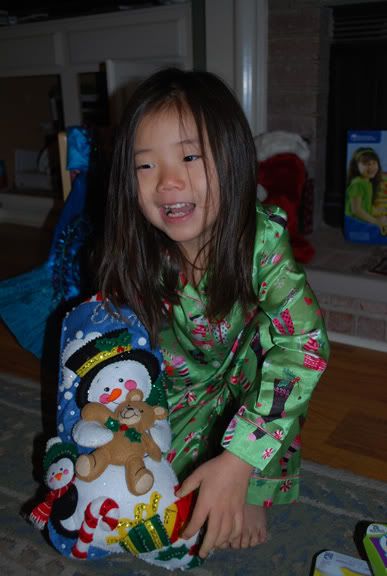 Tape in her stocking. Because what five year old doesn't LOVE tape? And yes, she's kissing it.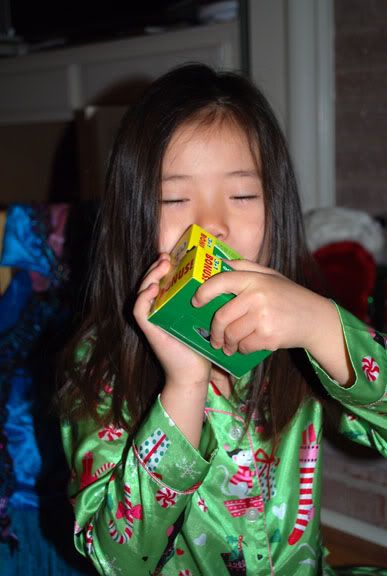 The dog was Santa's big gift - and was a huge hit. But Emma says that "GoGo" needs to listen to her better.
We got her a new table, with a huge roll of paper to draw on. Plus a storage unit for her growing toy collection. That is "princess makeup" that she has applied. Looks like she has pink eyebrows!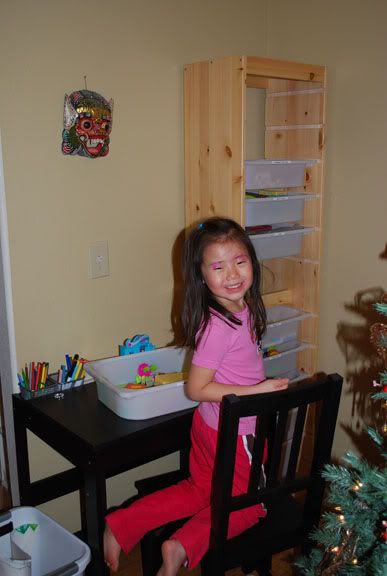 Legos were a big hit as well.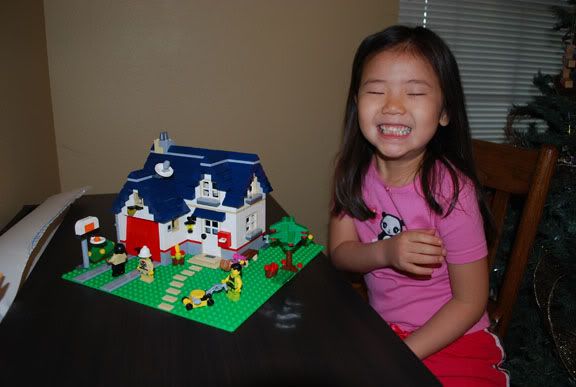 The afternoon was spent with family, having lunch and opening more presents.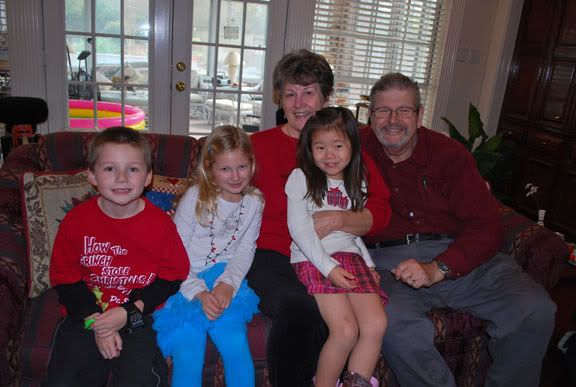 Look who got matching outfits!! Too cute.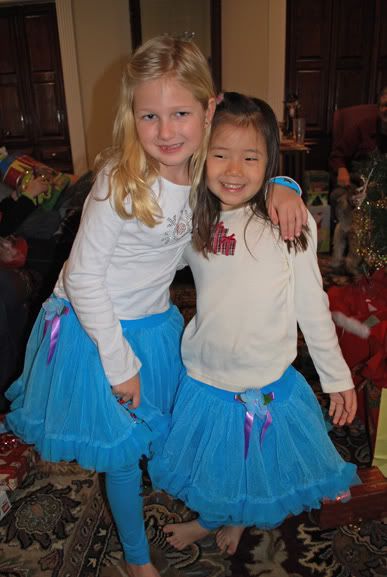 A makeup kit - very much loved.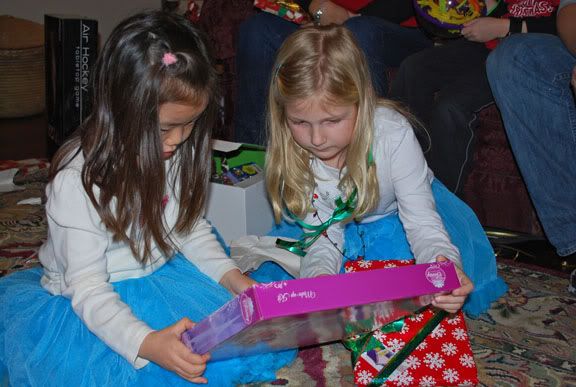 New Years Eve was spent at the beach. It was a calm and beautiful night.
We started out with smores on the fire pit.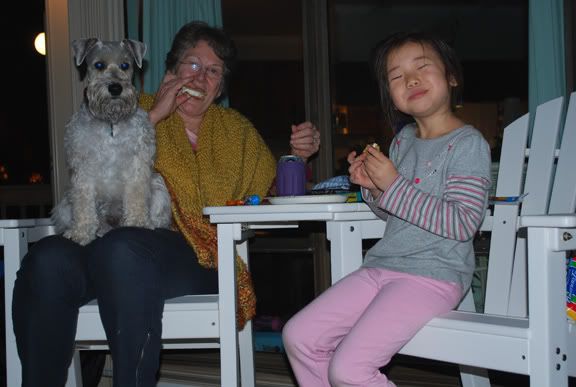 And moved on to sparklers.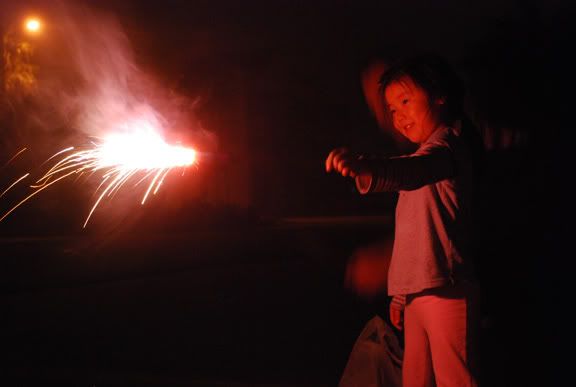 Wishing you and yours a fantastic 2011!!!
---