Welcome to our adoption website. This is so friends and family can keep up with us during our amazing journey to adopt a baby from China. We traveled to China in February 2006 to bring our daughter Emma home. Our travel journals are archived in the drop-down box under the web buttons. This website continues so Emma's family and friends can continue checking out her progress and daily adventures.
---
12/23/2010: Ahhh, what a few weeks it's been, and Christmas Eve is tomorrow. It seems like December has been here for just a few days. Our little elf Mr. Sonny came to visit us again this year. He is supposed to arrive from the North Pole the day after Thanksgiving, but he showed up before turkey day this year. If you don't know the story, a little elf appears in your house and every night reports to Santa Claus on the behavior of the children in the house. The child can talk to the elf but cannot touch him, or his magic will disappear. We named our elf Mr. Sonny (Sonny was Blaine's fathers nickname and it's nice to hear his name around Christmas time). Mr. Sonny has been very creative in finding new spots to hang out in each day after his return from the North Pole.
This morning he was found on one of the larger presents.
Checking out the gingerbread village.
Just hanging around.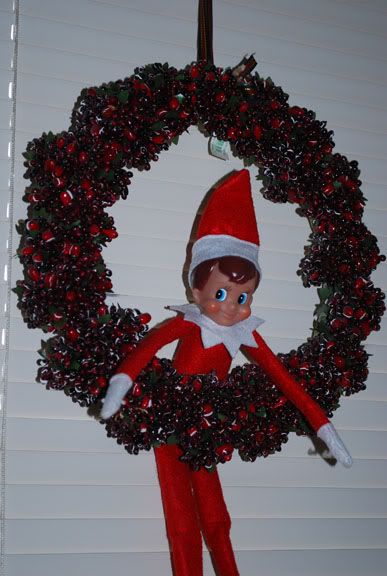 In a very cozy spot.
Ahhh, we can see everything from the tab top curtains.
Looks a little uncomfortable.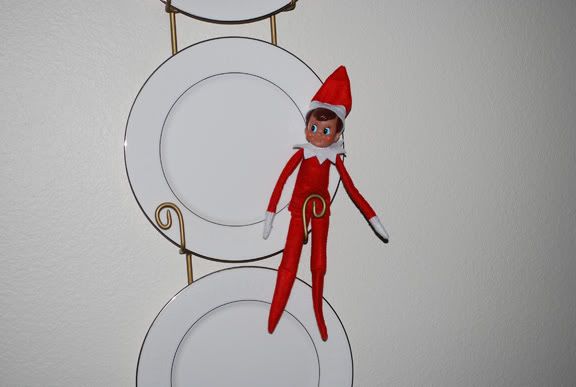 Checking out the fam.
He's clipped on our card holder.
I made this several years ago to hold our photo cards. I love passing by and being able to look at all of our beautiful friends and family. I need to make another one because we get lots of photo cards.
So all of the sudden our stuffed animal loving girl is playing with BABY DOLLS??? She's had this little baby for about three years and she's barely gotten any attention. Well, this past week "BlueJay" (her name, as she has blue eyes like a blue jay) is the new member of her inner circle. We'll see if she sticks around.
During the last week of school, the kids had pj day. They got to bring a stuffed animal (lavender is the all time favorite) and wear slippers and they read the Polar Express. She even came home with a little bell. So cute. She thought it was SO funny to go outside and to school in her pjs.
Oh and Santa wrote Emma a very special note, printed on shiny silver paper. She was so excited to see the return address of the North Pole. It talked about her school and her teacher and what Santa expected of her this holiday season. Very cute. Here's mom checking it out.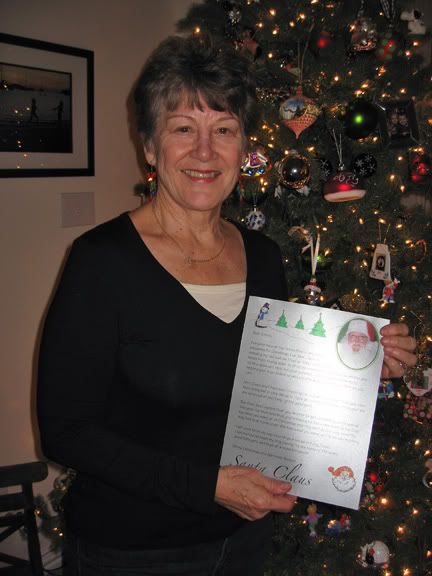 Here's Emma and her cousin Grace hanging out together. Emma adores Grace!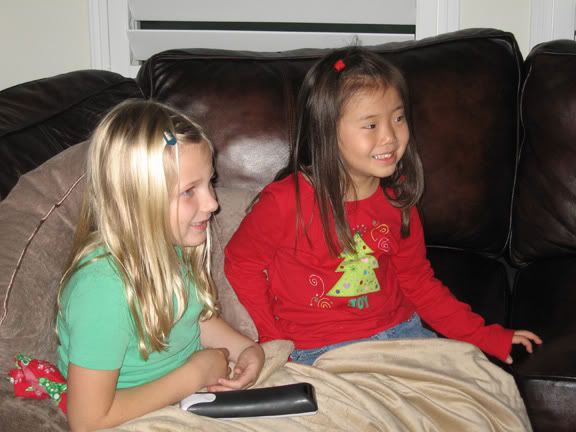 As we inch closer to Christmas, we are so thankful for the friends and family in our lives. We are especially grateful for the wonderful news we got this week about my father's cancer treatments, that they seem to be working!!! It's been a year of ups and downs and we're so happy to be ending 2010 on an "up".
We wish you a very safe and Merry Christmas!!!!!! Here's to a wonderful 2011.
---
121/11/2010: Five years (and two days) ago we saw your beautiful face for the first time in three little pictures. You are growing fast but I can still see the little baby in your five and a half year old face.
We lost our first tooth this week as well. Dec. 9th, right before bed time. She had a dental appointment earlier in the day and the dentist gave her one month before he wanted to pull the two teeth, because the adult teeth were fully out behind the baby teeth. That evening, she was laying on my bed, then popped up and spit out her tooth! She was so excited. The next morning she found a five dollar bill and a note from the TF.
Not the best picture, but she was on the run and didn't care that my flash was turned off.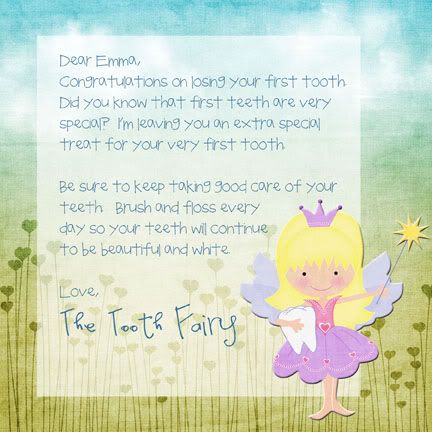 ---
121/05/2010: Photo collage catch-up. Between sickness, school, work and everything else, here is a little photo montage of our world in the last month.
Cousin birthday gymnastic party. I can see we might be having Emma's birthday here next year. She loved it and that's all she talks about for her birthday.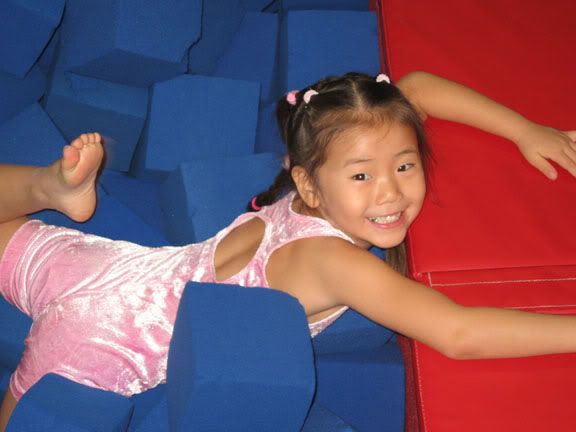 We had a sickly Thanksgiving. Plans were changed and I stayed in bed most of Thursday (except for online shopping!) If you can't read the note below, it says "I'm thankful for my family".....awwww!!!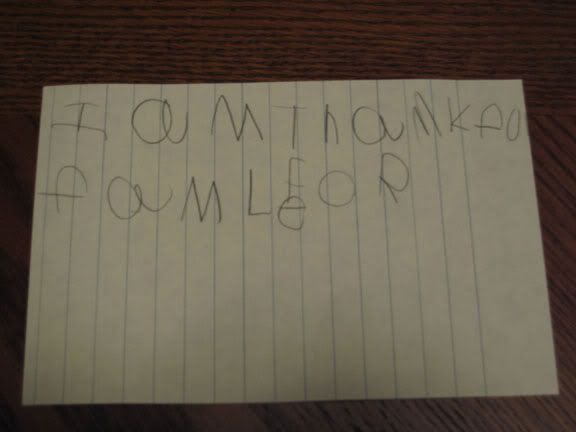 The kids discussed the first Thanksgiving in Kindergarten. Emma came home with Indian and Pilgrim costumes that they made in class.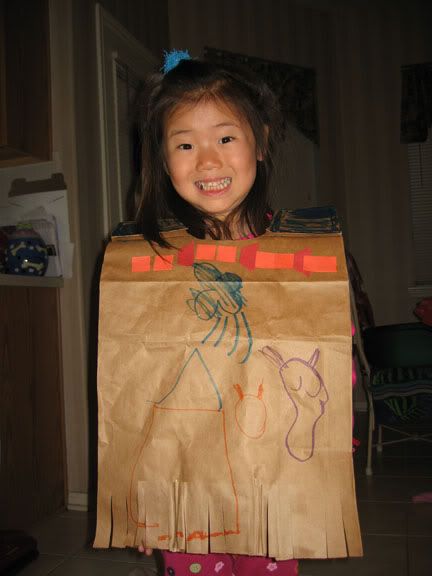 Then the day after Thanksgiving, we made a little Christmas gingerbread village. This was a fun twist on our gingerbread house last year. Emma was READY for Christmas as soon as the turkey was eaten. The tree and house got decorated quickly, as demanded by Ms. Five Year Old.
We went and looked at the Christmas lights with my parents.
They had snow and everything. This is what we do in the south. We pay $5 for our children to play in the "snow". But she had a blast and it was worth the $5 we paid for the ice....I mean, snow.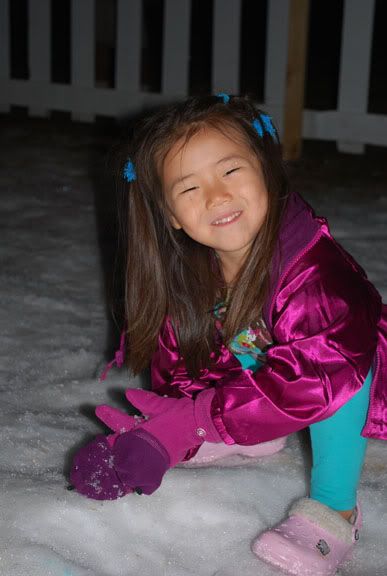 Last week at school was gingerbread house day. It was amazing that 125 kids came in the room, sat at the tables filled with plates of icing and candies, but did not touch anything until instructed to. Those teachers are amazing.
I also caught a glimpse of the gingerbread boy that was sent home to decorate. Emma insisted that hers was a little Chinese gingerbread girl. So we made her a little red sparkly Chinese dress trimmed in ladybug ribbon and made her a yarn wig, and a matching purse. The little stuffed gingerbread boy from their class has run away and they have posted signs all over the school trying to locate him. In the next week, postcards will be arriving from all over the world with gingerbread boy spottings. Blaine used his international contacts from work, so Emma's teacher will be getting postcards from some very remote locations. So cute.
This weekend, we ran into Santa. He was riding his fire truck down the road, then he had a meet and greet for the twenty or so children that were there. We really had to search through the closet for something Christmasy. Being 75 degrees, I just couldn't put her in the cute long sleeve Christmas shirts I've gotten for her. Of course, one day later it's 55 degrees. Oh well.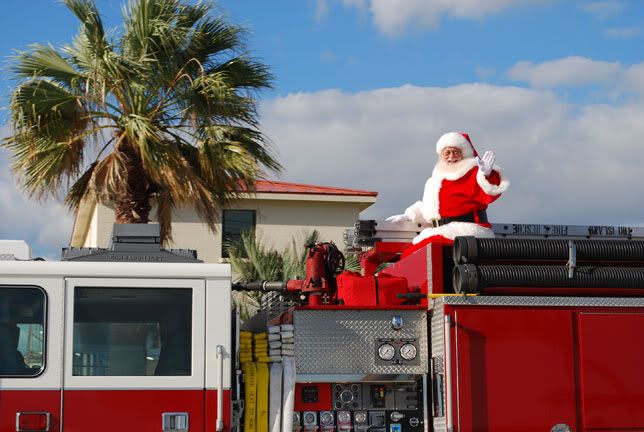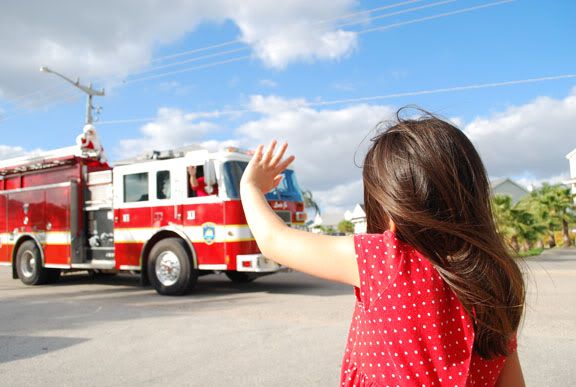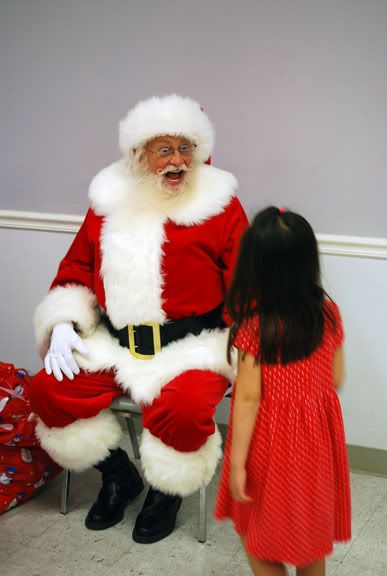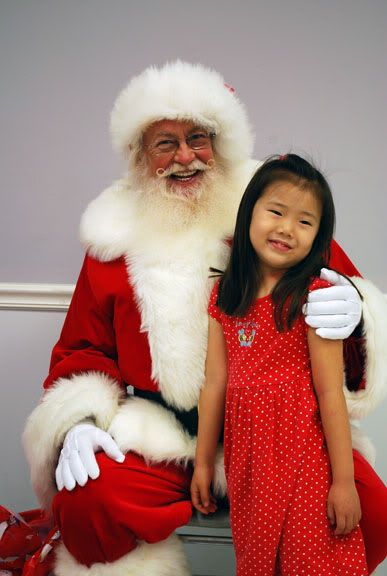 Then last night, we tried ice skating for the second time ever. She did much better than last year and even didn't want my help most of the time. She did leave with wet pants from the melting ice (hard to keep it frozen in 70 degree weather, I'm sure), but she had so much fun. We'll have to look into doing this more than once a year. And I may have to buy my own skates. Those rentals are terrible. Here's some grainy pictures from our little video camera. Not bringing my nice camera to something like that. There's only so much I can hold on to.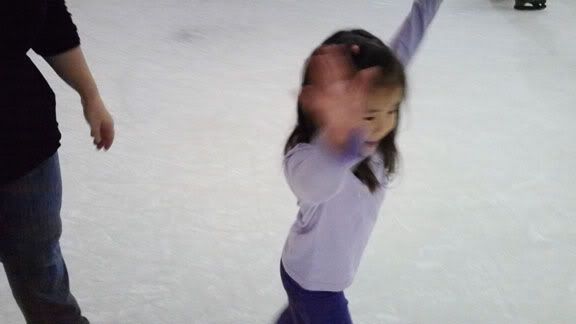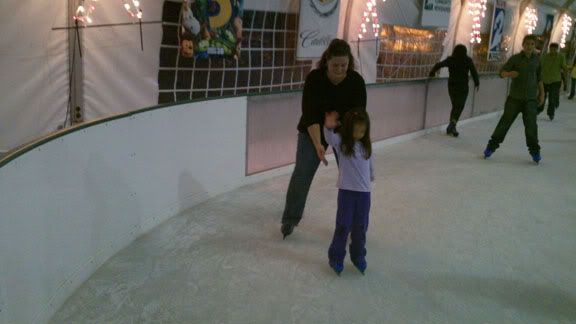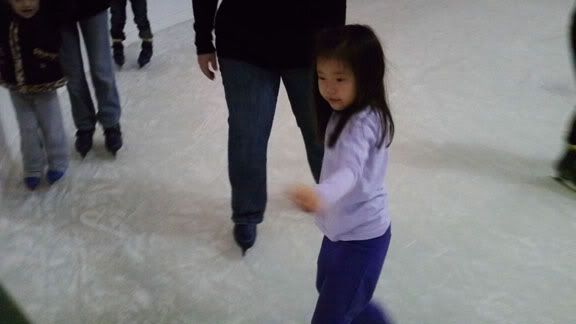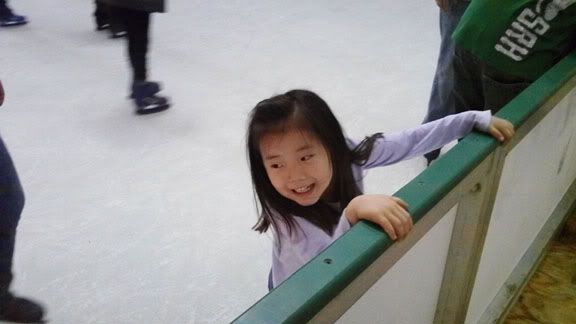 Whew, that's our month in a nutshell.
Oh and I see on October 17 I posted about Emma's teeth coming in. Well, her baby teeth STILL haven't fallen out. She's got her dental cleaning this week, so we'll see what the dentist wants to do about them.
---
11/12/2010: This is too funny. When we emptied Emma's backpack after school today, we found this note on the back of one of her coloring pages.
&nbsp
Yesterday, at the last minute, I asked her if she wanted to go see the D!sney Princesses show on Ice and we got tickets for this weekend. Her note says "Me and my mom is going to take me to see the princesses on ice". I guess she's excited about her first ice show.
---
11/08/2010: Ahhh, the teeth. We seem to have so much fun with Emma's teeth. Today, when we picked her up from after school care, instead of the wild child running around the playground, I saw a sad little Emma sitting on the bench with a paper towel stuck in her mouth. The after care teacher said "oh we were just calling you". My first thought was that her bottom tooth had finally fallen out. Umm, no. Apparently a group of kids decided to play on the slide at the same time and Emma fell over and her mouth hit the slide. So she's got a front tooth that is bloody at the gum line and very wiggly, along with the other front tooth that looks like it's slightly wiggly. This is NOT the same tooth that has been wiggly for the last couple of weeks. So we're off to the dentist tomorrow to see if we need to do anything about it, or just let it be. The good news is that it doesn't seem to bother Emma in the least. Thank goodness! Now on to being creative with her food so she doesn't have to bite into too much right now.
---
10/31/2010: Halloween season is now behind us. It was a fun few weeks and now Emma is ready for Christmas. Yes, at 8:30 on Halloween night as we were turning out the lights, she said she's ready for Christmas. We started out this week with a Halloween party with her cousins. Emma loves to hang out with her cousin and had the best time. We had to opt for the two year old Jasmine costume, which was much cooler than this years costume. It was a hot afternoon!
I love this picture. Sweet girls.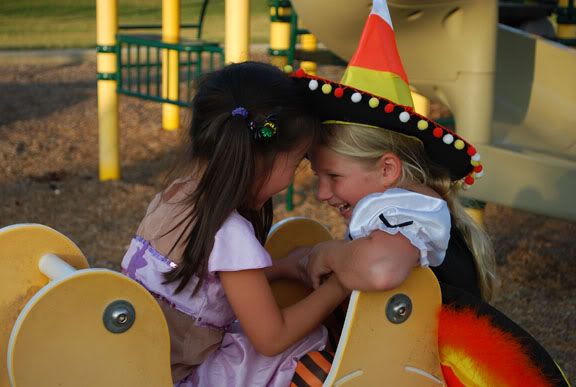 This evening, we started pretty early, because it was a long day of "it is time to trick or treat yet??"
We made a quick trip to Grandma and Grandpa's house so they could check out the costume. Ok, so the truth is so she could acquire more candy!
Our skeleton, who started out the Halloween season like this.....
&nbsp
got into the act and decided to be a princess for Halloween tonight!
&nbsp
---
10/25/2010: Painting pumpkins. Well, not much has changed in a year when it comes to our planning, preparing and painting pumpkins. Emma continued to paint with wild abandon, while I was careful and precise. Her pumpkin was finished in under two minutes, while mine took more like 15 minutes. She even painted one of the garden rocks before I had finished one eye of my pumpkin. Oh well, I let her be her own creative little artist, while I stuck to a theme.
&nbsp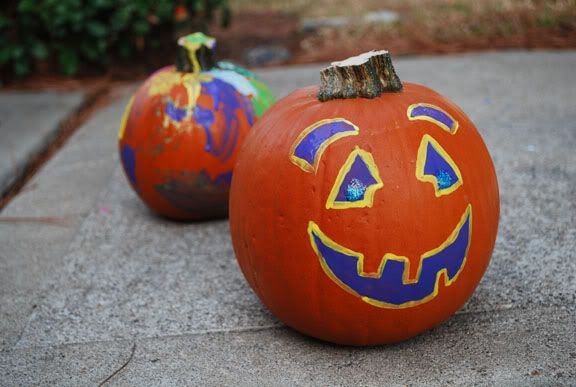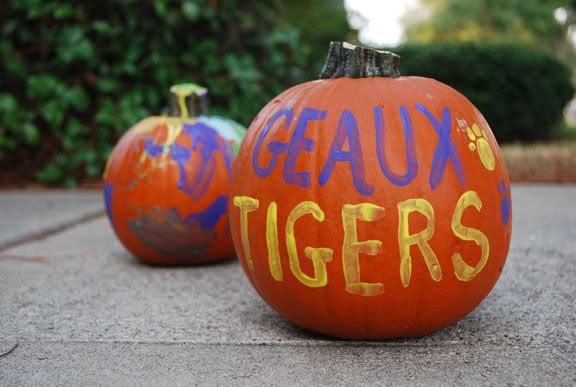 ---
10/21/2010: Uh oh. First note home. We have to sign her calendar that comes home from school everyday. So far, we've gotten smiley faces or "super" written on the calendar. Today we got this.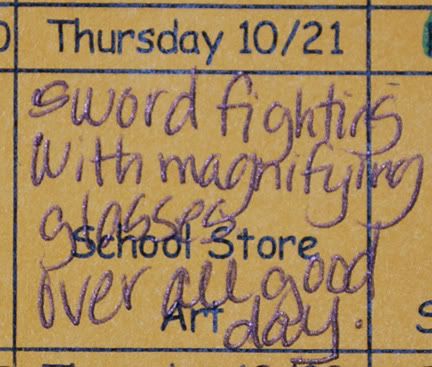 Really?? Sword fighting with magnifying glasses. If our girl sees someone else having fun, she's going to join right in. Ahhh, must be interesting being a Kindy teacher.
---
10/17/2010: What beautiful weekends we've been having. I'm loving this weather and hope it sticks around for a while. Isn't this gorgeous? Worth being woken up by Little Miss, early in the morning.
It's a big day in our house, and quite an unexpected one. Emma came to me tonight with her mouth wide open and saying something was bothering her. Usually this means there is a strand of hair that's gotten in her mouth and she can't remove it. So I ask her if it's a hair and she said no, so I told her to point to where it was bothering her. Low and behold, we have a little tooth poking out behind her bottom teeth. I'll spare you the pictures, I have them, but I'm sure you don't want to be looking inside of her mouth. Well, when I told her what I found, a huge grin came over her face. We've been reading her tooth fairy book and she was so excited about it, but we tried to prepare her that it would probably be another year at the earliest. So we'll have to keep checking those teeth to see if they get wiggly soon.
We had a great weekend at the beach house. Emma got to wear her new halloween dress that I finished. It was labor intensive, but turned out so cute.
This pose kills me. Too funny.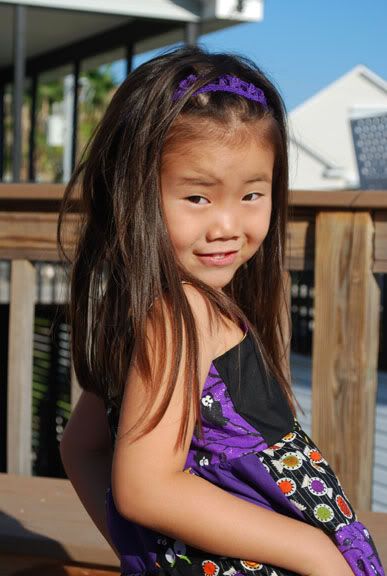 Here's dear old Dad going to war with a crab he caught. The little guy put up a fight and after a few minutes, was allowed to return home to his crabby family.
I'm so proud that she has none of my fears (and I'm proud of myself for not putting my fears on her).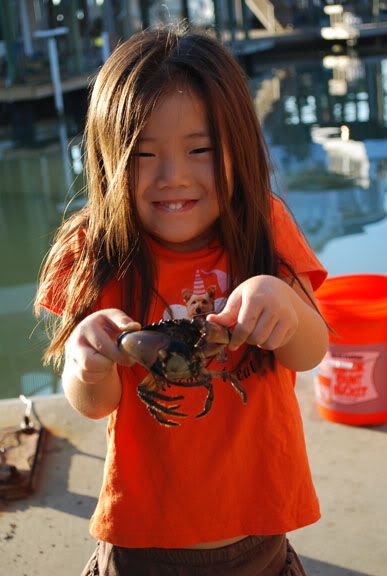 ---
10/11/2010: We had a fantastic weekend. We drove and visited with some relatives on saturday. Emma got to meet two new cousins (one very new, only five weeks old). She had a tea party with her little two year old cousin, who called her Enna....so cute.
&nbsp
On to the lake - we didn't want to leave.
Next we watched the LSU game with a dear friend of mine. Emma loved her because she loved to dress up and she let Emma dress up her boyfriend with the feather boa.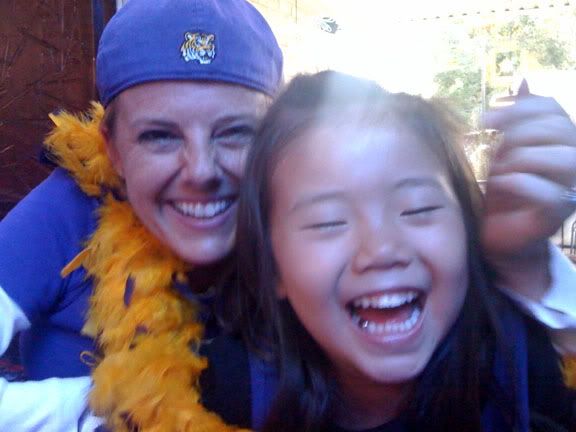 &nbsp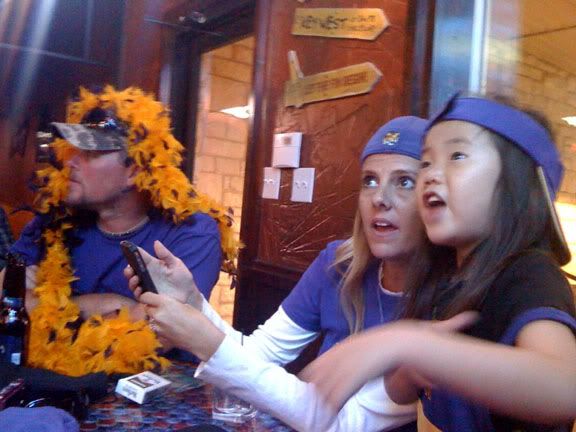 The next day, we caught a train that brought us to the pumpkin patch / corn maze / petting zoo / trick or treat village. We debuted the new halloween costume and she got lots of compliments.
&nbsp
Hey we found Bullseye!
&nbsp
Got on the train and found a seat. Open air, how nice!!!
Check this out. A CORN BOX, not a sand box. Yeah, we found lots of corn in the boots afterwards.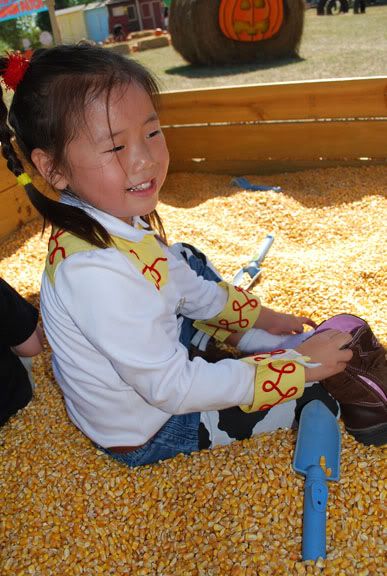 Bounce, bounce bounce (check out the braids!)
Corn maze with pocahontas.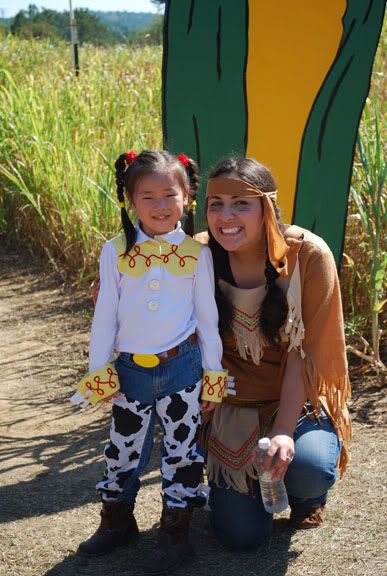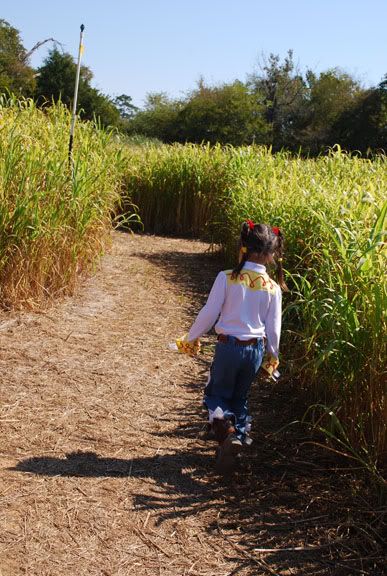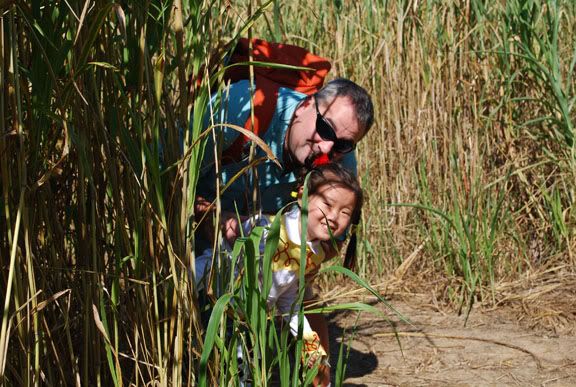 We reached the middle of the maze.
On to the pumpkin patch.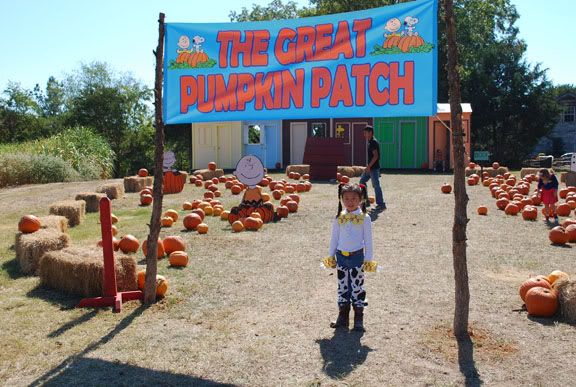 And Snoopy.
We found a REAL Bullseye!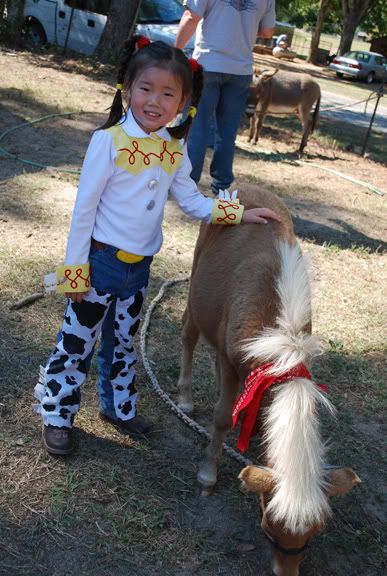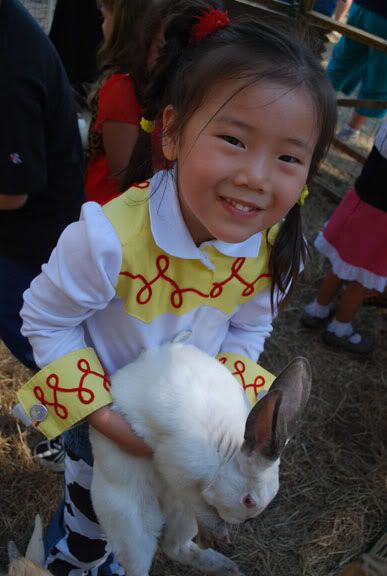 And the wicked witch, even though she told us she was the Lollipop witch (hmmm, we never did get a lollipop out of her).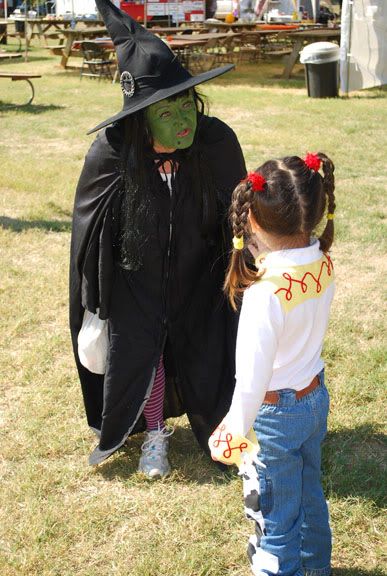 On to trick or treating.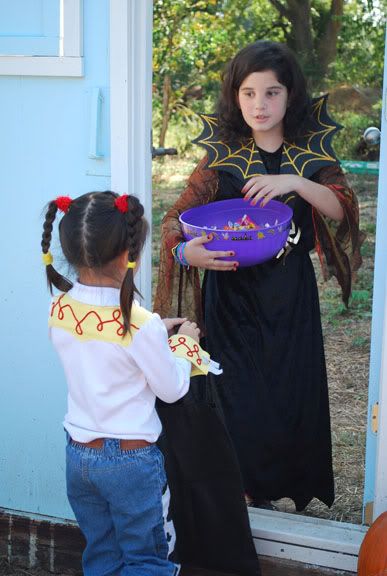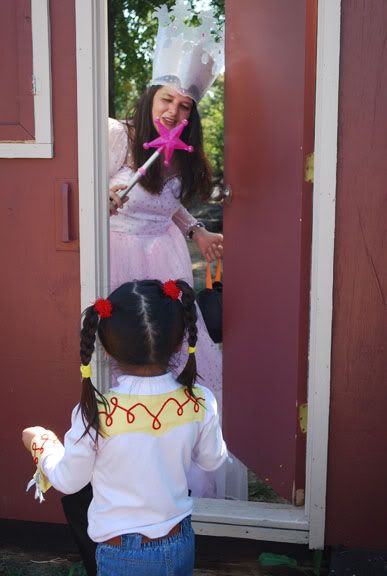 Time for the train ride back. We're exhausted!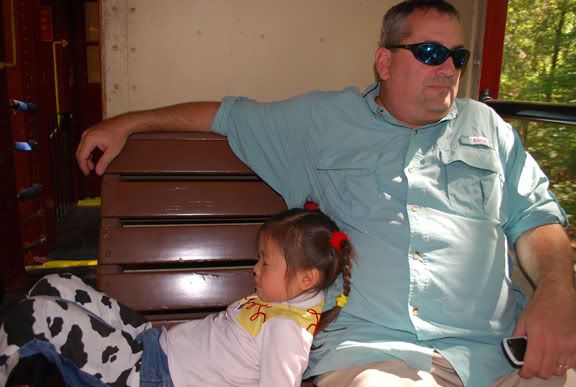 ---
09/14/2010: I love my camera!! I really do, however, being absent minded, as I tend to be, my camera is often left at home when we are off exploring the world. So, the next best thing is my camera phone. The quality isn't great, the zoom is so-so, but I'm so happy to have pictures and sometimes you just have to throw quality to the wind and be happy with fun, fuzzy pictures.
Candy monster at the grocery store in front of the "candy bouquets".
A very rare site, indeed. Momma fishing with her baby girl. We didn't catch a thing and I couldn't have been happier. No really, I didn't want to catch anything. (Did I already post this picture? If so, see above note about absent mindedness).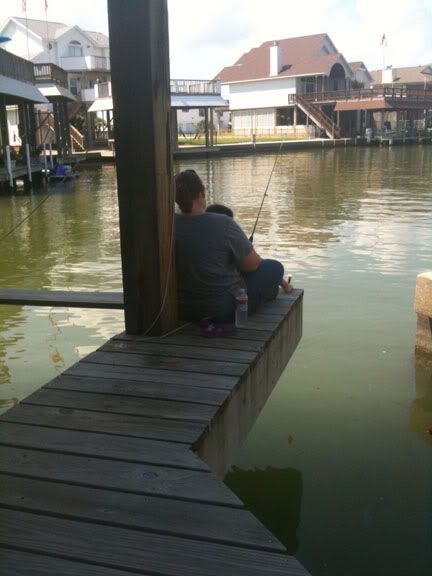 Teaching the baby how to gamble. You can never start too early!
Goofin' off at the craft store.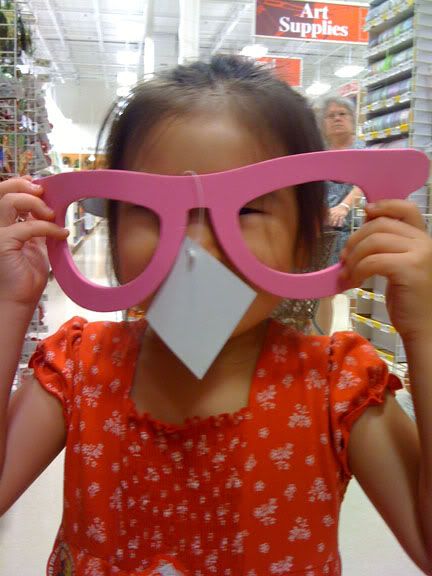 Fun at the playground.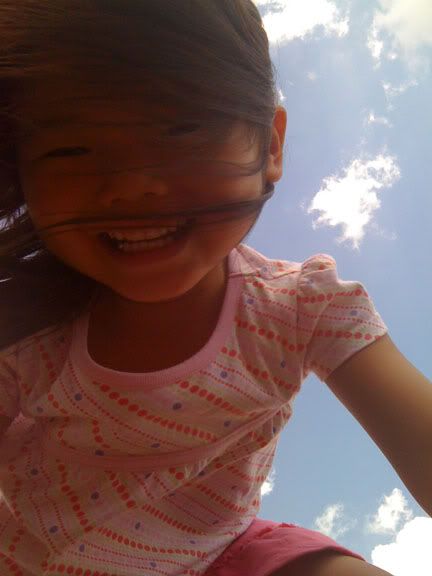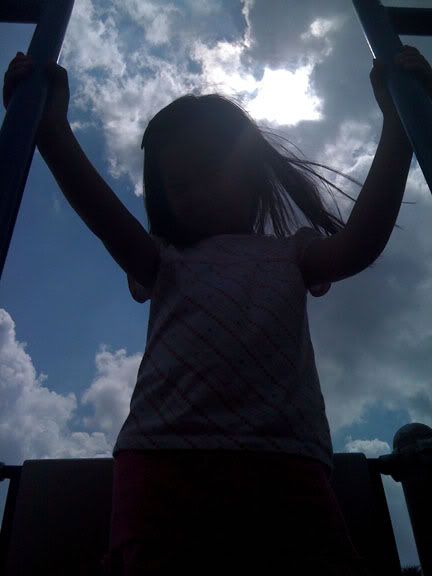 A lost pilot.
Playing golf.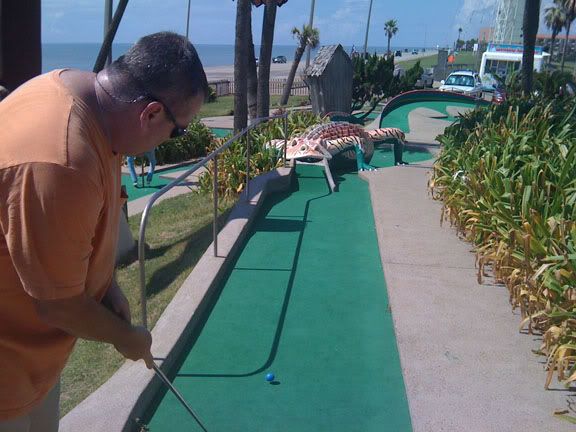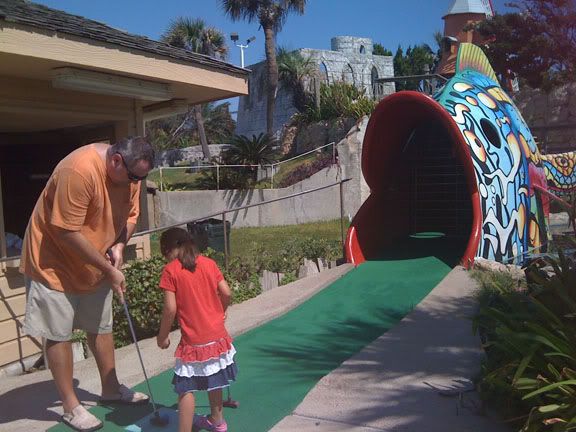 And some not so fun moments... My homework in Emma's folder from school.
---
08/23/2010: We woke up to find a KINDERGARTENER in our house! She was so excited and kept saying "I can't wait, I can't wait". We packed her lunch. Showed her how her thermos works. Got dressed in her new outfit. Took a few quick photos and off we went. When we arrived at school, she told us, "don't worry, I'll be just fine, Momma". She found her room and showed her teacher her new Jessie backpack. And with a quick hug and kiss for Mom and Dad, she toddled on off to find her seat. What a big girl. I can't wait to see how her first day went!
&nbsp
---
08/21/2010: It's almost here. The big day! Well, a day that is going to be pretty exciting around these parts! Last week we met Emma's new Kindy teacher. She's very nice, with almost 20 years of experience. Emma got to try out her new desk and meet the little boy she'll be sitting next to. She was VERY excited at first because we saw his name on the desk, and it's the same name as my friends little boy. I had to explain to her that our friend is almost three years old and wouldn't be starting kindy for another three years.
We toured the school then walked home. We decided to walk since we saw people lining up in front of the school 45 minutes before they even started the event. Good idea since we don't live that far and it probably would have taken us twice as long to find somewhere to park.
Ever since that night, she's been counting down the days and saying how excited she is.
Where has the time gone? How can it be that my baby is starting "big girl school" so soon?
---
08/21/2010: Emma's last day of pre-school was last week. What a bittersweet day. She's been at that school since she was two! I've cut her out of her school's group picture from her first year at the school.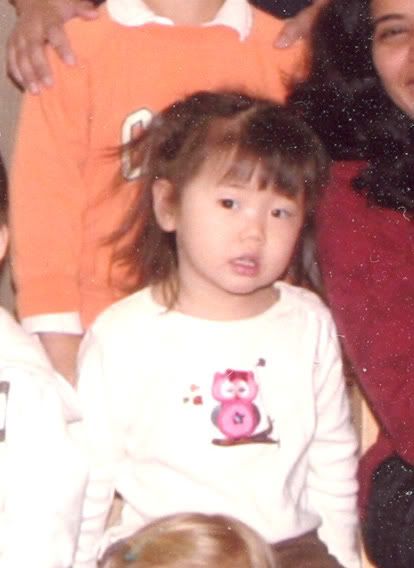 It's been an amazing school for her. The things she learned there are incredible and we are so thankful to the teachers she's had. She leaves there reading on a second grade level and being able to add and subtract. She's learned a bit of spanish, had a wonderful music teacher and been exposed to many cultures. They've been taught about the solar system, recyling and being environmentally friendly, dinosaurs, food, theater and animals. They also have adopted polar bears through the wwf and learned about the eco-system. I hate to see her leave the school we love for the unknown, but I'm sure with the right teachers and encouragement, she will excel where ever she goes.
Her summer teacher made this card for her on her last day and had all the kids sign it. She's such a sweet lady and called Emma her little Chi-nita, which, she told me, was a spanish term of endearment - sweet little chinese girl. We had long talks during the bus rides on field trips on how she and her husband had thought long ago about adopting. I know Emma was really special to her and will be missed.
Afterwards, we had to stop by every class and give goodbye hugs to each of the teachers, who gave her about a million stickers along with their hugs. Emma can't wait to go back one day and read to her old classmates, like her teacher promised her she could do.
---
08/15/2010: Ahhh, another late Sunday evening. I always seem to do this when I should be heading up to bed. So here is another post. Short and sweet, but with pictures.
From last week, the jumpy party pics.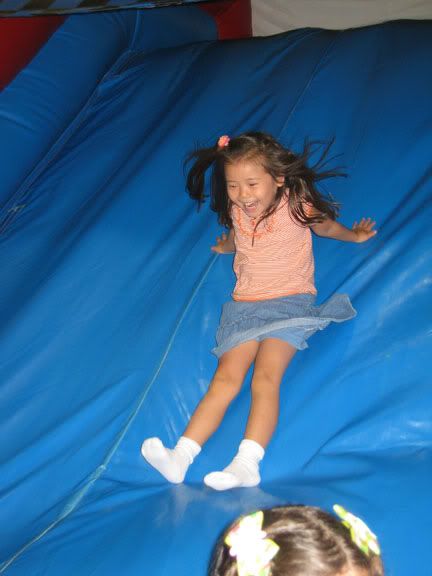 This weekend, our little friend T. met us at the beach. It was his first time at the beach, so we didn't know if he would like it or not. Well, he LOVED it. He was all smiles the entire time. What a cutie!
&nbsp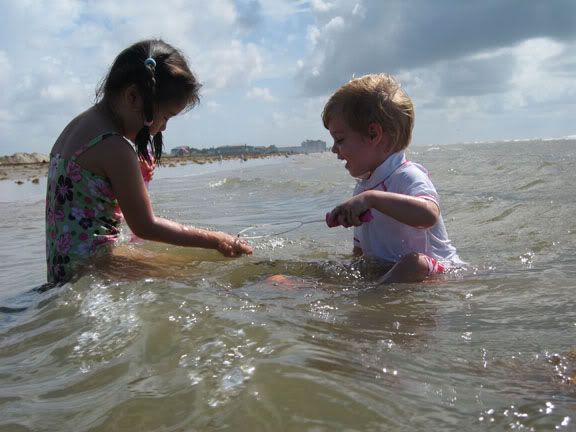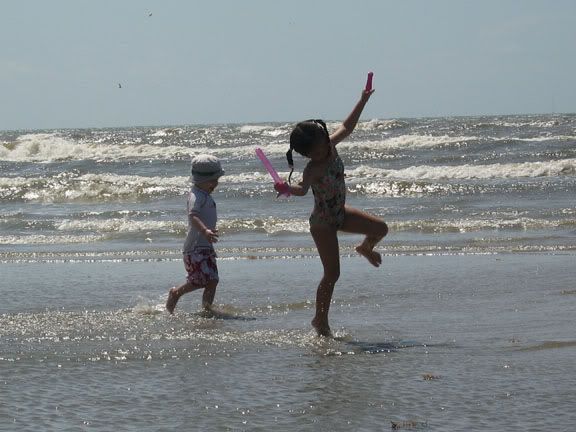 Mom didn't know she'd get a ton of exercise too!
We found a tiny hermit crab. We watched him come in and out of his shell, then left him to bury himself back in the sand.
Someone got a new game this weekend! Certainly not as well made as when we were kids, but she had fun operating.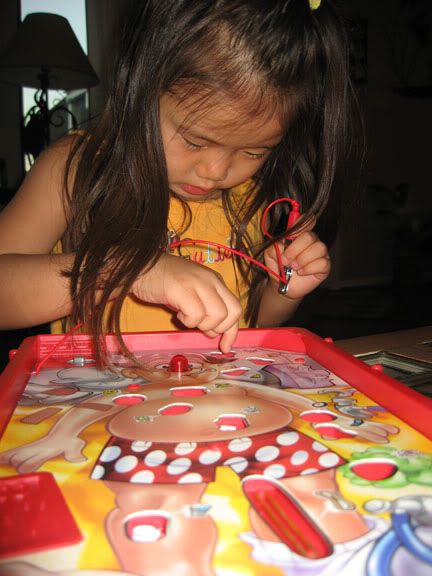 ---
08/08/2010: Another fun weekend for the little one! Saturday we broke out the new slip n' slide before it got too hot outside.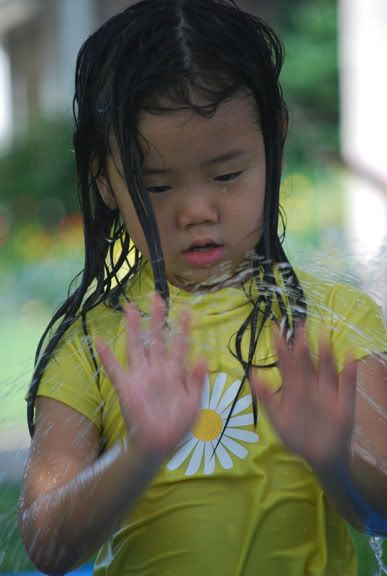 Later we met up with a BFF for a kids theatrical event - the little mermaid. The girls got their faces painted during intermission.
Later we hit the mall and found something she's been wanting for a while now. It's a pillow, it's a pet, it's a pillow pet! Yes, she can recite the commercial to us and frequently tells us how convenient it is that her pillow pet is washable!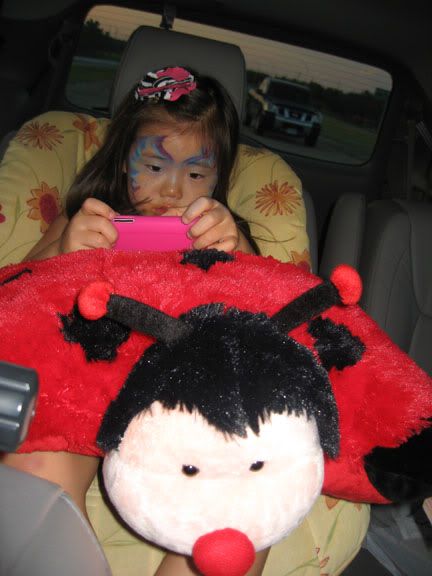 Today we did our school supplies shopping - wow, I've got alot to learn as a kindergartener's mom. Did you know that "map pencils" are actually colored pencils? Afterwards, we went to a jumpy party. I've got pictures, but it's late and I'm too tired to get them off my camera. Maybe tomorrow.
---
08/01/2010: It was our annual reunion with our travel group this weekend. Emma had a wonderful time running around with the five little girls all weekend. We're exhausted, but had a great time visiting with the other two families that traveled with us. Here are some pictures of our reunions (2007 just didn't work, so no picture).
2010: Yea! Four years later and we finally got our order right.
2009: whoops, emma is in the wrong spot.
2008: everyone is mixed up.

2006: the original picture on our last day in China.
---
07/25/2010: My favorite shot from Disney. Been playing around with it for a little bit.
---
07/17/2010: Today we had a girls day at the museum. I didn't want to fight the crowds at the Childrens Museum again, so we went to the Health & Science museum instead. Good thing, because they had about 50 people lined up at the CM even before it opened up. We had the H&S museum to ourselves.
We started at the part where you walk through the body and learn all about different parts of your body. She loved the giant teeth!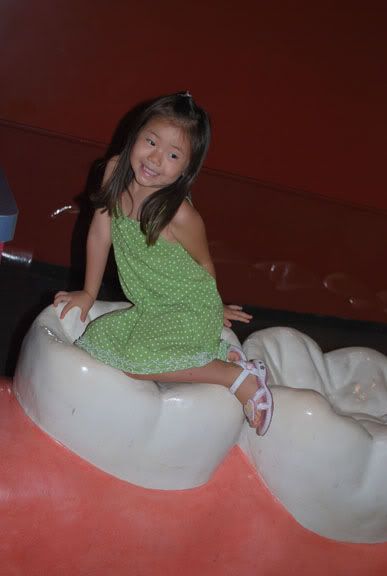 Moving on, we learned about our respiratory system and even had a set of lungs superimposed on her body.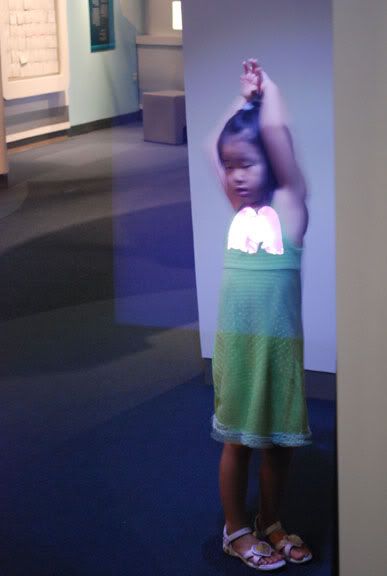 She thought it was hilarious to make the organs jump out of her body.
She had fun with this skeleton and saw how he moved when she pedalled the bike (ok, I moved the pedals for her, she couldn't reach them.
Next we learned about heredity. The computer asked her questions about dimples, freckles, hair color, if she could roll her tongue, if she could hold her fingers a certain way and according to them, she was only similar to 69 out of every 33,999 visitors to the museum. We always knew she was an original!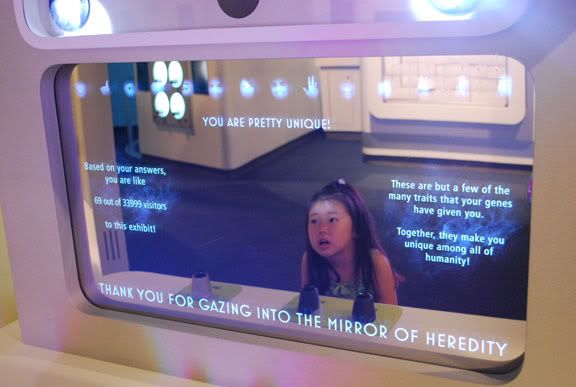 After that, we spent some time at the puzzle tables. This was facinating to her and many were even too hard for me to figure out. I love that even at this age, she loves a challenge and will spend a good quantity of time trying to figure the answer out.
Afterwards, we went to the new section and found some classic cartoon characters, who she has no idea who they are.
All in all, it was a fun day. I know she probably would have had more fun at the CM, but I was happy to have a wonderful museum to ourselves. Plus she scored a couple of new toys that she's had her eye on for months!!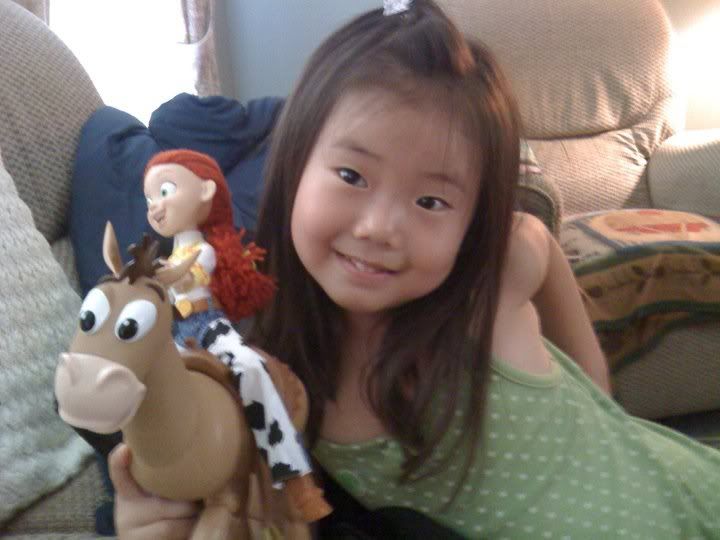 ---
07/13/2010
---
07/08/2010: 5-year stats:
Height: 43" Weight: 41 lbs.
---
07/06/2010: Summer time fun.
Nothing better than an ice cold snowball during these hot, humid days.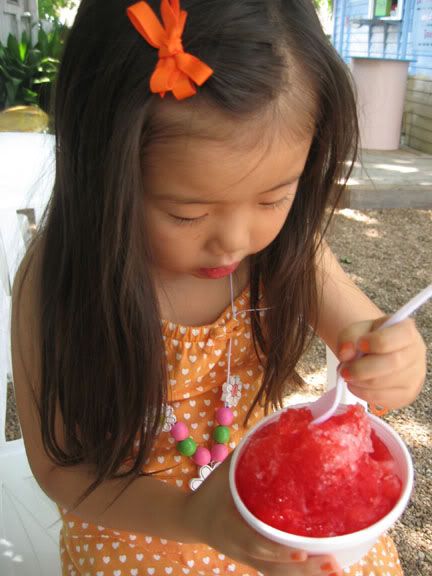 Then you can surf on the surfboard (which is now a bench in front of the snowball stand).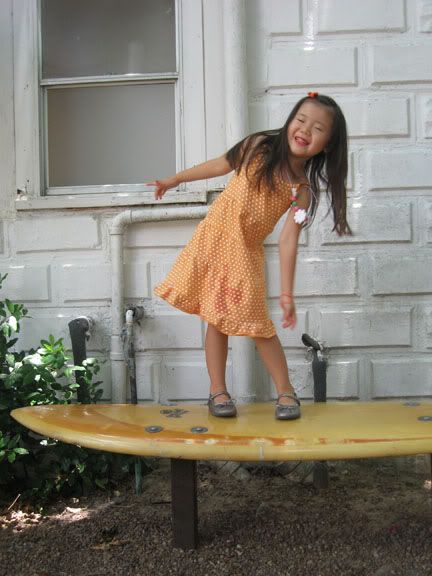 Of course there's always swimming to keep cool (note to self, buy some decent swimming goggles!!).
We managed to get to the beach this 4th of July, in between the thunderstorms that plagued us. Emma got her first try at a boogie board. She loved it! The previous storms gave us more waves than we usually get, so it was a perfect boogie board day.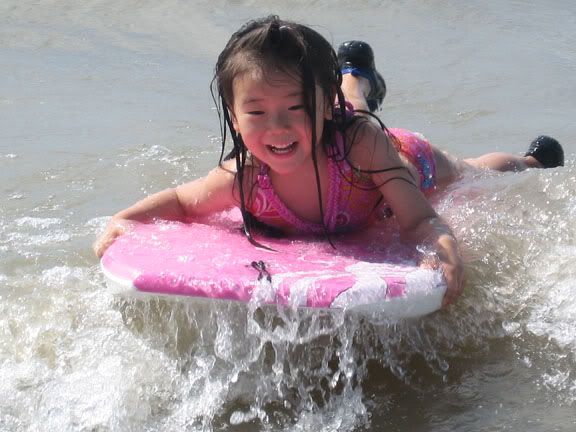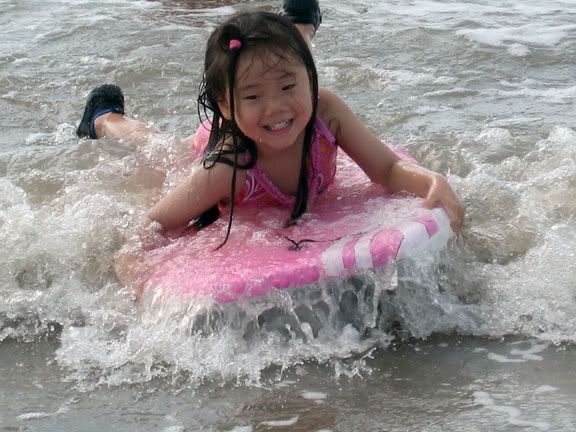 Now she says she wants to surf.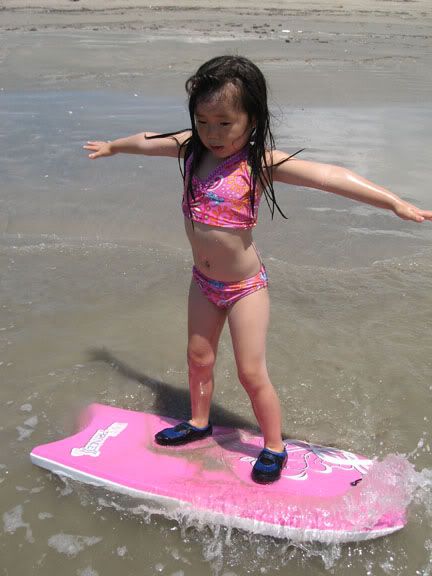 But getting messy in the wet sand is alway fun too.
This little guy was having a great day too.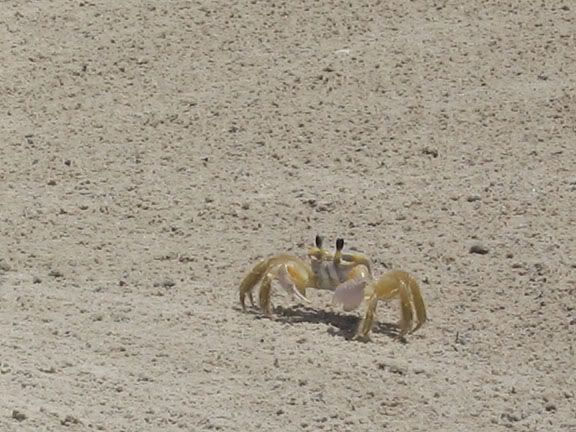 Daddy was having fun with watersports too.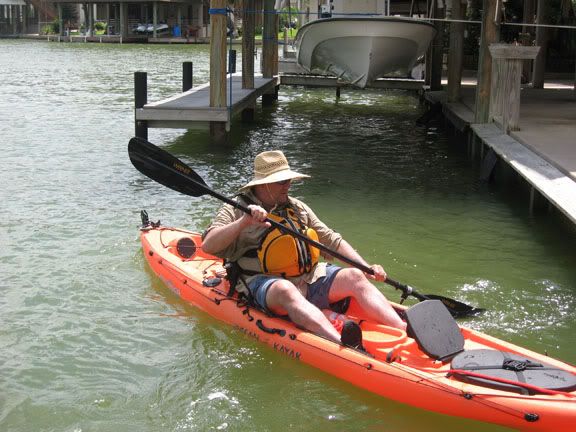 Someone else can't wait for their turn!!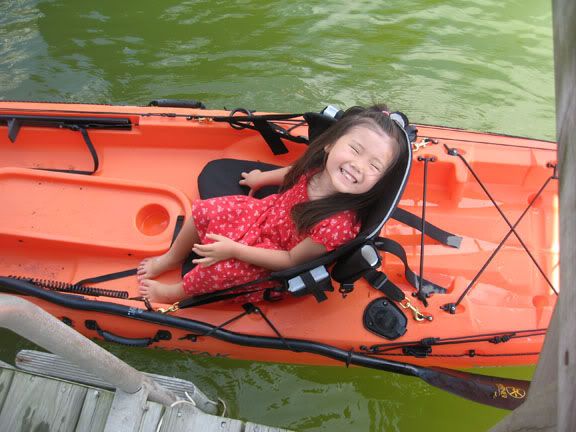 Look at the beautiful view we had going home today. An amazing double rainbow.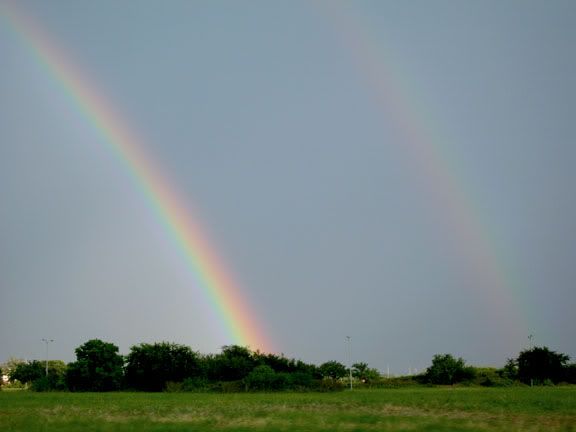 On a funny note, we've been discussing behaviour with Emma recently. We've reminded her that Santa has been watching her, even though it's just July and every time she misbehaves, he makes a check in the "naughty" category by her name. She said "But Santa has an eraser on his pencil!!"
---
06/12/2010: I love these before and after shots. Here is Emma's first day of wearing her uniform at pre-school (Aug. 2008) and the last uniform day this year (June 2010). What a difference and even though it's a size larger, the uniform got shorter (or someone grew!!).
&nbsp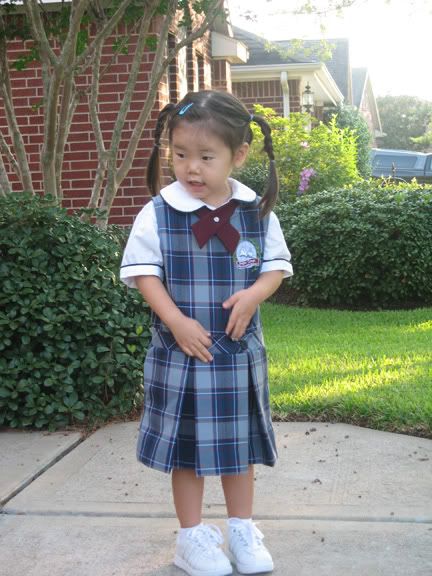 Here are the kids having a blast in the "kid wash" that my talented engineer brother built.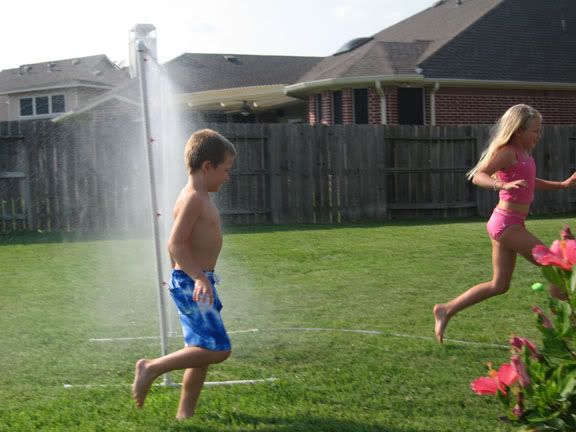 I think I'm going to start a whole section on weird things my child eats. We're blessed that she is a wonderful eater. She loves fruit and vegetables and is always asking if what she's eating is healthy. We were at the "healthy" grocery store today and she saw these julliened veggies and asked if she could have some. Who am I to say no to such a request. We also go around the fruit/veggie aisle at the grocery store looking for new things to try. She was SO excited the day we brought home an eggplant. I think she's going to be a nutritionist when she grows up. But one thing she still refuses to try......a hamburger. That's ok. I'll be fine if she never eats one.
&nbsp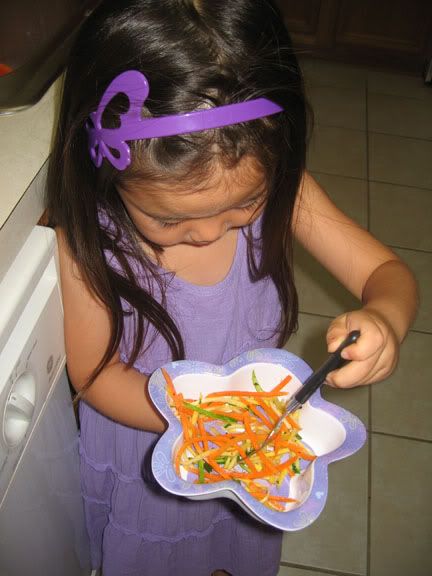 This one isn't so weird, but something I never touch. She saw daddy peeling some boiled shrimp and we asked her if she wanted to try one. I thought for sure she would say no, but she went ahead and tried it. I should file this with the crawfish picture.
---
06/03/2010: This is hilarous. At Disney, they have a video game that you can be the actual player in the game. They record you jumping, running and doing a victory dance. They sent me the file of Emma doing her victory dance.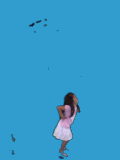 ---
06/02/2010: First time fishing. Emma has been hounding us to go fishing. Well, I told her she's asking the wrong person, when she asks me (anyone who knows me well will understand why). So finally Daddy brought her to the sporting goods store and bought her an "ugly stick". And for anyone who is like me, that's the brand name of the fishing pole. Emma thought that was a hilarious name.
So we started with lessons, and momma behind the camera, where she belongs. We learned how to cast and reel in the line and watch for the floater thing to "dance". (this is where you stop laughing at me, you fishing people!!). Well, lets just say that Emma (the child who needs instant gratification) and fishing, probably won't be having a long-term relationship. We didn't catch anything, which was perfectly ok with me, but I think Emma was hoping for a nice big fish for Daddy to filet.
Maybe we'll find a better fishing hole next time.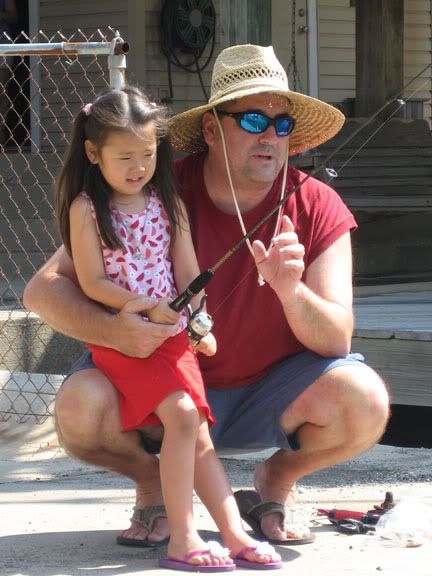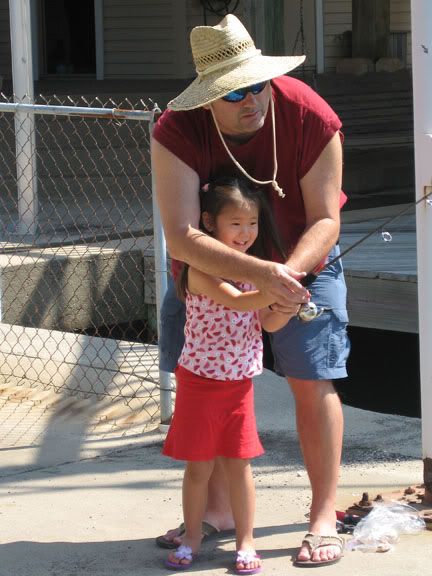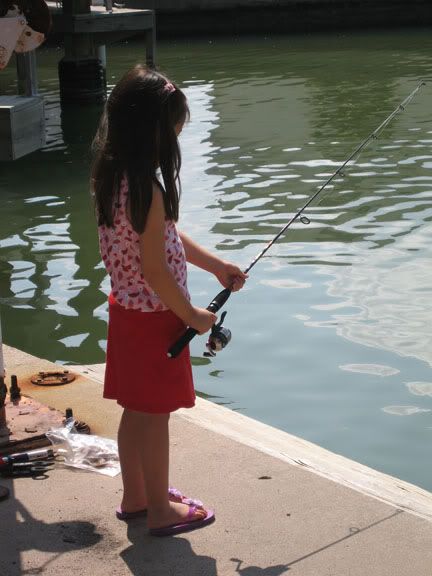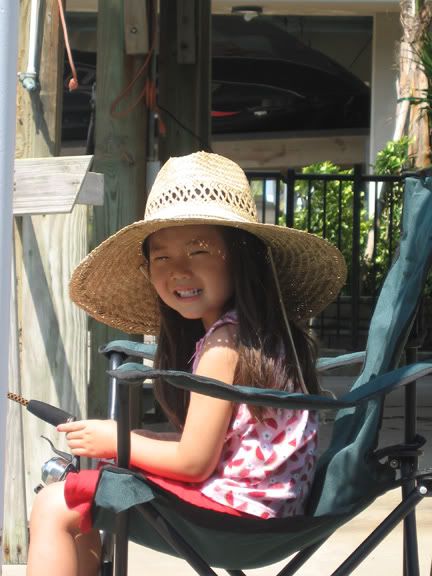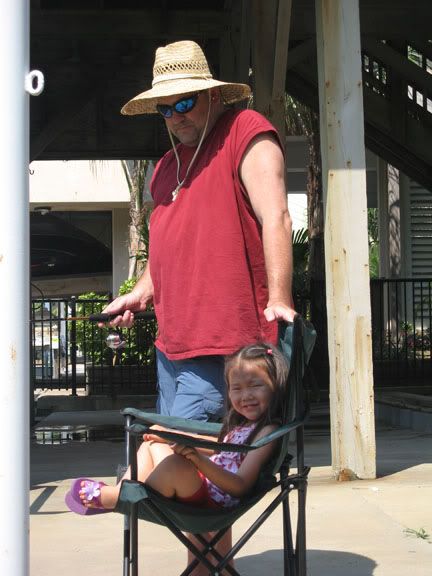 ---
06/02/2010: I just had to share this video from our trip. Emma went from being very scared of anything faster than Dumbo, to a dare devil. Here she is enjoying one of the "grownup" rides, as she calls them. I'm amazed that I was able to catch it on video and hold my arm across her at the same time. Super-Mommy!
---
05/27/2010: Disney - Day 2-7: Ok, I'm overwhelmed with too much stuff to do. If you want to see ALL of the pictures, click on the "photos" link on the left and click on Disney 2010. Sorry, there are about 450 photos!!!
---
05/15/2010: Disney - Day 1: We flew to Orlando and didn't have much planned for the day. It was Emma's 5th birthday and she let everyone know about it!
We walked around some of the shops.
Then headed to Chef Mickey's for dinner and some cake with our Disney buddies.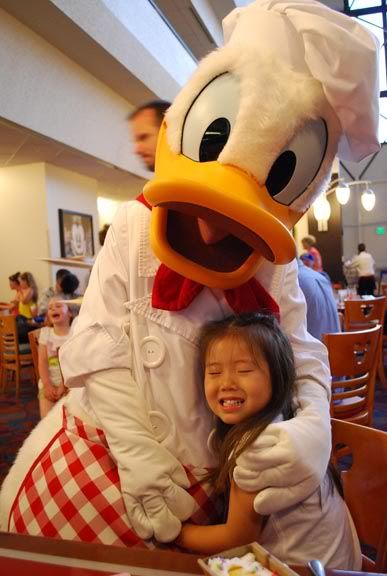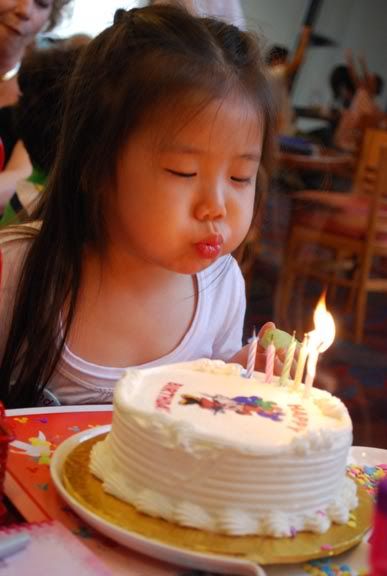 And check out the view from our room!
&nbsp
Stay tuned for day 2....
---
04/29/2010: So.....last time we went to the aquarium, we found out that the penguins are very talented artists that paint with their feet. This idea just sounded fabulous to Emma and it stuck in her head. This evening we were working on our earth-day poster for a kids contest at daddy's office. Well, we had the paint and paper out and she brought up the idea that we should paint like the penguins. No problem, right? Problem #1: I should have brought out the finger paints instead of using the acrylic paint I had out. Problem #2: I should have told her to use only ONE foot. This was just a very messy project, but she had so much fun. You should see the back patio!! Hope it rains soon.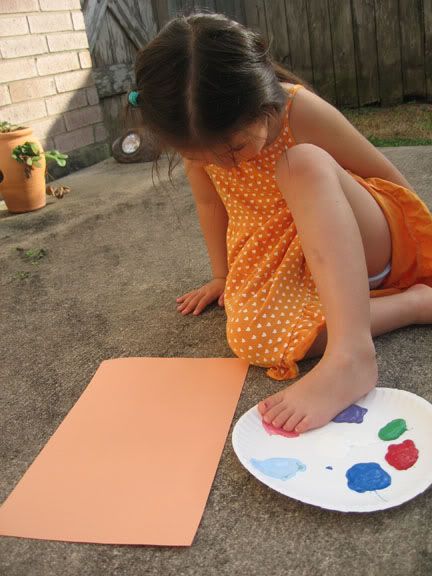 At least I got this sweet souvenir from the mess.
Oh and if you want to see her submission to the poster contest...
---
04/25/2010: Last weekend....we love this place!!
Her favorite spot in the whole museum...the grocery store. She must have shopped and checked herself out a dozen times.
Funny, the same puzzle we found in the museum in Washington DC!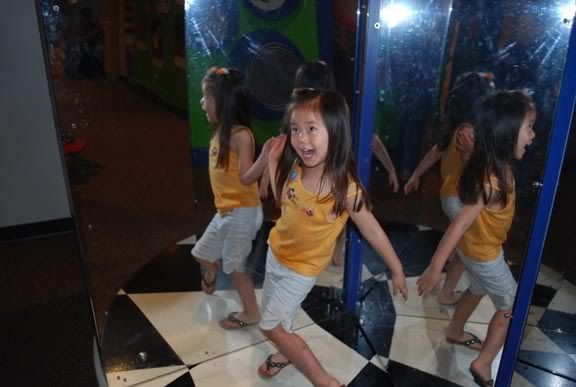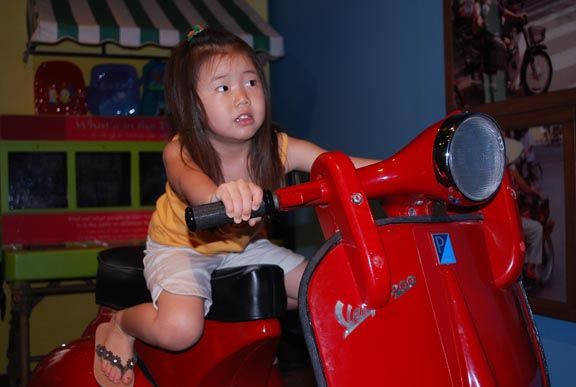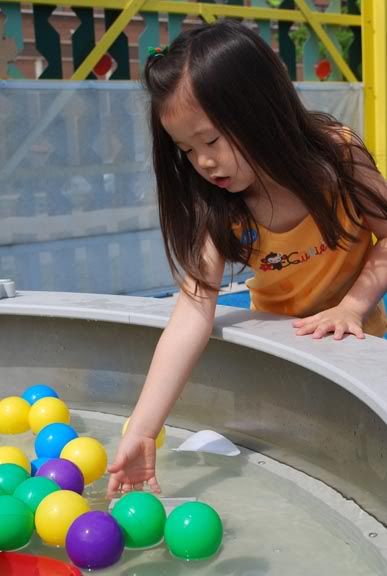 This weekend. First beach weekend of the year. We found a very secluded beach and had a wonderful time.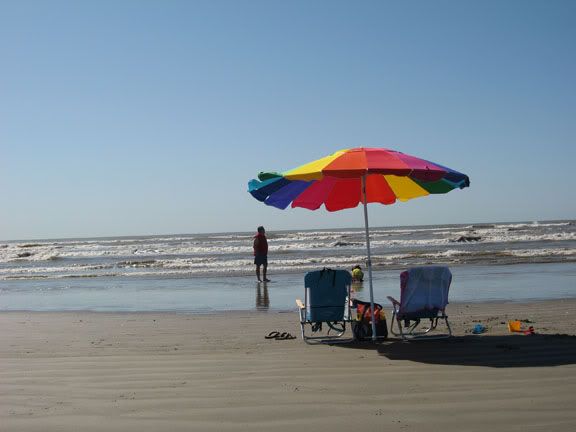 ---
04/2/2010: It's bluebonnet time!!! Here are a few from our photoshoot today.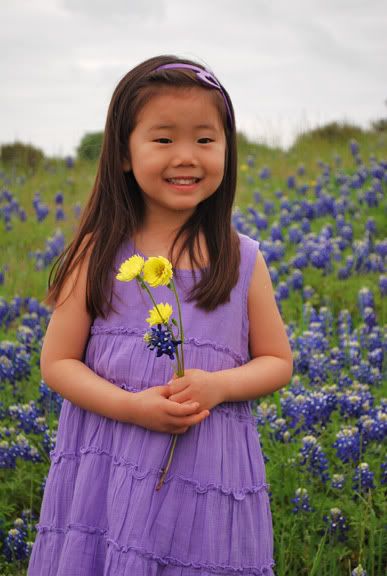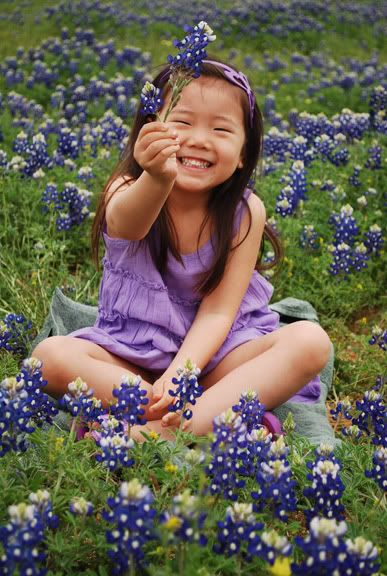 Not bluebonnets, but all the wildflowers were beautiful this year.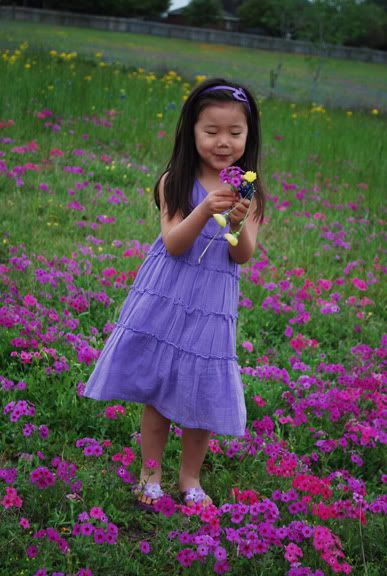 And of course there's always a wardrobe change involved, but it's always purple.
And because someone always asks.........
2009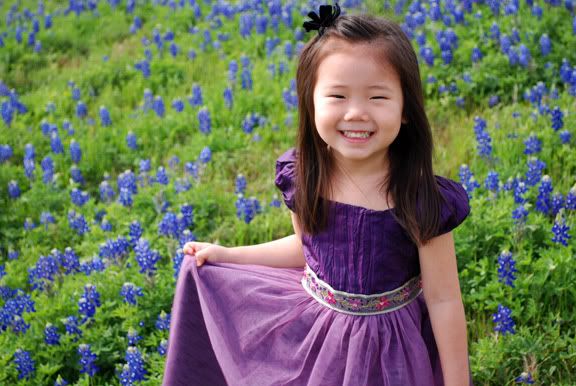 2008

2007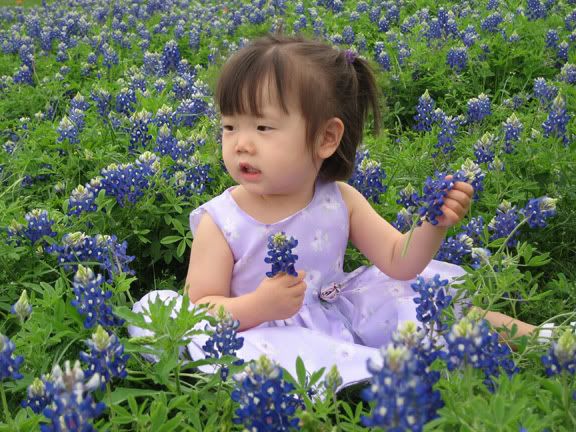 2006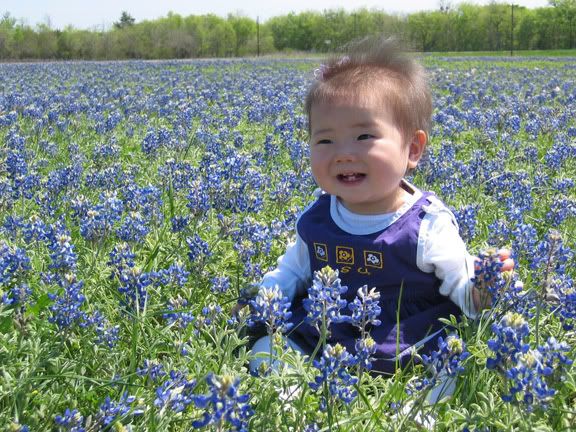 ---
04/2/2010: Just a mish-mash of photos from recent events.
So apparently she loves crawfish now. It was all I could do to not throw the camera to the ground and scream "NO!!!!"
At a birthday party with her little buddies.
&nbsp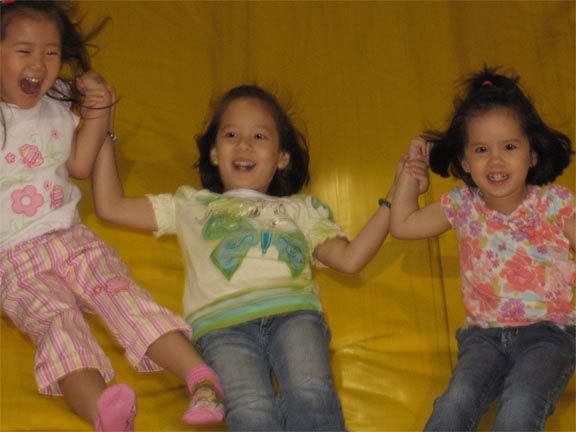 At a festival last weekend. Free cotton candy - a four-year old's dream!!
Then she got to play dress up with Austin Power*s. It's funny that the wig she chose was the exact same color as her own hair.
Meeting Mr. Bunny. This was shot #3. The first two she had her cheesy grin with her eyes totally closed. I told her to open her eyes or I would come over and tickle her. This is the result of that!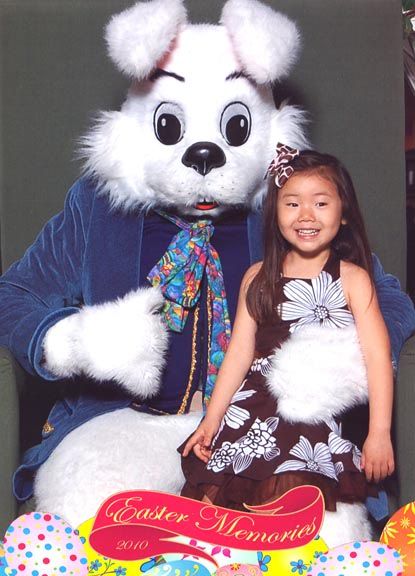 My office on my birthday yesterday. My co-workers had fun after I left the previous day.
Two adorable cousins and one goofball brother. Gotta love having a camera on the phone to capture moments like this.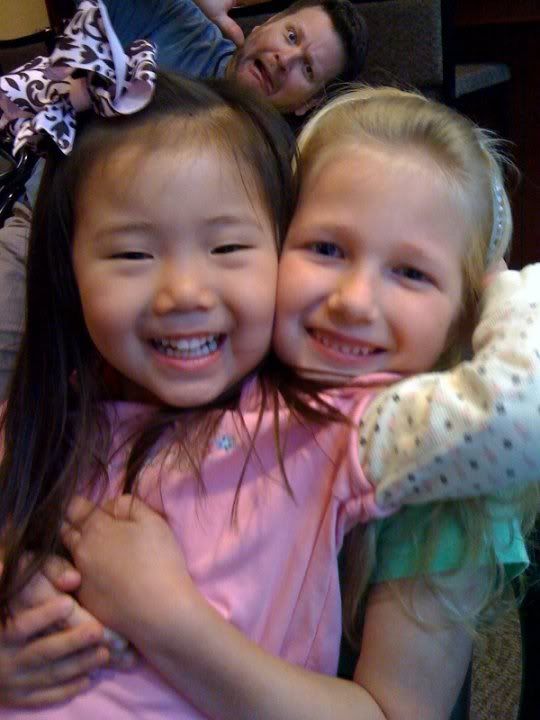 ---
03/17/2010: Happy St. Patrick's Day! We had a fun morning. Emma's pre-school has been talking about leprechauns and that if you can catch them they have to give you their pot of gold. So we decided to make a trap for Mr. Leprechaun. We made a top hat with some gold jingle bells for bait and the top had a false bottom, that he would fall through.
We woke in the morning, went to check the trap and that sneaky little leprechaun didn't take our bait, but he did leave our house covered with shamrocks and notes.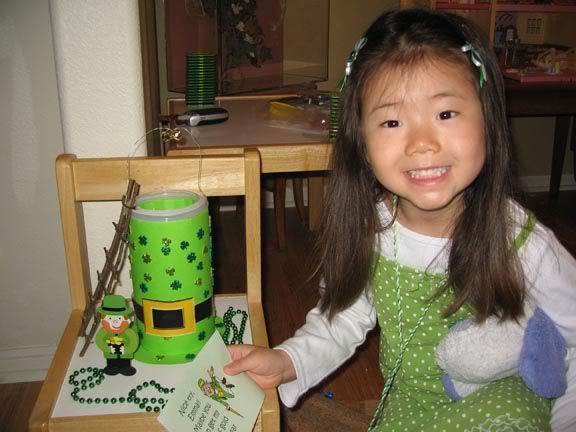 He also left a shamrock on Emma's favorite doggie's nose.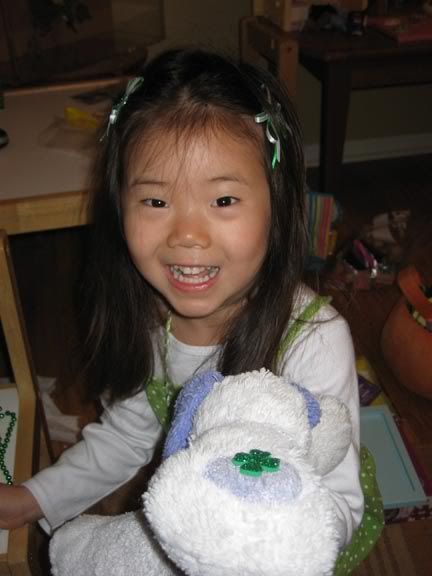 She had fun running around the house finding shamrocks everywhere.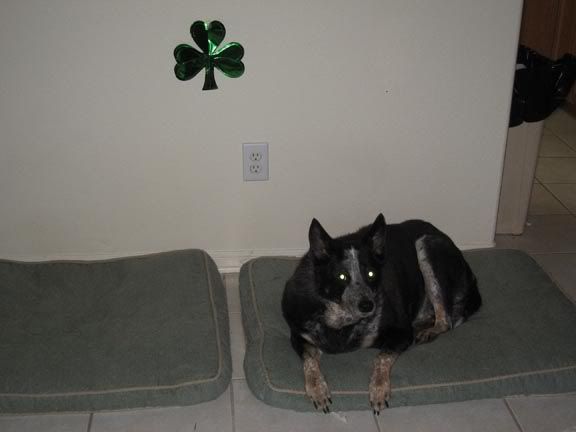 He even left some on her water bottle and lunch box.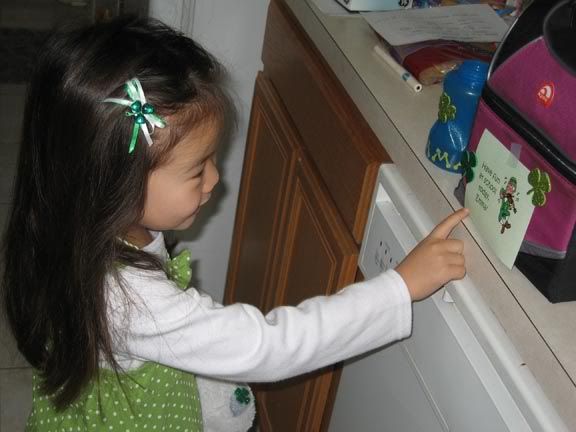 and shoes!!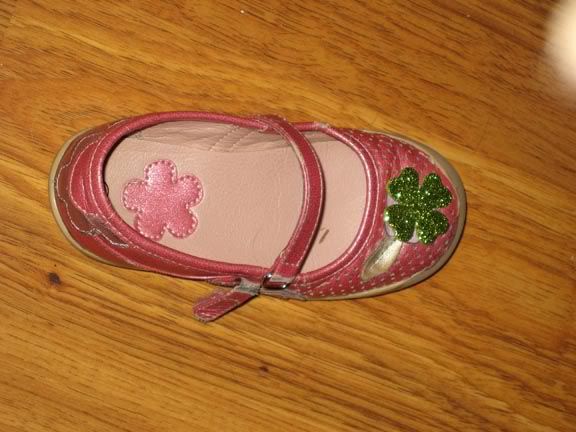 ---
03/07/2010: A four-year olds perfect weekend. We went to a movie promotion this weekend for the new Barb-ie movie. We got to watch it before it is released on dvd, then in a separate room, they had Barb-ie games, crafts and mani's and pedi's. It was her first professional mani/pedi and now I'm apparently going to have to step up my at-home nail services, because she knows how they are supposed to be done now. It was cute and she had a great time.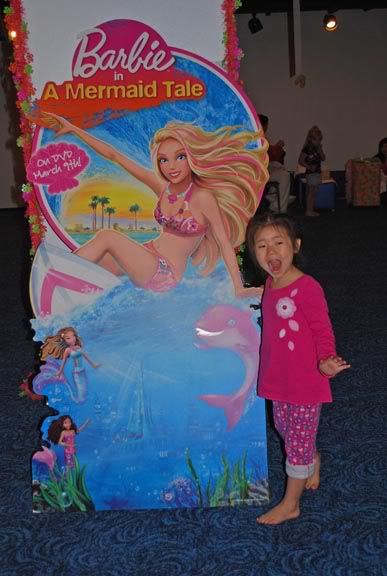 &nbsp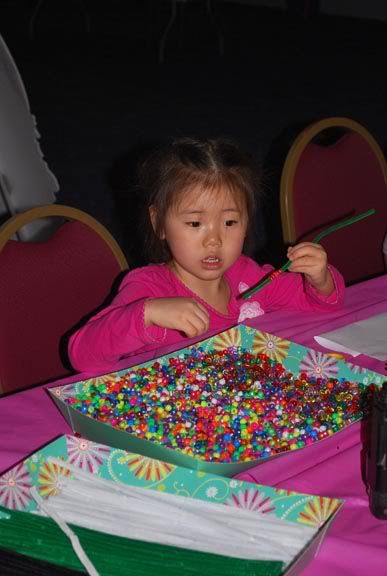 ---
02/21/2010: What's for breakfast? This morning Emma dragged me out of bed and exclaimed that she was hungry (just her way of getting me out of bed on the weekends). I stumbled into the kitchen, wearily asking her what she wanted to eat for breakfast....eggs, cereal, yogurt, fruit, oatmeal. She asked me if there were any enchiladas left over. Yes, she would have eaten a plate of chicken enchiladas for breakfast. A girl after my own heart. I told her no, that breakfast consists of healthy food, like the food I mentioned earlier.....plus I added quietly that I had eaten the last one for dinner last night. Then she asked if there were any rice and beans left.
Note to self: make sure to save some enchiladas (and rice/beans) for the child's breakfast!!!
Emma's been really excited lately about spelling. In her pre-school they are writing short sentences already. We went outside this weekend to enjoy the warm weather and she got out the chalk and started this.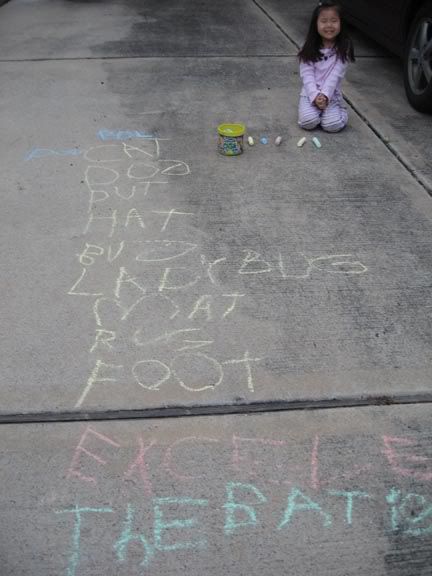 I helped her with the spelling of the longer words, but the others she did all on her own. I'm sure our neighbors are enjoying having something to read as they drive by. Oh, and she said this was me when I was a little girl since I always had pig-tails.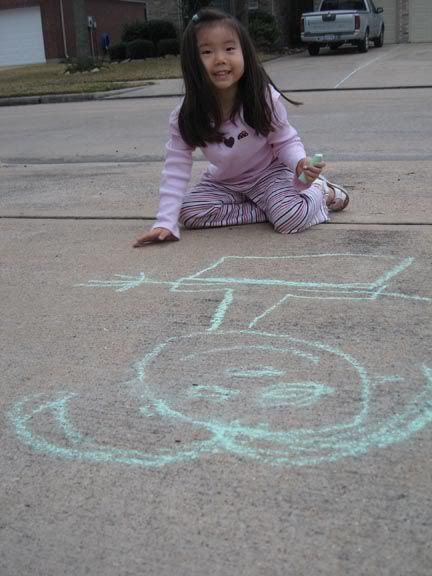 ---
02/17/2010: Love those mutts!
---
02/16/2010: We managed to go to the parades again this year. We had a great time! In the second video clip, you can see her catching a string of beads, then she flings them over her shoulder and says "here momma". I'm the catcher-of-the-loot, I guess. That and pick everything up off of the ground like she requests. In the third clip, she's dancing her heart out...until she loses her shoe. Then it's over with.
Our first catch of the day - a cute little flower.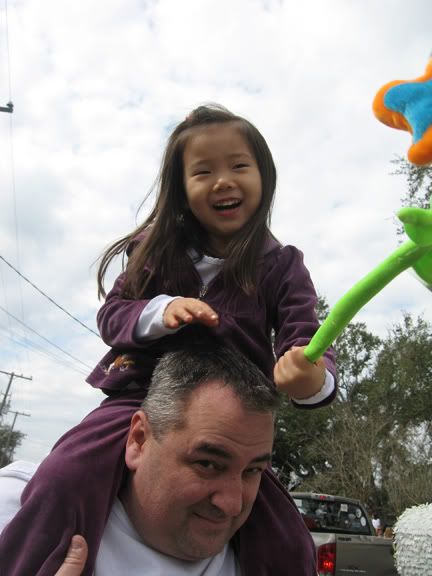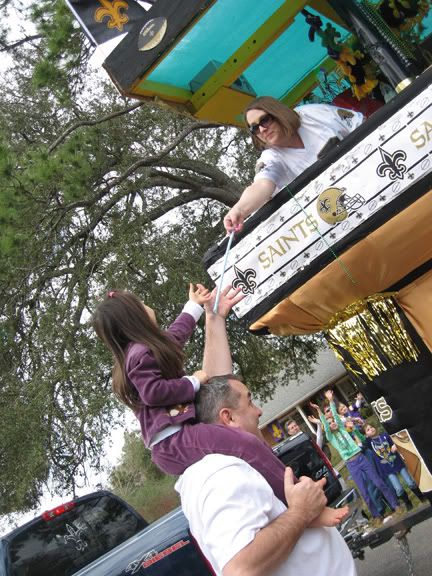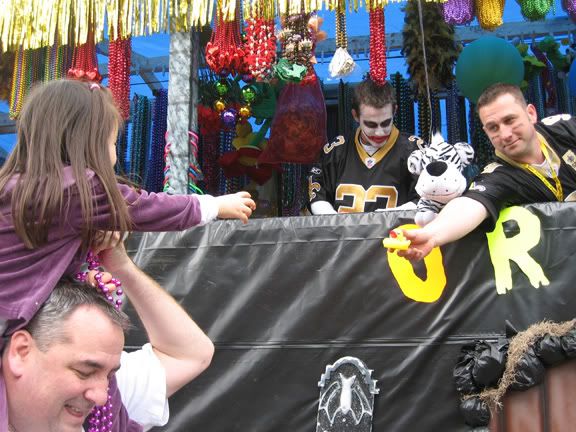 Throw me something, mister!

---
02/07/2010: Our superbowl sunday starts with helping Daddy clean the red beans for the big game tonight. What fun!! Yes, she does say something about "tooting" in the video.
---
02/06/2010: A double birthday party day. These cute sisters were celebrating their birthday today with a big pink bouncy castle and a huge HeIIo Kitty cake. She REALLY didn't want to leave such a fun place.
&nbsp
---
02/04/2010: Posting this a day early, since I know I won't have time tomorrow. How has it been four years already that we met this sweet little ballerina? She's the sweetest little thing ever and tells us daily "You are my favorite Mommy/Daddy in the whole wide world". She loves to hear about how we became a family and stories of when she was a baby. What a lucky Mommy/Daddy we are!!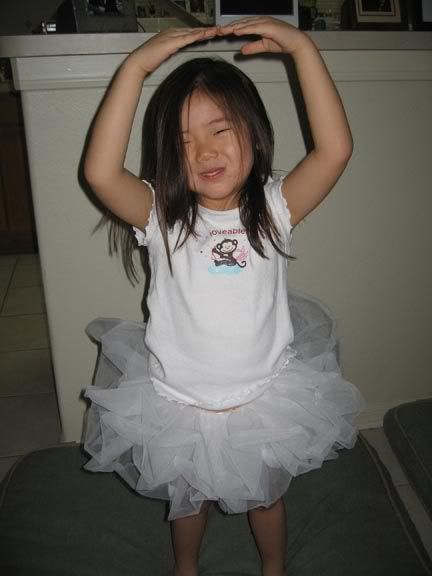 ---
02/03/2010: Today was the 100th day of this school year. At Emma's pre-school, each of the kids in class brought in 100 of a small snack, and each child went home with a baggie full of candy, cereal, raisins and cookies. I think they had fun counting the snacks. Something tells me that she tested some of the snacks before she got home though. They also decorated crowns with 100 stickers. She brought this home and decided the doggies needed to celebrate as well.
Abby got the 100 sticker crown.
and Taz got the princess crown. Don't they both look thrilled? Such sweet mutts, just letting her dress them up.
This past weekend she wanted to learn how to play one of the video games that Daddy has. He set her on track with the little wheel and she was off.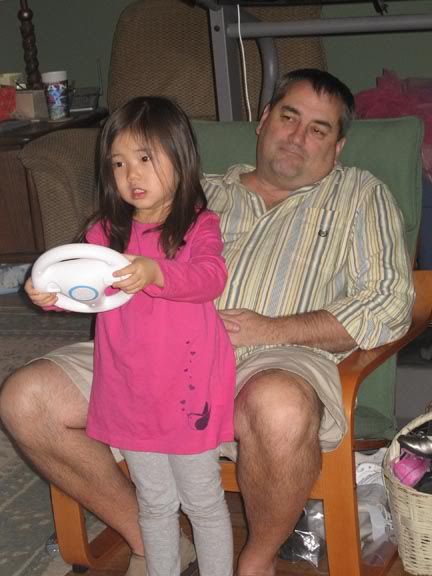 Later, she sat in my lap and wanted me to help her drive. After about 10 minutes, her head fell to the side and she took a nice little nap.....in my lap!!! How quickly your body can go numb sitting on the floor trying not to move too much.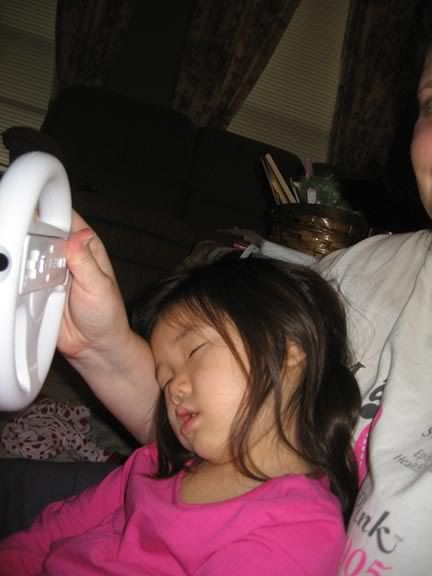 ---
01/24/2010: Another good thing about living in the South. Going to the beach in January! It was about 63 degrees and just beautiful, so we decided to head to the beach and try to fly Emma's little ladybug kite that she got for her FIRST birthday. So we took it out of the package and assembled it and got to the very windy beach. Daddy had a little bit of success getting it off the ground.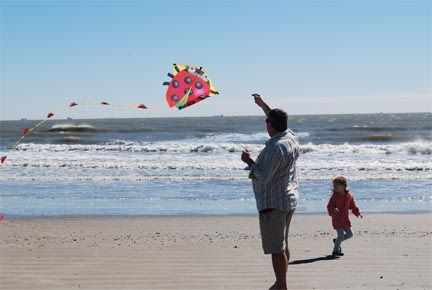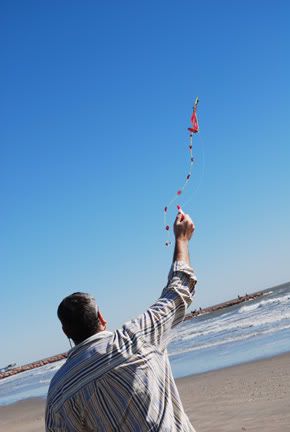 Very little success.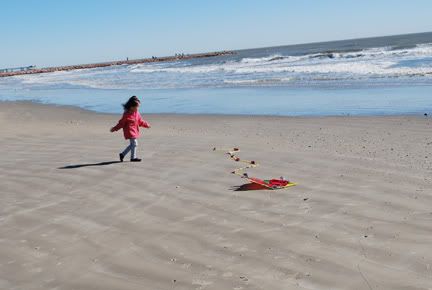 I don't think Emma cared much. It gave her a chance to gather some sea shells.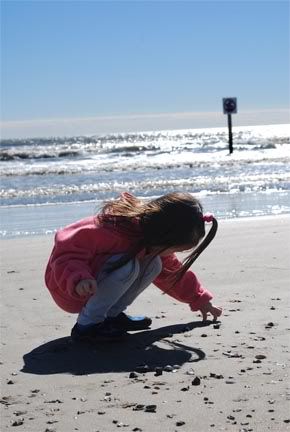 And chase some poor seagulls.
We did give her strict instructions to STAY OUT OF THE WATER because we weren't prepared for messy cleanups or change of clothes. Oh well...
And can you believe those SAINTS!!!! Way to go, boys!
---
01/18/2010: We had a fun playdate today with our little friend at the "cool" playground. It was a nice day, for a change and we enjoyed walking to the park and running all around. These two are so funny together. There is about a 2 1/2 year age difference, but they had a blast, mostly Emma telling him what to do and him yelling "Emmaaah" when he couldn't find her.
&nbsp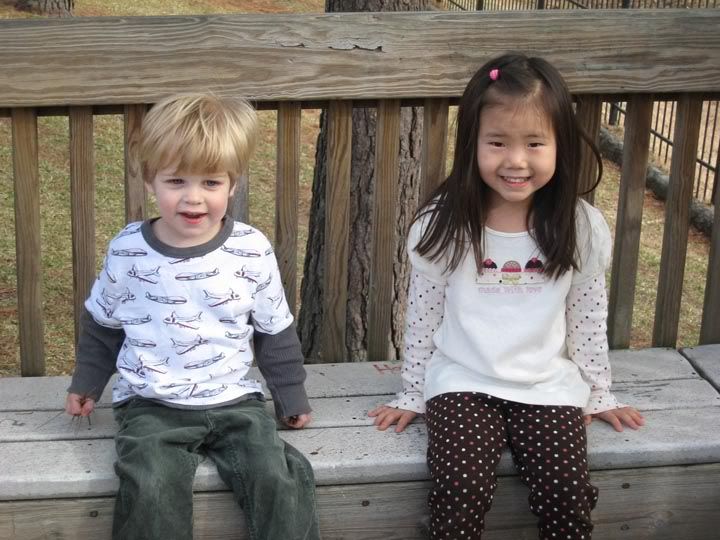 ---
01/17/2010: Not much going on lately. Just doing like most people, organizing and cleaning. Emma thought she would provide the comic relief. What a super star!!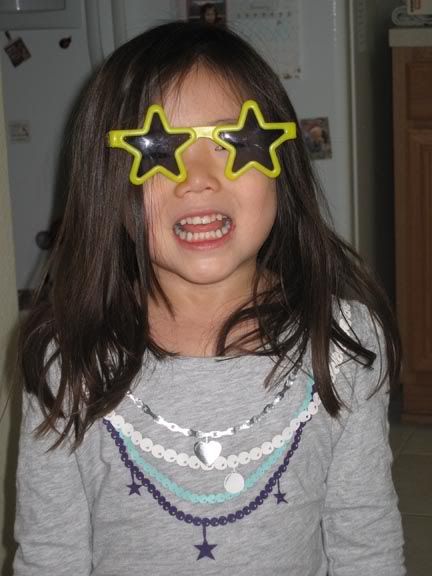 Oh, and the smiley face pancakes she requested for breakfast. Aren't these cute?
---
01/02/2010: I'm back!! I got a new computer for Christmas, so it's taking me a while to transfer files and reload software. I'm not back 100% yet, but my first order of duty was to update Two Mutts. We had a great Christmas. Emma was so excited in the days (and weeks) leading up to Christmas.
So seeing that I have a camera in my hand 24/7, it was natural for Emma to ask Santa for her OWN camera. Well, the jolly old elf delivered and she got her own (pink) camera. She has been having a ball taking pictures. We're working on quality rather than quantity right now. The biggest thing is getting her to hold still for a milisecond while taking a photo. After deleting about 500 images, I gave up and just let her go, which made it pretty funny to download the photos and see what she ended up with.
A dog dish:

Her tights (aren't they cute?)

Her new rodent:

The dogs: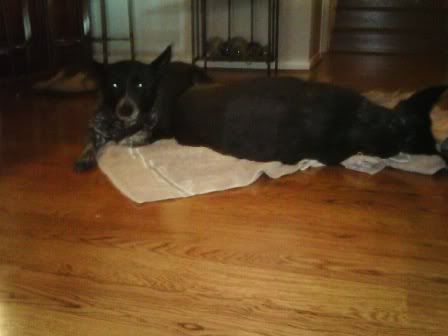 Her new puzzle: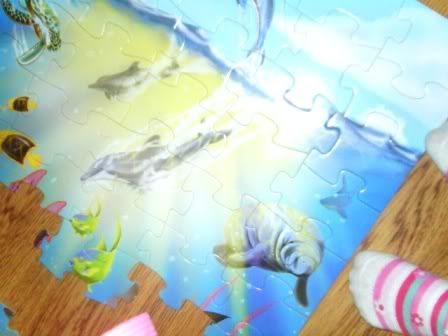 So after this, I decided to take her to the aquarium, so she would stop taking pictures of ME! It's hard to get decent photos there anyway because of the glass glare, but it was fun.
A turtle, I think: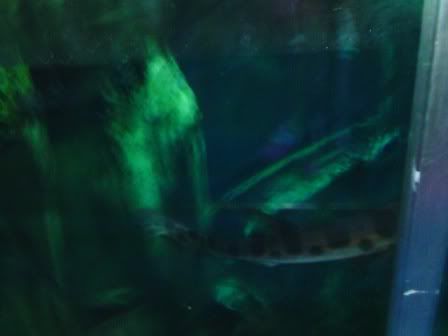 Starfish:

A curious penguin: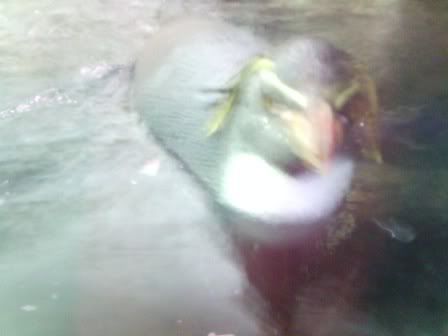 A shark hanging on the ceiling:

And I had to take a picture of her in action.

But the funniest were these. She had fun turning the camera on herself and taking closeups of her own face. These cracked me up as I downloaded them.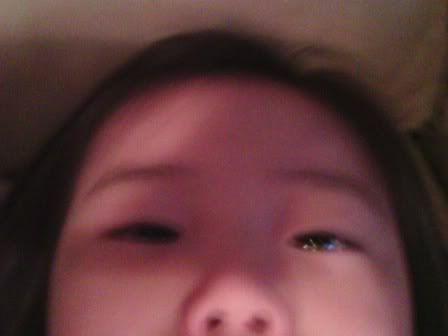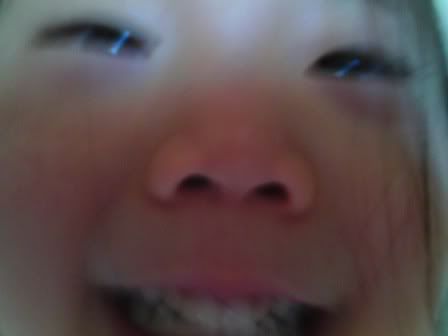 Hope everyone had a wonderful new year! We've been pretty quiet this past week. Emma caught a bug and has been coughing and running fever. After a trip to urgent care and a prescription for some antibiotics, we're hoping she kicks it in the next couple days. It's been a while since she's been this sick. In fact, at midnight on New Years Eve, I was running downstairs for the children's medicine because she was burning up. Ahhh, oh well, things could be worse. Happy 2010!!!
---