ARCHIVE 2009
---
12/24/09: Happy Christmas Eve. Cookies decorated for Santa: check!! Thank goodness for the pre-made ones that came with our gingerbread house. All we had to do is decorate them.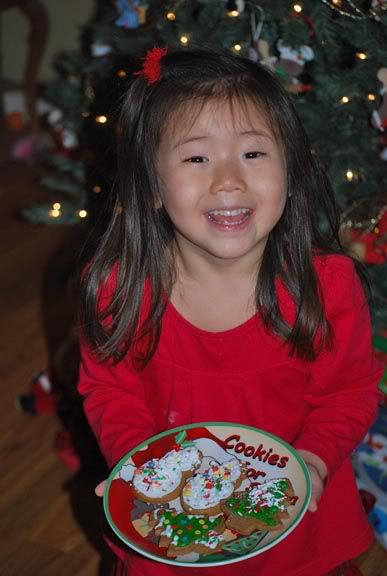 ---
12/19/09: Look who we ran into today. Actually we've run into him quite a few times this Christmas season, but this is the first decent picture I've gotten.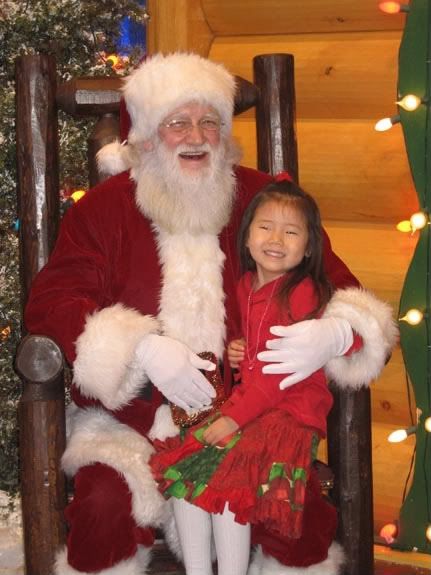 Today, after a long day of running around doing errands, we came home, wrapped a few presents and did a craft. We made some paper plate wreaths. I kept some scraps from the wrapping paper and ribbon, and we made a couple of wreaths. Emma decided that she needed some pink tissue paper on hers. We also found some feathers in our craft box. She had so much fun doing this.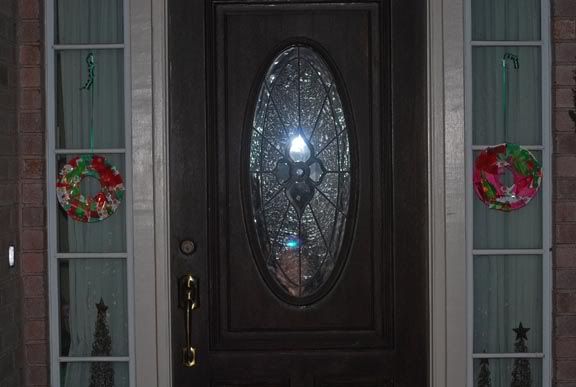 While we were in the car today, we were being serenaded from the back seat. Emma's been learning Christmas songs in pre-school. Today she decided to make up her own words.... "Buns and Guns and Sons and Daughters, fa la la la la la la la la". Oh my!!
---
12/13/09: First of all - Happy Anniversary to my sweetie. 12 years today! Here's Emma's first portrait that she took of us....not too bad!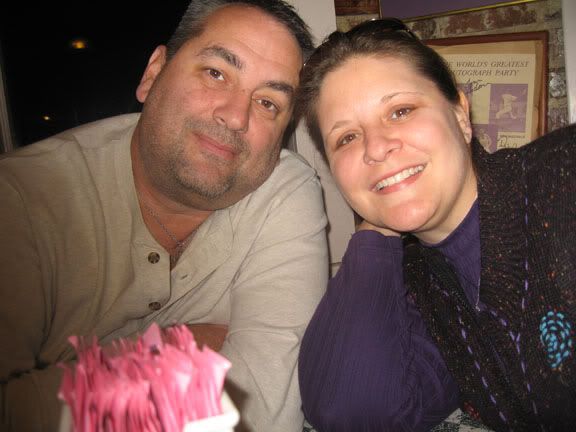 Yesterday she had her holiday program. They did the play "the little gingerbread man". She was the piggy if you can't tell from the picture. I was worried, because two years ago, she ran off stage before it even started. She did great yesterday. She said her line nice and clear and kept her mask on even during the song they sang afterwards. The whole program was adorable.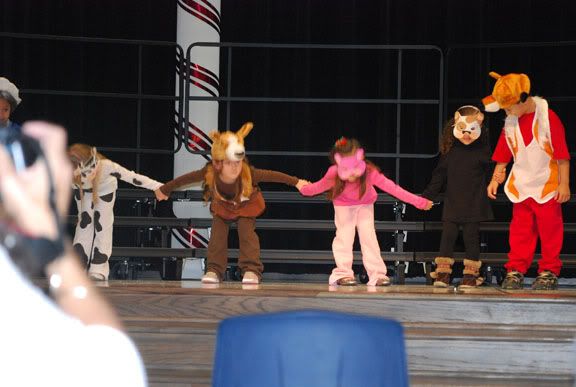 Today we started out our day with a party at an inflatable place. It's funny how we used to celebrate our anniversary now and before Emma. Our 10th anniversary, we went to Chucky Cheese, our 11th, we were at Disney, and this year, an inflatable party. It's all good. She's only little for a short time.
---
12/09/09: We managed to do our very first gingerbread house this week. I was the architect and Emma was quality control. She was in charge of organizing the candies and making sure the icing tasted just right.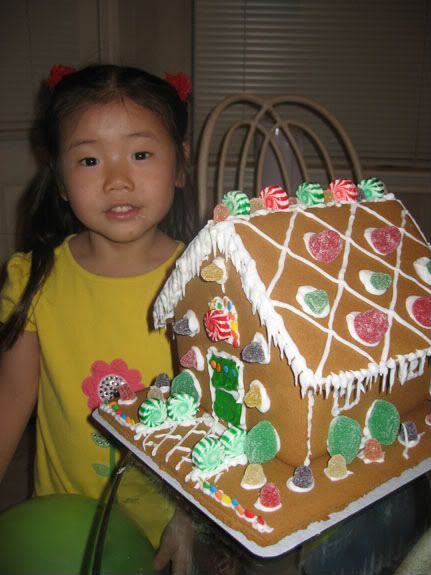 Turned out pretty cute for our first attempt.
---
12/06/09: What a fun weekend. First we got to experience a nice snowfall and Emma played for hours in it. Next she got to experience ice skating for the first time. She thought she would just take off, but realized how slippery the ice really was. She loved it! The rental skates hurt - not like the pair I used to have years ago, but what do you expect for cheap rental skates. It's been ten years since I've ice skated, but it came back, like riding a bike. Emma had a tough time keeping her balance, but she laughed and giggled the entire time. She didn't want to leave, but it was starting to get really crowded.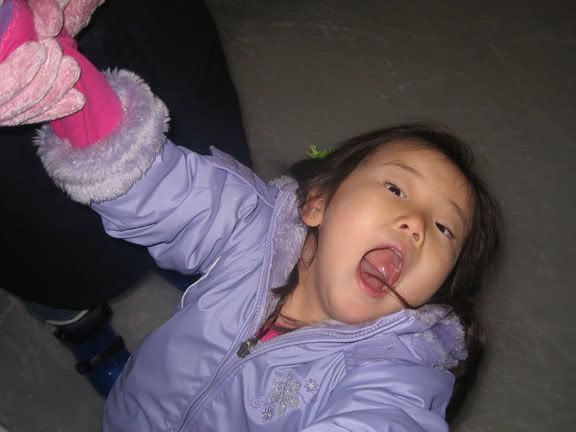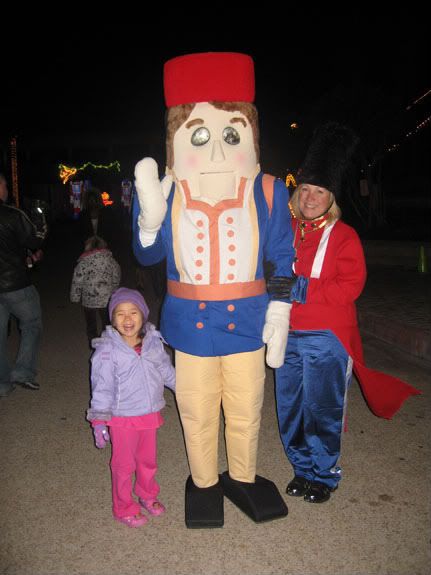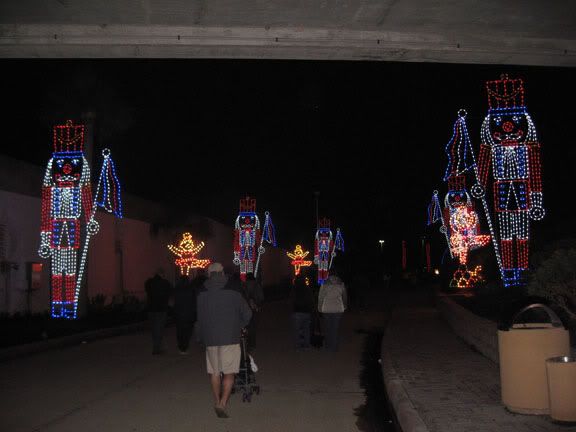 Speaking of cold, look at that crazy guy wearing shorts in the freezing weather.....wait....hey, I think I married that crazy guy!!!
---
12/04/09: Snow!! Last time we saw snow like this was five years ago!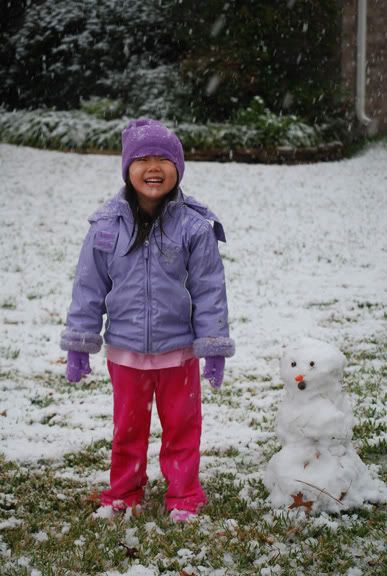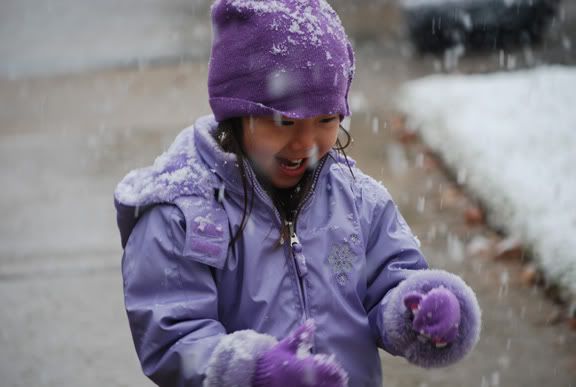 Our snowman looks a little shocked.
Snow angels!
After about three hours, two changes of clothes and a mug of hot chocolate (with marshmallows) we're inside warming up.
---
11/24/09: Wow, she's changed in three years. Then and now....
2006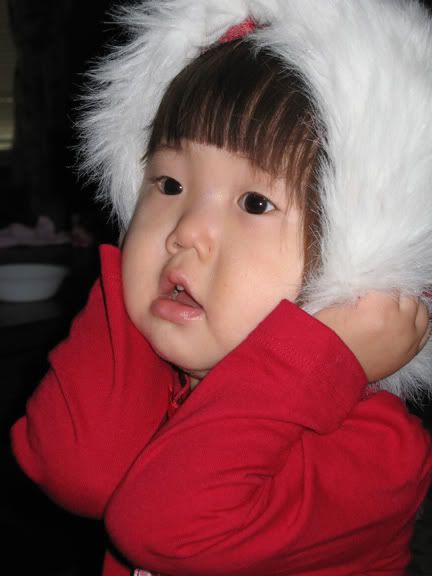 2009
---
11/15/09: I'll get back to the Planes, Trains and Automobiles soon, but for now.....
How do you eat a muffin?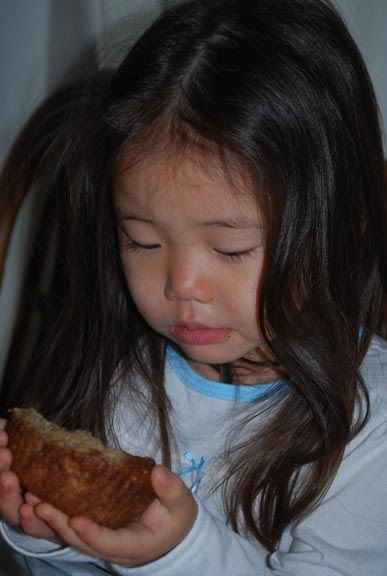 Mmmmm, banana nut!!
---
11/10/09: Planes, Trains and Automobiles (Part 3). Happy Halloween!! We didn't do any touristy things today. We started out our day posing for pictures next to the flowers that Aunt Ginny was about to pull out. This is a good time to introduce Nosey, or should I say Fluffy. Aunt Ginny gave Emma a little stuffed doggie (how did she ever know dogs are Emma's favorite thing?). The dog started out being called Nosey and then half way through the trip, his name changed to Fluffy. Nosey/Fluffy went everywhere with us - and he didn't manage to lose us at all!
&nbsp
Afterwards, we went back to Emma's favorite place of all....the mega-playground.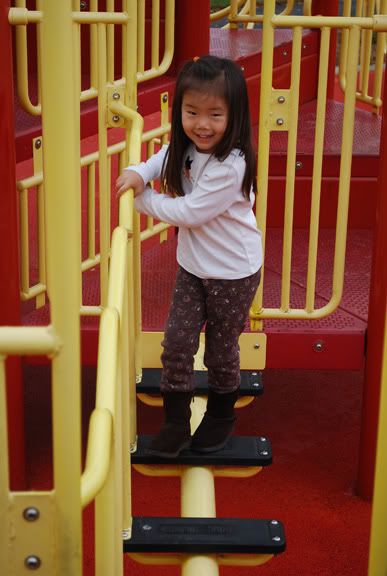 This really was an "extreme" playground. It had everything! I had a hard time keeping up with her and taking pictures. By the time I was ready to press the button on the camera, she had taken off to something different.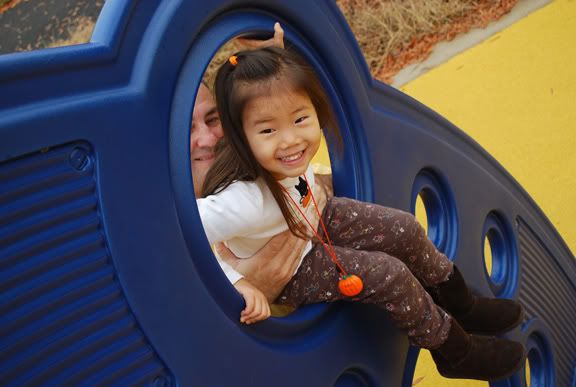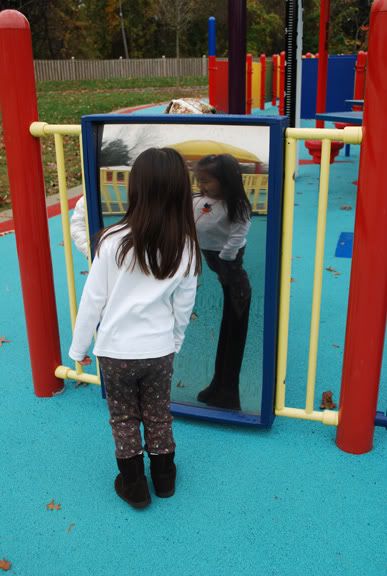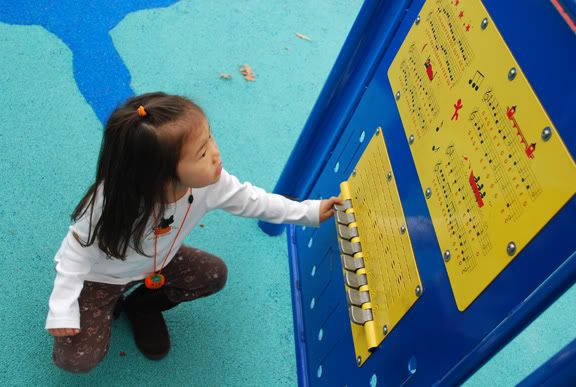 Today was even better, because it was the weekend, and the carousel was open. I think we should have gotten a few free rides, because Emma was the first to ride it and when the other children saw her, they came running, with tokens in hand.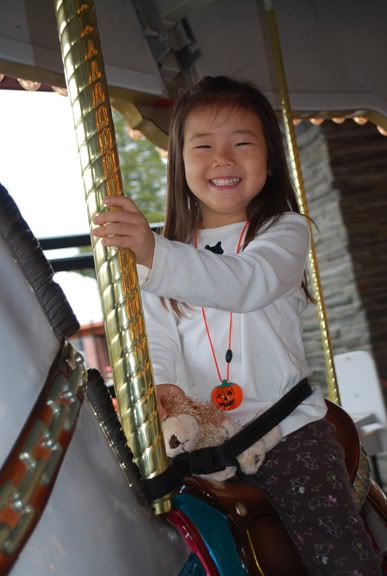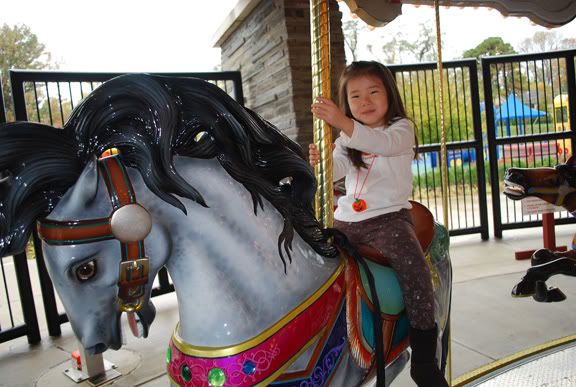 Then it was back to the house to "help" Uncle Jimmy rake leaves. I'm sure most people don't find this fun, but for us Southerners, at least to Emma, it was great. She had her own-sized rake, which she soon threw aside to jump into the huge pile of leaves that Daddy had made.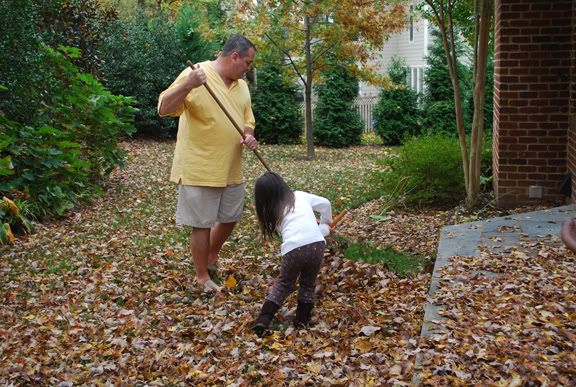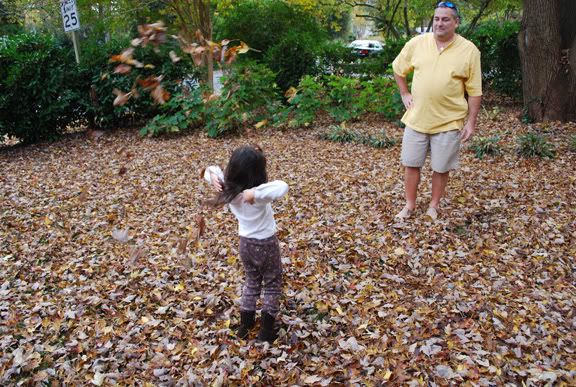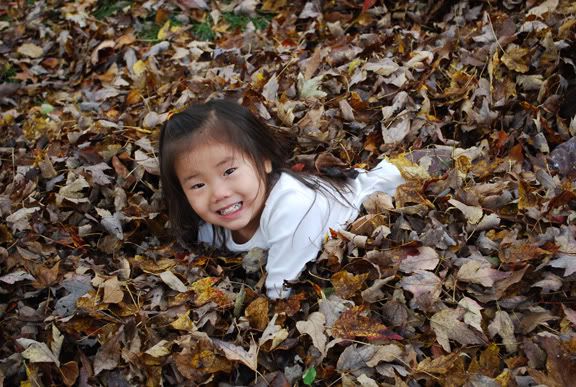 Then we headed inside to bake some sugar cookies for the neighborhood halloween carnival. Emma got some sprinkles painted on her face (good thing, because I forgot to get face paints to complete her costume - I was going to use lipstick). She had fun jumping in the bounce house, making spin art and eating those sugar cookies. There were so many comments about how cute she looked in her costume.
Then off for a quick bite of dinner, then TRICK OR TREAT time!!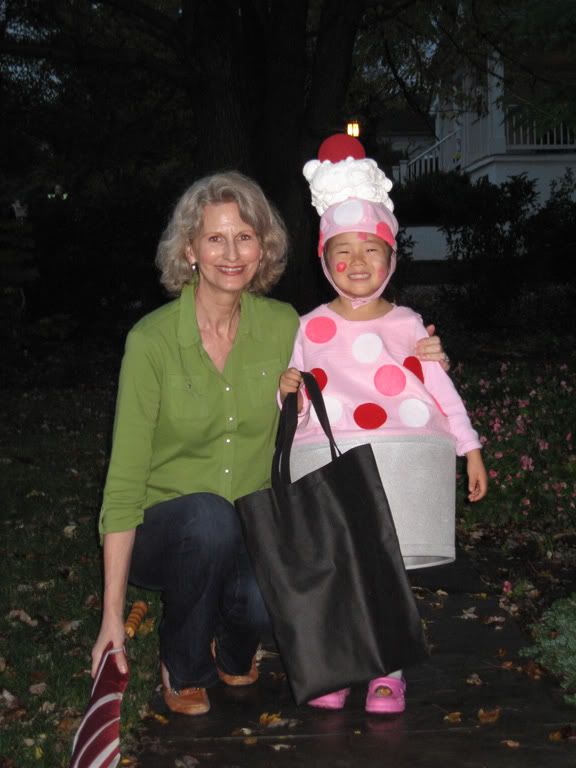 We went to a couple of houses, then back home to pick up Daddy. She decided to play a trick on Uncle Jimmy and ring the doorbell and try and sneak some candy from him.
---
11/05/09: Planes, Trains and Automobiles (Part 2). On day three, we started out with a tour of the Capital. We've come a long way from the stairs of an orphanage in China!!
The ceiling of the rotunda is just gorgeous.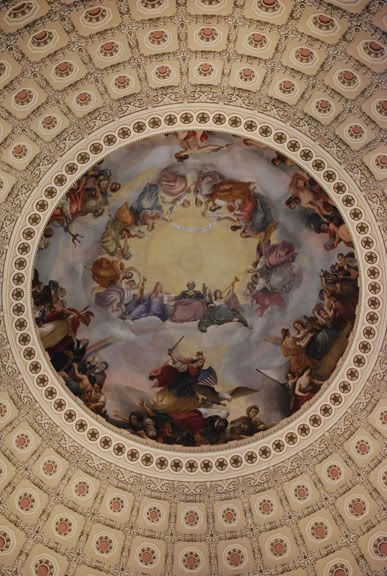 Great-Aunt and Grand-Niece in front of the replica statue that is on top of the Capitol.
Emma kept asking us where the "play room" was in the Capitol, so we decided to take her to the Building Zone in the National Building Museum. This little room was right up her alley. They had a full size play house, and tons of "building" toys for kids ages 2-6 to play with. There were less than 6 kids there, so she had the best time.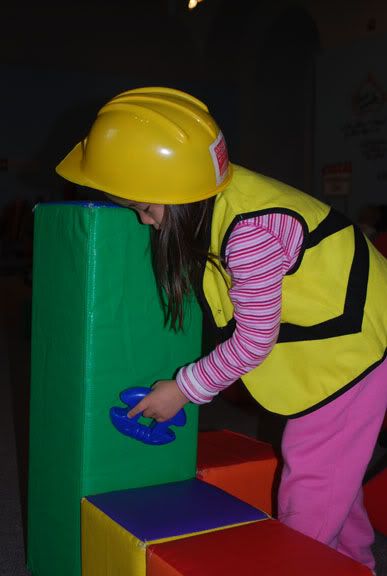 Afterwards, we ventured back to the metro and headed to one of our favorite places, Old Town Alexandria. This little area is so charming and has such an old world feel to it....plus it has a candy store, toy store and a Christmas store!! We found a place to eat lunch and Emma finished it off with some Pumpkin Ice Cream.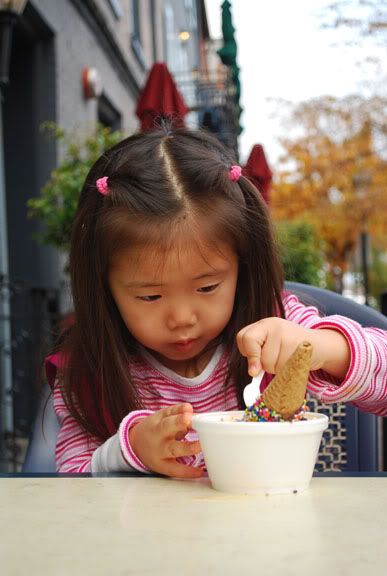 Check out these old cobble stone roads.
We then swung by the Torpedo Factory Art Center, which was actually a torpedo factory back in the early 1900's. Now it houses artist studios and galleries. You can find anything from fiber artist, sculptors to crystal etchers. It's a facinating place to walk through.
Then we just hung out by the Potomac for a bit, took in the beautiful colors, views of the Capitol behind some sailboat races, while Emma chased some birds on the wharf.
Coming soon.....Part 3 - Halloween!!!
---
11/03/09: Planes, Trains and Automobiles (Part 1). We took a quick, last minute trip to Washington DC this past week. We stayed with my wonderful Aunt and Uncle, who made us feel like we were at home. It was a fun, fun visit.
We arrived on the first day in the afternoon, so my Aunt brought us to a park/playground by her house. This place was amazing and huge. Emma didn't want to leave.
After a great nights rest, we boarded the metro and headed into DC. It was a nice day, so we decided to spend it outside and we walked the monuments. We started with the Washington Monument (or as Emma called it, the Washington Mommy-ment). One thing I didn't even think about when we scheduled our trip, was the season. I've always wanted to see the colorful fall leaves, and I was amazed when we arrived. I'm sure we didn't even see them at their peak, but it was beautiful.
Once we got to the WM, we took a snack break and sat to take in the view.
This isn't the greatest picture, but I found this view rather odd. We're standing at the WM, looking towards the Lincoln monument. In between is the WWII momument, some canadian geese and a segway tour.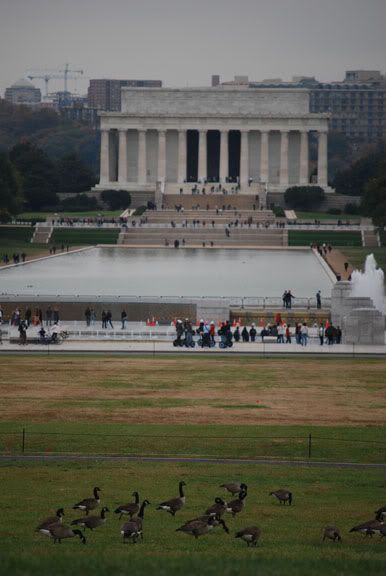 We walked onward to the WWII monument. This was new since our last visit, several years ago. The fountains were beautiful, but the most touching moment was watching some WWII veterans pose beside the engraving of the battle they fought in. It was interesting to quietly watch them live this memory.
On to the Lincoln monument. We made our way around the reflection pool and then decided to count the stairs up the LM. Can you guess how many? 106 to be exact!!
I love this view of Lincoln!!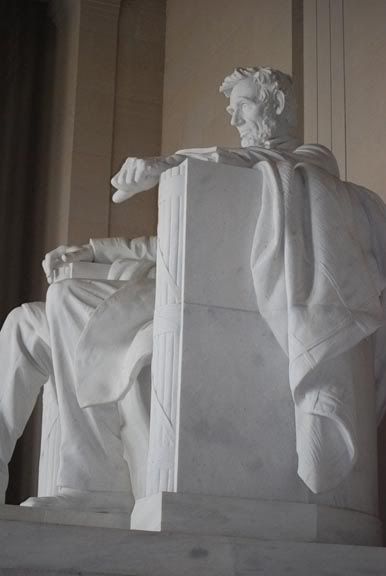 It was now lunchtime and we hit the refreshment stand at the base of the LM. While eating, we also had free entertainment. This little guy would dive into the trash cans to retrieve as many french fries as he could eat.
Just a few feet away from our lunch spot, was one of my favorite monuments - the Korean monument. The sculptures are just amazing and with the fall leaves as their backdrop, it was stunning.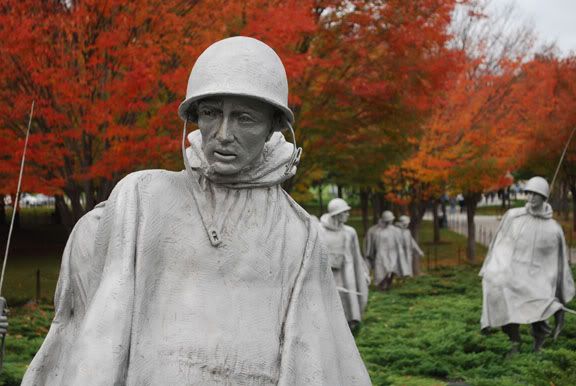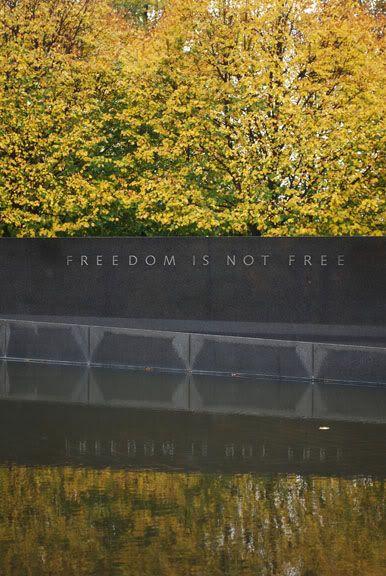 Next we decided to walk the Tidal Basin to the FDR monument. Emma decided it was a great time to collect leaves on our hike.
Once there we found my favorite statue in all of DC - FDR's little dog. Emma loved him too!
Here she is pretending to be one of the many bronze statues at FDR's monument. She was cracking us up!
The final stop on our monument day was the Jefferson monument. On the way, Emma found some dandilions, something we don't see too often at home. So, Washington DC, I'm sorry, but I think we planted a million more weeds. We couldn't pass a single one without blowing it's seeds all over.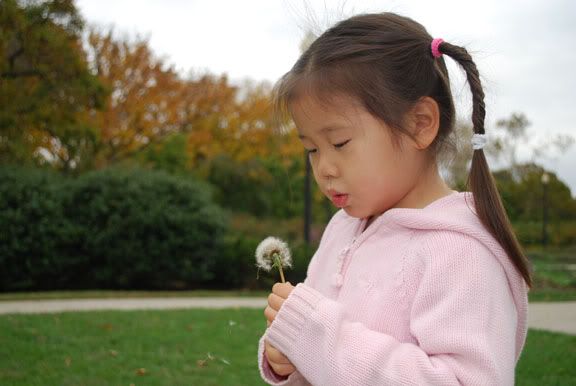 We finally made it to Jefferson. Look how tiny she looks!
After a long beautiful day, we made our way back to the metro and back home for the night. Part 2 coming soon!!!
---
10/24/09: Pumpkin patch day!! We've been having gorgeous weather and it was the perfect day to hit the fall festival and visit the pumpkin patch.
We just got these boots for Emma. Her first, I think. We don't have much "boot weather" to deal with here in the south. She LOVES them. She hasn't taken them off. In fact, she woke me at 5:56 this morning, and she had her pink cupcake pjs on and her boots. Yes, at 6am this morning. Crazy girl!!!
&nbsp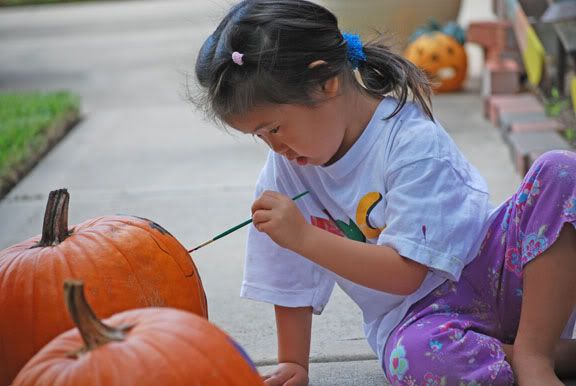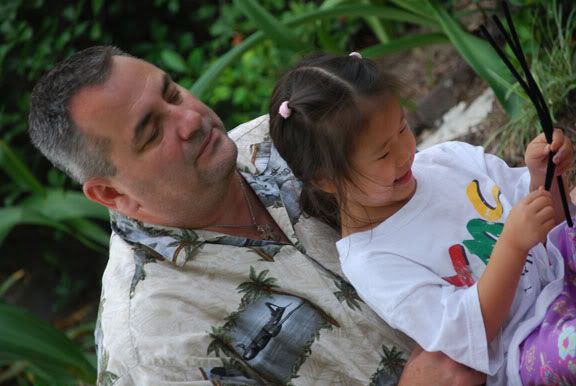 &nbsp
&nbsp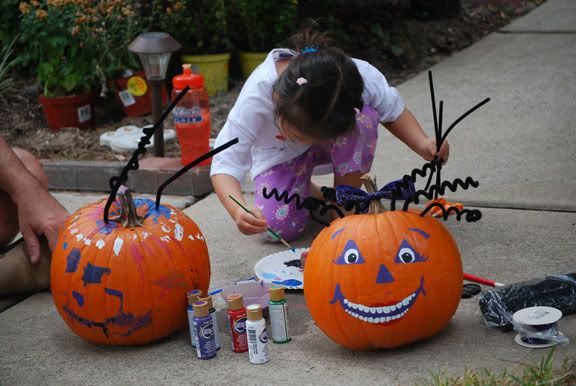 ---
10/15/09: Today was our annual pre-school trip to the farm. I say "our" because, as usual, I went along for the ride. I love our school, but it's mass chaos with all of the school field trips going on at the same time. It's impossible for the teachers to watch all of the kids. We were assigned a buddy to stick with during the trip. She's a sweet little girl, but she had trouble listening to me and staying with her buddy, Emma. I hate having to discipline someone else's child.
We started with a hay ride to the pumpkin patch. Each of the children got to search for their own baby pumpkin. I was smart this year and took my allergy medicine before the hay ride. Last year, I was a sneezing mess!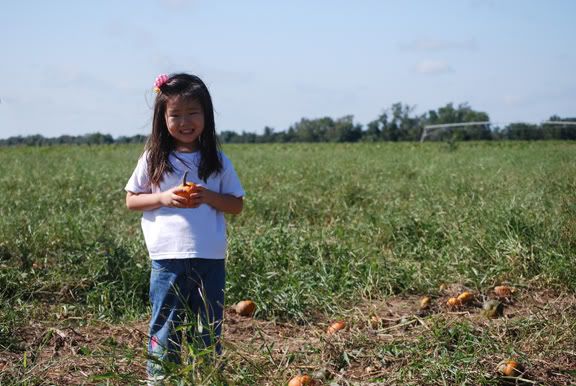 Then we hit the "pillows" for the kids to bounce on. I'm not sure how to explain them, but the kids love to bounce on them.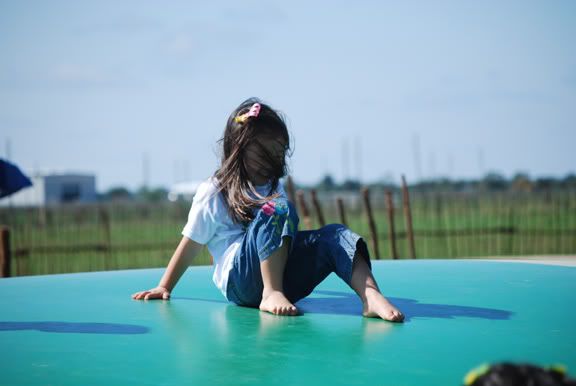 Emma and her BFF watching other kids bounce on the pillows.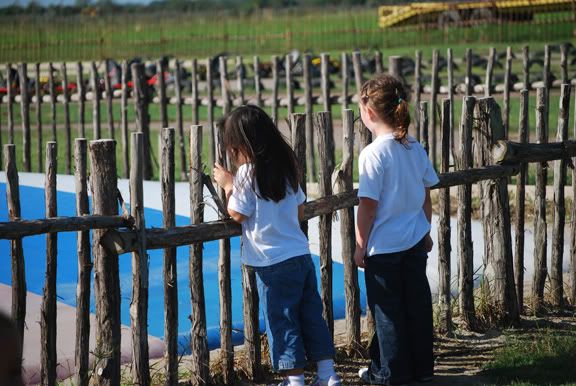 Next, the PVC pipe slides. They built another one this year, so now there's twice the fun.
Then we hit the hay pile. This year they added some swinging ropes. Emma didn't quite grasp the concept of how they worked, but she sure had fun trying.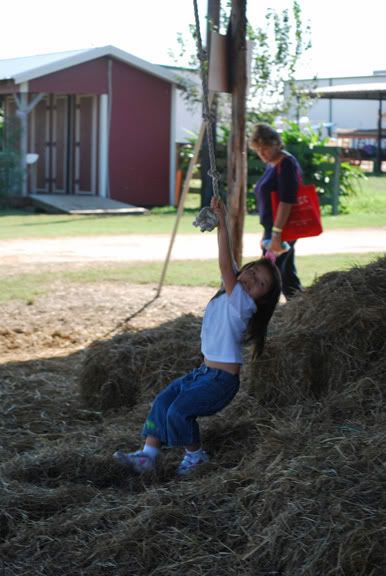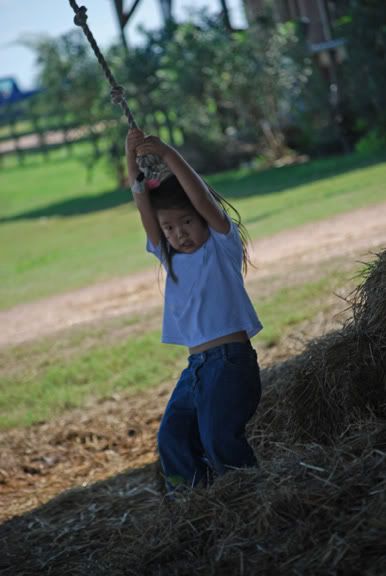 It's funny, there were a ton of animals and "real farm" things to do there, but all the kids love the bouncy pillows, the castle playground and hay piles the best. It was almost killing her to watch the singing chicken show and go feed the goats. I can't believe it was 90 degrees out there. We're exhausted now. Let's see if I can convince her to take a nap. Haaaa!!!
---
10/14/09: Fall portrait.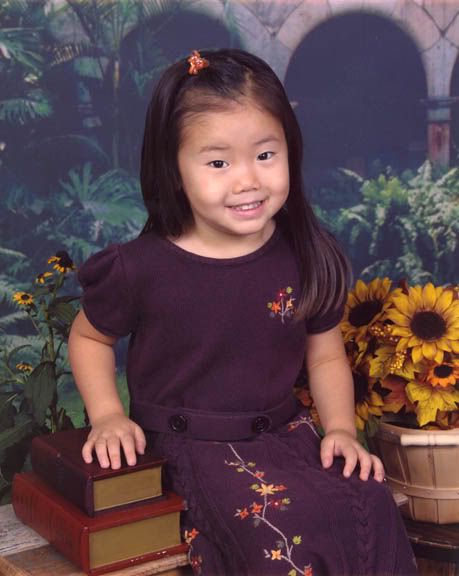 ---
10/6/09: This afternoon we made a spooky spider's web between our two trees. I've been wanting to do this for a couple of years, but finally did it. It was much easier than I thought it would be. Well, lets wait a couple of days to make sure the wind/rain/local teenagers don't destroy it.
---
10/5/09: Today was our turn to bring snacks into pre-school. Since halloween is right around the corner, we made something special...spider cupcakes. The kids were so excited when I brought them in this morning. That's the reaction I expected. However, I didn't expect the same reaction from my co-workers when I brought the left-overs to them. Funny how adults were going crazy over the sprinkle/licorice cupcakes.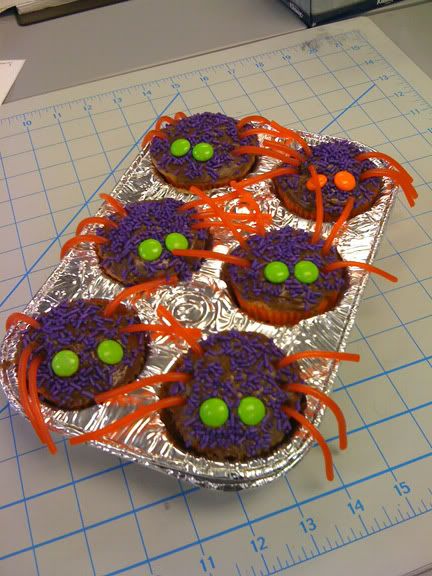 ---
9/20/09: Busy week....trying to catch up! Last weekend we went to the farm. Such a cute place! There were a ton of animals and you could buy a bag of feed for the animals.
There were also pony rides...
...some non-farm animals...
...a mini train ride...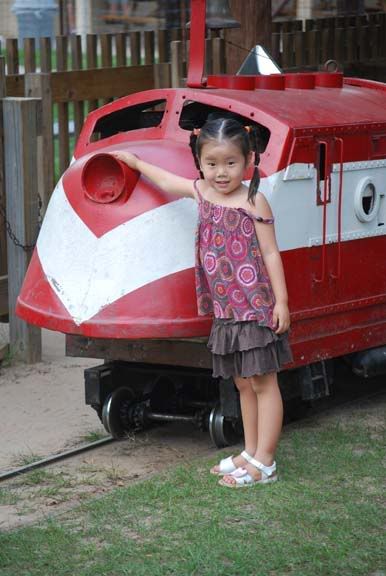 ...playgrounds...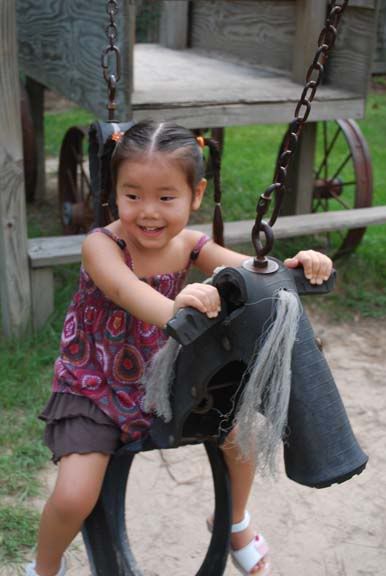 ...more playgrounds...
...and even more playgrounds.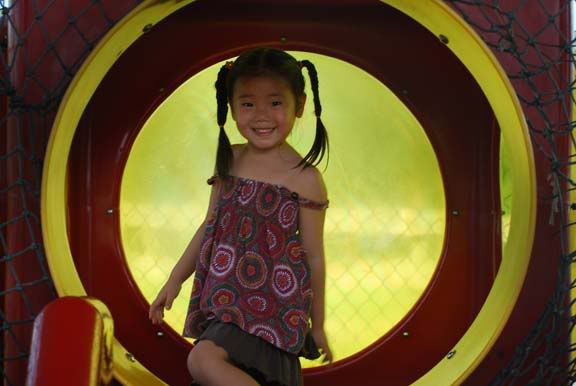 So with all of this fun stuff to do, what do you think she wanted to do all day. Play on the huge moutain of sand. I'm just going to dump a huge pile of sand in the back yard and skip the entry fee.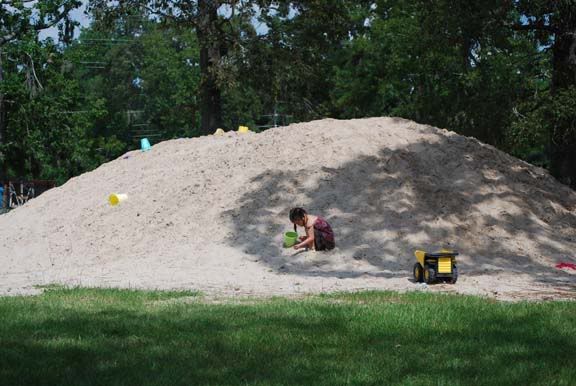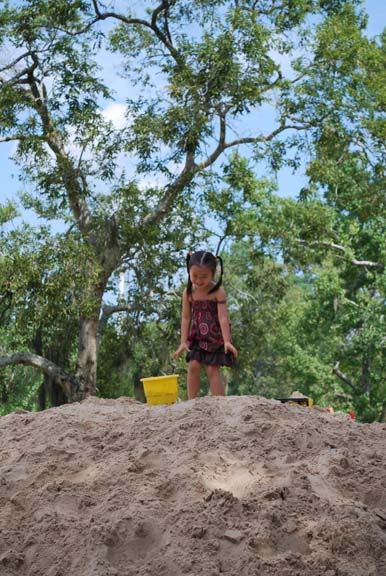 ---
9/07/09: I love taking pictures and even though I'm so far away from knowing what I'm doing, sometimes I'm lucky and I'll get that perfect shot. I got it this weekend (without even photoshopping one bit of it)!!! My beautiful girl in her beautiful world.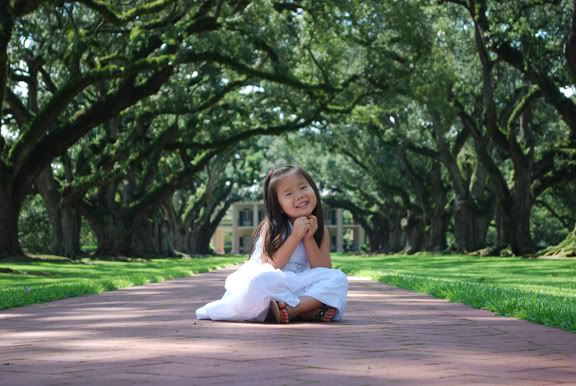 Ok, so I couldn't help myself. Photoshop job #1:
One more. Photoshop job #2. I'm done. I swear.
---
8/27/09: Arrrg, Matey!!
---
8/23/09: Just photos.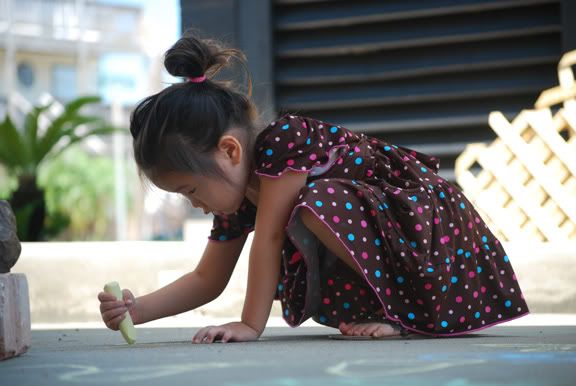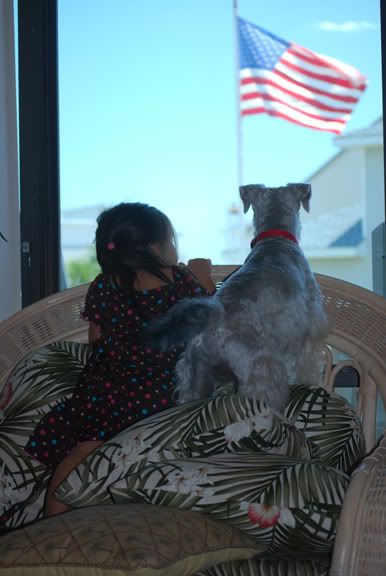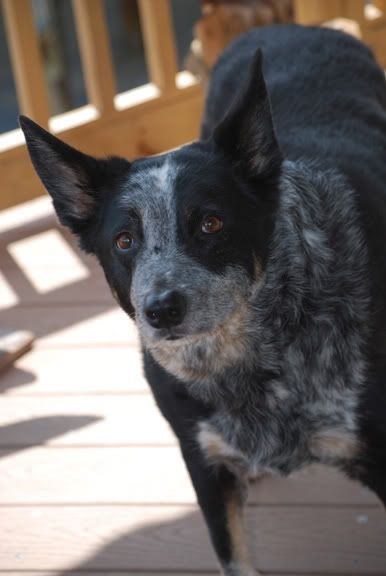 ---
8/16/09: Bathroom remodel is DONE!....almost.
Before: Goodbye ugly holliwood lights and 360 mirrors.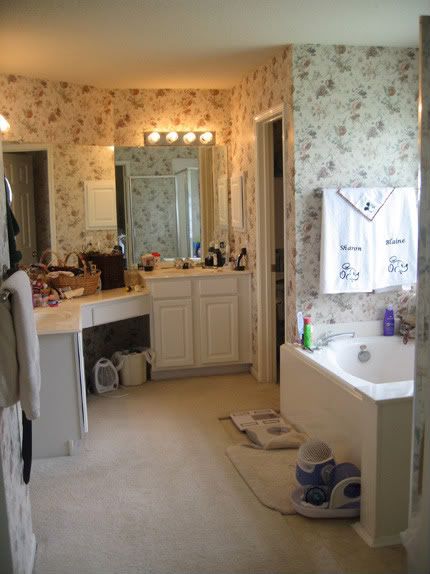 After: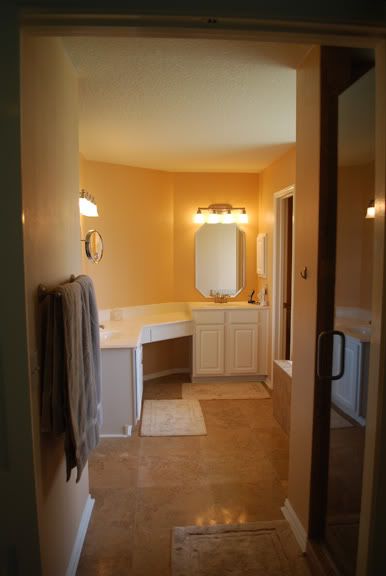 Before (ugg, I cringe looking at that shower that could never get clean):
After (pretty travertine!): We extended the shower about 6-10" and it made a world of difference. I feel like I'm in a hotel shower now.
Before:
After: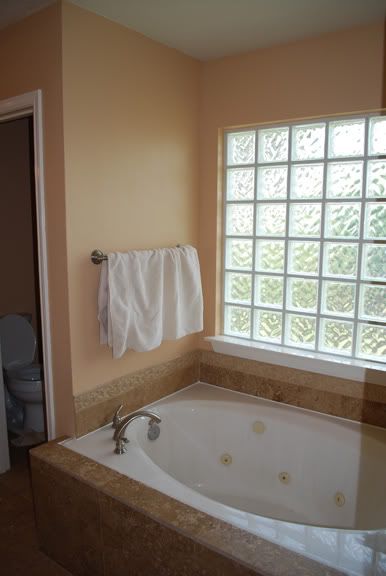 Now all we need is some "art" on the blank walls and it will be done. Our two week construction turned into four weeks, along with some arguements with the contractor who never wrote anything down, so there were mistakes made. But now it's done and so pretty!
---
8/16/09: Yesterday we had our "final" gathering for our agency. They went out of business earlier this year, because of the economy and the state of international adoption these days. I put final in quotes, because after the picnic, we talked to the director and she said there was so much interest in continuing these gatherings in the future, they might continue. I hope it does, as it gives us a chance to visit with families who have become very special to us. Emma had a great time playing with her friends. She said it was a "special" party for Chinese girls, even though there were kids adopted from all over the world. We started out with dinner and playing on the playground, then moved on to the pool. We didn't get home until 11pm, but it was a great gathering. Can't wait to see everyone again!
Just a few of the kids LNI helped unite with their families.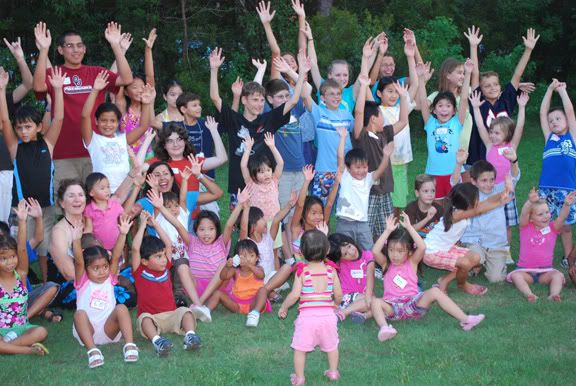 Emma and Olivia playing on the spider web.
The girls searching for flowers.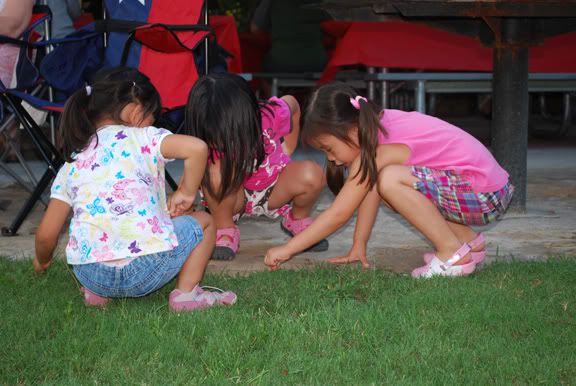 Visiting with the founder of the agency.
Playing in the kiddie pool.
A cool whale slide.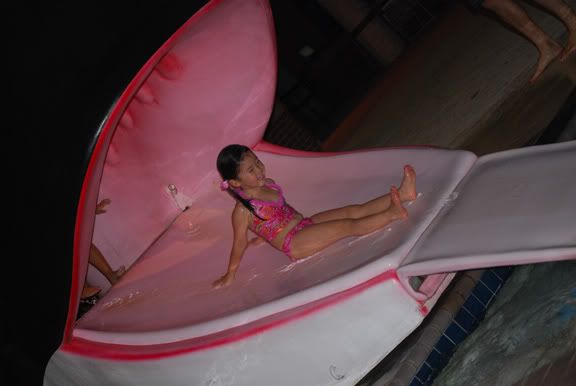 ---
8/14/09: After 16 group lessons and 10 private lessons this summer.....she still sinks. That's not counting the previous two years we took lessons. Oh well, it's not for lack of trying (most days). She's doing great swimming under the water and diving for rings. The problem is when she's on top of the water, oh and the whole breathing thing too...and the arm coordination thing. Meanwhile, we try to ignore the little three year old who jumps in next to her and swims the entire length of the pool and back with no floatation device. She'll get this one day, right?? At least her teacher is a very patient young lady!
Hubby says maybe we should try the way he learned. Yeah, we'll just throw her in the middle of the pool and see what happens. Not while I'm around!

Swimming Lessons - 8/09
---
8/9/09: We go for a quick pizza lunch, and we end up sitting on a horse with the pizza place's logo painted on it's bum. The horse was re-named "pizza" for the day and painted with pepperoni, olives and green peppers.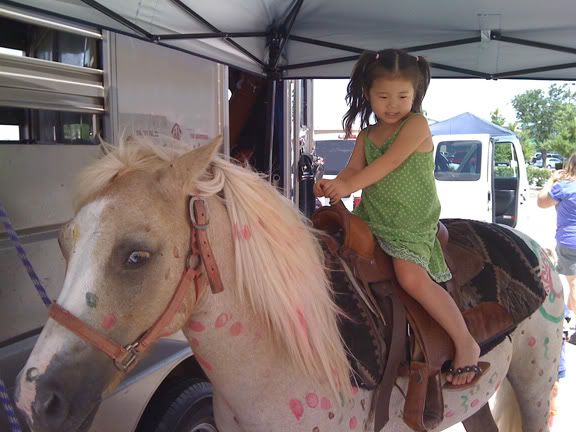 The horse's little buddy was re-named "brownie" and had a fresh coat of glitter spray for the day. Uggg...Look at that fake smile.
---
8/4/09: New Portraits. Now I remember why I don't do professional portraits that often. 90 photos and an ice cream bribe later, we finally got some good shots. Emma is not the most cooperative child when it comes to taking pictures. I do love this place though. We walked out with the photos in hand!
---
7/28/09: A Sad Day. My dear friend Deana lost her battle with cancer yesterday. She was one of the most genuine people I have ever known. Please pray for her sweet boys and her husband who now has to raise his little men without their Mommy. Rest in Peace, sweet Deana.
---
7/23/09: One Day, Two Parties. Days like this are jam packed full of fun. Almost too much fun. We have to make sure that Emma gets plenty of rest during the short down-time so there will be no melt-downs during the day. That is getting more challenging as she gets older. She doesn't like to nap anymore, but in situations like this, she really needs a good 30-minute power nap. We were lucky. We got about 20 minutes during the drive to party #2.
The day started with a 5-year old jumpy party. I don't know if we've just gone to so many of these this summer, but she was ready to go into the "cake room" after 20 minutes of jumping.
yes....with the boys, again.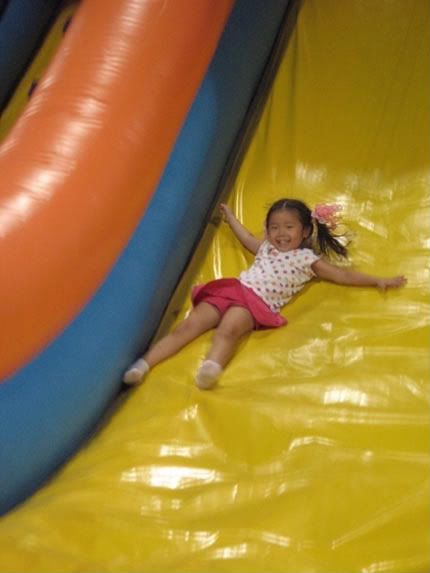 Later we went to a two-year old party. Can't believe little A. is TWO already.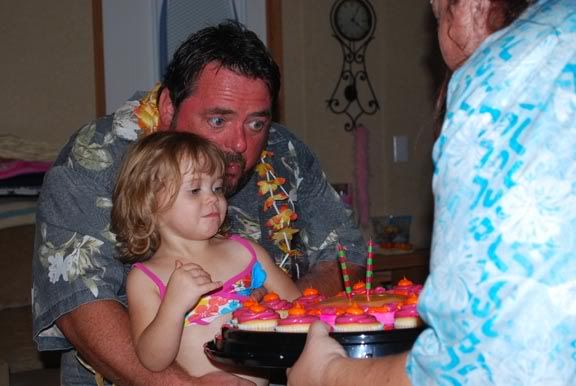 She's quite the little fashionista already.
Emma got to see big sister R., her BFF. These two are so cute and have a blast together. As soon as they see each other, there are big hugs, then running and screaming and princess dresses thrown in the mix.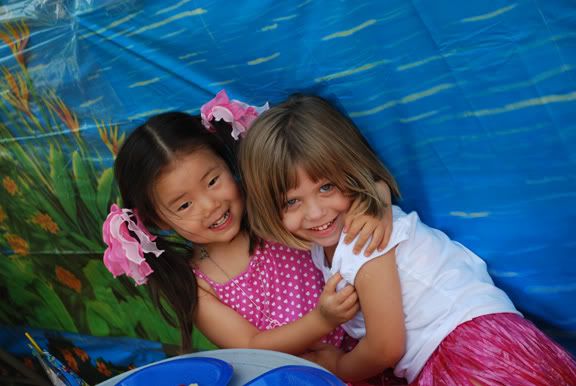 Oh yes, and cupcakes.
A's party was a hula party. The girls had leis and grass skirts, but the leis were quickly discarded. I'm shocked that the skirts stayed on for most of the party. The pinata was a big hit (no pun intended).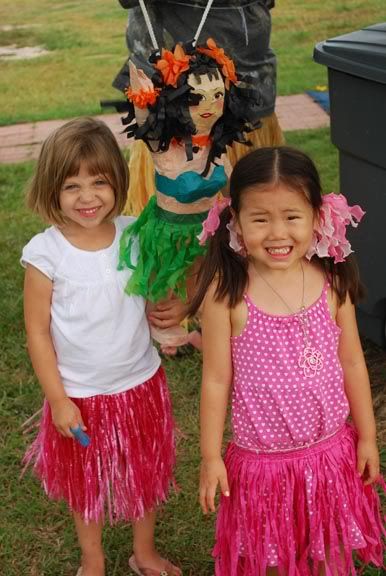 I'm not sure what they are making pinatas out of these days, but it took some muscle to break that thing!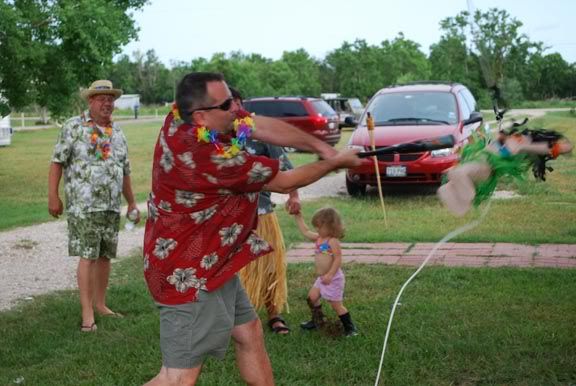 And finally, this is the picture we are sending with our children when they go to the therapist. It will explain the root of their problems.
---
7/23/09: A "Special" Dinner. A couple of months ago I bought some bento supplies from a Japanese store, thinking it would make Emma more interested in eating her dinner. We don't pull them out very often, but a couple times a month, I will make, what Emma calls, a "special" dinner. I use the tiny cookie cutters and cut shapes out of melon and little plastic toothpicks to spear berries or cheese. Tonight I made a food-face out of grape tomatoes, a black berry, an orange bell pepper and green beans. I made a fried egg with a flower shape (which I'm still trying to get the technique right) and the rest was just in fun shapes. She loves getting her "special" dinner and usually eats all of it. As long as my baby keeps eating this wonderfully, I'll be making her dinners "special" for as long as it takes.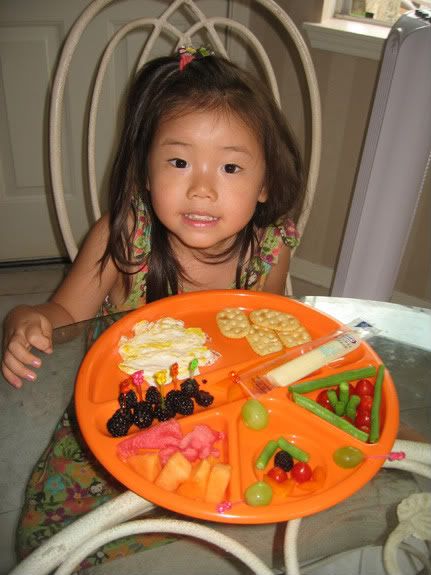 ---
7/18/09: We witnessed a grass fire when leaving the show today. It's been so hot and we haven't seen any decent rain in weeks. It was so close to some homes, but I haven't seen anything about it on the news sites, so I guess they got it under control.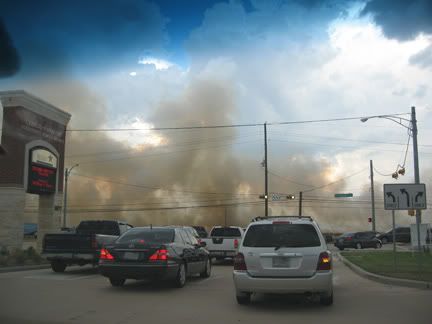 ---
7/18/09: Someone is ready for a luau birthday party next weekend. She said the 'Hula is cool-a'.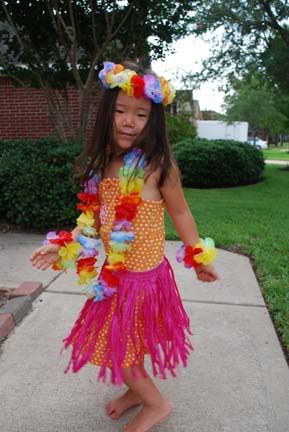 ---
7/3/09: Happy Independence Day (one day early)!! Today was a holiday for our offices, so Emma didn't go to school today. We did, however, pop in for a while, because today was their 4th of July parade. It was adorable, including the few that cried while parading. I'm happy that we got two years out of this Independence Day outfit. I knew when Emma's class was coming around the corner - they had shakers and were the noisiest.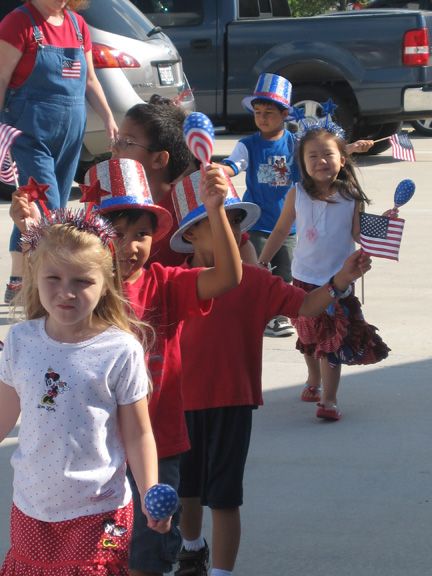 ---
6/29/09: Ahh, Daddy is so proud.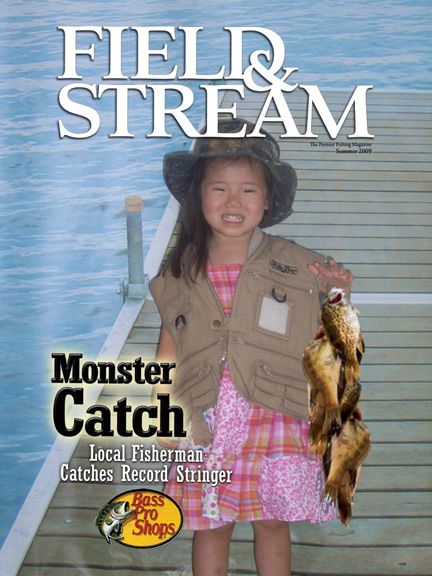 ---
6/28/09: Three posts in one day! The benefit of having an early riser? Sunrise photoshoots! That and it's the only time we can actually go outside without melting. She wouldn't let me do anything with her hair though.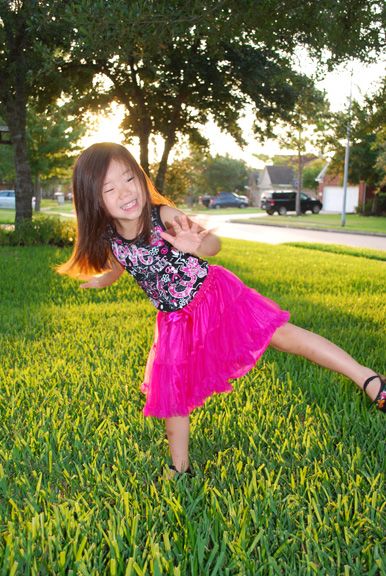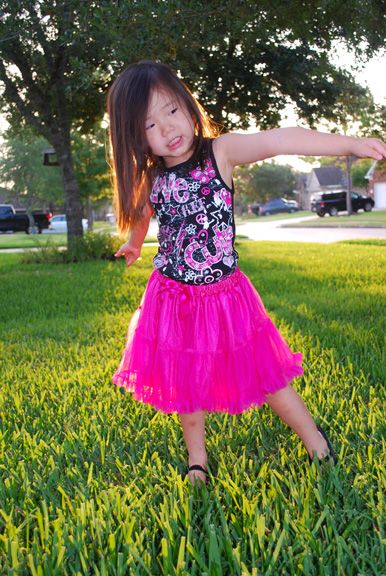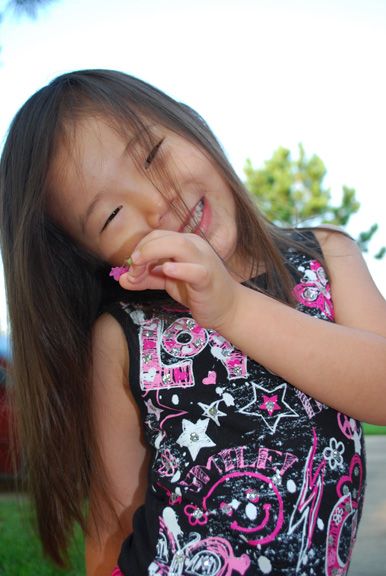 And a couple of random photos.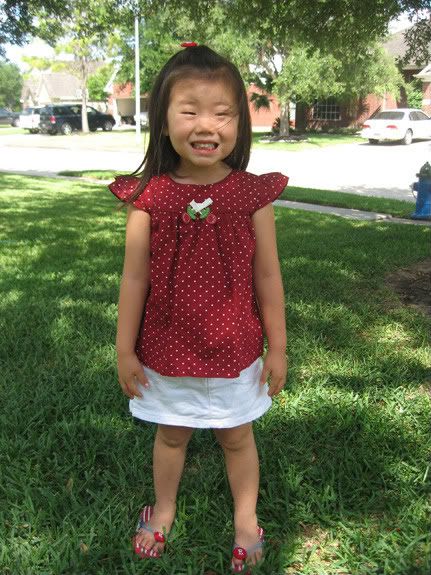 ---
6/28/09: Emma's four-year old stats:
Height: 40.5" (75%)
Weight: 37 lbs. (50-75%)
---
6/28/09: Yeah, it's a little bit hot here!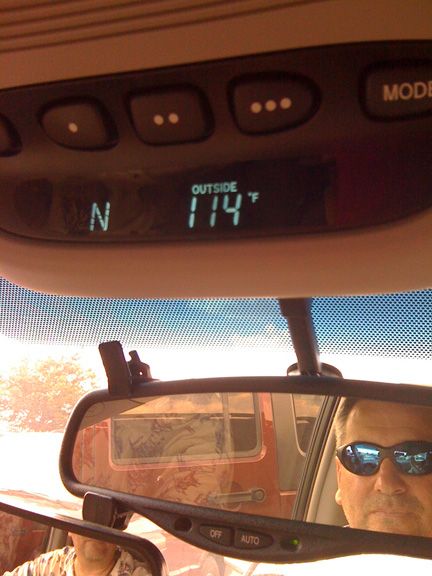 ---
6/19/09: Goofing off at the sporting goods store this evening. These were taken with my camera phone while daddy was shopping.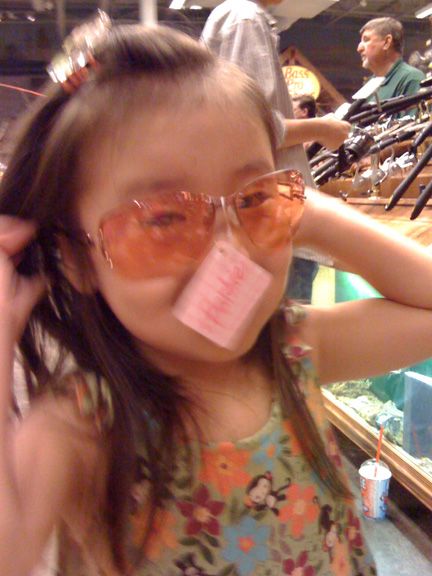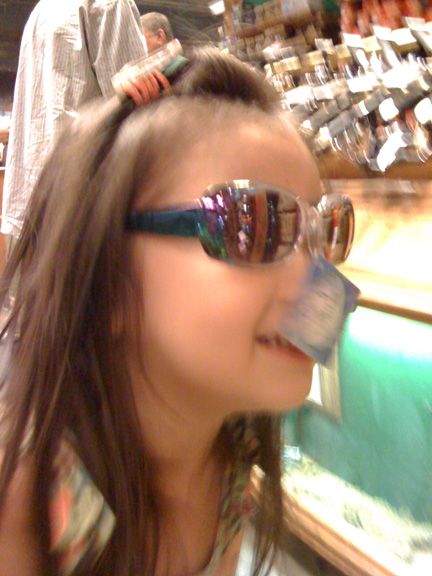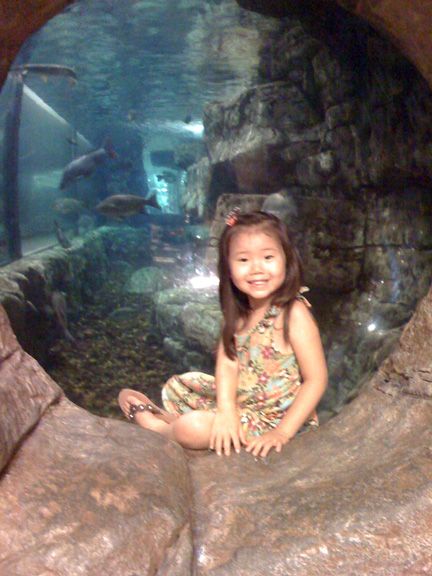 ---
6/9/09: Travel Group Reunion Weekend. We had a great weekend visiting with our travel group. It seems amazing that it's been three years that we've had our girls. Time flies. I'm sure Emma didn't remember everyone, except for looking at pictures, but when they were all finally together again, it was like no time had past. They were best friends again. We started off with dinner the first night. The girls had fun playing ring around the rosie and hanging out on the fun seats while waiting.
Next the girls had fun playing on the motorized cars - trying to run each other over and giving Mommy a heart attack in the process.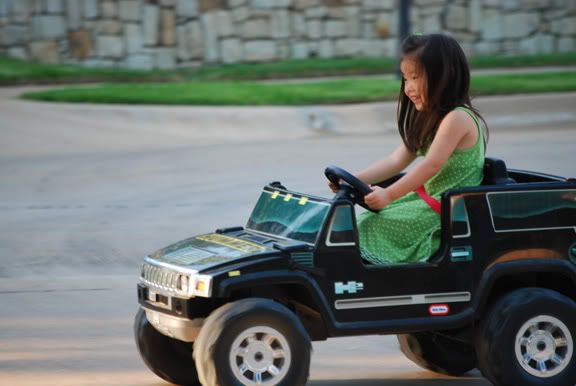 The rest of the weekend was spent hanging out playing video games, eating and swimming.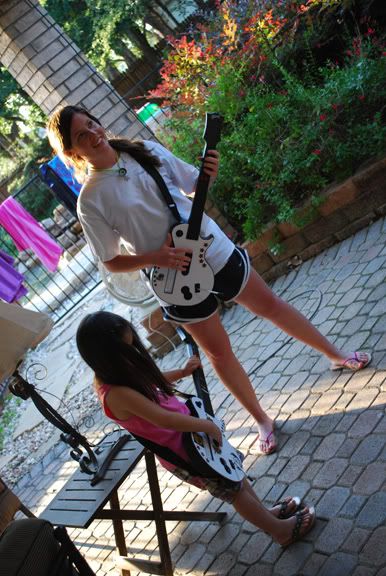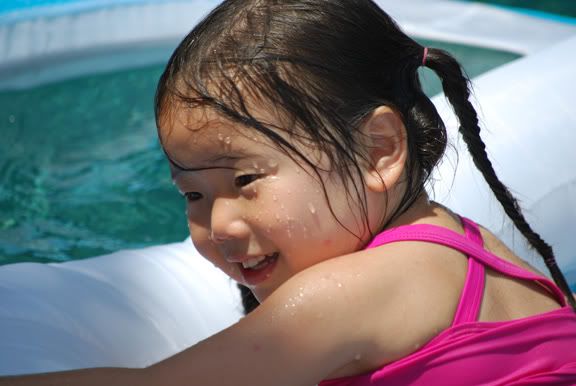 Oh and here is Emma's best friend (that's what she called her ALL weekend). Amy is a sweetheart and spent so much time helping Emma learn to swim and just hanging out with her. I think one of Amy's little sister's was a bit jealous of Emma taking up all of Amy's time.
The cake!
...and the three little cuties three years later. Haven't they gotten so big?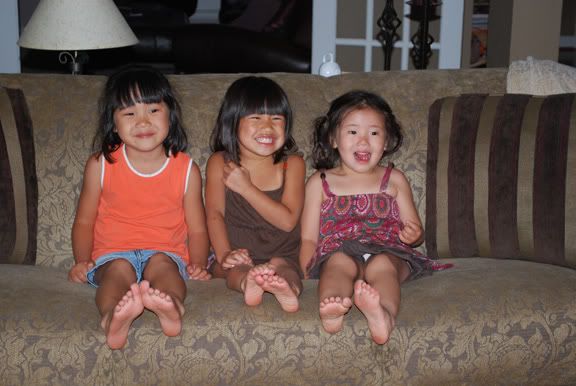 All five girls.
---
6/3/09: Recital #2. Tonight was Emma's second dance recital. She did so much better than the one we had six months ago. She followed her teacher's directions and made it through both the tap and ballet dances. The costumes were adorable, but her hat was a bit big and kept slipping off or covering her face.
We took a picture with her dance teacher.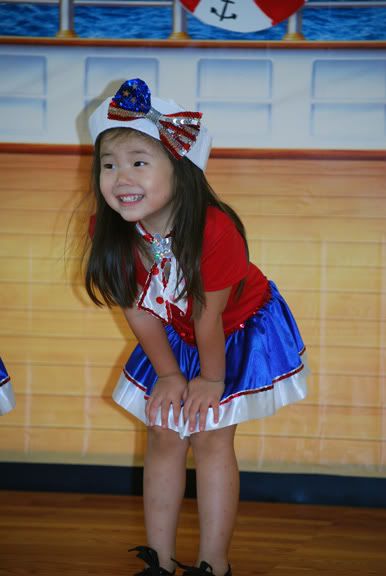 Here is some video of the dance. Emma's little friend Addison wasn't too comfortable in front of all of the cameras.
Then we moved on to the gymnastics routine.
---
5/31/09: First order of business - HAPPY BIRTHDAY to my dear friend C. We've been friends for many years and I hope that this year you find peace and much happiness in your life. Here we are a couple of weeks ago in a very rare moment when we get to see each other and have a little fun. I'm not going to tell you how old she is, because you wouldn't believe me anyway.
Last two weeks in review. The Spring session is winding down at school and this last week, Emma's class has been studying some famous artists and copying their artistic style. Now, I'm not so sure what I think about Jackson Pollack's artistic style, but the kids sure had fun re-creating his painting. Decked out in over-sized shirts and bare feet, they "gently" threw paint to create their master piece. Emma said her teacher told them they had to throw the paint gently.
Here is the finished artwork, along with the Mondrian. I hope my baby continues her love of art.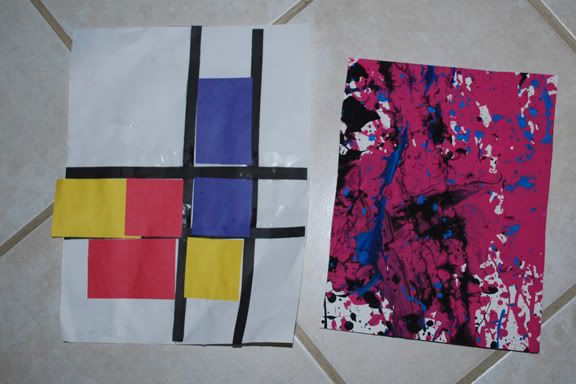 The last couple of weeks have been very chaotic around here, so Emma has gotten some time to sit down and do some craft projects (this gives Mommy and Daddy about 5 whole minutes to do something we need to do). She got this "decorate your own frame" project for her birthday. Glue, glitter, stickers, jewels, what's not to love??? Then she got to bring it for show and tell last week too!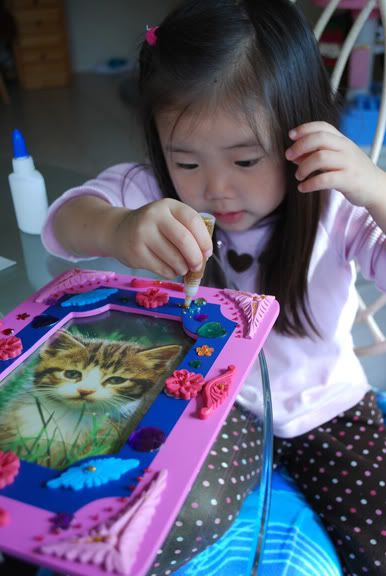 Yesterday Emma and I carpooled to a birthday party with Olivia and her Mommy, Brooke. Olivia's parents used the same adoption agency as we did and we were actually supposed to travel together, but they had some glitches in paperwork, so we traveled three months before they did. We went to Brinanna's birthday (adopted in the same travel group with Olivia) and had a blast. There was a huge water slide (which Emma LOVED), a splash pool, a jumpy and a swing set. All the kids had a blast and Emma and Olivia had sing-alongs in the car and contests who could be the noisiest. My apologies to Brooke about Emma teaching Olivia the Taxi song. Hope she doesn't sing it ALL DAY LONG like Emma does. After the party, Emma and Olivia played for a while in Olivia's game room. Can you believe I forgot my camera????? Thanks for the pictures, Brooke!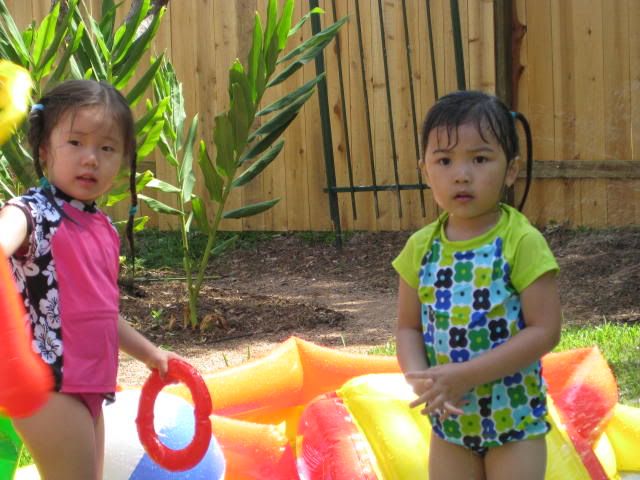 Here's the face we get when Emma thinks someone isn't sharing. Ahhh!!!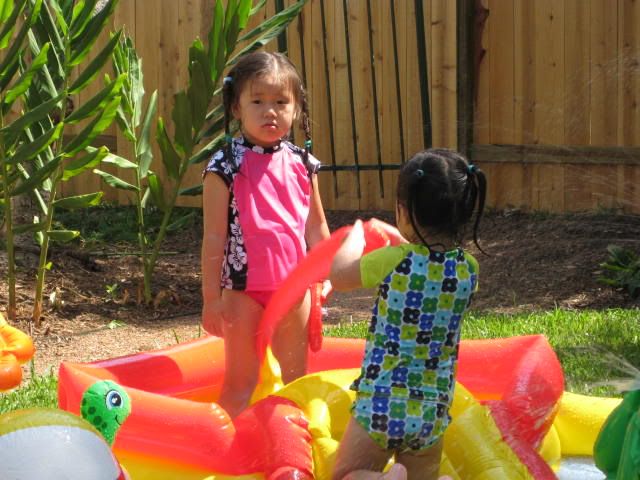 Two sweet little princesses.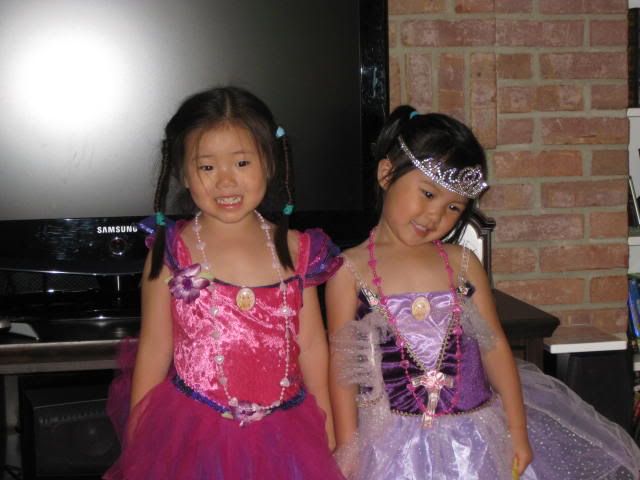 When we got home, we did another craft project - sock puppets! Emma was so proud of herself. The kit came with a big plastic needle and you had to sew the little yarn poofs on. I threaded the needle for her and she did the rest herself (well, except for tying the knot).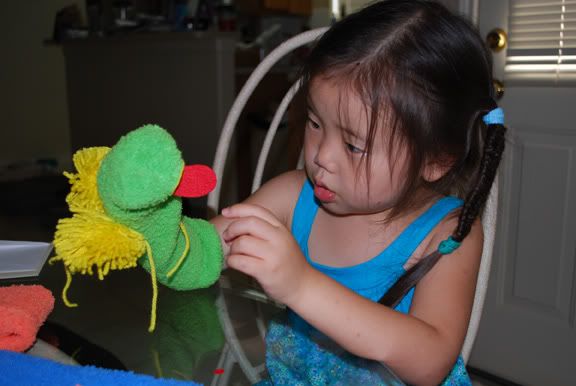 Well, that is our last couple of weeks in a nutshell. Oh wait. I forgot! I think I've created a monster. Emma got some gift cards and money for her birthday, so we went to the store and got her a little hand held educational gaming system. I wasn't so sure how she would take to it, because she gets frustrated sometimes on my laptop with the hand-eye coordination thing. She LOVES that thing. It's the first thing she wants in the morning (yeah, not going to happen). I can see this being a positive thing though. Along with the educational aspect of it, I think we can use it for helping with her behavior. I've already told her about her dental appointment next week (yikes - four cavities!!) and that if she can be good and make it through, we'll go buy another game for her. Gives her something to look forward to.
And as far as the cavity thing. I've asked the dentist. It's not a bad-tooth brushing thing. He said she's probably just prone to it. Poor baby. So we're really cutting back on sugary stuff and making a big deal out of cleaning her teeth.
Wow, I'm exhausted. That was a long update!
---
5/18/09: Emma's big party was this weekend. You know, the one she's been talking about for the last nine months...every day. I hoped that it would live up to her expectations, after talking about it day in and day out. This is what she looked like while waiting for her friends to show up. Do you think she's a bit excited? She was twirling and jumping and fell on the floor.
She also got to see her name in lights!
Then there was jumping, climbing, sliding and pre-school pandemonium.
Afterwards, there was pizza, chips...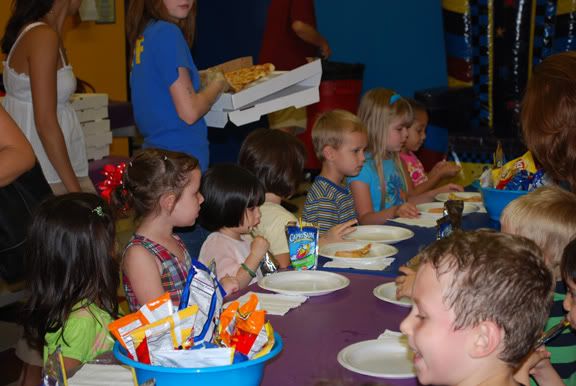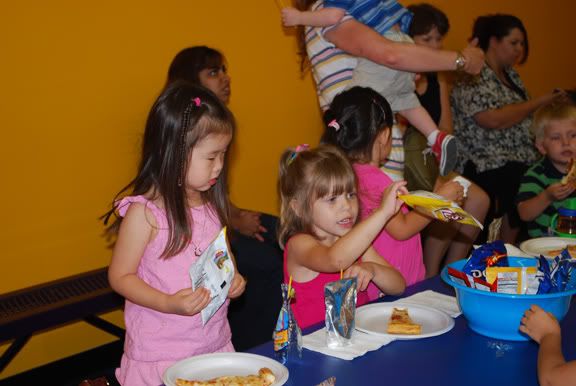 and some hugs.
Then the princess took over the throne so we could sing Happy Birthday to her.
and of course, they needed some sugar - CUPCAKES!!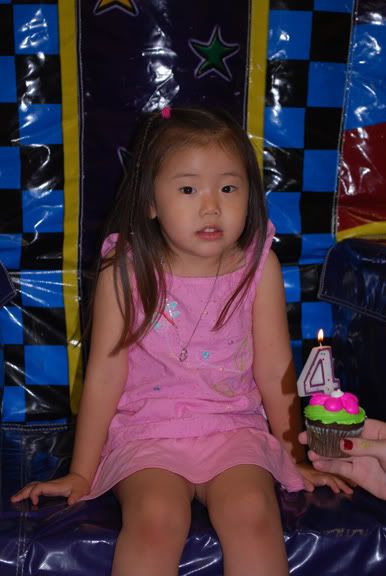 Then the sugar-monsters were sent home with their parents. Then someone else decided they wanted to see what it was like to be royalty.
Hmmm, reminds me of our trip to China.
---
5/15/09: FOUR Years Old!! Today Emma celebrated her fourth birthday by having pancakes with Mommy and, of course she told everyone it is her birthday. After finishing, we were getting ready to leave, but the restaurant staff brought out ice cream and sang Happy Birthday to her. Yes, ice cream for breakfast. Does it get any better than that?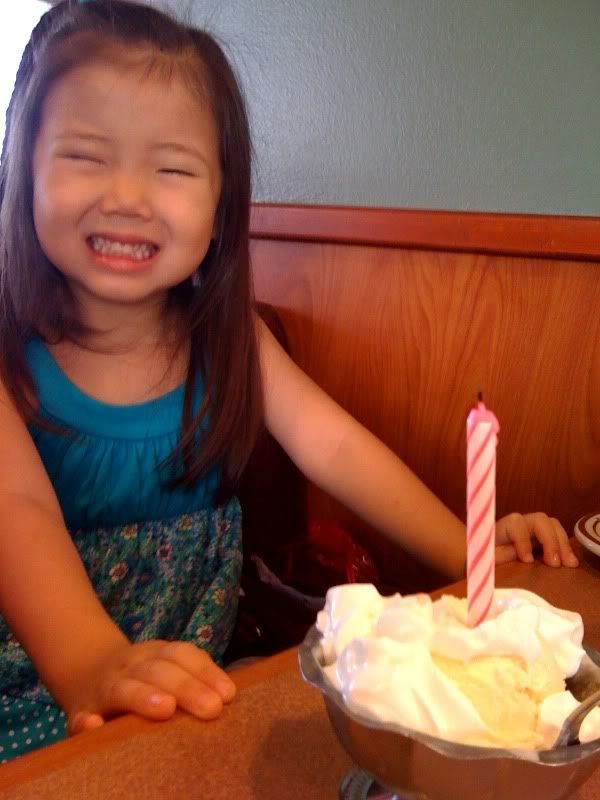 Afterwards, she went to school, where they had a special birthday celebration. I was a little scared there when her teacher started lighting the candles and Emma hovered right next to them to blow them out. Her teacher grabbed her back and diverted a bad situation. Probably not the best idea to have lighted candles around that many 3-5 year olds.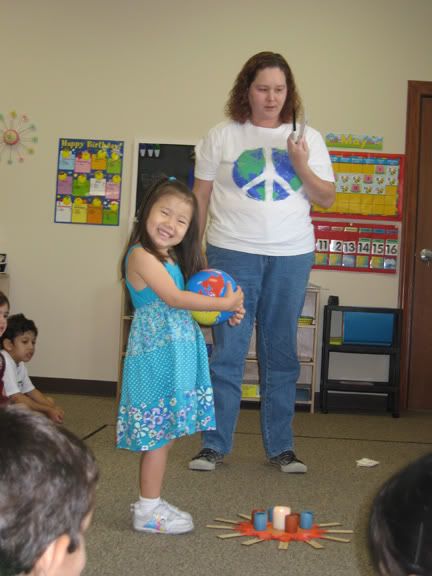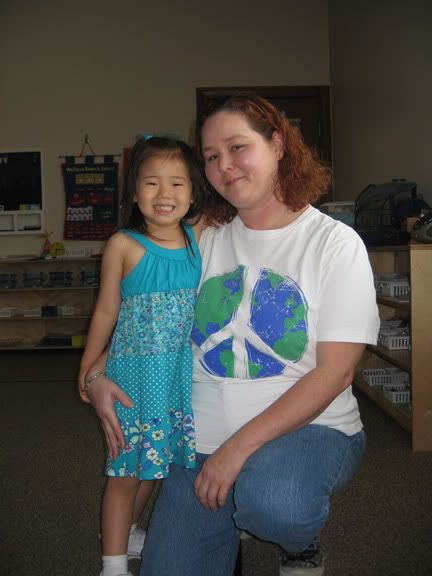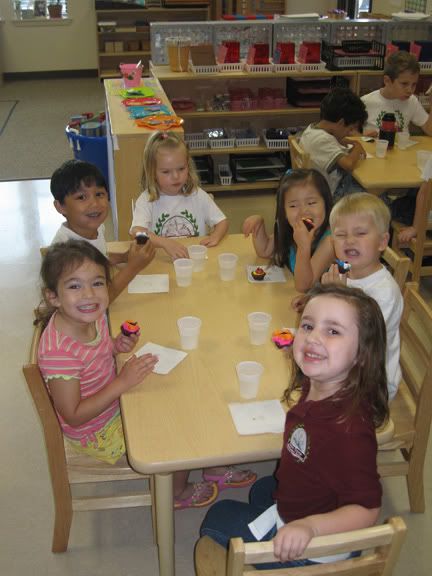 Tomorrow is her big birthday party - the one she's been talking about for nine months. We've been going over the RSVP list for days and she tells me that "she's going to have a talk with ____" concerning them not RSVPing. I think we have a little Miss Manners in the making.
---
5/10/09: Happy Mother's Day to our Mothers!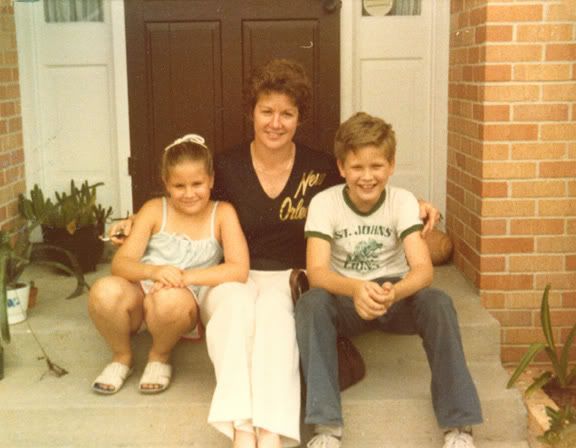 &nbsp
;
---
5/9/09: Should we start looking for a convent right now? Emma loves boys. It's obvious when she's coming home saying she's going marry one certain little boy in her class. However, this week, the groom-to-be has changed.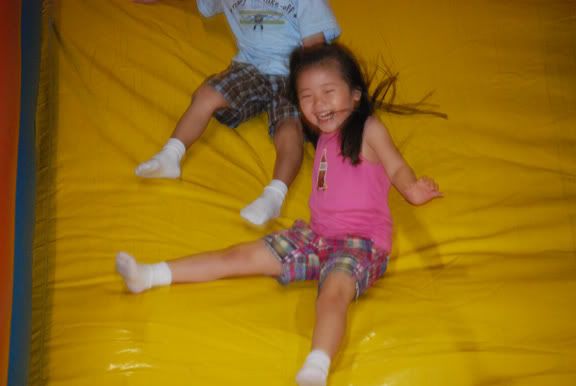 The first prospective husband, Michael, has decided he'd rather be a police man, than a husband. Now she's moved on and has proclaimed her love for Diego. Yes, she told me she loves him.
I don't know if these poor little boys are playing along, but apparently Emma and her little clique of friends at pre-school all have chosen husbands from their classmates.
And by the way, the little boys at the birthday party today were NOT Michael or Diego. Looks like she's keeping her prospects open. I'm headed to the store to stock up on hair dye. I can feel the gray's popping up quickly.
---
5/4/09: We've been in a perpetual state of busy lately and it looks like it's going to get even busier the next couple of months. Just some photos to tide you over.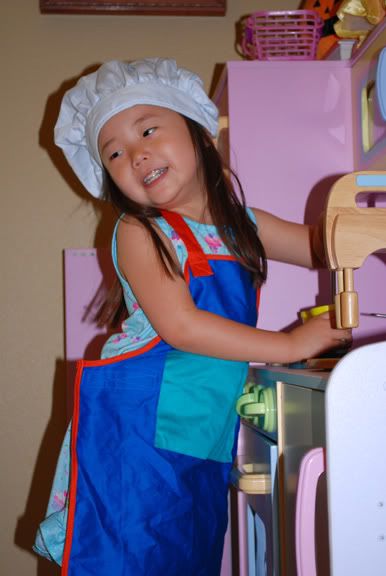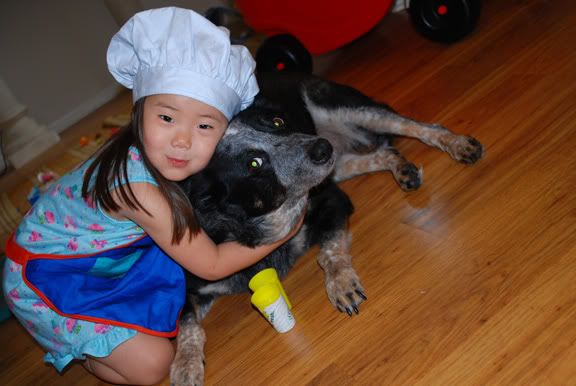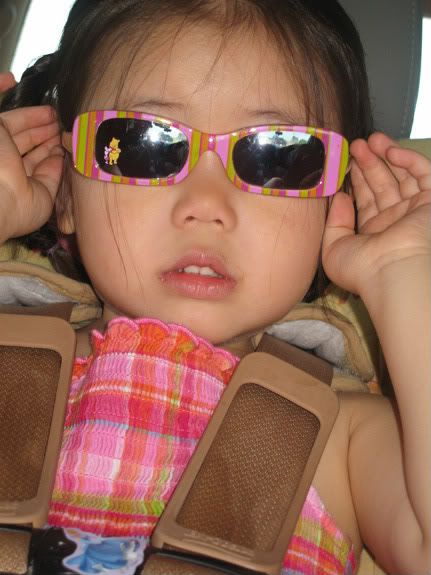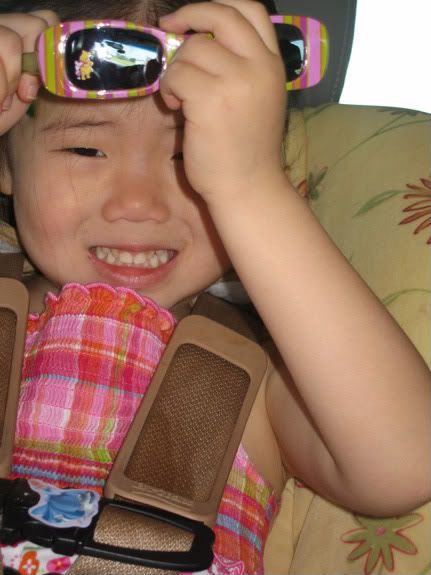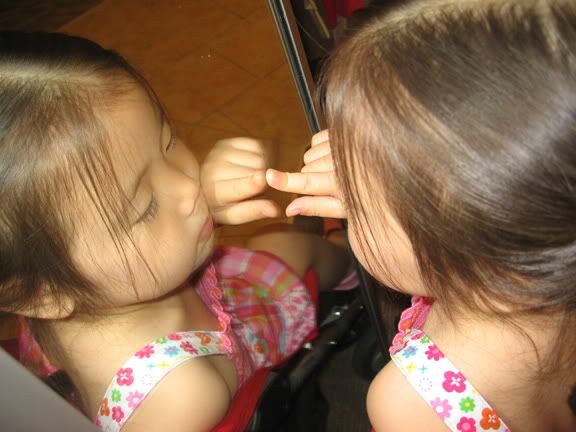 ---
4/17/09: I'm so behind - haven't been feeling that great this week. I just downloaded easter photos and only have a few minutes to post a few. I've got cute video too. These eggs turned out really cute, but here's your warning - don't ever buy the glittery foil egg kit. The glue never fully dried and they were still sticky on easter morning. I love those plastic eggs. No mess!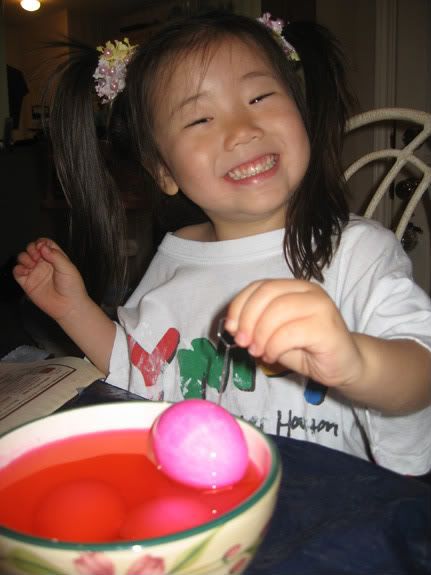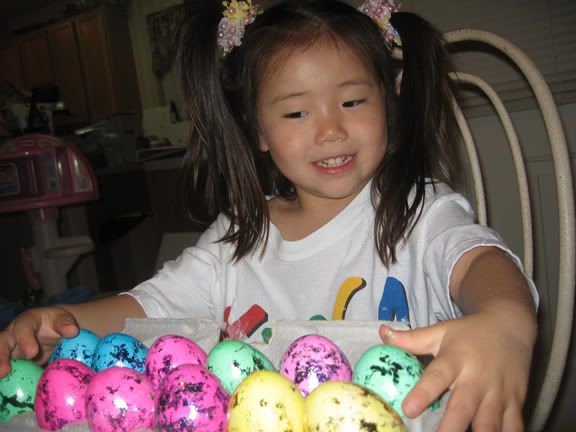 Cute picture, but the doll kept getting in the way.
This chocolate bunny was definately a hit!
---
4/06/09: So while running my birthday errands, we ran into the Easter Bunny at the mall. He was bored, so we decided to stop for a picture. Long story short, just seconds after this photo was shot, the Easter Bunny went down for the count. I guess the hot costume was too much for the lady inside and she passed out. The picture girl was too concerned about completing the purchase and rolled her eyes when I suggested that someone needed to be called to help Mr. Bunny. She called her district manager, while I flagged down the mall-cop on a segway. When I passed by later, the bunny garden was closed, so hopefully the bunny got some fresh air and was ready to meet and greet later.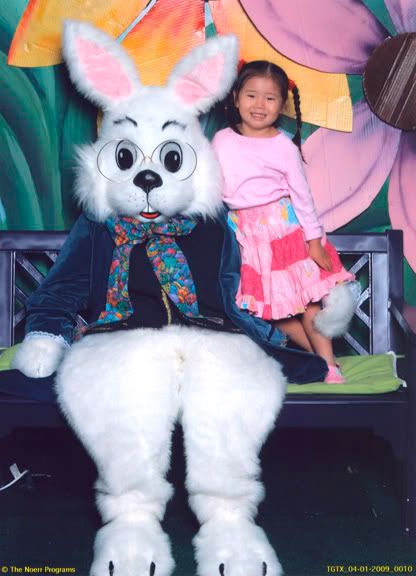 Dancin' with my grandparents. Emma decided this was the weekend to dance. She had two willing partners in her grandparents, when we went to a local "we survived the hurricane" celebration party.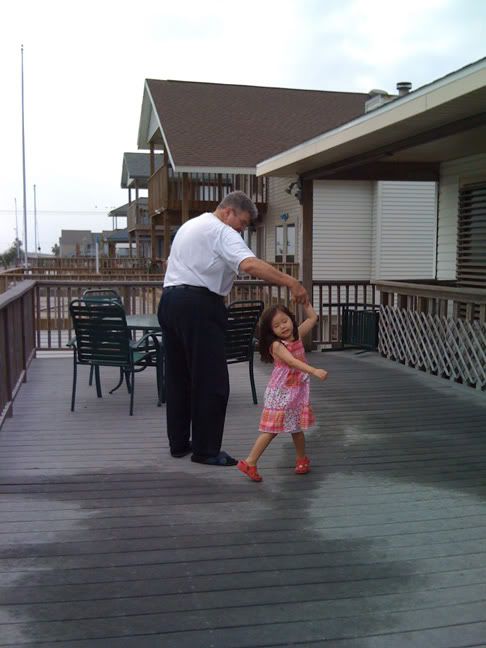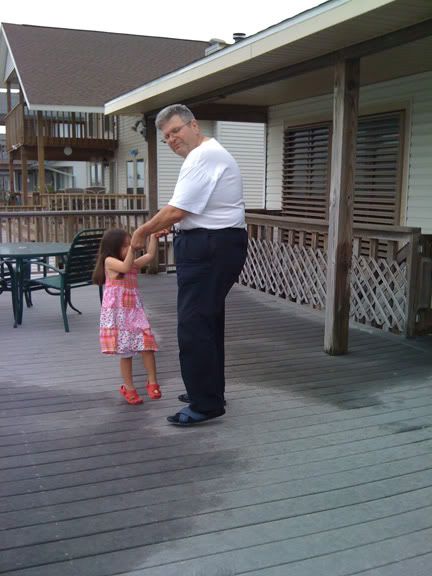 We also attended a community Easter egg hunt. That didn't turn out too well, because some parents decided to enter the area that was for children only and "helped" their children scoop up as many eggs as they could. It's so sad when people ruined such a cute event. I had to hop the temporary fence because so many parents started swarming in, that I couldn't see Emma for a few seconds. She had fun and didn't really notice what was going on, but I was relieved to get her out of there.
Love this smile!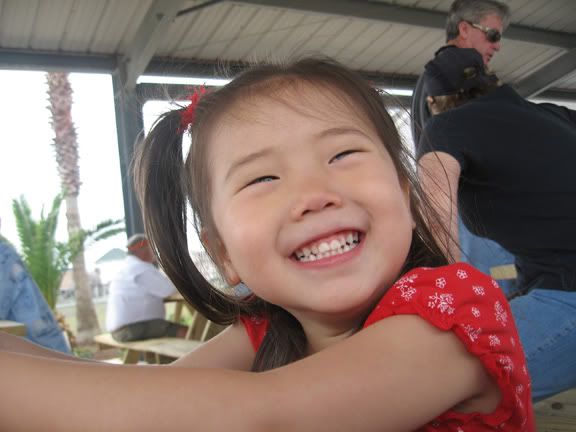 ---
4/01/09: Happy Birthday to ME!! Look what my dear hubby and sweet baby got me for my birthday! A snazzy new (pink covered) I*phone. I love being able to access everything when I'm away from home, which seems to be almost always. Now, we'll see if I'm geeky enough to be able to figure out how to use the darned thing. It sure is cute!
I've taken the day off of work and it's going to be a "me" day. I'm getting a facial this morning, followed by some fun times with my baby girl for the rest of the afternoon. Ok, so my "me" day ends when gymnastic/dance class starts, but afterwards we're headed for Chinese food and gelato.
I also want to give a shout-out to TwoMutts #1 fan in Austin. Hi Miss Ann!!
---
3/21/09: It's bluebonnet time again! After a rainy week last week, we decided to go see if the bluebonnets have bloomed yet, and yes they did! It seems like we had the perfect combination - beautiful day, beautiful flowers, beautiful dress, beautiful child. However, the latter wasn't very cooperative when taking pictures. She smiles, but looks down, so I have several wonderful shots of her forehead. Or she gives a forced cheesy grin that shows all of her teeth (and looks like she is in pain). We bribed her with ice cream, since the ice cream factory is right down the road. I think I must have said "Look at me" about a thousand times. What worked? Daddy came behind me and started playing with my hair - holding it straight up in the air and acting goofy. That got a perfect smile from her.
I think this one is my favorite.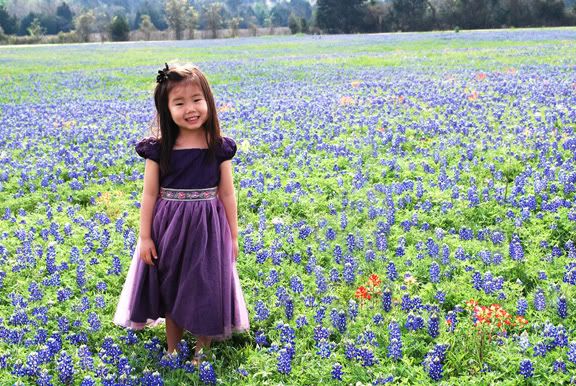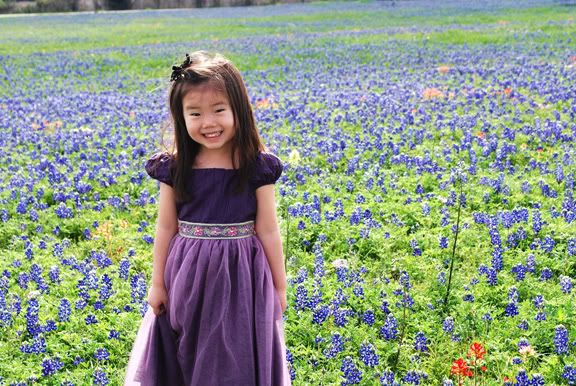 This one, I think, shows a little bit of that famous attitude. Ahhh, just wait till she's 13 and rolling her eyes at me.
---
3/14/09: What do you do on a cold, rainy saturday afternoon? Why, paint a porthole scene! Is that weird? Hubby bought this old porthole to go in "man-land" at the beach house and he decided it needed a fish scene. Now, I just don't think I can look at fish pictures and paint them for hours without getting queezy, so I found some friendly looking fish. Sorry darling, you get cute fish in man-land.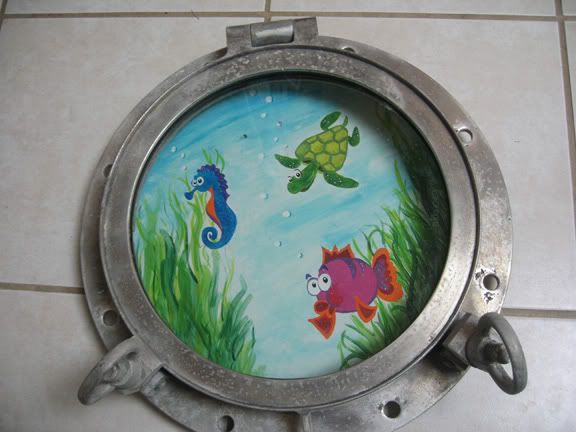 ---
3/08/09: This is the reason I keep my little camera in my purse at all times. Can you believe I got this shot at Ace Hardware?
---
3/07/09: Today we went to a Princess Tea Party. The local Visual & Performing Arts center is putting on the show "beauty & the beast" and they put together a Tea Party for the little local princesses. Emma wanted to wear the Belle dress I made for her and her hair like it was done at the Disney boutique. I refused to use half a bottle of goop in her hair, so it wasn't as fixed as it was at Disney, but it stayed put, mostly.
It was adorable. They all dressed up in their finest princess wear and got to sit and eat finger sandwiches while watching the cast sing a few songs from the show. We all also got a lesson in Princess Manners and how to curtsey.
Emma ran into (literally) her BFF from pre-school, so she had a friend there.
After, there was a meet and greet in the lobby with the characters. Emma kept saying how she had met Belle at Disney. She had a fun day and is presently pretending to be the "Queen" who was in charge of everything at the Tea Party.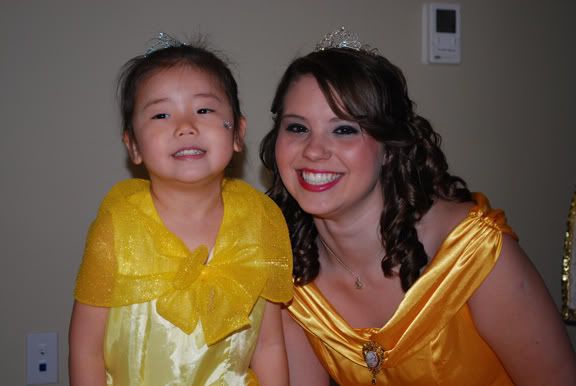 Lumiere was very cool. He had fun letting the girls blow out the flames of his candle hands.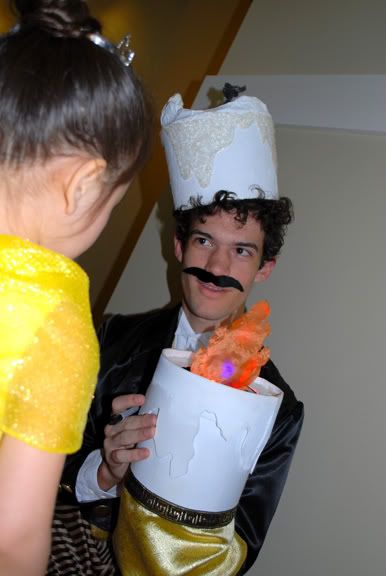 ---
3/05/09: Daddy, Can I get married? This has been the topic of discussion lately. When she takes off her shirt to take a bath, she leaves it up over her hair and pretends it's a veil and says "Look, I'm getting married". We go into long discussions about who is married. She says she wants to marry her grandpa, but grandma says he's already taken. Then she asks if grandma will marry her. She then goes on to say that she and her little friend at school, Michael, are getting married. I told her, ok, but before you get married, you have to ask your Daddy to make sure it's ok. She ran over to Daddy and asked him "Daddy, can I get married". Daddy quickly answered NO (and added that boys are yukky). I don't know. That little Michael is a cutie!
Update on Deana: She's started her new chemo protocol and her numbers are encouraging. Keep those prayers coming. Hopefully this is her miracle!!
---
2/25/09: Who says Mardi Gras is just for people? We are at home today, still fighting the sickies, so Emma dug through her bag-o-beads and decided to decorate the mutts. They are so sweet and really put up with a lot!
---
2/22/09: This is my friend Deana. She is an amazing mother, wife, daughter and friend.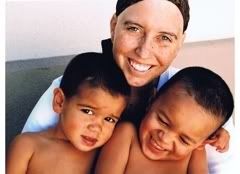 She is also fighting for her life right now. At 39 years old, Deana was diagnosed with Burkitt's Lymphoma a few months ago and has been through two unsucessful rounds of chemo. She is mommy to two adorable little boys, Zane and Zachary. Deana and her husband adopted Zane a few months before we met our Emma. They went on to adopt Zane's bio brother Zachary. The boys are very young and need their mommy around to put bandaids on their boo-boos, see them dress up for Halloween, score the winning touch down at their football games, watch them graduate, get married and have children of their own. Right now, Deana needs a miracle. Hopefully she'll find that miracle at the cancer center in Houston. If you have a moment, please pray for Deana. I pray that she does get her miracle.
---
2/16/09: This weekend we brought Emma to her first Mardi Gras parade. We went to a small town parade - more family-friendly. She had a ball! She quickly got the "Throw Me Something Mister" line down and then took her place on Daddy's shoulders to get the best view.
I have gone to parades for many many years, but I've NEVER gone home with so much stuff. I guess having an adorable three-year old on your shoulder is the secret.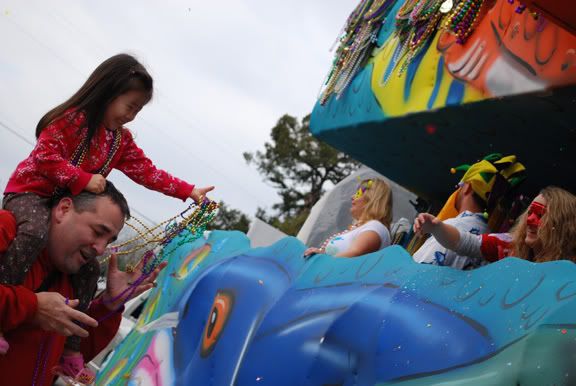 She was also excited to see the Princesses riding in the parade too, although she was confused as to why she didn't get to meet these princesses at Disney. She seemed satisfied with the answer that these were "parade princesses" not "movie princesses".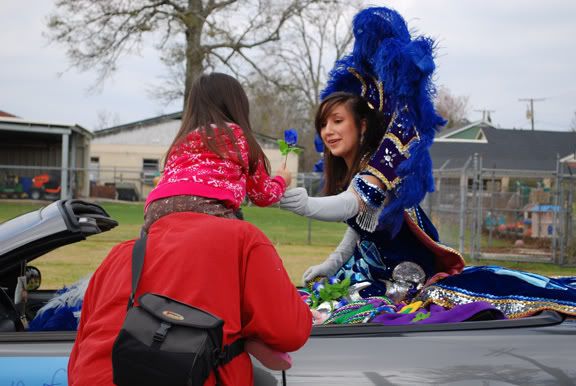 Look at these beads! Mawmaw had a great time too!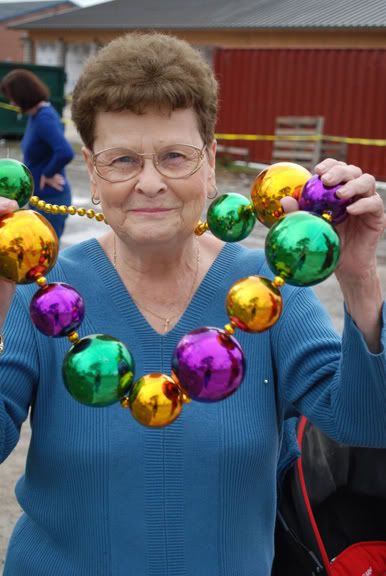 Thank goodness we brought the minivan. It was needed to haul back this treasure home.
We are going to have to have a talk with her tap/ballet teacher this week to see EXACTLY what they are teaching these girls. When one of the high school bands was marching by us, Emma stepped up next to them and began to shake her rear end!! It was hilarious and the high school dance squad got quite a laugh from it too.
On another note, here are the Valentine's gifts we made for pre-school. Flower lollipops! Emma wanted to make sure that HER name was on the tag, so she would get one too.
---
2/05/09: I can't believe it's been three years since that tiny little screaming baby with the bright red cheeks and four layers of clothes was placed into my arms in a freezing building in Nanchang, China. I don't know who was crying more that day, me, Emma or the people in the room watching us become a family for the first time. My husband still talks about having to miss the Superbowl that day.
What a joy it's been being mommy to such a sweet little girl who wakes up every morning saying "I love you, Mommy. I love you Daddy." Like most three year olds, she has her moments and can be...how do they say...spirited? She loves to talk, sing and voice her opinion. She told me she wants to be Ariel when she grows up (but with legs).
On a sad note, our agency is closing after 28 years in the business. It's a small, family run agency. They are victim of the economy and the state of international adoptions currently.
Feb. 5, 2006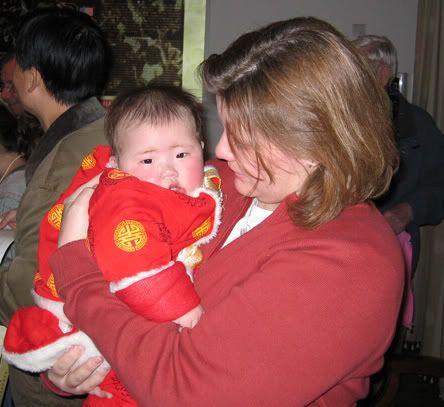 Feb. 2009 - celebrating Chinese New Year
I'm having trouble with the comments feature, so I won't continue with them until my html skills improve or I can convince someone to help me.
---
1/25/09: I've been working on my New Year's Resolution. I WILL finish Emma's quilt this year. I will, I will, I will!!! The top is almost all cut out. I laid out the squares in the order I want them this afternoon. Do you see your square?
---
1/24/09: Overall we've been very happy with the pre-school that Emma has been attending. She comes home talking about things I didn't learn until I was in grade school. They are pro-active about teaching foreign languages, science and art. It's days like this when I start to question what the lesson plan of the day is.
This had us cracking up for the longest time. We Will Rock You!!!
Lately she has been playing with these little princess toys. They are plastic dolls and the dresses are made of rubber. They are very cute, but apparently very difficult for little fingers to maneuver. But she loves them and will spend a good amount of time playing with them (think 15 minutes - she's just three!!). The set comes with several dresses, but the part I really hate is the shoes. They are about the size of a grain of rice. I can only imagine how many shoes are buried in my recliner (the place of choice to play with this toy).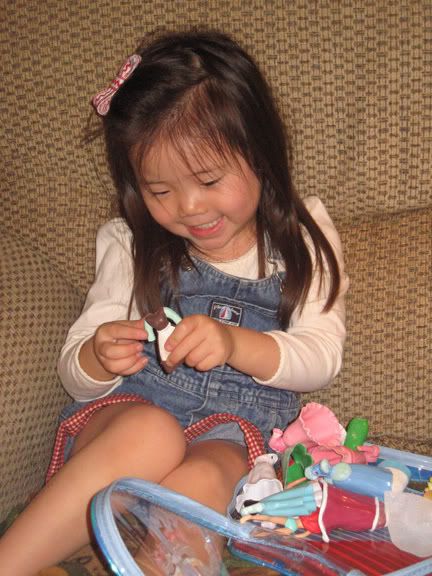 P.S. I'm testing a comment section. I'll put it up for a while after each post to see how it works and to make sure I don't get any junk comments.
---
1/14/09: She dances to her own beat.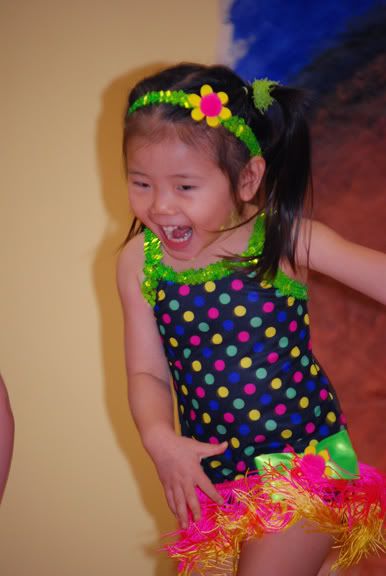 Today was Emma's first dance recital. She's been in dance class about 12 weeks - tap/ballet and gymnastics. It was really cute. We weren't expecting too much, because really, how coordinated can 3-5 year olds be? The title of this post should explain it all. Most of the girls somewhat kept up with their teacher who was on the sidelines, directing them. Not our little dancing machine! She decided that it was interpretive dance time and just moved where the music took her. They started with the tap dance. There was a moment during the dance, where she had to dance with a partner. That poor little girl didn't stand a chance with Emma taking the lead. Her partner tried to follow the teacher, but Emma decided that it was more fun to dance with the little girl. Next was ballet, where Emma's real "interpretiveness" came shining through.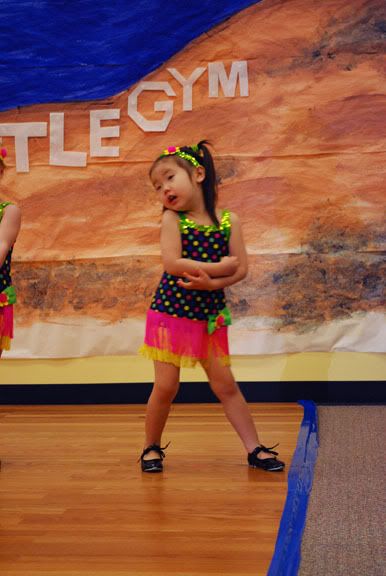 Notice how the girls in the back are following along, and Emma is.....well.....not.

The next one is hilarious. She follows directions for about five seconds, then back to her own thing.

After the dancing, came the gymnastics part. She was chosen first to showcase her uneven bar routine. She wasn't too into it and decided to just swing. Next was the balance beam. She did great at that.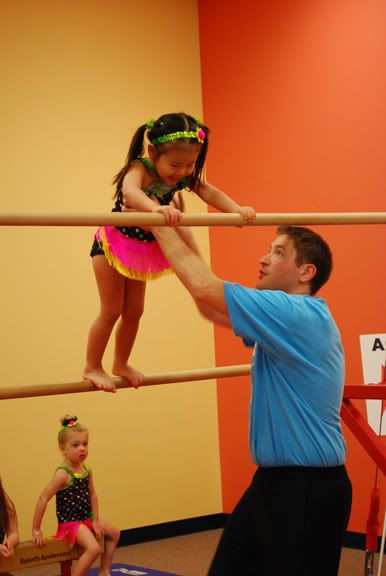 The evening was completed with each girl coming to the podium and receiving their medals. Coach Jeff asked each one, "what would you like to say to your fans in the audience". Our little diva said "I love you all". Thanks Daddy for the coaching her on THAT line!! Overall it was a successful program. Nobody cried, bailed out or got hurt. Now that's a great recital!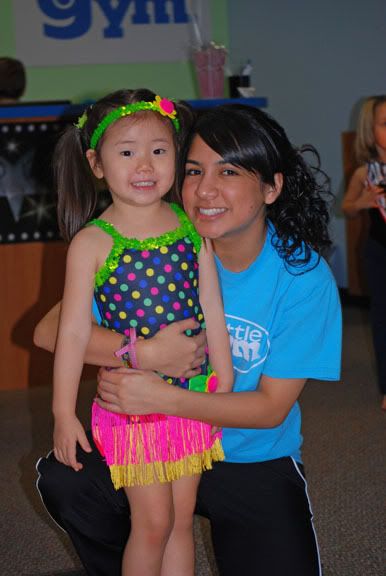 ---
1/9/09: Our babyhood days are quickly becoming a thing of the past. Emma is getting more and more independent and wants to "help" with everything. So the other day, Blaine and I are sitting in the living room and we hear the obvious sound of dog food being dropped into the doggie dishes. Apparently Emma loves to give the dogs treats, but we tell her that, just like her, they have to eat their dinner first before they get treats. So she's taken it upon herself to feed them. Great, but they've already been fed! Not that the dogs care, they have decided that she's mostly a welcome addition to the house.
She also decided that Daddy needed a lot of help painting. What a good helper we have around here. Oh and note to self: next time this happens, put a SHOWER CAP on the child!! Do you know how hard it is to get paint out of hair. And we're not talking about washable finger paints here. But she had a great time helping and kept saying how she "had a job to do". Oh and that "Y" shirt is toast!!
The other morning, we were driving to grandma's house and took the opportunity to discuss her behavior lately. We talked about how when she behaves, we get to do fun things and we don't have to go in time out. She said "Mommy, all of this talking is making me hungry!". Hmm, trying to change the subject?
Emma got a cool three-wheel scooter for Christmas. It did take me about an hour to put it together (the instructions weren't too clear). And I was being told how frustrating it was having to wait for me to put it together. However, once it was done, she had a blast! Thanks Mamaw & Ta ta.
And lastly, I'll leave you with just some pretty pictures. We went to a holiday light festival right after Christmas. It's nice to see our little broken beach town trying to put the pieces back together and get back to normal after the big storm.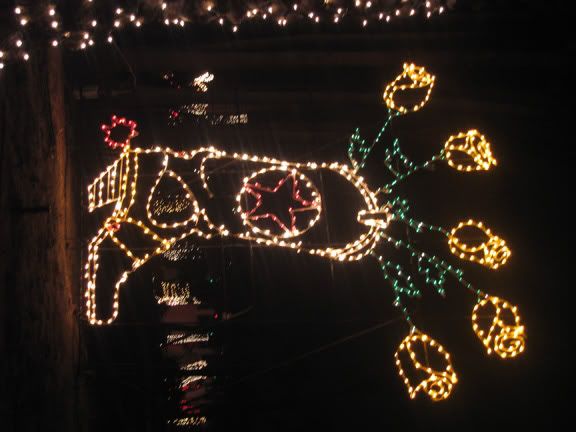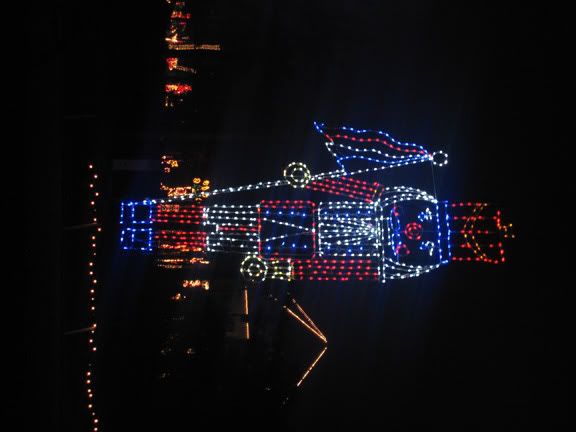 ---
1/4/09: Happy Merry Everything! Wow, 2009 already! Merry Christmas and Happy New Year. We had a good Christmas with a few exceptions. We experienced a few more temper tantrums than normal, which led to losing Christmas presents, just a few hours after receiving them. I don't know if she's becoming more comfortable in expressing herself and her opinion, but listening to Mommy & Daddy is becoming more of an issue lately. Maybe it was because of the interruption of her normal schedule, due to the holidays. I hope so, because it seems like we've been living with a temperamental teenager lately. A few hours after the Christmas day tantrum, she was happily chatting and singing, then she told me that "You ruined Christmas". Yes, a three and a half year old told me this. I asked her how I did that, at the same time thinking about the four hours I spent the day before putting together her play kitchen and baking "santa" cookies. She told me that I took away her toys, therefore, ruining Christmas. Oh boy, I certainly hope things get back to normal now that we are going back to school/work this week. Anyway, besides the occasional mood swings, we had a good two-week break. She enjoyed her new play kitchen and other toys (while she was allowed to play with them!).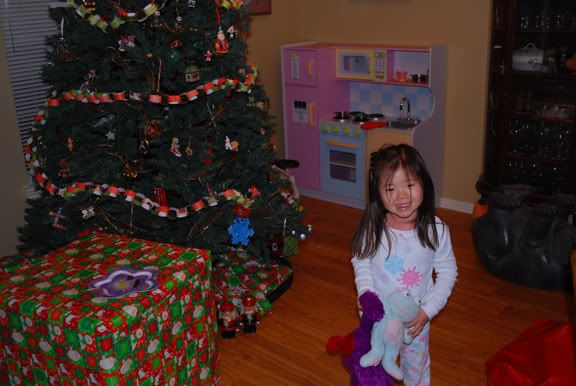 On New Years Eve, we set off a few fireworks and got some sparklers (that is, after the New Years Eve temper tantrum).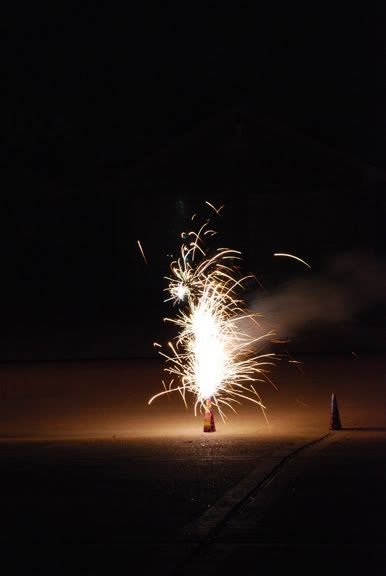 She enjoyed watching the fireworks and telling Daddy to "RUN" when he lit the fireworks.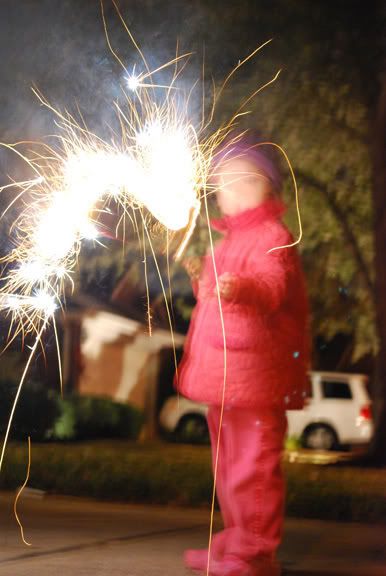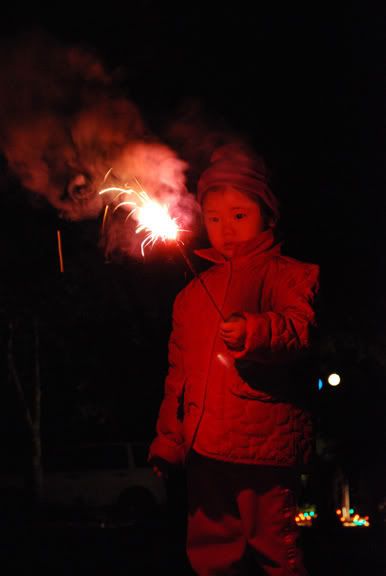 This one makes me nervous - look at that mesmerizing stare. Reminds me a little too much of Blaine when he is playing with fireworks. Just think "Fireworks" plus "duct tape". Just use your imagination - it's amazing that boy has lived this long without a pyrotechnic injury.
---