ARCHIVE 2008
---
12/18/08: Continued....A Disney Week. I've just finished uploading our final day at Disney and putting all of the additional photos on the web. Our last day at Disney started out pretty soggy. We had planned to go to Hollywood Studios for the day. We went early and had lunch with some characters. Emma got to meet Jojo, Goliath and a couple of the Einstiens.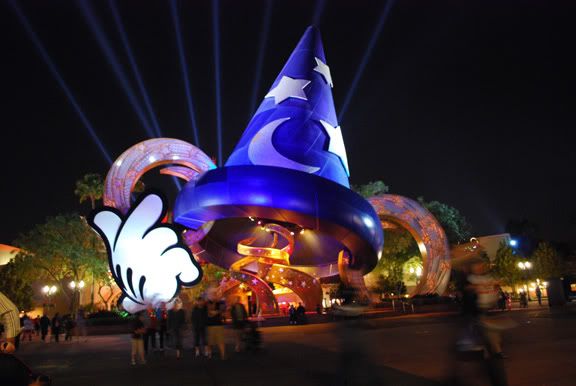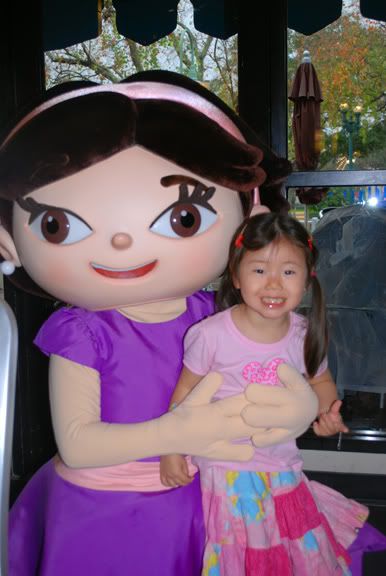 After lunch it was raining even harder, so we made a mad dash, under our ponchos, to the bus line and made our way back to the hotel for a nap. Later that afternoon, we headed back to the park. The sun had come out, and so did the people! We took in a few rides - taking advantage of the single rider line which made things pretty quick. Emma, who was not at all interested in any of the rides, found something she loved here at Hollywood Studios. Toy Story Mania. It was so much fun. We managed to get fast passes in the morning, so we all rode together. Then after we rode it, we got fast passes again and got to ride it again before our dinner.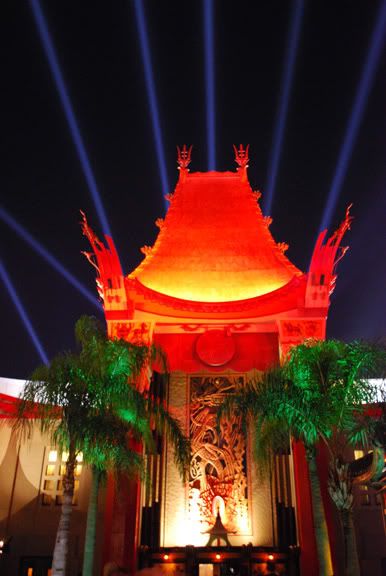 We gathered to see the lighting of the Osborne Family Lights. Five MILLION lights to be exact. It was incredible and the lights all danced to music. So pretty.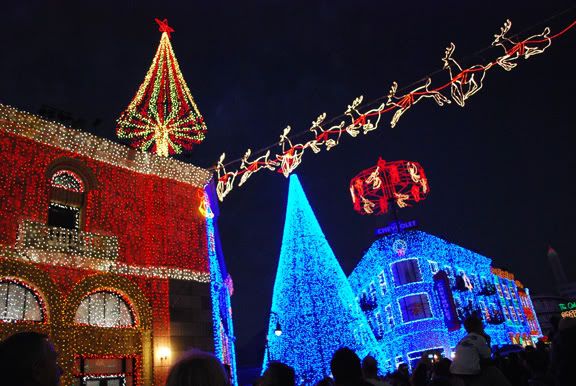 We had dinner at the Sci Fi diner. This was fun. Everyone sat in cars and watched old sci-fi movies on the big screen. Our waiter was a hoot and the table that adjoined ours was occupied by some folks from Baton Rouge (we admired his LSU hat).
On our return to the room, I had a surprise - roses, candies, candles, monogrammed Mickey towels, wine, a lotion basket, and an congratulations photo from Mickey & Minnie, all planned by my sweet hubby. And Emma loved all the rose petals spread all over the floor.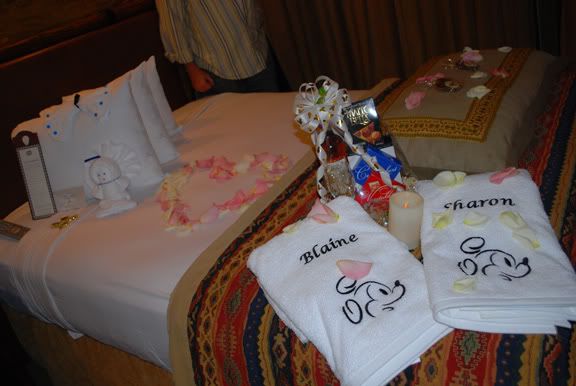 We had a fantastic week at Disney and we imagine it would take a month or so to see it all. I'm sure we'll see you again, Mickey! A happy girl, heading to the airport on the Magical Express bus.
Click here for additional photos (not 800, I narrowed them down to around 280).
---
12/14/08: A Disney Week! So much to post, but I'll just hit the highlights. What a fun week we had. We booked our trip in January 2008 and proceeded to tell Emma about it. That was pretty dumb. Who tells a 2.5 year old "We're going to Disney World, where the Princesses live, in ELEVEN MONTHS!" She did great through the year and marked off the days on her calendar every day.
We stayed at the Wilderness resort on the Disney property. It was beautifully decorated for Christmas. The tree was gorgeous! It was fun to sit in the lobby and watch people's expression as they walked into the lobby for the first time. Breath taking! This photo was taken from the seventh floor, so the tree is just about that tall.
The first day we got there, we didn't have park tickets, so we went around to other resorts to look around. We spent some time at the Grand Floridian looking at the life size gingerbread house, and Emma wanted to play in the sand for a while. We found a spot near the wedding chappel where she played. It was beautiful, overlooking the resort and with Cinderella's castle peeking over the trees in the distance. Emma was mad at us, because we could see Cindy's castle, but we couldn't get there. She didn't understand why we didn't have park tickets.
We unpacked and enjoyed the fabulous view from our room. Isn't this what your closet should look like when you are at Disney?
We spent our first park day at the Magic Kingdom, where we got a special honor of holding on to Tinkerbell.
Later we attended Mickey's Christmas party. It was magical and the one day where it was very cold. We didn't mind, because they made it snow on main street and that would have been a bit odd if it was snowing and it was hot. Cindy's castle was beautifully lit up with icicle lights. The special Christmas parade was great and I was so happy to see my favorite toy soldiers marching.
Emma got her first dose of Princess. She met Cindy, Belle and Aurora. This photo was so cute. She walked up and touched Cindy's dress to see what it felt like.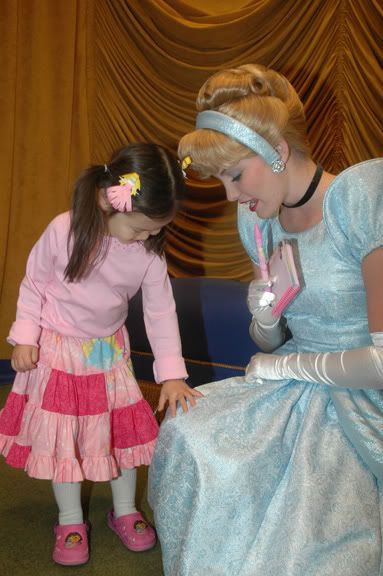 We also ran into Cindy's Fairy Godmother outside of the castle. She was adorable.
The next day we went to Epcot. Yesterday was freezing, but today was hot and sunny. We had to invest in a Fairies sunhat and Ariel sunglasses.
And Daddy tried on a hat or too as well.
Later we hit the character spot where Emma met the Mouse, Mrs. Mouse, Pluto, Donald and Goofy. The characters loved messing with pigtails!
Later we made our way to China (of course) and we were lucky to run into Mulan and her pet dragon. She was so sweet. Emma wore this kiss the rest of the day!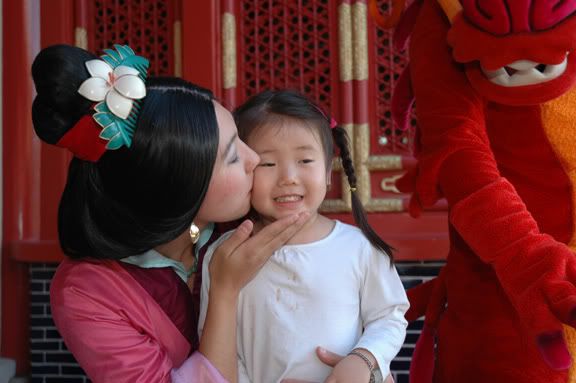 Epcot had a beautiful tree as well. What a pretty view!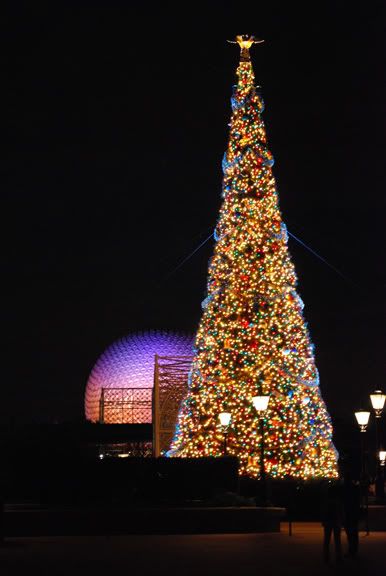 The next day we scheduled Animal Kingdom. We ran into Devine. If you haven't heard of her, she's a character who dresses in vines and folage and wanders around the Kingdom with stilts on her hands and feet. She's quite an acrobat and enchanting to watch. I hoped we would run into her.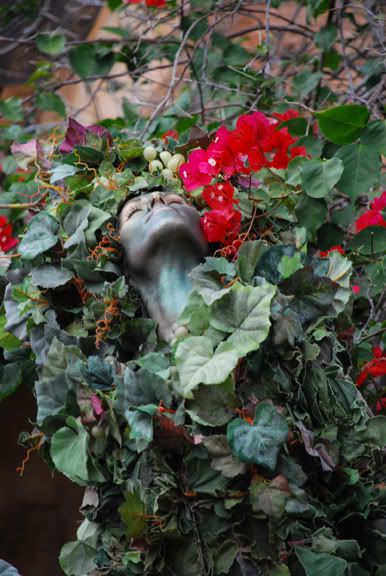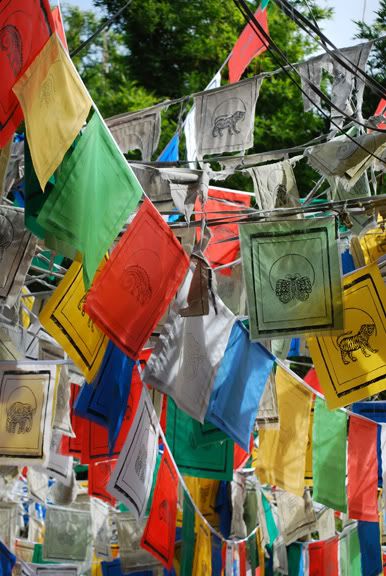 We had to cut our day short at AK, because it was princess time! Emma had her appointment to be transformed into a princess that afternoon. She LOVED it. I winced when I watched them use a half a bottle of gel and spray to get that wild hair to stay. But it's a good thing they did, with as much as she kept touching it. The transformation was amazing. She didn't look like our little Emma. The expression on her face when they turned her around in the chair and she saw herself for the first time was precious.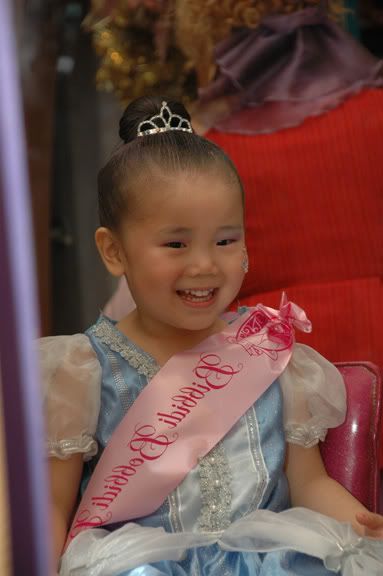 Later that evening, we had dinner plans with Cindy, the prince, the step sisters and step mother. It was very cute. My favorite part was when Lady Tremain came by and Emma ran up to her to hug her. Lady Tremain turned Emma around and put her hands crossed in front of her and said "this is how a lady stands". Hilarious. Emma was a bit concerned about meeting the step sisters. She didn't want them to tear her dress up, like they did Cinderellas.
The next day we returned to the Animal Kingdom since we missed so much the day before. This turned out to be a great day. We ran and got fast passes to a ride we wanted to do, then decided to ride Rafiki's train, since Emma loves trains. We wandered back down the desserted trail and made our way into the research center. There waiting for us were two Year of Million Dream Cast members. They had Dream Fast Passes for us!! This enabled us to ride any ride with fast passes right away without waiting!!! Yea!! Everest...here we come!
Before leaving the area, we looked at the little shop attached to the center and talked with the shop keeper (named Emma) and told her how we were princessed-out. We had met every princess except the elusive Pocahontas and Ariel, who we would find later that day. She told us to hang around, because Poc was due to arrive in five minutes! Emma was so happy and ran right into her arms. We also got to meet her buddy Rafiki too.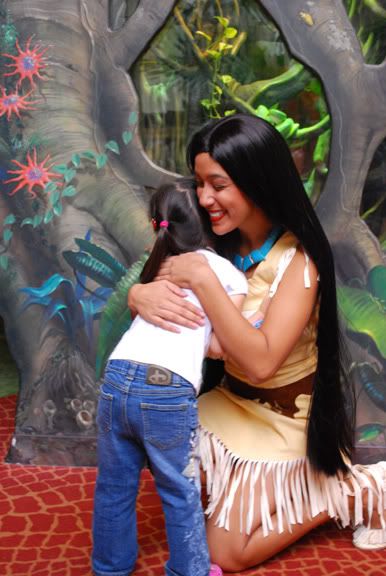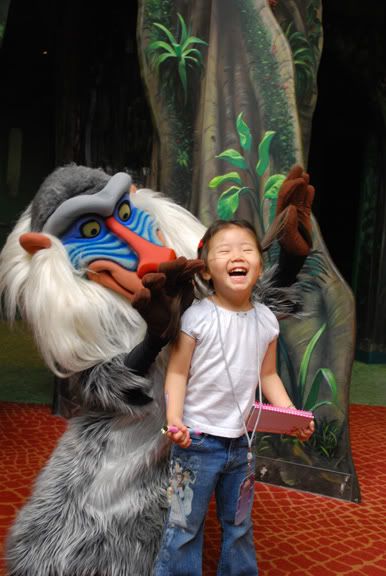 We ended our visit with a picture in front of the gorgeous tree back at the Wilderness.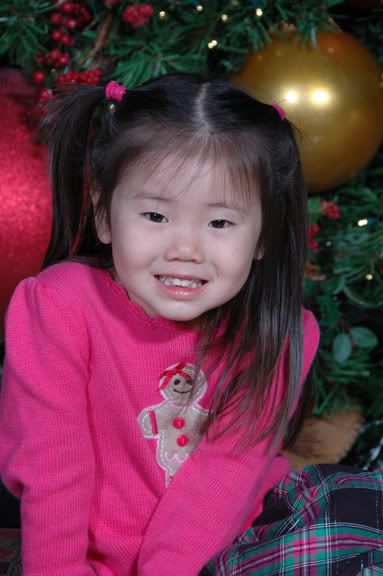 There are about 800 more photos. I'm in the process of uploading some of them now. I'll post the link later if anyone is interested in seeing more.
---
12/14/08: Eleven years (and one day) of wedded bliss. We just came home from a week at Disney World. We got to wear our "anniversary" pins, so where ever we went, cast members would wish us a happy anniversary. It was an amazing trip. Too short to see everything, but we had a wonderful time. I'll save all that for another post. We spent our actual anniversary mostly locked up in the house, since Emma and I caught the crud. So between coughing fits and hoarse voices, we unpacked, grocery shopped and had a supurb lunch at waffle house. Awww, weren't we cute?
---
12/5/08: We were able to visit my old stomping grounds this past weekend and Emma got to go visit the tiger mascot. Things sure have changed in the past few years since I attended school here. The tiger now has a multi-million dollar "cage", well can't really call it that, it's more of a resort for the exotic Mr. Mike. As you can see just above daddy's arm, Mike is taking a "cat-nap" (har-de har har!) on the luxurious grounds.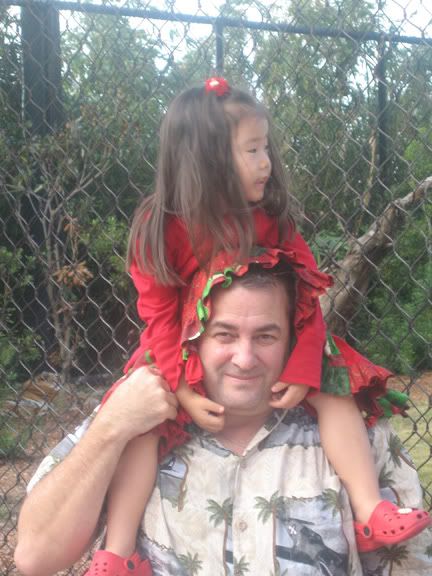 They've also added a beautiful bronze tiger, which Emma found facinating.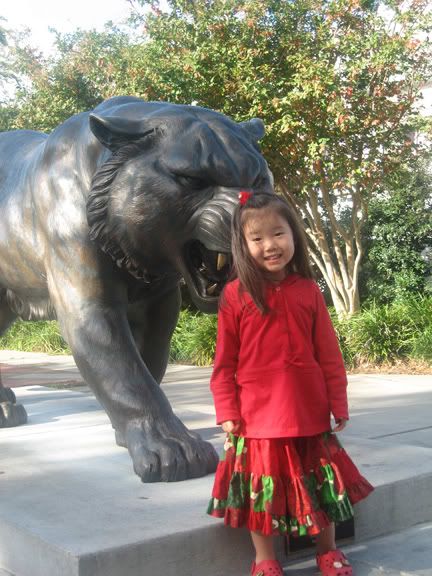 And a great mosaic in the sidewalk.
And what visit would be complete without a shot of the stadium as well.
It was so nice to go back for a short visit and to show my daughter where I spent so many fun (and educational) years.
We even had to make a U-turn to go back and get a picture of this little guy. Well, he's not so little, but the lady who lives at this house dresses him up for every occasion. He's got an Uncle Sam suit, bunny ears and even a pilgrim outfit.
And a couple extras....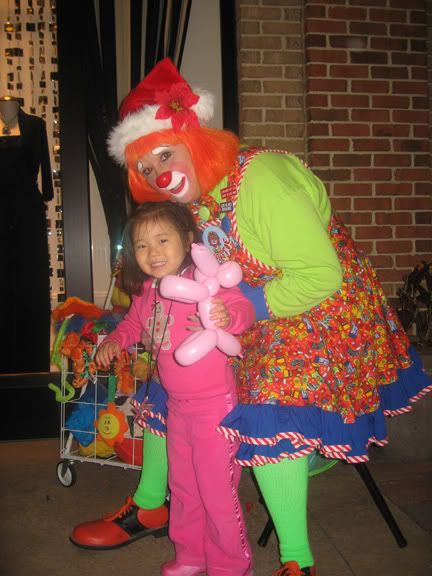 ---
12/1/08: Happy Holidays from Emma and the cranky Santa. But out of three Santas, this was the best photo. It's really red, but for some reason even with my photoshop skills, I can't tone it down. Oh well.
---
11/23/08: The holiday season has officially begun. We made a visit to Santa this weekend. He is a really great Santa. He's never busy and spends lots of time talking to Emma. She, of course, eats that right up! I finished her little Christmas twirl skirt, but apparently I need to get a new shirt to go with it. This one shows quite a bit of belly when she raises her arms.
Our tree is up in the play room (early this year since we'll be gone the next two weekends). Not decorated, but it's up. Emma tells me that we need to go buy some candy canes too. She says they are to decorate the tree, but something tells me she has another agenda where the candy canes are concerned.
---
11/9/08: Who says these inflatable places are just for kids??
---
11/2/08: Halloween was a big success. Halloween morning she jumped out of bed ready for her costume. Thank goodness they let the kids wear their costumes to school for a bit. We made some yummy "cake pops" for her pre-school party. They turned out so cute and Emma wanted to sample them all. They are basically little cupcakes on a stick covered with chocolate and sprinkles. They also had a little carnival and costume parade at school.
Emma attended lots of functions where she got to wear her costume, but the big event was halloween night, when we went trick or treating. She started out by running to each house. That lasted about a block before she started asking for the stroller, but we made her walk most of the way. She got lots of comments on what a pretty princess she was, and you could tell she loved that! We made our way home and sat outside to give out candy. I think she enjoyed this even more than trick or treating. She would yell down the street "WE HAVE CANDY!!". You should have seen the disappointment on her face at 9pm when we told her that trick or treating was over and it was time to go inside. She would have stayed out there all night long. The neighbor down the street went all out again this year. His house is pretty gory with lots of monsters and a body lab complete with rats and blood. Emma wasn't phased by any of this. She thought it was funny.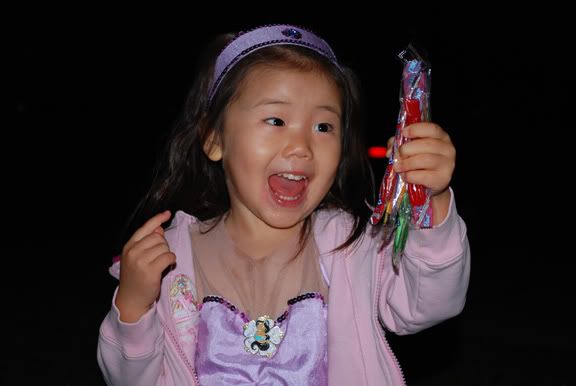 Click here for more photos.
---
10/25/08: It was a beautiful day for a festival. We went to the "Life is Good" pumpkin festival today. It was so much fun and there was lots of things to do for children Emma's age. They even had camel rides, which we opted not to do because of the line. She did enjoy the petting zoo, all of the kiddie games, the mini-train ride and she got to decorate her own pumpkin. Poor baby, I made her wear her pumpkin tights even though it still got up over 85 degrees today. She's a good sport for her momma who wanted a little photo op. Later this afternoon we made our annual Halloween cupcakes. We'll decorate them tomorrow before another costume party.
I love this time of year. There's so much to do and the heat isn't to a point where you can't even go outside. Here's our little pumpkin cutie!
Click here for more photos.
---
10/19/08: Today we tried to go back to the farm, but it looked like everyone else had the same idea. After seeing about 150 people waiting in line to get in, we turned around and decided to go to get a couple pumpkins to decorate. We stopped at our local nursery and picked out a couple of pumpkins (and a quick photo op).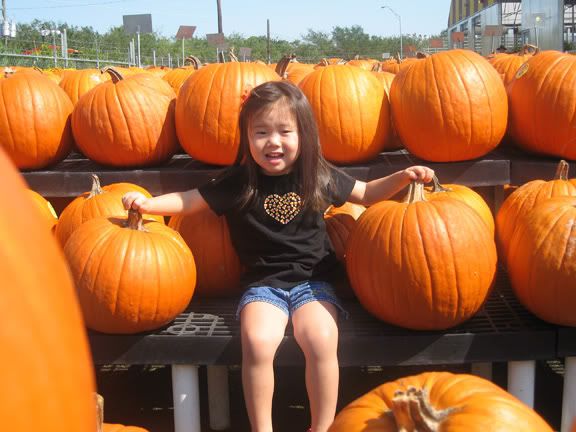 I knew Emma would be disappointed because we skipped the farm, so I told her all about how we were going to do an art project with our pumpkins. I dragged out the art supplies and we went to town decorating. I traced out a face on her pumpkin and had her paint in the lines. Then she kind of took it in her own direction. We added some pipe cleaners for "hair" and had the best afternoon (along with Emma deciding to keep on painting....on her legs). I'll let you guess which pumpkin is hers and which is mine.
Click here for more photos.
Edited to add: this was just too cute. I found this clip of our little ballerina back in August.
---
10/16/08: This week Emma went on her very first field trip. Yes, in pre-school!! Both me and her Mamaw went with her to the farm. We had lots of fun, but the weather drove us away after only two hours. Here are Emma and Mamaw enjoying the PVC slide.
We'll have to go back one weekend, since we missed so much because of the rain.
This evening we went to our local gym. They had a little fall festival for the kids. It was so much fun. There was trick or treating in the parking lot. People decorated their cars and handed out treats. There was cookie decorating (Emma's favorite thing to do), games in the gym, face painting and even a visit from some local eatery mascots. This was the first time I've ever seen fortune cookies given away as treats! The braids didn't really match the costume, but they were left over from pre-school and I didn't have time to fix her hair. Plus she was practically dragging me to the car she was so excited.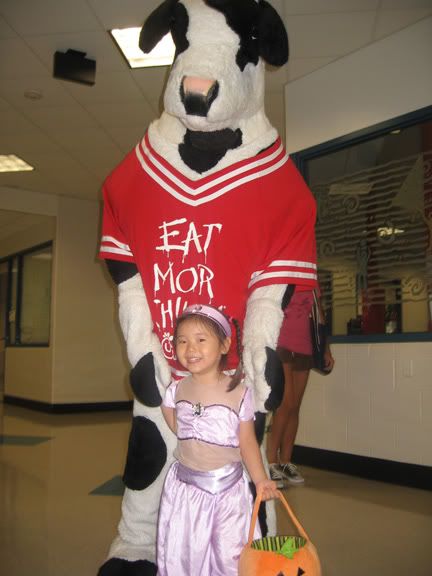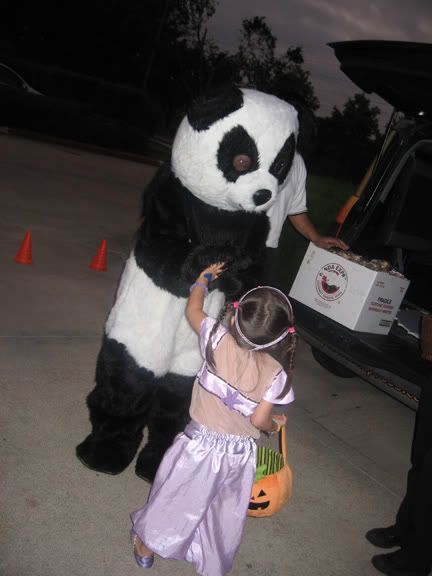 ---
10/12/08: How about this? I don't post for an entire month, and now two updates in one day?? Today we went to a local festival. Emma had a blast on the kiddie rides. Here she is practicing for Disney.
---
10/12/08: Here's Emma's new princess costume that I made for her. Princess Jasmine from the movie Aladin. She tells me that Jasmine always stands like this with her hands on her hips. I haven't finished the crown yet, but don't tell Emma that. She's happy with her crown from the dollar bin at Tar-jay. I'm also bidding on some adorable shoes that are this exact color on "a popular auction site", although she loves the plastic Jasmine high heels (but may be a little painful for trick-or-treating!). She says she is going to be a princess for Halloween, but hasn't really narrowed it down yet to which princess she'll dress up as. She's got quite a collection of princess costumes these days. I don't mind though. She dresses up at least once a day. I hope she likes Jasmine for a long-long time, as this costume had to be taken in quite a bit to fit her. I made a size four thinking it would give her a little room to grow into. No, she could possibly wear this costume until she's 8 years old. Here's our little Princess Jasmine!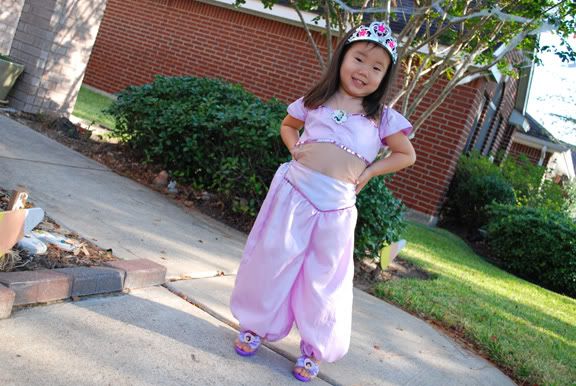 Click here for more photos.
---
10/6/08: Just call me slacker. On second hand, just call me busy. I just noticed I didn't upload any photos what-so-ever for September. It was a weird month, filled with two hurricanes and life just was busy. So to make up for it, I've also uploaded a few for October. I should have loads of photos to take soon. Emma has her first field trip next week, and there's no way I'm letting her school drive my three-year old in a bus with no carseat(!!!), so I'm taking a day off and going with them. Then we've got halloween, along with a bunch of events to go to as well. I've also been very busy with my sewing machine. I did a couple baby gifts for my cousin's new precious little girl, then a birthday pillow and now, I'm making Emma's halloween costume. She's been telling me that I need to go finish it every night. I think I'll keep you waiting to see what it is.
Click here for more photos.
---
9/25/08: Yes, we're alive here. We made it through crazy Hurricane Ike, we had refugees and everything (hi guys, hope you get power soon)!! It was crazy - our house doubled in occupancy overnight, including Kira, the 85 lb sweet, slobbery pooch. Our friends live close to the coast and had to evacuate because of the threat of storm surge. The guys spent the day boarding up the bottom of our house. We spent the day making sure we had clean clothes, last minute supplies and I even did some nervous baking. By the way, banana nut bread makes a fabulous breakfast when you have no power to make real breakfast.
We were prepared for the unknown - having two generators, cases of water, gas for the generators, a window AC unit, poptarts (which Emma had never had before - and yes, she loved them) and even Spam (which I still won't eat)!!! So what did the 2 three year olds do to prepare?? They dressed as princesses and went outside just when the wind started to pick up and they twirled. Ahh, to be young and clueless.
We lost power at 6pm on friday. Yes, SIX pm. It wasn't even windy at that hour. We're still trying to figure out if one of our neighbors decided to rig his house with a transfer switch and blew out the transformer for the neighborhood. So the boys went into "hurricane mode" and hooked up the generators. God forbid we live without PRINCESS MOVIES!!!
The sky started turning that beautiful, menacing color later in the evening. I remember taking a picture like this when Hurricane Rita came through town, three years ago.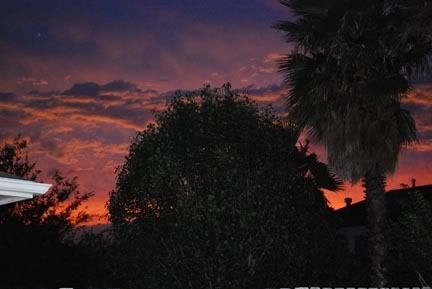 We watched tv until early in the morning, watching the storm come ashore. Amazingly our satellite stayed up most of the time. We were very lucky, because the storm went to the east of us. We got some high winds and the neighbors shingles kept slamming against our back door, waking us up with a fright. We decided to have everyone sleep in the living room, since it was all boarded up, and the safest room in the house. We told the girls it was a sleep-over. They loved it! They crashed on the queen sized blowup mattress. Well, Emma slept for about three hours, then she decided she needed to lay on top of me in the recliner. We had to turn off the generator that night while the storm went through, so she was like a little furnace on me. I think the only ones who got a decent night sleep were the other two girls. Everyone else had a very restless night. Oh and I think the girls are going to expect three-day playdates from now on.
So we stayed "powerless" for four days. We suddenly became great friends with the neighborhood, since we were powering up freezers for everyone. I think we were the only ones on our block with generators. All in all, we're very lucky. Some of my co-workers are still without power, almost two weeks later.
My parents beach house outside of Galveston, however, took a little bit of a beating. The downstairs is practically gone. The garage doors and most of the walls are gone. The roof took a little bit of damage. Our beloved "Moo Car" golf cart took a bit of a sail out of the now wall-less garage, along with the jet ski, which is perching half on and half off of the deck. Amazingly they are both still on the property and not along the highway, like so many others. But miraculously, the inside of the house upstairs is untouched. Thank goodness for those 22 foot stilts the house is built on. I think the thing I noticed the most was the smell. We estimate the house (garage) had about 7-8 foot of water in it. So everything was covered with mud. By the time we arrived, days later, most of the mud had dried and caked over, but there was just a musty, dusty smell. So different than the usual clean, salty-sea air. I was amazed, as I sat and looked at the house, a little monarch butterfly flew by me. One little ray of beauty. I think it was a sign that the community would be ok and would be back to normal one day.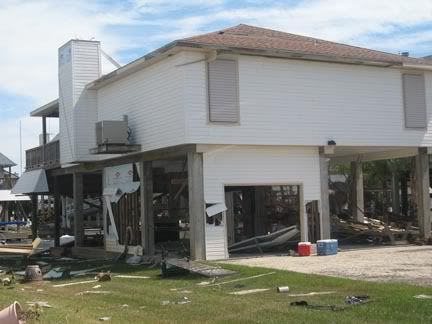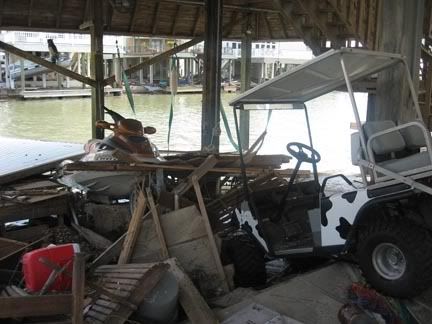 But compared to the loss that many people in Galveston are suffering right now, this is nothing. Mother Nature is so powerful.
---
9/04/08: Some photos and video shot in South Louisiana of the damage from Hurricane Gustav. In the video, you can barely see it, but the winds had blown over the sugar cane fields. Also there is a line of cars waiting for gas. Normally in that small town, you'll see maybe two cars.

Hurricane Gustav
---
8/26/08: Yesterday was Emma's first day of pre-primary school. She has to wear a uniform now that she is in the older classes. She will be in a class that consists of three to six year olds. This should be interesting. In this classroom, she will have both spanish and music lessons, each for two hours a week. Her classroom has two birds in a cage and a hamster. The kids were excited about that. She was very excited to see one of her friends who didn't go to school this summer. She had a good transition and didn't have a problem going into the new class, even though she had shown some anxiety about it when we would talk about it earlier. Apparently she learned a new word her first day of class. She was telling us how "cool" everything was. The birds were cool, the playground was cool. So funny to see a word like that being used by a three-year old. Here she is modeling her new uniform. Tomorrow is our first dance class!! Emma says it's her "Baah-lay" class.
---
8/23/08: Emma's favorite thing to do these days is to dress up. She started last year with three tiny little princess dresses I found for $5 each (a steal!). Then she continued to grow and the baby princess dresses looked a tiny bit short on her. She can still fit into them, but they are above her knees now. She got a new "big girl" Snow White dress for her birthday. Then later she got a Cinderella and Aurora dress. These are one thing she does pretty much every day. She loves her dresses, and of course, the accessories (crown, shoes, wand). However, she is trying to make me believe that she needs MORE dresses. I think three are plenty! Here she is today in the latest Aurora gown. She was a bit of a mess - hair all over the place, but she was having fun twirling and singing (and entertaining the neighbor who was cleaning his car). I can only imagine what her reaction will be when we go to Disney later this year. I'm sure she'll probably ask Cinderella if she can borrow her shoes.
Click here for more photos.
---
8/19/08: She's ready!!
---
8/13/08: Beautiful balloons. We spent this past weekend at a hot air balloon festival. It's been several years since I've been to one, and this one was not disappointing. It was amazing to see them all so close up. Emma and Mawmaw enjoyed spending time together and watching the balloons "glow" and take off.
Click here for more photos.
---
8/4/08: A mini-vacation. We spent the last four days visiting with several families who adopted from China - and most of the girls were born in the same city as Emma. We went to a resort out in the country. It was beautiful, but very hot (104 degrees today). The trip didn't start out too well. 70 mph and having a tire blow out is not fun! Then trying to get a couple of new tires in the middle of nowhere was just as much fun.
After a couple of hours we made it to the resort, a bit sweaty and later than we expected. The girls had a blast playing with each other and spending time in the pool and lazy river. One day they even had fun just chasing each other - through a muddy patch of grass. Who says girls are "sugar and spice and everything nice". I saw three girls who were muddy little rascals and loving every minute. One of the other China mom's had several things planned for us to do. Yesterday we had a group dinner, then we all boarded a boat and watched the famous Austin bats fly from under Congress street bridge. It was amazing. I can't believe we've never seen it, with all the times we've been to Austin.
I managed to get some great photos with my new camera, so you'll see some fantastic butterfly photos as well as the cool bat photos.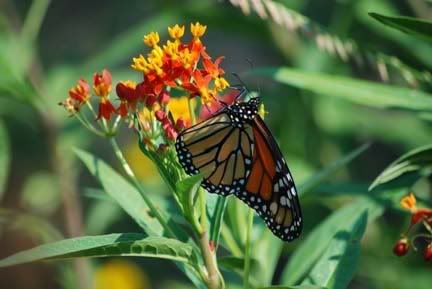 So back home again and we're trying to convince Emma that she has to sleep in her own bed tonight. We're not winning that war at the present moment!
Click here for more photos.
---
7/27/08: A new baby! Mamaw and Tata decided that life isn't exciting enough so they decided to add a new furry baby to the family. Isn't little 9-week old Brody cute?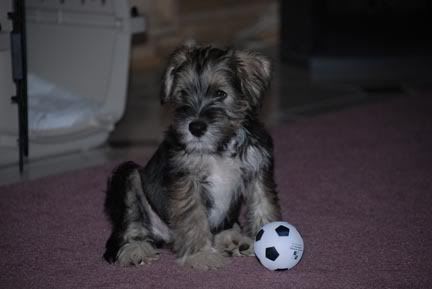 Click here for new photos.
---
7/26/08: This morning we went to see a group of Asian dancers at the local outdoor mall. They were wonderful and the young girls were so talented. Emma loved the "fishy" costumes that three of the girls wore. She even got to go up and join the dancers to learn how to twirl the scarfs, with a little bit of help from the dancers. While the girls were dancing, Emma decided to dance as well on the sidelines.
Afterwards I went and got my "birthday/christmas/mothers day/etc" present. I got a new camera! It's wonderful, and I can't wait to figure out all of the in's and out's of it. I played with it while Emma went swimming and just being on auto setting, it gave me some great (and huge) pictures. The colors are so vibrant and everything is so sharp and clear. I'm still going to keep my little canon as my "purse camera", because this thing is a monster compared to my little power-shot, but I can't wait to get some fantastic photos.
Click here for new photos.
---
7/25/08: I gave the bag boy at the grocery store a heart attack today. Emma was in the front of the basket and I was getting ready to scan my credit card. He started to pull the basket forward so he could load up the grocery bags, he quickly glanced at Emma, then at me. Then he did a double-take and had a look of shock on his face for a moment. He must have thought that Emma belonged with the person before me and they forgot her, because she certainly didn't seem to match with me. Once I realized what he was thinking, I told him it was ok, she was my daughter. Emma then added "That my Mommy!". I think he must have aged 10 years at that moment, but that's ok, he couldn't have been more than 17 years old anyway. It was pretty funny.
---
7/19/08: Yeah, and says she doesn't need a nap! Look who fell asleep on the recliner.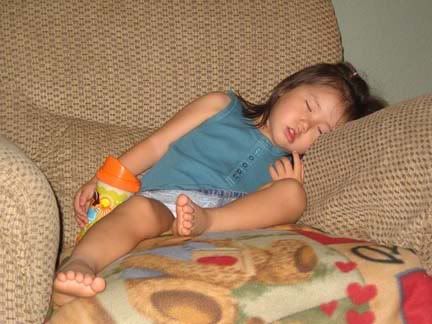 Waiting and waiting....
More photos added to the end of the July folder. Click here to see more photos.
---
7/5/08: Today we went to the Museum. Emma wanted to see the dinosaurs. She's so funny, because I know she wanted to see them and she was excited to see them, but when we got there, she just sits in her stroller and acts like she's bored. She kept wanting to go "upstairs". I asked her what she thought was up there. She said TOYS. Um, no, try a photography exhibit (which I loved!). So I asked her if she was ready to go home, but she said no. She really does well with the interactive exhibits, but if its something you just look at, she's not thrilled with it. Hmm, reminds me of our trip to the zoo. She loved the petting zoo, but wasn't too excited to be looking at the animals in their pens. I guess we need to stick with the Children's Museum for now. She loves that place. The museum had a great exhibit about Leonardo da Vinci and his inventions. Afterwards, we went by the zoo and got to ride the new little train. She was so excited and kept saying CHOO CHOOO! All in all, I think she had fun, because she was upset when we got in the car to go home.
Click here to see more photos.
---
7/4/08: Happy Fourth of July. Emma's three year stats: Height: 37.5" Weight: 32lbs. 50% in everything. She used to be around 75% for height, but I guess she's slowed down a bit. I've added a few new photos from June (father's day, birthday party).
This evening, we went to see a local fireworks show (yea! it didn't rain as much as it did last year - just a little shower earlier in the day). There wasn't much going on earlier at the place we were at, just some face painters and a band. Emma got to play in the splash fountain for a while, then we waited for the fireworks. It was a nice show, not as big as downtown, but we were home in 10 minutes, unlike if we went downtown. Emma wore her new "twirl" skirt that I made for her. It turned out cute, even though it was pretty labor intensive. She really loves to twirl.
Click here to see more photos.
---
6/11/08: First Movie. No time to journal, so I'll just post the scrapbook layout I did for Emma's first movie.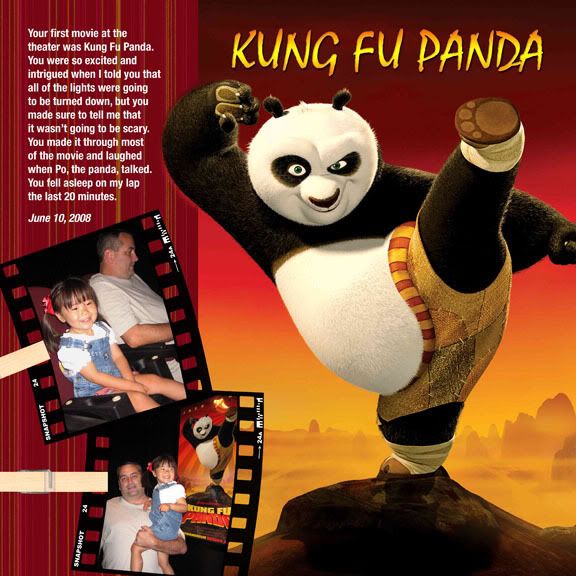 ---
6/8/08: Reunited. We spent the weekend with our travel group and had the best time. All the girls have grown and are just adorable. We spent time at a waterpark, the aquarium, doing some shopping and hanging out at the house and cooking/visiting.
---
5/23/08: A Month of Birthdays. No time to post, but I've uploaded tons of photos. We're having our annual reunion with the families we travelled to China with this weekend. Should be loads of fun.
Click here for more pictures.
---
5/23/08: Emma, the Artist. Emma was busy drawing this evening. It's the first time I've seen her draw "us". She even told me who everyone was. For some reason, Daddy was always holding her and I was on the other side of the page. And the little purple circles near the upside down mommy are "lettuce and chicken" for her and Daddy to eat. Apparently Mommy is on a diet.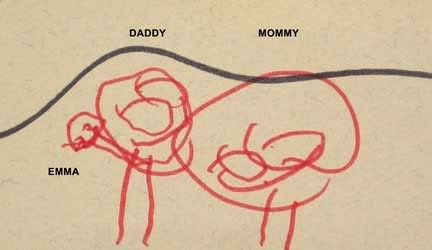 ---
5/15/08: THREE YEARS OLD!!! When did that happen? She was just 9 months old yesterday. Our little sweetie is growing fast. She went to school with a tray of "princess" cupcakes that she picked out and a poster showing her friends some of her favorite things (beach, dress-up, playground). This evening she got her birthday present from Mommy and Daddy. She was SO excited - a doll house. She's been talking about getting one for weeks. We managed to pry her away from it and took her to Chucky Cheese for dinner. She even told the lady "I three years old".
Here she is thanking Aunt Ginny for the cute little bathroom set that goes in her doll house. She's facinated with the dirty clothes hamper for some reason. All of the baby blankets and bibs are in there now. I told her maybe she should wash them in the bathtub and she said "That a good idea". This girl cracks me up.
We are so blessed!
Click here for more pictures.
---
5/11/08: Happy Mother's Day!
---
4/23/08: It's hard work being a princess. Even a princess needs to sleep every now and then. Notice her hand half way into the bag.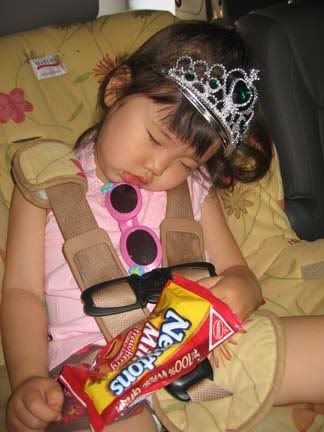 ---
4/15/08: Emma had to wear her sunglasses in the car (upside down) because she said the sun was poking her in the eyes.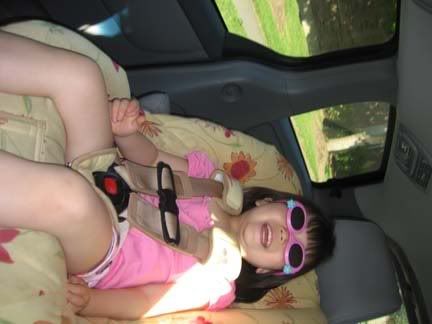 ---
4/10/08: Wow, three years old is going to be fun. I think we had a little preview of it this past week. We had attended a friends birthday party at one of those inflatable places. After we came home, Emma asked me to go to the playground. I told her we had just spent the last two hours jumping, and we were going to stay home and rest for a while. She then asked Daddy the same question. I stopped her and said, Emma, I just told you no. You don't go and ask Daddy the same question. She turned her little head around and yelled "I'M TALKING TO DADDY". I think both of our jaws dropped in unison. I don't know where she picked up that kind of attitude, but we definately got a glimpse of what a 15-year old Emma will be like. Talk about nip this in the bud EARLY! However, I keep looking at her cute pictures and remember that she isn't all attitude and how sweet she is when we get her after school and she says "I missed you, mommy". So here are some of those cute pictures...
Here she is on the swings. This is the first time she's stayed on them for more than five seconds. She was really enjoying being pushed "higher". Of course, this was just hours before she came down with another cold, so she probably wasn't up to running around like a banshee like she usually does. But it's run it's course and she's doing much better now.
(click on the "x" at the top right to see the slide show again)
Click here for more photos.
---
3/23/08: Happy Spring (and Happy Easter!).
We managed to find a field of beautiful bluebonnets for our annual bluebonnet photos. They were a little scarce this year, but thanks to Daddy, our super bluebonnet finder, we found a beautiful field.
Look at the difference a year makes. It's incredible.
2007:
2006:
---
3/14/08: Easter already?
Emma went to a local easter egg hunt this afternoon. It was a beautiful day and warmed up to about 80 degrees. She had so much fun gathering eggs with her age group. They had over 50,000 eggs scattered all around, so there wasn't much hunting, more like lots of gathering. She came home with about three dozen eggs filled with little trinkets and candy that mom and dad won't let her eat (it's ok with her, she has taken a fancy to the "good" chocolate, so she doesn't care for the no-name brands). The kids were having fun, but we did see a few parents that were yelling at their kids to "grab as many eggs as you can". It didn't seem like a fun activity to them, more like a sporting event. I guess they were after the eggs that contained tickets for the door prizes that were available. We'll have to scour the local paper, because there was one professional photographer that was taking her picture as she waited for the egg gathering to start.
Click here to see the photos.
---
3/10/08: Finally a moment to recap our last couple of weekends. We managed to find a beautiful day to go to the beach a couple of weeks ago. We were just going to go for a few minutes to get our feet wet. Well, Emma had a different idea. She ran around and then decided to sit in the water, then a wave knocked her over, so she was soaked. Good thing we keep a swimsuit and towel in the car for her.We also collected some beautiful seashells and played in the sand. She had a ball!
This past weekend we visited the Rodeo. Emma wasn't too impressed with watching the animals, but when she got to interact with them she loved it. She had her first pony ride. I asked her what her pony's name was and she replied "hóng sè" which means RED in Chinese. So I guess his name was Old Red in English. We also got to watch some newborn baby chicks, she got to pet a bunny and Elsie the cow too. Then we headed outside to the carnival. She took one look at the Goliath slide and she was sold. She convinced daddy that they needed to go on it. It was worth the waiting in line. Later we got a funnel cake, because what is a carnival without a funnel cake. There wasn't much talking going on, just lots of powdered sugar smiles. Then we spotted a little choo-choo train. It was so cute and Emma really wanted to go on it. There was no way mommy or daddy was fitting on the ride with her, so she rode it by herself. It made mommy a bit nervous, but she did wonderfully. After that we played some carnival games and she was mezmorized by the fishy game. It was like her fishy game at home, but ten times bigger! She won a little purple seal and a big white tiger. We had so much fun and she promptly fell asleep in the car five minutes after we left. Oh and big news, she went the whole day without diapers. We did visit the restroom about five times, but she did great! We also ran into another family with a little girl who was born in China. They have been waiting for daughter #2 for over a year now and possibly have two more years to go. It was nice to meet them and talk to them for a while.
Ok it's getting late. You can view the photos here!
---
3/6/08: A Gift From China. One of Blaine's co-workers in China found out about us . They thanked Blaine for adopting a sweet little girl from China. He sent a toy for Emma the other day. She loves her new choo-choo train!
---
3/4/08: Our own little american idol.
---
2/24/08: It's late, so I'm just posting pictures from our fun weekend. That's all you really came here for anyway, wasn't it??
Click here to see the pictures.
---
2/21/08: I hope I don't jinx myself, but I think we are all well again. First time in about two months. Emma battled the flu and her second bout of pneumonia in as many months. She missed over a week of school this time. I notice the difference, I don't have half as many photos as I usually do per month.
I've been busy sewing in the evenings. I made a little pink sun-dress for Valentine's day for Emma. But since she was sick that day, the only people who got to see it were her grandparents, as that is where she was for the day. She got to wear it to her friend's birthday party the next week though. The second outfit I made was a wild, bright skirt/t-shirt made from one of her favorite cartoon characters. A couple of months ago, we were in a fabric store and she actually spotted the fabric and she had to have it. It was a bit bright and the pattern is big for my taste, so I tried to get her to find something else, but no, she had to have that fabric. So it took me a while to decide what to do. I found this cute ruffled skirt pattern and decided to applique one of the blocks on a t-shirt. It took me about four days of work in the evenings. The next morning, I showed it to her. She took one look at it and said "I want Nemo" (another fabric I had bought to make her something). Ahhhhhh!!!! It only took me threatening to send it to her little friend - then she decided she wanted it. (I added a picture in the link below).
Emma and I had President's day off and decided to make a trip to the zoo. It was a chilly, but beautiful day. On the way there, I asked her what kind of animals she wanted to see. She said "the puppies". I told her that the zoo didn't have any puppies. Boy, was I wrong. They had African Wild dogs (oddly enough, they looked similar to our two mutts). Emma insisted that was the first thing we would go see, so we had to hike to the other side of the zoo to see the dogs (who were sleeping in the sun, just like our two mutts would have been doing). She kept saying "wake up, puppies", but they just enjoyed their nap in the sunshine. It was a really fun day, and she conked out in the car on the way home, then slept another two hours when we got home.
Click here to see the pictures.
---
2/10/08: Gung Hay Fat Choy - Happy Chinese New Year. We haven't had the opportunity to do much lately, since we've all been sick since before Christmas. It's just going around and around and we can't seem to kick it. In fact, I think Emma has spent more time out of school than in school lately. We did manage to go out and celebrate Chinese New Year and our two year "gotcha" day with a fabulous Chinese meal. Emma and I made a little Chinese lantern and she got to wear her adorable red/black Chinese outfit.
---
2/5/08: Happy TWO year forever family day, sweetie. What a fun ride it's been!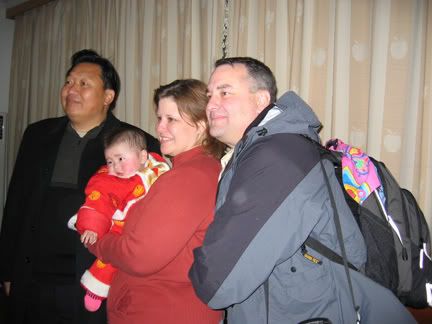 ---
2/2/08: Ok, so she's not a genius. They are teaching the kids Spanish in school, but I still think she's brilliant. They are going to start teaching them days of the week next. Umm, she doesn't know that in English yet!!! Emma got a new toy this weekend. She got a set of "real" cook wear. They are metal pots and pans that came with a set of wisks, spatulas, strainers. So cute. She loves them and has been "cooking" all weekend. This morning she made Daddy some oatmeal, but she told our neighbor that she was cooking tiger. Hmm, she's into exotic cooking. Here's a video of her making cheese.