ARCHIVE 2007
---
12/28/07: Yes, Emma, there really is a Santa Claus. We went out of the front door today and found this little grocery cart full of play vegetables. Emma said "it's for me". I told her that I didn't know where it came from so maybe we had better leave it there in case one of the neighbors children left it there. She said that Santa brought it for her. I then noticed that our neighbor had thrown out a couple of her grandaughters toys, so she must have brought it over for Emma. She's so happy about her new toy.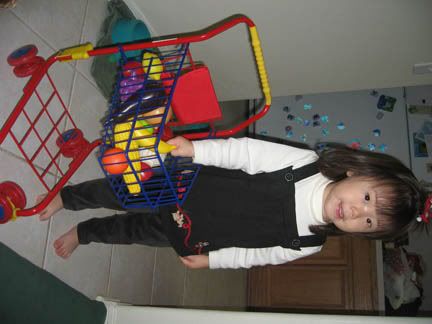 ---
12/25/07: MERRY CHRISTMAS. I just wanted to clean out my camera before we went to Emma's grandparents house. So here are the pictures from opening presents this morning. You should have seen the look on her face when she saw her Dora Mermaid and "big blocks". I got the biggest hug and a "I wuv ooo, mommy". She was so cute when opening presents. She kept saying "ooohhh, a Mr. Potato, Mr. Potato, Mr. Potato".
Enjoy and come back later for more! Click here for photos.
ETA: Wow, what a day. The little one is just making it to bed. She is a cranky mess right now. She is nowhere near being able to make it a whole day without a nap! I'm sure she'll be out like a light soon. She had so much fun today. I'm sure we'll be hearing all about "Christmas" and "Santa" for the next few weeks.
Just wishing everyone a very merry holiday season and may 2008 be a wonderful year for you!
---
12/23/07: Greeting from the sick house. We've been passing the bug around for almost two weeks now. Emma had pneumonia (which included a trip to the ER since we couldn't get her temperature down one evening). And since she's been coughing in our faces, both of us have caught it too. She's feeling much better, but still has a bit of a cough. Good thing we did our cards, shopping, santa visits early in the season, because we've been wiped out for the last few days. Hopefully we'll kick this thing in the next couple of days and get back to normal. Happy Holidays!!
Sorry. No new pictures. I just couldn't take a picture of my baby's first IV in the hospital.
---
12/02/07: Yea, I'm back. My hard drive crashed in my laptop and I just got it back. Thank goodness for the backup files. I didn't lose too much on the hard drive. I'll try to catch you up on the life and times of Little Miss for the last couple of weeks. We visited family for Thanksgiving and Emma got to play with her three cousins. All of them are virtually the same age (just picture four 2.5 year olds - yikes!). They had fun jumping in the inflatable we brought and they all got to share their own special table for Thanksgiving (they mostly ate Vanilla Wafers, thanks to Uncle George who sneaked a bag to their table).
We went to the mall on Black Friday and Emma got to ride her favorite carousel. It was the same one she rode last year. She loved it this year. She laughed the whole time. We also got to see Santa AGAIN. She was loving it and got a cute picture.
When we returned home, Emma helped me decorate the Christmas tree. We had only one ornament break, which was my fault. I stepped out of the room for 10 seconds and she tried to get the ornament out of the box by herself. But Daddy fixed it and it's back on the tree now. After we finished decorating, she said "do again!". I think she wanted to take everything down and do it over.
This weekend, we attended a Teddy Bear parade with her cousins and grandparents. One of the local shopping centers had put on a nice celebration to welcome Santa, light the big tree and the children brought their teddy bears and walked in a parade. They had a couple of choirs and activities for the kids. It was packed with people, but it was fun. Emma loved the choir. She went up front and clapped her hands and danced along with them. She really had fun playing with her cousins too.
Click here to see photos.
---
11/18/07: Look who we ran into yesterday.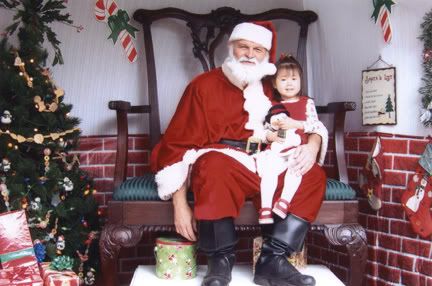 This year's photo went much better than last years. Here's a reminder of that one.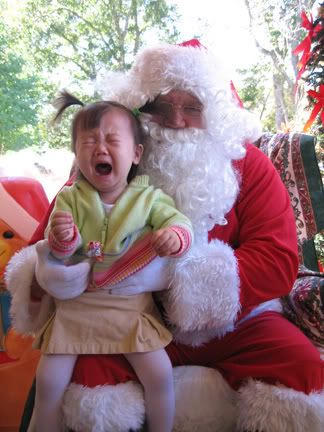 Santa was so nice and Mrs. Claus was very patient and tooks lots of time to get a great pictures. Her favorite part was when Santa gave her a candy cane afterwards. Santa also had a big wooden box with holes to peek through and you could see Santa's workshop. Very cute.
Click here to see more November happenings (international quilt show, Mamaw's birthday, Emma's cousin's birthday party, Emma being goofy).
---
10/31/07: HAPPY HALLOWEEN!! We weren't sure if we would be trick-or-treating tonight, as our little ladybug has come down with another type of bug this week. She's been feeling under the weather ever since monday. I know she's still not feeling that great, but she was really looking foward to trick-or-treating, since we've been talking about it for the last week. She was a trooper and we compromised. She stayed in her stroller the whole time and we went to a few houses. Usually she refuses to be anywhere near the stroller, but she stayed in it the whole time. She kept looking into her pumpkin basket to see what treasures she had. She loved trick-or-treating and kept out a banana flavored lollipop and declared that it was "YUM YUM".
One of the neighbors really out-did themselves. They covered their front lawn with a cemetary scene, complete with tombstones, ghouls, skeletons, body parts and a mad scientist with strobe lighting. We were going to pass by quickly, thinking it might frighten Emma, but she said that she wanted to go play in there. Yes, amongst the body parts, rubber rats and snakes. Our girl is fearless.
My favorite thing heard tonight, as my hubby is trying to get rid of the last of the candy to the trick-or-treaters. "Dude, I told you that trick-or-treating late is the best. The OLD PEOPLE are trying to get rid of their candy".
Click here to view the pictures.
---
10/28/07: That weekend went by quickly! We had a fun weekend filled with pre-halloween festivities. We attended a Halloween party at Emma's cousins house on friday. There were lots of superheros and princesses in attendance. Emma is very proud of her craft project that she made at the party. We displayed it on the refrigerator and she loves to take it down and tell us "I do dat". Very cute. We also carved our pumpkin that we got at the pumpkin patch a couple of weeks ago. She really wanted to "help Momma", which included poking her little pumpkin carving instrument in the holes I had already made. The pumpkin turned out cute. Then we attended the Halloween party at the gym. There were so many people there along with little dinosaurs, cowboys and more princesses running around. It was so cute, but I was getting claustrophobic with all of those people in a small space. Thank you to my hubby who ran home to get my camera. I can't believe I forgot to bring it. Me, of all people!!! Well, at least we got alot of use out of the halloween costume this year!!
Click here to view the pictures.
---
10/25/07: Wow, all I seem to manage lately are quick, late-night posts. But all you really want to see is the pictures, right? We went to get some photos taken of Emma in her halloween costume. It's a really cute costume, but she was being very much a 2-year old and wasn't cooperating too much. There are a couple of cute ones that I ordered. These are the good ones, imagine what the others look like. Click below and skip to the last page.
Click here to see the pictures.
---
10/21/07: Just a quick late-night post. We had a fun weekend filled with cookoffs, cupcakes, playgrounds and princesses.
Click here to see the pictures. Good night!!!
---
10/06/07: Today we went out to a local farm that had a pumpkin patch. It was so much fun. They open up a couple months a year and they have a little kid playground, hay rides, places to feed the goats and donkeys, a chicken/turkey/bunny farm, pick your own fresh flowers and a ton of other things. The weather was perfect and we managed to find a great pumpkin. Emma also found a little pumpkin for herself. She had a blast on the slides. They were made from PVC pipes, so you kind of rolled down the slide. She would have done that all day if we would have let her. What a great day.
Click here to see the photos.
---
10/03/07: October 3rd...a banner day. She asked to go sit on the potty today and actually was successful!!! I think we may be on our way to diaperless-ness (is that a word?).
So is it really this time of year again? I can't believe that October is upon us already. We found this huge pumpkin at the grocery store. Emma wanted to take it home, but I wasn't going to spend $80 on a pumpkin, although it would have made a cool jack-o-lantern.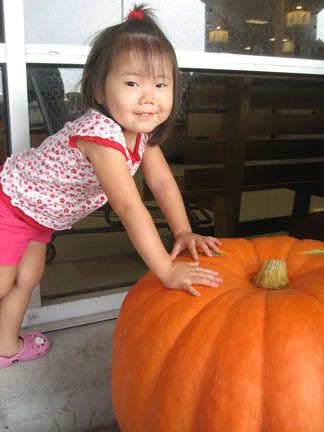 Click here for photos from the aquarium.
---
9/26/07: Just a quick post. I've just uploaded some photos we took of Emma at the gym. She loves it there. She didn't want to follow any direction this time. Just wanted to do her own thing, which included swinging off of the bar, walking the balance beam a hundred times, and walking like a spider on the even bars.
Click here to see the photos.
---
9/20/07: Emma went to the allergist again today. She had to endure five needle sticks, but fortunately, she had no reaction to any of them. We can mark off cats and oak trees from the allergy list. She did very well and as a reward, we went to Chucky Cheese for lunch.
So who in the world gets to go to Aruba for a business trip? My dear husband! While Emma and I were at home bike riding and playing on the playground, he was jetting his way to the caribbean. Sounds like it was a nice trip, except for the hassles he had to endure concerning the business he was there to do, and delays and mix ups with flights. While he was there, he did something called "Snuba". Think of snorkeling and scuba diving put together. No tank on your back, just a tube going up to a raft above with the tanks on them. He got to dive a sunken German supply boat from WWII. Click here to see the pictures.
Just got notified that my good friend is being induced today!!! So exciting. Can't wait to meet little BBB (baby boy B____ (last name)!!!
Flashback to one year ago today. One of my favorite pictures.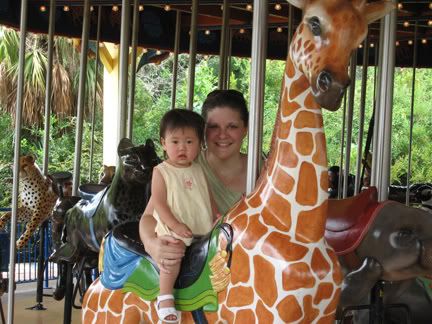 ---
9/18/07: Once again...the website is up again. While we were on vacation, we hired a local photographer to take some family photos of us on the beach. We had beautiful weather during the photoshoot at sunset. It was challenging at times trying to get a two-year old to cooperate. Heck, can you blame her. Look at all that sand to play in! Who wants to pose and smile when you can build sand castles? We managed to get a couple of decent shots. At least all three of us are in the photos. All we've had up till now was a photo from my cousins wedding last october. Definitely time to be updated. The photographer let us buy the rights to the digital files, so I did a little work (and a bit of head-swapping in photoshop) and got the photos looking good. The best part...I can print all I want!!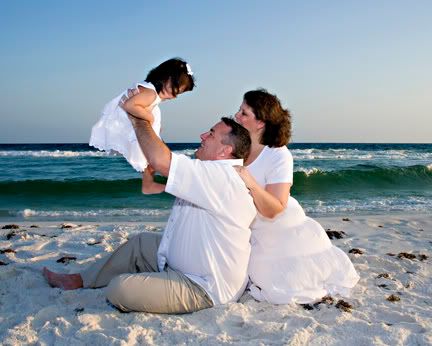 Click here to see more photos.
---
9/13/07: Yea! The website is back up again. Sorry to be MIA, but we've had server issues. The site may look weird for a couple of days, but I'm trying to do some maintenance on it. Not much going on lately. Emma's really enjoying her gym classes. Just imagine fifteen two-year olds running around going absolutely crazy. Her favorite thing to do this week was to jump onto the uneven bars and just swing. I'll have to bring my camera in one class to capture a picture.
We went to the doctor last week to have her tested for allergies and surprisingly, she is allergic to alot of things. She doesn't have classic allergy symptoms, she just scratches every now and then. Turns out she is allergic to Pigweed (whatever that is), Marsh Elder, Ragweed, Johnson grass, Bermuda grass, Willow, Elm, Pecan tree, Ash tree, Dust mites, Aspergillus, mold, DOGS(!!), Oranges, Milk, Wheat, Soy, Corn and Peanuts....just about 3/4 of the things she was tested for. What can she eat?? Apples and eggs. That's all we're sure of right now. We have to take her back for further testing next week.
---
9/04/07: A Heart Warming Moment. Today Emma and I had a little time to hang out before her dentist appointment this morning. As she was playing, I told her "I love you, Emma". She came over and hugged my legs and said "I wuf ooo too, Momma". Then she held out her hand with her Playdoh canister and said "I wuf ooo too, Paydow". Wow, I rank right up there with the Playdoh.
---
8/24/07: Ahhh, where to start?? We finally took a REAL vacation. A first in many years. We had so much fun in sunny Florida and Emma turned out to be a real beach bum. She would cry and say NO when we said it was time to leave the beach. She had so much fun digging holes (then jumping in them) and building sand castles (then jumping on them) and joining Daddy out in the water to play in the "big waves" as she called them. We met one of the families we traveled to China with and got to spend lots of time with them. The girls were so cute together. They were hugging each other like they were the best of friends by the end of the week. I'm so glad we're able to keep in touch with our travel mates and get to visit with them occasionally.
On our way home, we traveled through Gulfport, Mississippi and saw that the area is still in ruins from the storm almost two years ago. It's so sad to see foundations of homes and businesses that are no longer there.
Click here for photos.
We also ran across the cutest halloween costume for Emma and I couldn't pass it up. She had fun playing in it when she was trying it on for size. She says it's a "Lay-bug".
---
8/16/07: Aren't these the cutest little piggy tails you've ever seen? They are Emma's first real pigtails. When she was in her carseat, she held them both in her hands and had a look of wonder on her face. She wasn't quite sure what they were.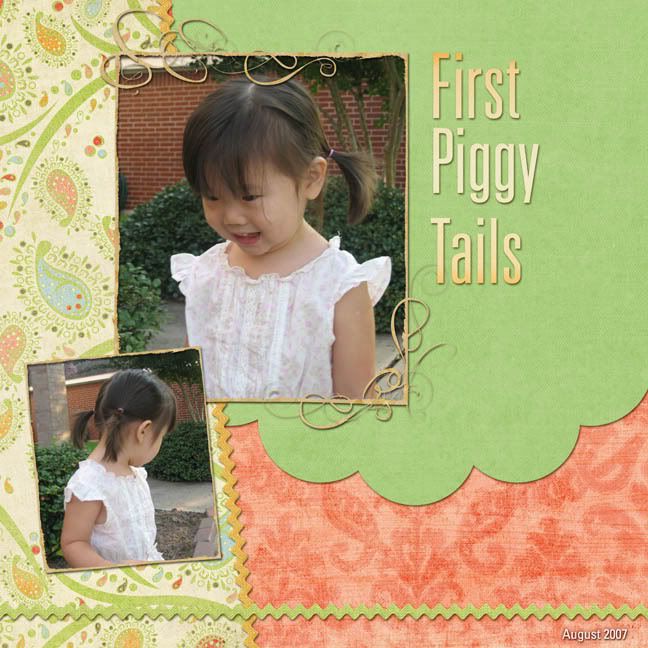 ---
8/1/07: My little baking assistant. Emma and I had a couple of unexpected days at home, so we took advantage of the free time and we made some muffins. She loves to bake and will often go point at the mixer on the counter and say "make muffins??" I tried a new recipe that had no eggs, since we didn't have eggs in the house. Don't ever make the mistake I made. No egg muffins are no good! But Emma liked them. I think I'll stick with my tried and true recipes. Enjoy the photo below.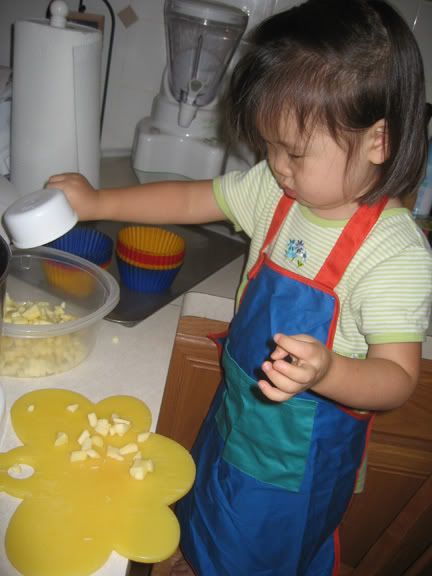 ---
7/29/07: Yeah, I know, I've been gone a while. I've been busy with projects around the house lately. In the last couple of weeks, we visited friends up north. We spent one morning touring a great aquarium with my college buddy and her two cutie pie boys. I didn't get too many great photos because the lighting was weird, and when I turned the flash off, I couldn't hold still long enough, so most of those were blurry. You can view a few decent photos by clicking the link below. Emma loved the little fish tank that was just her height. She watched the stingrays, turtles and ducks. Here's some photos of her being fascinated with the aquatic life.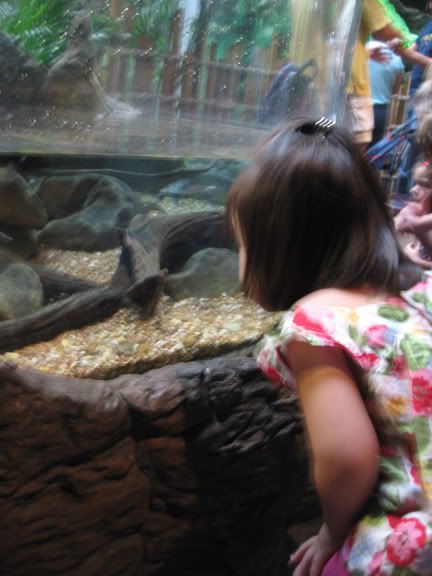 The next day we visited with one of the families we traveled to China with. We had fun cooking and letting the girls play and get to know each other again. We had a great time and it was fun hanging out with them again (without the stress of new babies and being in a foreign country!!!).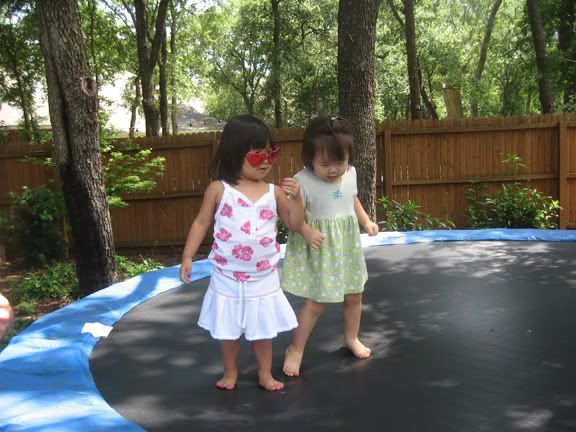 ---
7/10/07: Tonight we were trying to get Emma to say her Chinese middle name which is pronounced "choo-kway". She kept saying "Cheetos". I guess she has a new name. Emma Cheetos. The girl knows what she likes.
---
7/4/07: Happy Fourth of July!! So what do you do on a rainy dreary Fourth of July with a toddler who is tired of being inside? Let her play in the rain. Emma had a ball splashing in the little puddle on our sidewalk, getting soaked. Isn't it great to be a kid? We dried off then went to get a snow cone. Did you know they make strawberry snow cones without the red dye? Must have been invented by a mom. It was great. We're keeping her up a little late tonight to shoot some not-too-noisy fireworks. She loved them at New Years Eve, so we're hoping she'll still enjoy them now. Enjoy the puddle splashing slide show below.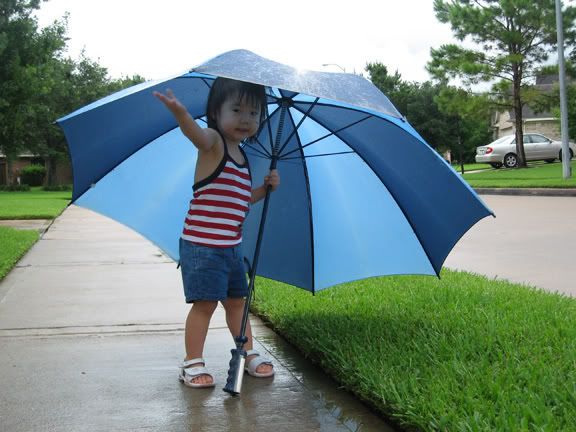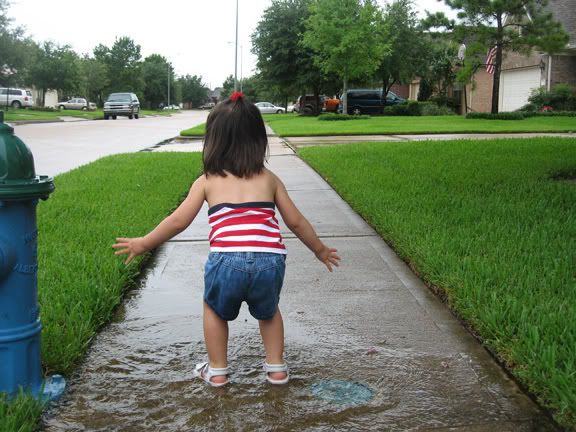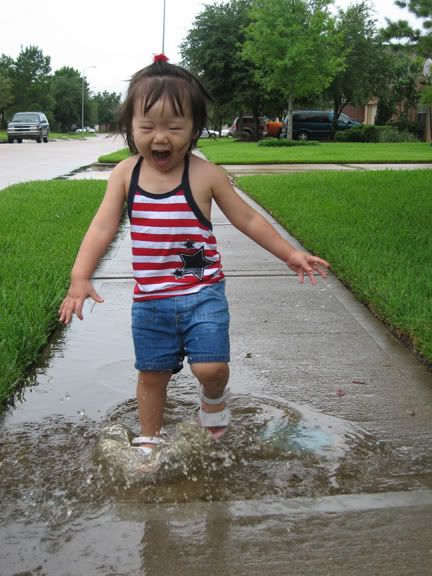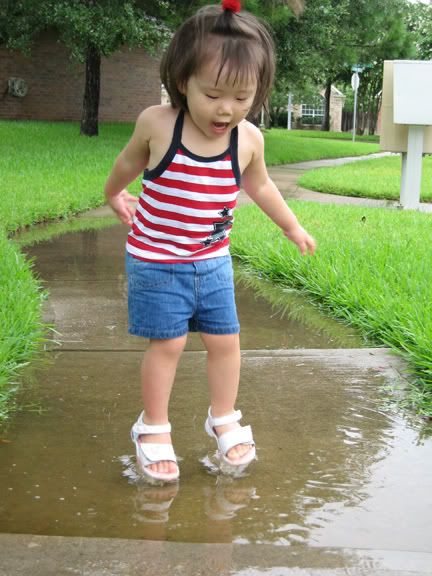 ---
7/1/07: Emma had fun at our agency's party this weekend. We visited with one of the families that we traveled to China with and the girls had so much fun jumping in the inflatables.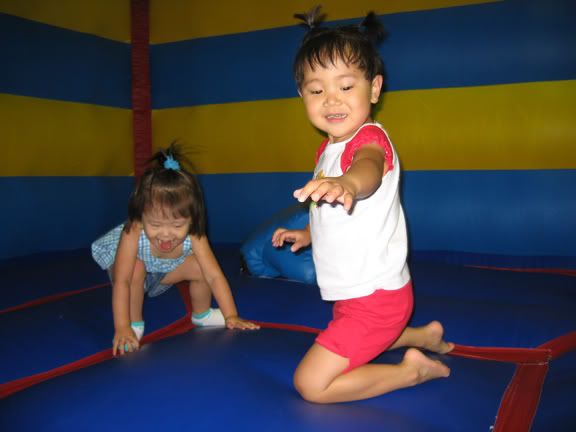 ---
6/10/07: 2 year checkup stats: 27lbs, 34.5" tall.
Emma decided to get herself dressed this morning. Which look do you like best? Head peeking out of the leg of the skort, or skort over the shoulders with shorts on the head. Notice the green boots didn't change for either look. My little fashionista!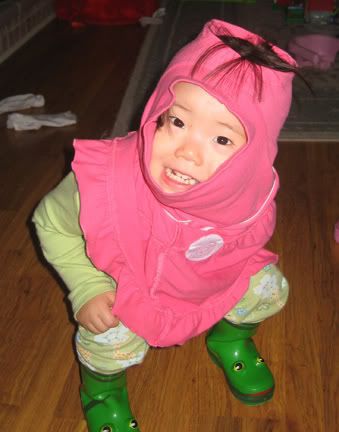 ---
6/03/07: Emma had a fun weekend. On saturday we attended a birthday party for one of her little friends. There were a half a dozen Chinese girls running around. She had a ball playing with the other girls and all of the toys in the game room. Two of the girls were adopted through the same agency that we used. With that many two-year olds running around, there was bound to be a melt-down or two, and Emma joined in with the rest of the crowd. Today we had a lazy day and we took advantage of the beautiful day to go swimming. Emma loved walking on the divider (which we call Abby Lane, after our sweet pooch Abby who also loved walking on it).
---
5/27/07: Thank you for my birthday card Mawmaw!!!
---
5/15/07: And then she was TWO!! Today our beautiful girl turns two and I can't help but think back about how she came into this world and once again, pray that her birth family somehow knows how much this precious girl is cherished. She has brought such joy to our family. It's been quite a year of firsts for Emma. First steps taken, first Christmas, first time swimming, first hotel stay (since China), first football game, first wedding attended, first trick-or-treating, first fireworks show, first haircut, first beach experience and first snow.
Her vocabulary is growing day by day. It's amazing how quickly she picks up words. Some of her favorite things to do are to tickle people's feet (especially Mommy's since she gets such a reaction). She will grab a basket and put it over her arm and say "bye-bye" then suddenly re-appear and say "hi!". She loves to point out the difference between the van "big car" and the sedan "lil car". She will pretend to bite my leg and I jokingly tell her "you can't eat mommy's leg" and she thinks this is the funniest thing ever. She is starting to learn her ABC's. She still loves her doggies so much, but we have to remind her not to grab at their wagging tails, no matter how tempting. Her hero is still Elmo, with Jojo, Mickey Mouse and Winnie the Pooh coming in a close second. She's starting to learn how to stall when it comes to bedtime, which I don't mind too much. I don't know how much longer she'll let me rock with her, so I take advantage of it as much as possible. She loves to point out "babies" when we are out somewhere. Of course, the "babies" sometimes are her age or even older. She got very jealous when I held a tiny baby last week and wanted me to hold her as well. Sometimes when she hears a baby cry, she will "fake" cry as well, to get our attention. It's pretty funny. We have our two-year check up in a couple of weeks, so I'll update her stats then.
So happy birthday sweet girl. May our next year together continue to be full of joy, laughter and amazement.
---
5/12/07: Emma got a couple of new birthday presents today. She had so much fun with her new sand/water table from Mamaw & Tata. I can tell that thing is going to be a mess. She wanted to mix the sand with the water and then throw the sand all over the place. She got a quick bath afterwards, since she had sand everywhere. She even got some in her mouth and then said "yum yum". Mommy said yuk! She also got a big box from a very special Aunt today. This is a fun toy!!
---
5/6/07: Birthdays, Bikes and Beaches. It was a busy weekend. We celebrated Emma's 2nd birthday on Cinco de Mayo with a crawfish boil. Emma had a dog-themed birthday, since she just loves doggies right now. I made a cake which didn't turn out too bad. But Emma is just like mommy. We go right for the ice cream and just skip the cake. She did really well, considering she didn't have much of a nap all day. It's late and we're all exhausted from our fun but busy weekend.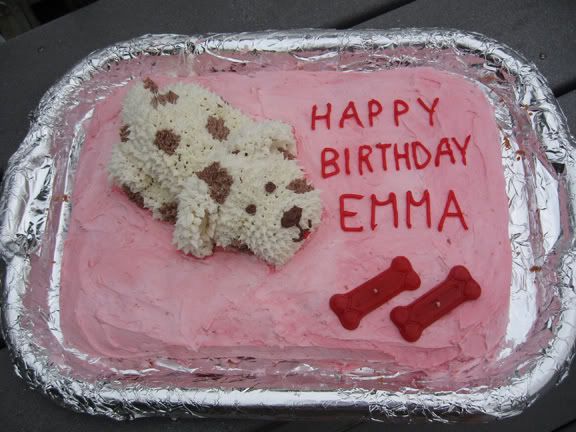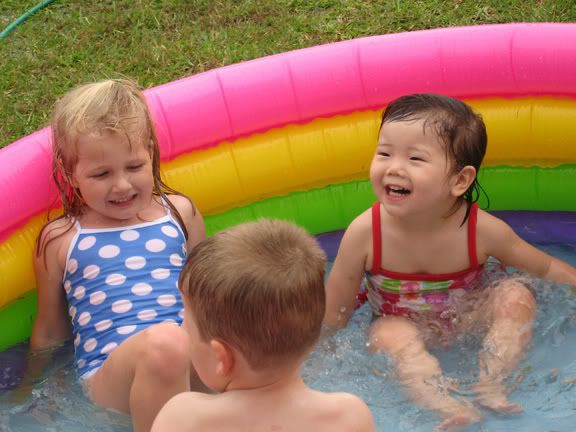 ---
5/1/07: Day one of Mommy & Emma's vacation. We learned how to use chopsticks!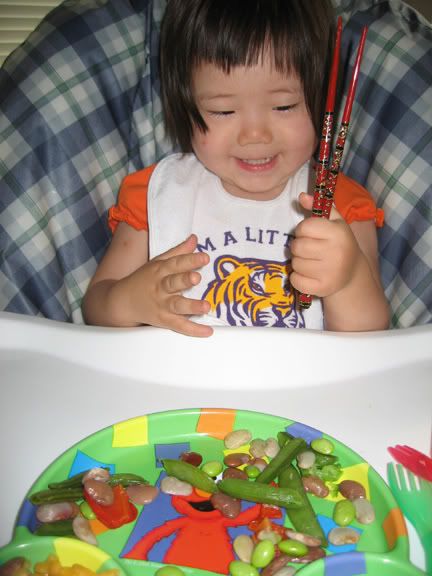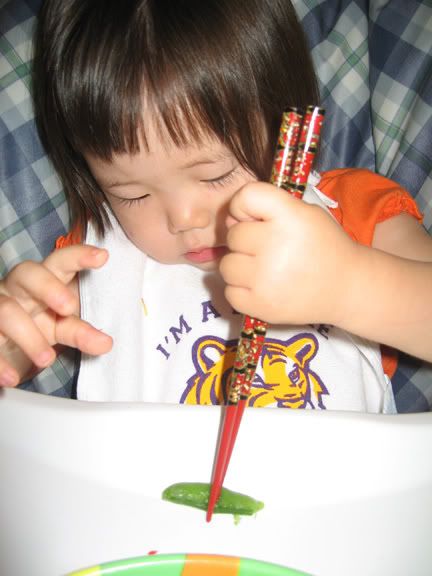 ---
4/29/07: Another weekend spent on the island. We had great weather and we got alot of work done, but still managed to have a bit of fun. I'm not sure how I feel about having a stealth bomber flying over the house, but this was one of the sights from the deck this weekend. There was an airshow going on and we could see all of the planes flying around. It was so strange to see one of those bizarre looking planes in person. Doesn't look like the thing should be able to fly. When it flew horizontal, you could barely see the thing. Talk about stealth.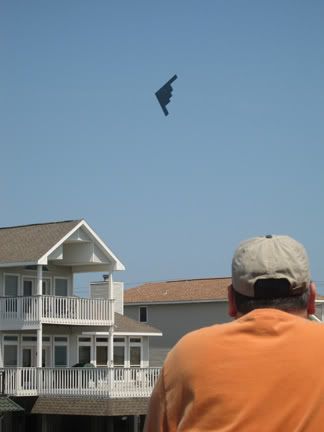 Emma still managed to have fun during all the work. She played in the hose while we washed the sand and grime off of the house.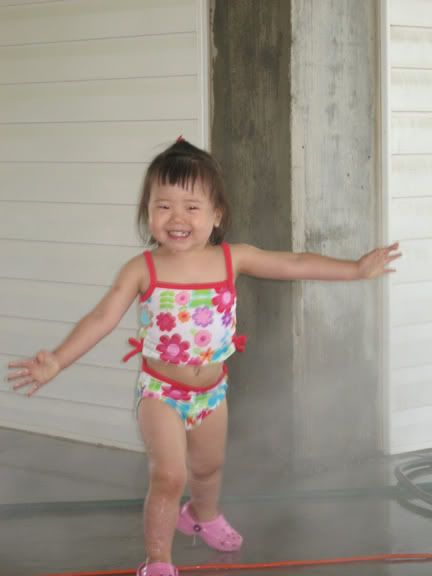 ---
4/15/07: We visted the beach today. The morning was cool, but by the afternoon, it had warmed up a bit. Not warm enough to put on swimsuits and go swimming, but enough to wade into the water and get really sandy. Emma had so much fun and keeps saying "Ah-beach, Ah-beach". She loaded up her bucket with a ton of sea shells and even recruited a new little friend she found on the beach to help her. We had one mad little girl when we had to put her back in the car. She wanted to stay at "Ah-beach" all day long. She was one tired little peanut this afternoon.
---
4/09/07: Happy Easter! Emma had fun playing, running and screaming with her cousins at Easter lunch. She has a keen ear and can tell if anyone is unwrapping a piece of chocolate, even from the other side of the house. No worries about her hearing!! Included in today's pictures are photos of Emma's new big girl bed. She loves it and sleeps soundly in it. Can't believe our baby is out of her crib already.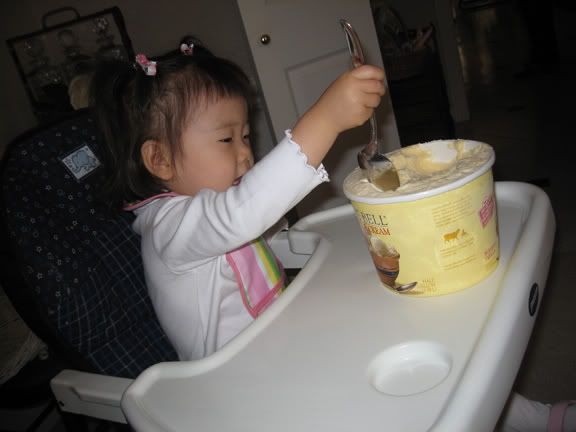 ---
4/06/07: Since mother nature isn't going to be nice to us this weekend, we decided to have our easter egg hunt a couple of days early. It was a gorgeous afternoon and Emma got to wear her beautiful dress made by her Mamaw and carry her new Easter basket made by Mommy. When we got inside to inspect what was inside of the plastic easter eggs, Mommy decided to change Emma's clothes so the pretty dress wouldn't get covered with chocolate.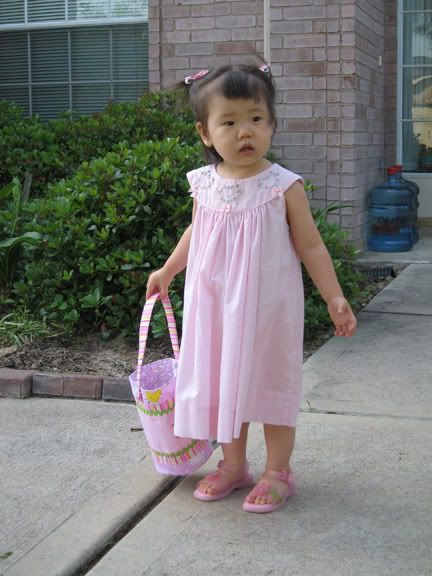 ---
3/30/07: Emma had her first taste of a chocolate Easter bunny. She didn't think much of the package when we handed it to her. But when we got it unwrapped and she found out what the bunny was made from, she was in love. She wasn't too happy with me when I took it away from her after she had demolished the poor bunny's ears. How do you explain to an almost-two-year old that too much chocolate is not good for your tummy?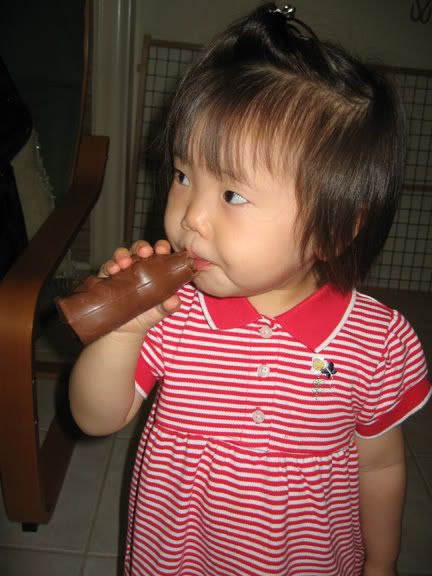 ---
3/25/07: It's springtime in Texas!!
---
3/18/07: Emma had so much fun on the playground this weekend with her little friend Ryleigh. The girls were having a screaming match, just to see who was louder. I think both sets of parents agree...it's a tie.
I also wanted to tell my buddy that I talked to tonight that we are SOOOO happy for them and wish them smooth sailing for the next few months!! HUGS!!!
---
3/11/07: Emma helped wash the cars today. She had fun transferring the bubbles from our bucket to hers. All we heard for the rest of the evening was "bubble, bubble bubble??"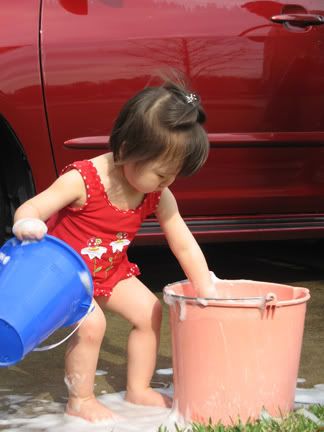 ---
3/10/07: My aunt sent me a book written by a China adoptive mom. She writes about her adoption trip. Here's a little exerpt that had me laughing so hard...
~~~~~~~~~~~~~~~~~~~~~~~~~~~~~~~~~~~~~~~~
(Mom is talking to the guide....)
What do you think she'll be like when she grows up?. She thinks a moment, peering into the baby's face. "She will be pretty," she declares, "and...naughty!" She laughs with hearty delight at the though of what "naughty baby" will be like for her parents to raise.
"Naughty!" I exclaim. "Why naughty?"
"Well," she explains, "girls from each place have a reputation: girls from Canton - sweet, girls from Shanghai - smart, girls from Jiangxi have hot temper! But" - and she raises her forefinger, lest I think it's all bad news - "are hard workers".
~~~~~~~~~~~~~~~~~~~~~~~~~~~~~~~~~~~~~~~~
Wow, I can relate to this! My little Jiangxi girl sure has a hot temper. I got a laugh out of this!!!!
---
3/03/07: She Swims! Well, not quite yet, but we're working on it. Emma had her first swimming lesson with the toddler class at the gym. She loves the water (unlike some of her classmates) but she gets so cold after about 30 minutes. She was shivering and her little lips were starting to turn blue, so we wrapped her up and dried her off quickly. Strange, because none of the other kids seemed to have that problem. I guess she takes after her momma in that area.
Come back later....We're attending our FCC (families with children from china) Chinese New Year dinner tonight. Hopefully we'll have some good pictures and lots of fun things to report.
Well, we're back home and there are not so many fun things to report. As new members of this group, we were not given a very warm welcome by some very rude people and we decided to cut our time at the New Year's celebration short. Instead we went to our local Chinese restaurant where we are respected and treated like family. We'll have to find other ways for Emma to celebrate her Chinese heritage. I'm very sad for these people as they are missing out on having a wonderful little girl as a part of their group.
---
2/25/07: Today Emma went to her friend Megan's fourth birthday party. It was lots of fun and here is Emma and her buddies seeing the newest Elmo for the first time.
---
2/23/07: Emma's latest portrait sitting.
---
2/17/07: Several people have asked me about the progress of Emma's 100 Good Wishes quilt. It's very much a work in progress. I've decided to steal an idea I saw someone else do. I hope it will get me a little more organized in this project, because as of now, I have no idea how many quilt squares I have. This project is so much fun. If you have time, look at Emma's virtual quilt online. This will definately be a quilt made of love.
Click here to view Emma's virtual quilt.
---
2/11/07: Emma saw Elmo today - live and in person. She had fun at the Sesame Street show, even though she had refused to nap earlier today and she is still not feeling too great. If it looks like she has "kissy" lips in most of the pictures, it's because when she's tired, she sucks on her tongue (instead of a pacifier). She kept going from my lap to Blaine's the whole show long and was not happy when Elmo wasn't on stage. We had seats in the second row, so she got a very good look at all of the characters. She got her first taste of cotton candy, as well! It didn't take too long for her to fall asleep in the car on the way home.
---
2/10/07: Messy Goodness. Mamaw brought us some Valentine's Day cupcakes and Emma couldn't wait to dig into them. Yum yum!
---
2/09/07: My girl is electric!! I love this picture. We had one warm day where we were able to put the jumperoo out and Emma had a blast. Her hair was kind of blasting off too.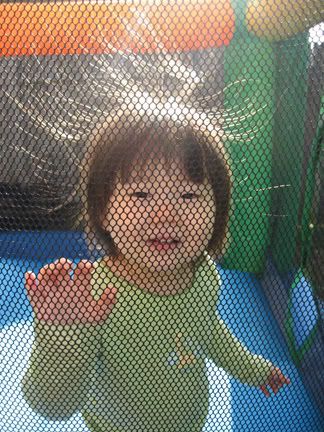 Check out my cute new jammies! My cousins brought them back from Disney World for me. My eyes just lit up when I saw who was on the front. Jojo is so cool!! Thank you Grace and Jack!! I also got a super soft new Winnie the Pooh. He's already made the rounds in the stroller and had a turn in my high chair. I call him "Ah-Pooh". Mommy bought me the Heffalump movie for Christmas, so Pooh is one of my new favorites as well as Jojo and Elmo.
Don't tell Emma, but there is less than 48 hours left till we see Elmo in person!!! We're going to see Sesame Street Live on sunday and I can't wait to see her reaction. We're going to try to get everyone well by then. Sickness has been making its rounds around the house this past week.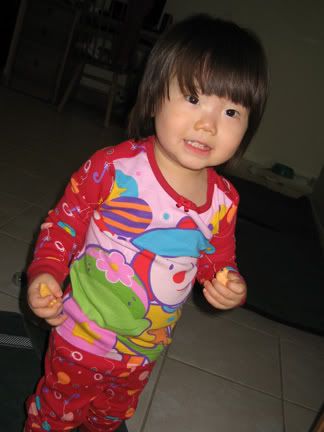 ---
2/05/07: Do you remember what you were doing one year ago today? You were probably watching the superbowl. Not us. We were in China being handed the most beautiful baby we've ever laid eyes on. This year has just flown by, it's amazing how quickly. Emma has changed from a tiny little baby to a little girl, overnight, it seems. She was so unsure and mad, her little world just turned upside down. She challenged us those first few days, but we just loved her as much we could. Today she is so happy and can light up a room with her sweet little grin and infectious giggle. We were so lucky to be chosen to be parents to this wonderful little girl. She'll never know how blessed we are to know her and how lucky we are to be called "Momma and Daddy".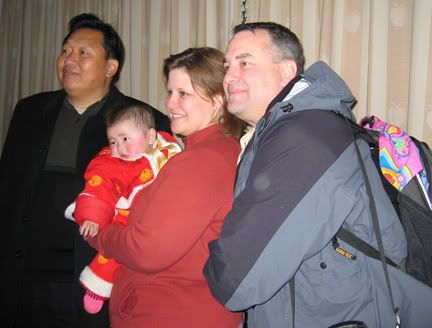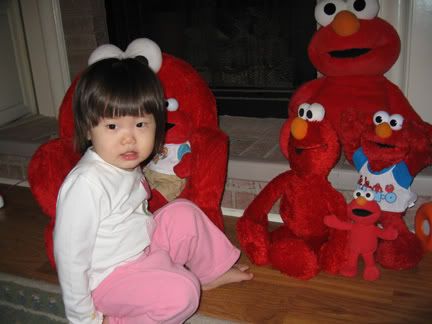 ---
1/21/07: Someone sure is happy about having a huge box in the hallway. Oh and Daddy is very happy about his new grill he got for Christmas.
---
1/15/07: Emma's adoption is DONE!! Yes, it was officially final a long time ago, but we still had social worker post-placement visits, and we also had to get some additional paperwork done. Last week we had our final post-placement visit, and strangely enough, we received her last piece of paperwork in the mail the very same day!! Yea!!! What a relief.
---
1/08/07: Emma had her first dental appointment last week. She did fairly well, considering what was happening. Can't say I blame her too much. She got a clean bill of health for her teeth and a warning from the dentist that it looks like braces may be in her future. And yes, I take my camera everywhere (but I did ask the dentist's permission first).