ARCHIVE 2006
---
12/31/06: Happy New Year!! What a wonderful year 2006 has been for us. I can't imagine what fun 2007 will bring us. We put on an early fireworks show this evening and Emma loved it. We bought some fun, but not-too-noisy fireworks and she ooh'd and ahh'd over them all.
Wishing everyone lots of love, happiness, health, peace and prosperity in 2007!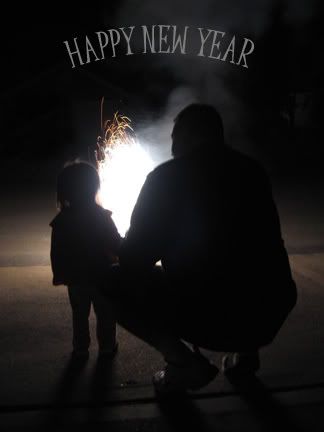 ---
MERRY CHRISTMAS
12/25/06: We would like to wish everyone a very Merry Chrismas! Emma had a very overwhelming, but exciting first Christmas. We started at 4:30 this morning with our little early riser. We convinced her to stay upstairs in bed with us until about 6:00, when we came downstairs to see what Santa had brought. She saw the little red car, and just loved it. We opened up a few more presents, then took a breakfast break. We then opened the rest of the presents and it was time for a nap before we headed to Mamaw & Tata's house.
After a yummy lunch, there were more presents. Emma loved her new baby doll and stroller. She did very well considering how "action-packed" the day was. Here is a little video of the day (and a few previous days). Time to get baby girl ready for bed!

Christmas 2006
12/19/06: So this is what happens when I am away and Daddy is in charge. Yes, that's a ladybug basket.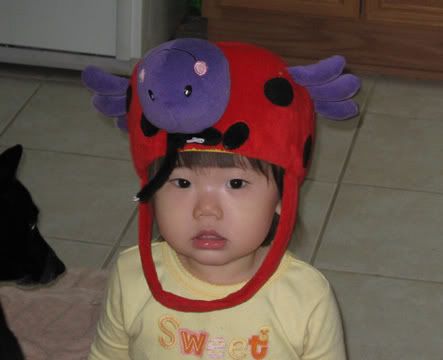 ---
12/17/06: I normally don't post the pages from Emma's scrapbook that I'm working on, but this one was too cute not to share.
---
12/14/06: Emma went to her first cold weather football tailgating party this past weekend. It was chilly and rainy. Poor little thing was bundled up with about three layers on. She kept plenty warm and had fun running around with her buddy Ryleigh.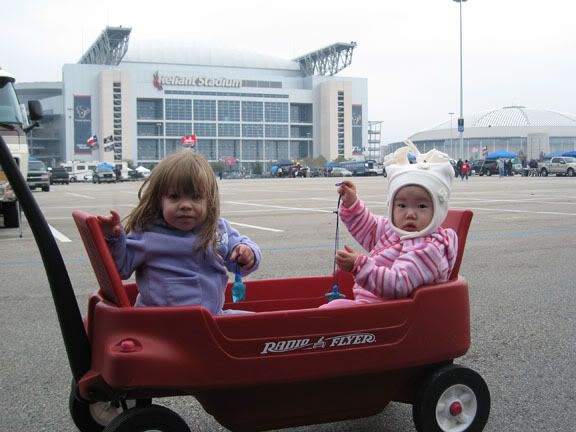 ---
12/09/06: One year ago, we saw Emma's face for the very first time. It was December 9th, 2005 when we received our referral for her. When we got "the call", I was at work and the only question I asked them on the phone was "is it a girl?". They answered yes and I proceeded to hang up on them (oops!). For the next two minutes, I tried to remember Blaine's phone number (which I call several times a day). He came to pick me up and then we raced down the freeway to our agency to get her packet (the one time he wasn't driving fast enough for me!). There were three little photos, and in all of them she had the same expression. We floated about 10 feet in the air for the rest of the day and were even able to celebrate at my company Christmas party that night (where everybody got to see her pictures numerous times!). At the time, I wasn't quite sure what our agency meant when they told us "you got a good one". Boy were they right. She's a perfect fit for our family. Even though she is impatient, loud, stubborn, hard headed, she is also smart as a whip, sweet as can be, spunky, full of character, and freely gives the most precious baby kisses. For all of you still waiting to see your baby's face, it does happen. No, you don't forget how difficult the wait was, but I would have waited a hundred years for this little girl!!!
I'm borrowing a quote from my friend, Empress Leigh....
"The universe has a way of knowing when people belong together."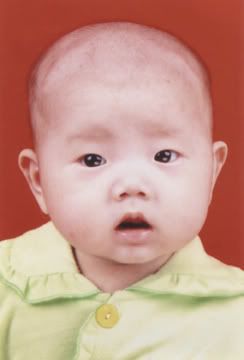 ---
12/08/06: This is what we call a "happy mistake" in the graphics industry. I was snapping photos of Emma and put my camera down on the table, with the lens pointing toward the ceiling. I went to push the OFF button, but pushed the shutter button instead and I got this photo. I think it's so cool looking. Yes, its our ceiling fan, but I'm an artist and I love seeing things like this. The lighting and shadows are so neat. Ok, that's your art lesson for the day. Back to our regularly scheduled programming...The Life and Times of Emma, the wonder girl.
We had a Christmas prequel yesterday. Emma got a box of goodies in the mail from a friend. (Thanks Nattie & Ian!!) She had so much fun tearing through the paper, and seeing her new "Ca-Ga's" (otherwise known as sidewalk chalk - or "colors"). She about flipped when she saw them and wanted me to take them out of the wrapping immediately. I explained to her how they are supposed to be used outside on the driveway, but we couldn't use them now, because it was about 45 degrees outside. Guess what we were doing next. Bundling up and going outside to draw on the sidewalk. I think there was more chalk on her clothes than on the sidewalk, but she had fun for a few minutes.
Next she unwrapped a fuzzy green frog. He was a hit and was a new resident of the crib last night, along with Emma and the white lamb. That crib is getting a bit crowded!

Christmas Prequel
---
12/05/06: This update is mainly for me, so I can remember all of the cute things that Emma did at this fun time of her life.
"A-Boo" - This is what Emma says when she plays Peek-a-boo.
"Nuk" - Emma's version of MILK, even though we tell her the correct way to say it a hundred times a day!!
Emma still loves her dogs. She will run up to Abby and open her mouth so Abby can give her slobbery kisses in her mouth. Uggg, this grosses Mommy out, but Emma finds it hilarious. Both of them don't understand why I'm always trying to stop this behavior. Abby trys her darnest to get in the middle of Emma and us. She's our attention deficient dog (as she would think). Taz is only interested in her when it's meal time. Otherwise, he steers clear of her and her death ray vision. He always has a look on his face like "that little thing is going to kill me some day". Oh Emma also thinks Abby is the perfect height to sit on. She'll walk up to Abby who is lying on the floor and just sit on her. Poor dog. She just gives me a pitiful look like she's saying "make it stop, please!!!" We're lucky these sweet dogs tolerate Emma's love.
Air Kisses - Emma has learned how to give "air kisses" as we call them. We ask her for a kiss, and she'll turn her head in our direction and kiss the air like a New York socialite. I guess there's so much to do in a day, she can't waste more than 3 seconds on giving kisses.
She is a couch potato!!! We bought one of those DVD players for the car, to entertain her on long trips. Now whenever she gets into the car, she looks at you and says "MELMO (elmo)" or "JO-JO" - her two favorite cartoon characters. She would be so happy to sit and watch either on a continuous loop all day long.
Her new nickname is "Eagle-Eyed Emma". This child can spot the image of Elmo if he is anywhere in the room. At the grocery store the other day, she started saying "Melmo, Melmo". I told her that Elmo was at home. She kept it up, saying "Melmo". Low and behold, there was an Elmo balloon - on the other side of the store!!! I could barely see it. She can also spot him on the spine of a DVD case - you know, the image that is about a half inch big.
We have a lovey!!! Emma has started to sleep with her little lamb at night. Who knows if this is a good thing or not, but it is so cute. She's been having some rough nights lately, when it's bedtime. So one night I put the lamb in there with her, and she grabbed it and hugged on it. He's been her night-time buddy ever since.
Emma has an odd way of eating some food. For instance, if she is eating green beans, she'll pick one up, take a bite, then put it down. Then she'll pick up a new one, take a bite, put it down. And repeat this process. She has to start with a "new" piece every time.
Emma loves salsa. When we go to a Mexican restaurant, Emma needs her own bowl of salsa. She starts by dipping a chip into it, then sucking the salsa off of the chip. Then the chip quickly gets discarded, and she puts her whole hand into the salsa and then shoves her hand into her mouth. Everyone else pretty much gives up the salsa to Emma after watching this behavior!
---
12/03/06: Milestone day!!! Emma had her first haircut today. I've been trimming the bangs myself for a while, but it was starting to look like a mullet, so it was time to get it trimmed and that wasn't something I was willing to do myself. She got to pick out her own movie to watch (Elmo of course) and sit in the little red fire truck (which our little tomboy loved!). You have to excuse the "before" picture because her hair was in piggy tails, so it's sticking straight out. So now it's more like a bob, waiting for the sides to catch up with the back. She looks so cute!
BEFORE:
AFTER (1):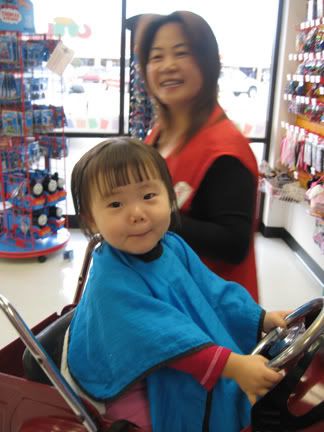 AFTER (2) with a cookie at the grocery store: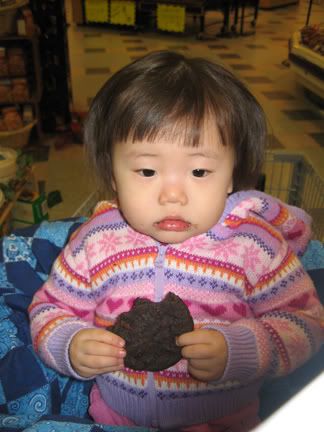 ---
12/02/06: Snow in southern Texas?? Emma saw her first snow today. Well, not actually her first. Her first was when we were in Nanchang, China. But this time she got to play in it. We were at a local festival and they bussed in the snow for the kiddos to play in. There was also a petting zoo and two of Santa's reindeer made appearances. Emma had a blast. Hmm, who would have thought we needed mittens for her living in such a (usually) warm climate!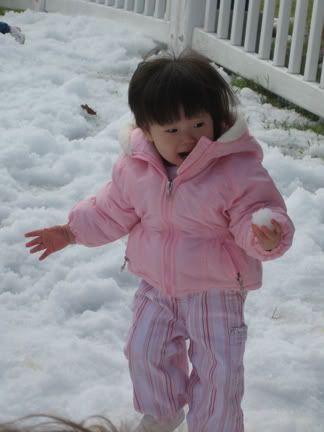 ---
11/28/06: Bowls make excellent hats! At least she was smart enough to empty the bowl before she put it on her head.
---
11/26/06: This was Emma's first Thanksgiving! She enjoyed meeting some new family members and running around with three other 18 month old girls. She got to meet her twin cousins Madison and Raine who are three weeks younger than her, and her other cousin Lydia who is also around the same age. It looked like pre-school! Also in attendance were her cousins Dustin (13 yrs old) and his little brother Dylan, who was the baby of the group. Emma had so much fun playing with Dustin. They were best buds by the end of the day.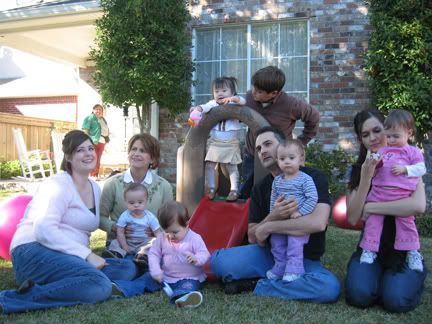 ---
11/17/06: Emma had her 18-month appointment this week. She's 32 3/4" tall (75%) and 24.2lbs (50%). She received three shots which made her scream and her face got very red, but she got over it pretty quickly.
Here is a photo of Emma checking out the Christmas stocking her Mamaw made for her last year. It's so cute and I'm so excited that Santa will be filling it with all kinds of goodies this year.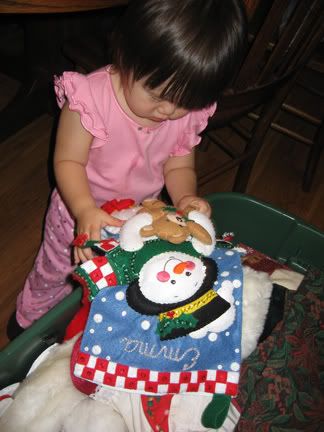 ---
11/11/06: Why do we do this to our children? I guess it's a right of passage. Everyone has to have a photo of them screaming on Santa's lap in their past....right? Emma not too happy about meeting the big guy in red, but who can blame her. Oh, and we finally got to put her in a sweater today. It was 66 degrees today, but we ditched a couple of hours later as it warmed up again.
---
11/10/06: Emma went to her first "Pump It Up" party today. She had a ball! Her little cousin Jack turns three tomorrow and we celebrated with a crazy, fun birthday. There were big jumperoo's and huge inflatable slides. From the look on her face going down the slide, you would think she's terrified, but she kept pointing up the stairs and trying to get up to the top by herself. Later we had cupcakes and presents. Emma thought that icing makes wonderful conditioner for her hair. This face shows how much fun she had. Let's just say, she went to bed not long after we got home.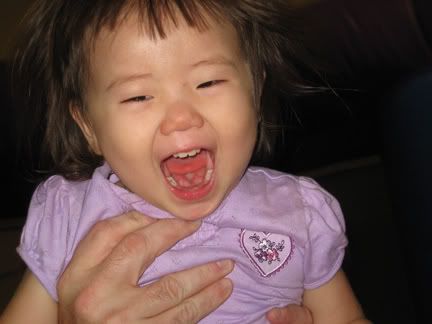 ---
11/7/06: First of all Emma wants to send out a big smooch to her Mamaw who is celebrating her birthday today!!
Happy Birthday Mamaw!!! We love you!!!
Next, here's a big shout-out to our fan club in Dallas.
HI NATTIE & IAN!!!!!
Emma is about a week shy of 18 months old and she's starting to act like a two-year old. I guess we're getting a preview of what is to come. This little girl has a mind of her own and lets you know her opinion. She throws the biggest temper tantrum when she doesn't get her way. She has drastically cut her eating. She used to eat like a horse, but now she is very particular with what she eats. And it changes day-to-day. She may fling yesterday's favorite snack to the dogs today. It's not just that. Her choices are a bit odd compared to what you would think "most children" eat. Her favorite thing at dinner tonight was purple cabbage picked out of my salad. The other day, it was raw red bell peppers and raw green beans. Meat?? No way!! We've resorted to supplemental drinks, to make sure she's getting proper nutrients. Thank goodness she loves them (for now).
Her vocabulary has increased a bit as well. She now tells Daddy that she wants to watch Jojo's Circus by saying "doe doe?" or it may be "Melmo" for Elmo. She knows that the remote control brings Jojo or Elmo on, so she'll bring it to us. She likes to say the names of the people in our house "Mama" "Dadeeee" "Dog" and she can even say my nephew's name Jack, which comes out more like "Ack". She can say milk, which sounds like "Nalk". I was always amazed at parents who could understand what their young children were saying, but now I get it. When you hear it so often, it's not that difficult to understand. Of course there's still the sign language which can be frustrating as well. She'll sign that she wants a banana, so you get one and she refuses to eat it. I think she's just practicing her communication skills (and laughing at these silly mommy and daddy people who think they know what they are doing!)
We've been going through the animal sounds with her. She knows the sounds for a cow, a dog, a cat, a fish, a snake and Daddy taught her a great one. When you ask her what a rabbit does, she squishes her nose up and down. So funny. I'll post a video of it below. Blaine was trying to figure out why she was saying "glub glub" in the grocery store the other day (which is the sound fish make, of course). She had spotted some Goldfish crackers. Nothing gets past her!!
As far as shoes, they are still a source of facination for her. There's nothing better than spending a saturday afternoon taking shoes off and making Mommy and Daddy put them (or another pair) back on. When she's in her carseat, we always hear the ripping of velcro straps on her shoes. Most times, we have to put shoes back on her when we get out of the car. ***Ok, Blaine, if you are reading this....skip this part...don't read any further*** I got so excited because a lady I know sold me a pair of pink Mary Jane Stride Rites for $10 and they are brand new! Her daughter never wore them!! For people who don't know, these things retail at $45 and they are just so adorable. I can't wait till they come in. I can't help it. Baby girl has to have cute shoes!! ***Yeah, I know, I'm shopping. But what a deal!!***
Sorry this post has gotten so long, but I haven't updated Emma's developmental progess in a while. I'll be updating next week after her 18 month pediatrician visit. So for those of you who have been reading all of this, here's a treat for you below. Enjoy!!

What's a Bunny do?
---
11/5/06: Wow, two posts in one day?? I think this is a first for me...well, since we were in China. I just wanted to post this picture.
Emma's quilt has officially begun. I've gone through and sorted all of the fabric and wishes. It's really amazing to see all of this fabric like this...squares that will make a beautiful quilt. The fabric is so special too. One person cut her favorite dress into squares and sent it out. And the wishes are so sweet too. This will make a beautiful scrapbook to go along with the quilt.
So now for my begging. I really don't want to use two fabrics from the same person, so if I only use one per person, I'm short about 25 squares. But if I have to, I'll use fabric from the same people. So if you are interested, I'd love to include your fabric in Emma's quilt. It'll mean so much to her one day, as it does to me now. You can go to the "QUILT" button on the left for more information on what to send. Send me an email if you would like to participate: shar_tex@yahoo.com.
<so how was that begging? Pretty good, huh???>
---
11/5/06: This weekend we attended the International Quilt Festival. The quilts were amazing...just beautiful. I can't imagine the time and creativity that goes into producing these works of art. I guess the next question on your mind is....How is Emma's 100 Good Wishes quilt coming along? Well, I was inspired by the quilts yesterday, so I'll be pulling out the fabric and sorting through it, washing and pressing it so I can start cutting it out. If anyone would like to send in some fabric, there's still time and we'd love more contributions!!!
Oh and on another note...I got into the show on a Senior Citizen discount. My mom told the lady at the booth "One Senior Citizen and One Adult" but she gave us two Sr Citizen tickets. I hope I'm not looking like I'm 65 years old!!!!
---
10/31/06: Happy Halloween!! Emma was a cute little witch, but she refused to wear the hat, so we compromised and had some snazzy piggy tails, which she actually didn't pull out. We only trick or treated about 10 minutes before the mosquitos ran us back inside. She was facinated by what was in her trick or treat basket when we got home. She was frightened by a little boy in a scary mask that tried to give her some candy, but besides that incident (and the mosquitos), she had fun.

Halloween 2006
---
10/29/06: Emma just attended her second wedding since coming home from China. We were there to witness the marriage of my beautiful cousin (who looked like she needs to grace the cover of a bridal magazine) and her sweet fiance (one of the happiest Grooms I've ever seen). My cutie pie niece was the flower girl. Actually Emma didn't get to witness the wedding....she was asleep in the car. But she had a blast at the reception. We had a fabulous time this weekend - especially getting to see family we haven't seen in ages. Thank you for showing us such a good time and wishing the newlyweds a long and happy life together.
Now comes the fun part. Trying to convince Little Miss Party Girl that her bedtime is still 7pm and not 11pm, like it was on Friday!!!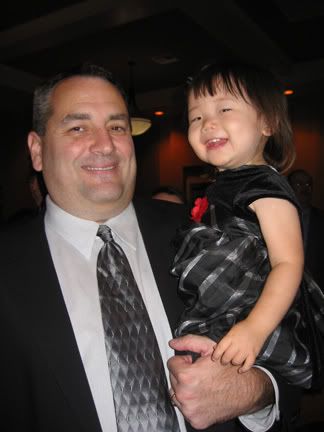 ---
10/25/06: Finding out if Princess fever will be in our future....

Tutu's and Tennis Shoes
---
10/24/06: Emma in her halloween overalls. She's really happy about the rock she found in the garden.
Here's Emma giving Mawmaw kisses long-distance.
---
10/20/06: The little cowgirl.

Ride that Zebra???
---
10/16/06: One more of the silly girl who won't come in from the rain.

rain
---
10/15/06: I'm sitting here trying to think of an introduction to this video clip and I'm coming up blank. You'll just have to watch it and see why...

Basket Case
---
10/10/06: Emma attended her friend Ryleigh's birthday this weekend. She had fun in the jumpy house, but had trouble keeping her balance.

Jumping
---
9/30/06: Wow, I think we have a model family! This popular children's clothing store recently updated their website with their new holiday clothing line and the children they picked to model their clothes look just like the kids in our family! What do you think? We sure have some beautiful kids!

---
9/26/06: Look at this website!
Recognize anyone? I'm partial to one of these cuties. These are all babies that were from the same orphanage as Emma. Notice how many of them are wearing the same outfit and/or shoes.
---
9/20/06: Here's the tailgating video clip I promised many moons ago. She was having so much fun running and screaming in the parking lot.

Tailgating Girl
Here's another clip of a sleepy girl.

Talking and Signing
---
9/10/06: Emma had a busy day today. She attended her first professional football game. Well, not really. She attended the tailgating party in the parking lot, then she was very tired by the time the game started, so we went home for a nap. Unfortunately, she is not the kind of baby that will fall asleep anywhere she is. She will fight to stay awake if there is something going on. But she had a blast playing in the parking lot and finally meeting our tailgating crew. When we first arrived, the parking lot was practically empty for a couple of hours. She had so much fun running around and screaming at the top of her lungs. Oh and shockingly (not), our team lost!!
I made Emma a special shirt for her first football experience. I thought it turned out pretty cute. It's nice to get back to using my sewing machine, after all of these months it's been gathering dust. I've also done a cute pair of halloween overalls. I'll post those pictures when I've completed them.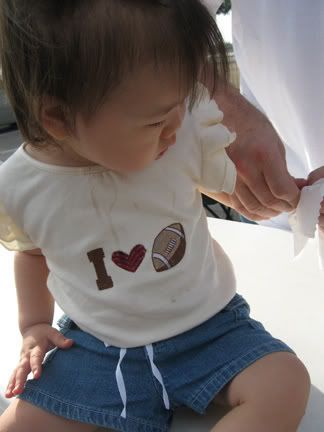 ---
9/4/06: Beach Baby! Emma really enjoyed her first real beach experience. We didn't stay too long, because it's still really hot and I thought that she might have had her fill of sand. She decided that it made a wonderful entree. I had to watch her like a hawk, because she would put handfuls into her mouth and chomp away on it, like it was a french delicacy. We got her some sand toys and her favorite was the bucket. She'd carry it around like a purse over her arm. She showed no fear and would charge right into the water, but didn't like it when the waves splashed her in the face. I guess she's not used to salt water. When we were packing up, I asked her if she was ready to go home and she kept shaking her head "no", and trying to run away from me. She had the best time. Hopefully we'll get to go to the beach a couple more times before the end of the summer.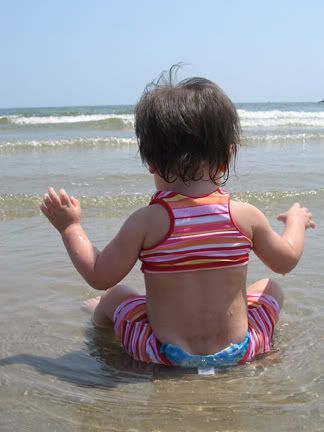 Here are some video clips I've taken this summer.

Summer 06
---
8/28/06: Sorry it's taken me a week for any updates, but I've been a bit under the weather lately. We've been saying that we need to find an "Emma-sized" chair because she loves to sit on the hearth, but decides to lean back and hits her head. Here's our newest piece of furniture. She'll sit in it for about two seconds, then she's up and on to the next thing.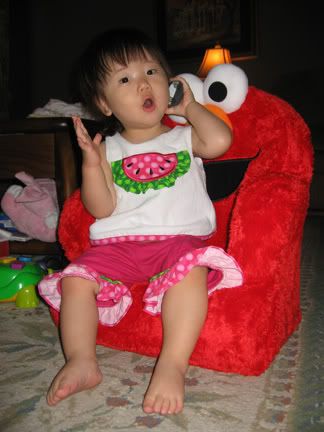 ---
8/21/06: Portrait #2. These were taken at daycare by a photographer they brought in. They were too cute to pass up. Our little angel girl - and yes, she's always an angel...well, she looks like one at least!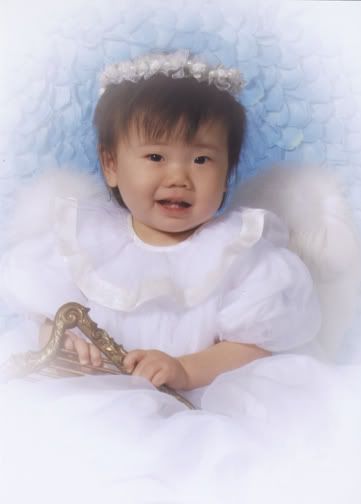 ---
8/18/06: So I don't get to play around enough in Photoshop at work, I have to do it at home too. I was playing around with Emma's photo and look at this sketch I created of one of her photos. I just love it!!! Of course, it helps that the subject matter is beautiful too!!!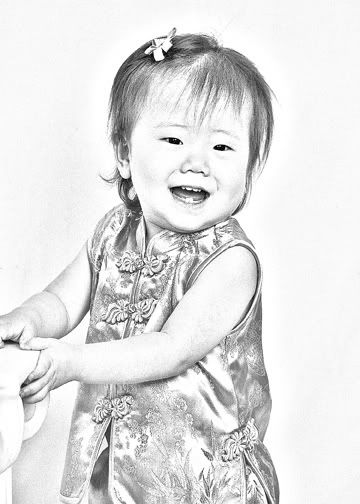 ---
8/17/06: Today Emma had her 15 month check up with the pediatrician. She weighed 22 lbs (in the 45% - wow it was 25% three months ago!) and was 31.5" tall (in the 79%). We now have 11 teeth!! She was up-to-date with all of her accomplishments for this age. She had two vaccinations to complete the visit, which she was not happy about in the least!
---
8/14/06: Since when do we have a thumb sucker?? Hopefully this is just something to do with teething. Here she is cuddling with her fun Uncle Michael.
---
8/11/06: Emma has started putting two signs together. Tonight she signed "eat" then "banana". It's really amazing how quickly she's picked these things up. Oh and she ate the entire banana too!!!
---
8/10/06: What a great helper to have in the kitchen. Emma decided that her new toys would be right out of the kitchen cabinets. This kept her busy for at least 10 minutes!! I thought she'd bang on the bowl, but she preferred to stir. Don't tell Daddy that she was using his favorite wooden spoon.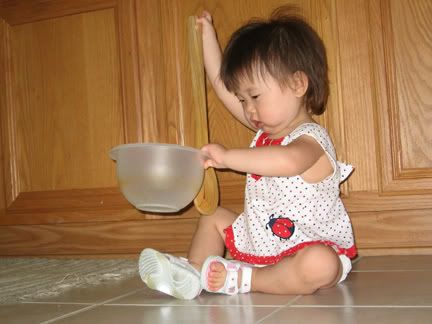 ---
8/05/06: Six months ago today, our lives changed forever and I can't imagine what life would be like without experiencing February 5th, 2006. At 4pm in a small office building in Nanchang, China we were handed a small bundled crying little baby and our lives will never be the same. We promised we would love her forever. What an easy promise to make. It's hard to remember what our lives were like before Emma, but harder yet to imagine what it would be like if we hadn't made that long journey to China to bring her home. I think back to what we had to endure to get to this point and through all of the hardships and disappointments, yet there was a plan in place for us the whole time. Going through what we did, we will never take for granted the gift we have been given.
FEBRUARY 5, 2006
AUGUST 5, 2006
Thank you Ms. Brenda for my New Orleans T-shirt!!
---
7/25/06: What a weekend! I don't even know where to start!! We had a reunion with our travel group this weekend. Our agency was having a 25th anniversary celebration, so we all were able to get together with our girls. On Friday we met the one family out at a water park. Emma got to play in the sand for the first time. Oh, and she also ate a couple of handfuls too - yuck! She had fun in the kiddie pool, but then we brought her out to the part of the park where they have little fountains and misters to run through. She had so much fun. I was surprised, because the water was all in her face, but she didn't mind at all. We had a bit of a mishap. She was running around, which she's still learning how to do, and her feet couldn't keep up with her body, and she fell and cut her lip....again. I didn't cry this time, but she did. Once the bleeding stopped, she wanted to go back and run through the fountains again. She was exhausted after that and fell asleep in the carseat instantly.
Later that night, our travel mates joined us for some dinner. Blaine cooked some of his world famous jambalaya and of course, the kids had hot dogs. We visited a while and watched the kids play. Little Emma was making her little friend Betty jealous. She would gladly be held by Betty's dad and sister. When Betty saw that, she would push her way into the situation and let everyone know that was HER DAD or HER SISTER. So cute.
On Saturday, we met with the other family in our travel group as well as our Chinese guide who was flown over for the celebration. Little Lan has done wonderfully with her family. She just turned two and she's talking up a storm. Her English is amazing. She's also having fun torturing her two older brothers. Betty had her cleft palate surgery when we returned from China and is fitting right in with her three older sisters (two who are Chinese!). But Emma won the award for changing the most since we've returned home. We had lunch together at Kemah, then enjoyed watching some of the kids play in the fountains. It was so hot, so we decided to keep Emma out of the fountains and steaming sun! Later that night, they had a big banquet at a local hotel. There must have been 150 people there with their kids. Some of the countries represented were Guatemala, Ukraine, Russia, Korea, but it seemed most of the kids were Chinese. There was dinner and some presentations, but the most fun was when we took over a corner of the ball room and the kids just went crazy running all over the place. Blaine was a big hit with the girls. I think they remembered having fun with him in China, so he was basically used as "playground equipment". I'm so glad his back held up to throwing little girls in the air for half an hour! Emma was the youngest and she did her best to keep up with the older girls. She had a blast and stayed up an hour and a half after bedtime. She's a little trooper.
Here's a picture of our travel group (plus a few extra family members who didn't make the trip)...Five Months Later!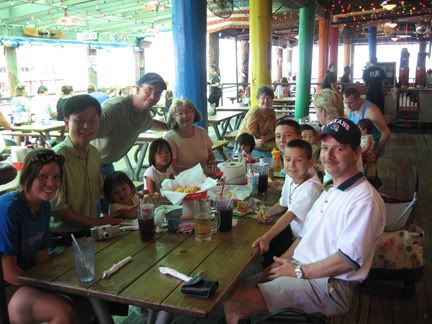 On a different note, Emma has sort of started to talk. She'll wave at you and say "bye bye" or really more like "ba ba". But usually she will say this when your car is about a mile down the road - not to your face. So you'll have to take my word on this one. She will also say "uh-oh".
---
7/25/06: We've got the makings of a real girly-girl on our hands. Emma loves shoes!! She has to wear them everyday in daycare right now and we thought we'd have a fight on our hands, because usually she would fuss if you tried to put shoes on her. Things have changed. The other day she found some of her old shoes and brought them to me. I took them, then she sat down and put her foot up so I could put the shoe on her. So she decided to walk all over the room in her Chinese squeaky shoes (and her PJ top and diaper, since she had just woken up from a nap). The girl knows how to accessorize. Click on the video to see her in her latest fashion show.

Shoes!
Then tonight, she was facinated by Daddy's shoes. She tried them on, then decided to steal one. Hope he can find it before work tomorrow!!
---
7/22/06: Sorry it's been so long since I've posted, but there hasn't been too much going on here, plus I think we've got some teeth coming in, so we've had a Ms. Cranky Pants on our hands. We brought out the swimming pool to keep cool today and we also sat in the sprinkler for a while. Here are some pictures.
---
7/11/06: Are you ready for this? How cute are these? Presenting Emma's first Glamour Girl pictures. She's already embracing her Chinese American heritage.
---
7/9/06: What a weekend! We didn't do much or get much accomplished. Little Miss Emma was so cranky this weekend and running a temperature most of the time. We think she may have another tooth coming in. I'm surprised, because last week she had a huge molar appear, but showed no symptoms other than some yukky diapers. For the last two days she's been very clingy, whiney and has decided that her new time to wake up is at 4:30 in the morning. Now, I'm a morning person, but even that's too early for me!!
---
7/6/06: Tonight we ate at our local Chinese restaurant and we saw another family that looked like ours! They had two young Chinese daughters, ages 6 and 10. We enjoyed talking with them for a while and the girls loved coming over to see Emma. They were precious girls. I'm not quite sure what the restaurant owners thought seeing half of their customers with Chinese daughters!!
---
7/4/06: Happy Fourth of July from our little fire cracker!
Emma had a fun weekend at Mawmaw's house. We played with some flags, visited some friends and even rode the carousel for the first time. She had no trouble getting to sleep when we got home.
Click below for a carousel video.
---
6/27/06: Emma's Walking Video. Someone shamed me into finally putting this together (you know who you are!!!). Enjoy!!!

Emma's Walking
---
6/25/06: Emma now the proud owner of a US Passport. Next step: social security number. Wow, and we thought paperwork was done when the adoption was finalized!!
Emma is now walking!!! She is still unsteady on her feet, but very proud of her accomplishment. I'm trying to catch it on video, but when I have the camera ready, she has no interest in walking. When the camera is somewhere else, she's walking all over the place.
I've now finalized our trip video. I've made a couple of minor changes and I'm going to buy it on DVD for Emma to have. It's amazing how much she has changed and grown since February. I've posted a link to the final video on the left column.
Emma had her first professional pictures done this weekend. We won't get them until July 10th, but I think they turned out great. I was worried because Emma won't just smile for anyone, but the lady taking her picture was definately experienced in this line of work and did a great job. I was impressed.
---
6/21/06: This article is supposedly from the Philadelphia Inquirer from about a year and a half ago. It's a personal story about one family's adoption story. It hit close to home, even though their experience was a bit different than ours, since they adoped from Guatemala, but the feelings are the same. It's long, but a good read.
* * * * * * * * * * * * * * * * * * * * * * * * * * * * * * * *
The Journey to Embrace Mariela
By Alfred Lubrano
Inquirer Staff Writer
Doubled over dizzy at the curb, I watch a ratty green Guatemalan taxi ride off with our baby. My wife, Linda, and I were tentatively matched with five-month-old Mariela by our adoption agency. We were allowed a get-acquainted weekend with the girl in a Guatemala City hotel in May. But by 8 a.m. Monday, the foster mother arrives to collect Mariela in a cab. How the baby got to me during 48 hours of pooping and whining in that small room, I cannot say.
But now I'm hooked and feeling bone pain. And the birth mother still has 60 days before the adoption is finalized to snatch the baby back. Catching my breath in the smoggy street, I think about this unseen woman with the sudden power to crush us and I wonder: If she changes her mind, how could we ever live without Mariela?
Old Movies
Why do people have babies?
We asked everyone we knew, because we had years to think about it. Nature was laughing, systems were failing, and we were embracing the fun that is invitro fertilization. "Oh, you have kids 'cause it's instinctual," a pal said. "No, it's the need to replicate yourself," another explained.
Always wondering why, we kept trying, through miscarriages and ultrasounds that featured black holes where fetuses should have been. The drugs were making Linda sick and sad. I even grew tired of the inspirational movies meant to help me produce the Manly Contribution in the daddy's workshop at the doctor's office. Once, I asked the techie whether they were getting any new films. He didn't laugh.
I tried to cheer up Linda with lame jokes, suggesting a Christmas visit to sing carols to our embryos outside the doctor's freezer. I offered to cart the little suckers into my office on Bring Your Child to Work Day. Again, no yucks.
Soon, we started to really hate those rented pink or blue wooden storks on people's lawns that announced babies' arrivals.
After the fifth invitro try, when the embryos withered to nothing in the uterus, we said, "That's enough." It wasn't hard to decide to adopt.
If you want to understand who you really are, start asking yourself what kind of child you could comfortably raise: age, race, gender, nationality. We had loved our trips to Mexico. Nearby Guatemala has young babies who need parents. For us, it was not any more complicated than that.
Cookies or Cake
Today, the adoption social worker comes to our farmhouse in South Jersey to judge us. We have been cleaning for two days. If we do not scour the upstairs bathtub, I believe, we will be childless forever. I take a break and go to the store to buy a snack for the visitor. As I drive, I contemplate the dossier we're compiling, demanded by the bureaucracies of the State of New Jersey, the U.S. Department of Homeland Security, the Immigration and Naturalization Service, and the government of Guatemala.
They want reams of paper: essays about ourselves; essays from friends describing us; letters and documents from the local chief of police, from doctors, banks, employers, the IRS. We must provide two sets of fingerprints, photos of every room in our house, as well as photos of our relatives, with captions.
Finally, we must sign a document swearing that we will never hit our child. I guess the kid could sue us if we did. And much of that paper has to be notarized. Then, the notarized documents have to be taken to a prothonotary, who certifies them. Along the way, the paper gets prettier and more official-looking, as bureaucrats affix stamps and seals and ribbony things. We stopped asking why this was necessary a long time ago. Submit, or go crazy.
Nearly the whole world can get drunk on red wine and make babies without once consulting the State of New Jersey. But get some funky chromosomes, and everyone in Trenton, Washington and Guatemala City learns your bank balance and whether you're lousy with a nasty disease. And, oh, by the way, on top of all this, you get to pony up alot of money. You're not buying the baby, of course; you're paying for all that bureaucratic processing.
At the store, my head spins from burnout. I cannot decide whether I should serve the social worker cookies or cake. Which will get us a baby? Worn out, I choose cookies. I decide that she's not getting the assortment, though, retaining a speck of self-determination in this process that's dragged on beyond our control for more than a year. What a rebel I am.
We pass inspection, then hit a snag: All Guatemalan adoptions are halted while international adoption watchdogs wrangle with the Guatemalan congress about rules and procedures. Some believe that adoption is cultural genocide, the robbing of a nation's future. But these babies are unwanted and will grow up in a kind of poverty few people could survive easily. My conscience is clear.
Still, there's more waiting, more anxiety. Maybe we should just get a German shepherd. Why do people have babies?
Wing of Babies
The congressional crisis passes. And the birth mother has withdrawn. Just a few more bureaucratic hurdles and the baby is ours. We fly to Guatemala a second time, in late July, to bring Mariela home. She recognizes me at the hotel and smiles as she tugs my beard like she did during the first visit. The tears blind me. We stay in the wing of babies, a portion of the sixth floor devoted to Americans adopting children. At night in the lounge, where bleary-eyed people sit with unsleeping babies and thumb through Dr. Spock books, I tell Mariela that tomorrow, I will become her dad. She burps.
The next day, we show up at the U.S. Embassy. Past metal detectors and jittery armed guards who inspect even baby formula, we are ushered into a room with 50 other parents-in-waiting, holding babies who had been handed to them within the last 48 hours. In this drab place that looks like the DMV with automatic weapons, I stare, astonished, at what is happening. Families are forming, their quiet, nascent moments playing out beneath flickering fluorescent lights. People wipe their eyes, as though wiping away all those years of flunked pregnancy tests and feeling broken and inadequate.
They smell their babies' hair and wait for clerks sitting behind bulletproof glass to call their names and end their endless journeys. Ah, but because this is the bureaucrats' last stand, it won't be easy. We were required to bring $235 in U.S. dollars - no bills higher than $20 - as last-minute processing fees. The chilly clerks hold the currency up to the light. The thinking is, I presume, that after shelling out tens of thousands of bucks, we all decided to pay the last 200 with counterfeit bills.
Linda, Mariela and I are summoned to a window. Although the embassy already has them, the worker insists on seeing more copies of my tax returns. Forewarned, I had brought them, but now there's a problem because I photocopied them on 11-by-17-inch paper, not 81/2-by-11. "They're too big!" a clerk scolds.
"Too big for what?" Linda asks, and I see it all ending there, the 10 years of trying to have a baby, the adoption paper chase, the travel, and the expense - all of it over, because the photocopy of my W-2 is a little large. We're told to return at 4 p.m. Then we'll know.
Back at the hotel, we eat lunch, sitting among other Americans also waiting for the final documents that will make them parents. Persistent to the end, I lean over to a young couple at the next table with a gurgling boy. "Why do we do this?" I ask the husband. Just then the baby flashes a gummy, megawatt smile. "That's why," he says.
Back at the embassy, the clerks apparently forgive our Xeroxing sins and hand us a packet of still more paper. But these say that Mariela is ours. The brand-new family goes back to the hotel and takes a nap.
The next day, we fly home. The second that the plane lands on the runway, Mariela automatically becomes an American.
Oatmeal and Socks
I am sitting on the living room carpet in Jersey watching the news with Mariela, now 11 months old; they're showing file footage of Yasir Arafat blowing kisses to well-wishers. Mariela, who has just learned how to do this, is blowing kisses back at the now-dead Palestinian. I move closer and study her huge brown eyes, her full cheeks and startling dimples. I know now that I don't need DNA linkage or umbilical ties. This is my child. As for the why, well, let's see. I was becoming too narrowly, selfishly focused on me, and I was frankly tired of the guy.
Now I worry about someone else: her oatmeal, her socks, her future. If we didn't have Mariela, we would have felt that we missed something vital in this life. We had a baby because we had to have a baby. I can't explain why we did it any better than that. Besides, the guy in the restaurant was right. Look at her smile. That's why.
* * * * * * * * * * * * * * * * * * * * * * * * * * * * * * * *
And for us, this is why.....
---
6/20/06: Cousins!! Here is a picture I took with Grace about two and a half years ago and here's one of me and Emma taken this weekend at my mom's house. Funny that Grace is wearing the little Chinese dress Blaine brought her from China when he was on a business trip and that was even before we thought of adopting from there. And yes, my mom keeps the same toys forever!!! The grandkids have fun playing with MY baby toys.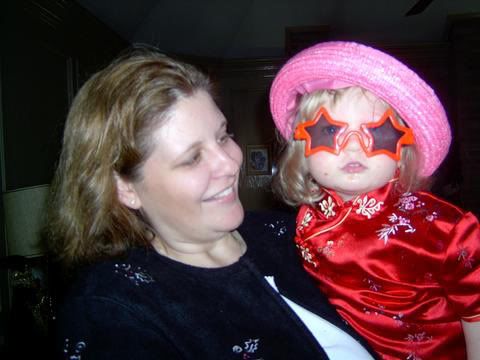 ---
6/18/06: Happy Father's Day, Daddy!! Emma and I took advantage of Daddy being out of the house last weekend and we made him a father's day gift. The art project didn't last too long because Emma really wanted to taste the red finger paint. The final project turned out cute, although she wouldn't smile for anything. The final print was put in a black frame and is ready to be put on Daddy's desk at work.
Emma loves to stand at her Leap frog table and play. We call this video clip "Shakin' her bootie".
---
6/15/06: Emma is 13 months old today and we've been home from China exactly four months. Here are some of her accomplishments in those four months. She can sit by herself, she can crawl, she's learned how to sit up from a laying down position, she can feed herself, she's signing a few words, she gives kisses and blows kisses, she "loves" on her stuffed animals and the dogs, she can get herself to a standing position from the floor without assistance, she understands much of what we are saying, she's helping to feed herself with a spoon and one of her biggest accomplishments is that she's taken a couple of unassited steps!! Way to go baby girl!!
---
6/10/06: Emma wanted to try on her new froggie boots that she got for her birthday. They are a bit big right now, but they are so cute!
---
6/8/06: This picture is called "An Experiment in Piggies". There wasn't much hair to experiment with.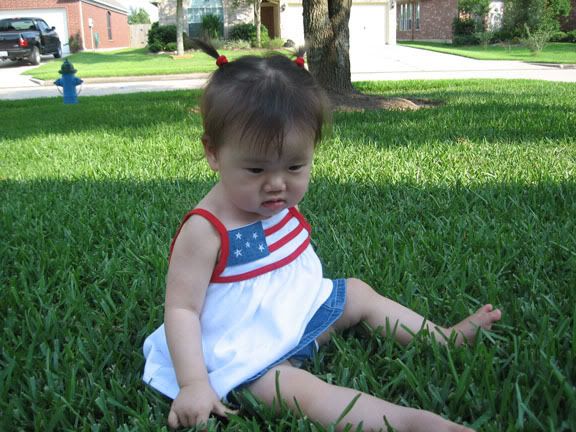 Thank you to Doug & Melissa, and Uncle Douglas & Aunt Marion for the cute box of clothes. We love them!!! Doesn't she look cute in stars and stripes?
---
6/7/06: We have an all-American girl. She loves french fries. After deciding she was done with her dinner, she was playing on the floor and came around to let me know that she wanted my french fries.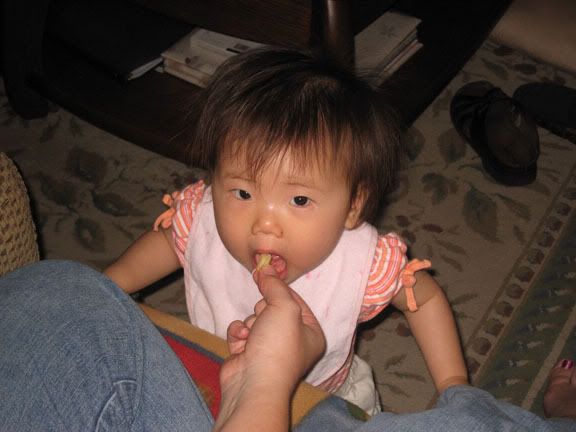 She also loves her buddy Brendan at daycare. He's an older man, he's 14 months old. She sits in the high chair next to him at breakfast and always makes googly eyes at him while trying to steal his mandarin oranges. One day she'll get really brave and try to steal that cute teddy bear he's always holding on to.
---
6/4/06: Yesterday, we were the guest speakers at our adoption agency for one of their informational seminars. We had a "full circle" moment. We attended one of their seminars about two and a half years ago, and now instead of sitting in the audience, we were helping with the presentation! Emma did wonderfully, especially considering it was her nap time. We talked about the process we went through and our trip to China. After the seminar, we talked to a couple of people who had decided to adopt from China and they asked us some more questions. Next month our agency is having a reunion and is bringing our guide Nelson from China. We can't wait to see him and some of the families we traveled with.
Emma is still pulling herself up on everything. She thinks it's a really neat trick and is very pleased with herself at the accomplishment. It'll be only a matter of a few weeks before she starts to walk by herself. She loves to crawl and explore the house now. She found the dog dishes yesterday and just stared at them as I said "Emma, no!". She really wanted to play in them, but she listens when you say no (for now, that is).
Emma had a fun day swimming today. She wore her brand new swimsuit and had so much fun splashing and kicking in the water.
---
5/29/06: We've been teaching Emma some baby sign language and low and behold, she gets it!! She knows the sign for "more", but I'm not sure she understands what it means. When we were playing yesterday she looked at the ball and signed "ball", she also knows the sign for "bird". It's pretty incredible how quickly she catches on. The one she's having trouble with is "milk". It looks alot like her waving goodbye, so whenever we use the sign for "MILK" she waves goodbye.
She's also mastered another task. She's pulling herself up using the table, chair, dog.... whatever is handy at the moment. She thinks she's pretty cool too, because when she gets to a standing position, she starts clapping for herself.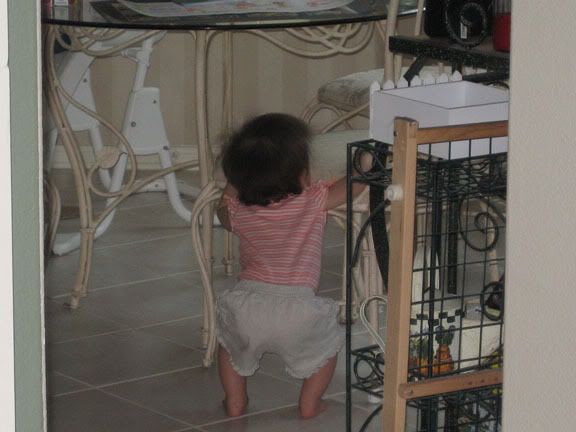 ---
5/23/06: Emma has mastered multi-tasking. She's using two toys at once, and shows how she really feels about Elmo's singing.
---
5/21/06: Kilroy who??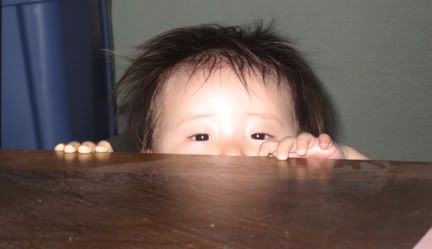 Yeah, dust. I know. Dusting became less of a priority since we came home from China.
---
5/20/06: FIRST BIRTHDAY PARTY! Today Emma had her first birthday party. It was an Elmo party, because...face it, he's one cool dude. She even had a giant Elmo balloon that sang Happy Birthday when you tapped on it. Emma loves that balloon!! I hope that it stays afloat so she can enjoy it tomorrow too.
We had a few family and friends over for some pizza and cake. It was lots of fun and Emma had her very own smash cake that she managed to demolish. She had icing in her hair, up her nose and in her ears and she screamed at me when I took the cake away from her. I think she liked it. Then we had to do a quick change to get out of the icing-encrusted clothes so we could open presents. She got some fun toys, some cute clothes, a dancing Elmo, some cute froggy boots and even a sweet little sunflower necklace (her Chinese name means Sunflower).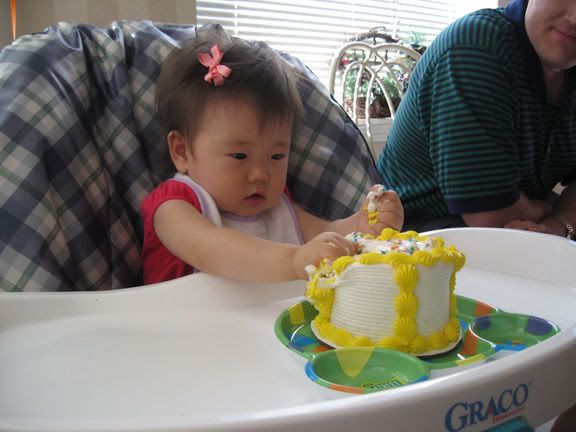 After our birthday guests went home, Emma had a bottle and was asleep in a matter of minutes. She was a tired little girl. All in all, it was a very fun day and once again, I find myself thinking about how blessed we really are.
---
5/19/06: Emma had her one-year visit with the pediatrician yesterday. She now weighs 19.3 lbs and is 30 inches tall. That's 75% on the height chart and she's up to 25% on the weight charts. The doctor was so pleased by her development that she said we can now start weaning her off of the formula and onto whole milk. She had four vaccinations yesterday and is feeling a bit cruddy today. Hopefully she'll be in good shape for her birthday party tomorrow!
---
5/16/06: I've made a new ticker above for year #2!! Only 364 days to go.
Well, we now officially have a crawler. Emma has decided that it's a blast to move around. She now prefers the traditional hands/knees crawling style. On her first birthday yesterday, we also had our first "boo boo". She decided to crawl from the rug to the hardwood floor and her knees went out on her and she smacked her lower lip into her teeth and cut her lip. It was terrible to see my baby bleeding! She cried for a few minutes and we stopped the bleeding quickly. After that, she was off to play again. I think it hurt me more than it hurt her. Now her lip is a tiny bit discolored, but I'm sure that'll clear up in a day or two. I've been informed by friends that this is "just the beginning". Thanks guys! Would it be wrong to wrap her in bubble wrap, just for a few years?
---
5/14/06: Happy First Birthday to our little sweetie.
Tomorrow is Emma's first birthday. It's a day full of happiness, but it's also a bit bittersweet. On this day we pray that her birth family has peace in their hearts and somehow know that she is healthy, safe and very much loved. We will make sure that the start of her second year is filled with many kisses, hugs and laughter. She has brought such joy to our hearts in the short three months that she's been with us and we hope that in the years to come, she will understand how she came to be part of our family. We are so blessed that we are able to share this special day in her life and hope she feels the love we have for her.
---
5/13/06: We have an "almost" crawler. Emma has decided that she's ready to start getting around. Instead of the traditional hand/knees crawling, she's invented her own style. She picks her rear end up and circles around. It's pretty effective. She also loves to walk around - as long as someone is holding her hands, she walks with assistance.
I got my first Mother's Day card from Emma. Look at those sweet little red hands!
Today we attended cousin Grace's fourth birthday party. It was fun! The big kids were having fun in the water. We dipped our feet in the pool and had princess cake. We even had fun trying out one of Grace's new toys. When we got home, she was out like a light. It's hard work to eat sugar and play!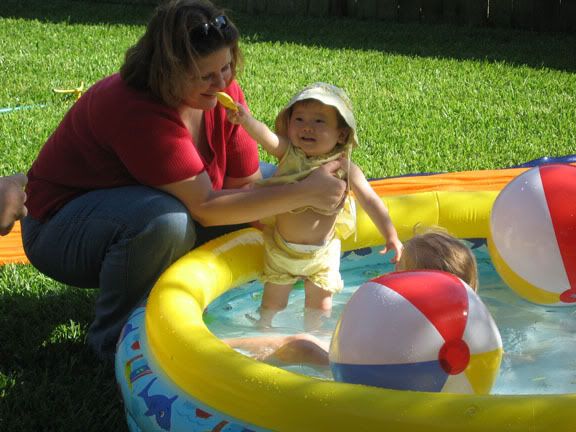 ---
5/07/06: Emma loves Abby! And Abby is such a good girl and tolerates the "love".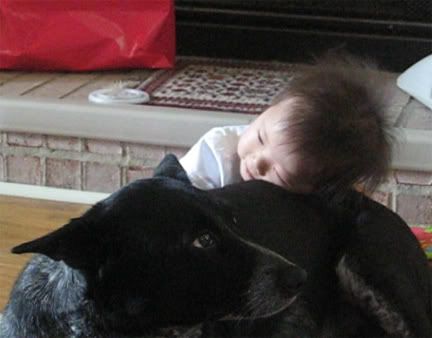 ---
4/30/06: This is something that Blaine's been waiting to do for a long time. Introduce his daughter to crawfish (much to my chagrin!!!). Emma still has to wait a while before eating any, but she looks facinated.
Isn't this the sweetest picture? Daddy and daughter feeding the birds.
---
4/25/06: Unfortunately I've had to remove the Guestbook from my website. It's being hit by spammers daily and I don't want my website associated with the "things" they are advertising. If I find one that is more secure, I'll put it back. Thank you so much to everyone who made an entry. I'm keeping a copy of it to put in Emma's book.
On a lighter note, here are a couple of pictures of Emma I took today. Isn't this the cutest outfit (Thank you Miss Krystalynn!!). Looks like she's ready for the beach!
---
4/16/06: I took my first of four quilting classes this past week. We are going to be piecing together a simple quilt block. The finished piece should be around 15" square. Using my photoshop skills, this is what I imagine the finished product will look like (hopefully!!).
I have counted the squares I've received for Emma's 100 Good Wishes quilt. I've gotten about 80 or so! There are some really cute fabrics. There's still time for anyone else who wants to send a square (but there's still no rush) and thanks to all that have sent them!!!
---
4/16/06: Happy Easter!!!!!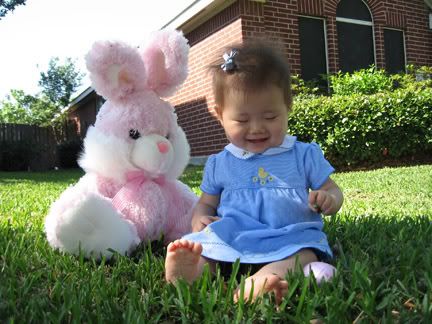 Looking so cute in my pink Easter dress.
---
4/11/06: She wore it for 5 seconds!! She looks great in a hat, but won't have any part of it.
---
4/05/06: A girl and her glitz! Emma is wearing a new bracelet from her friend Micki who brought it back all the way from New Mexico. Isn't it pretty?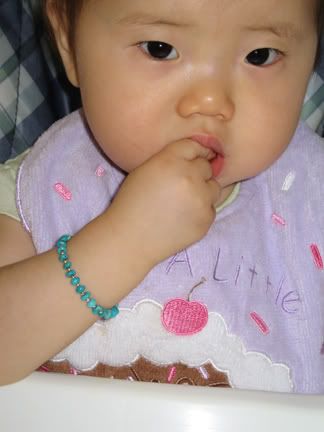 ---
4/04/06: Emma had her 9-month check up today. It was late because we're still trying to play catch-up with her vaccines and such. She weighs 17lbs and 10 oz (which is in the 10% for American kids) and is 29" tall (which is in the 75%). So looks like we're going to have a tall, skinny girl on our hands. The doctor was very pleased with her development. Emma wasn't too happy because she received two shots and a finger stick. She still has six teeth with no signs of any others showing up any time soon.
---
4/02/06: We're back home now. Emma did so well on the trip back home. She took a short nap after enjoying a Sunday brunch then entertained us the whole way home by singing. If you are wondering what her favorite songs are, they consist of the sounds "ba ba ba ba, ya ya ya ya, mmmmmmmm, nyum nyum nyum, ma ma ma ma" and no, there has been no "da da da da" yet, much to the disappointment of daddy!
Here are the pictures I promised. Look who was waiting for Emma at Mawmaw's house! Emma was so excited to see Elmo....in person!!
Here's Emma with Mawmaw and tons of toys. In case you didn't hear...Emma wearing the LSU dress didn't help the LSU basketball team in the Final Four. Oh well, we did our part!
Now where did I put that Cheerio?? A chin is always a good place to save your cheerios!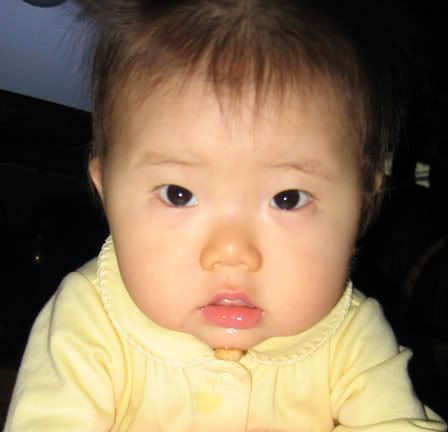 ---
4/01/06: Happy Birthday to TWO MUTTS webpage. I made my first post one year ago today. What a difference a year makes!
This weekend Emma got to meet her Mawmaw and Uncle Lyle in Louisiana. They've had lots of fun playing together. Yesterday Mawmaw bought her the entire spring/summer collection from the Carter's outlet and today we went to the Farmer's Market. Emma loved watching all of the dogs go by. She's wearing her LSU dress again, in hopes that it brings luck to the LSU team playing in the Final Four tonight!!
As far as traveling, Emma cried her way through half of the trip, then we stopped for dinner where she was watching what everyone else was eating and talking about, then got back in the car, had a bottle and she slept the rest of the way. I'd update with pictures, but I forgot the camera cord to download pictures. I'll get to it next week.
---
3/28/06: What would your ideal home office be like? I never dreamed this would be mine. Emma makes a great assistant. She plays her loudest, noisiest toys when I'm on the phone and she's is always trying to find a way to punch the keys on the keyboard, just like mommy. Notice the beautiful desk in the background. That's being used as the changing table. Ahhhh, life is good!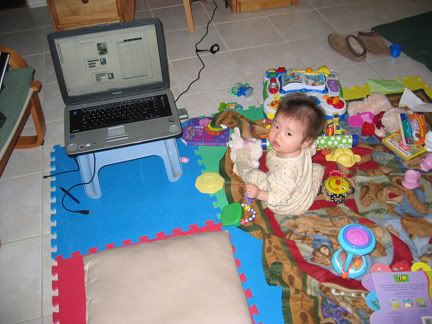 ---
3/27/06: Today Emma received a very special present in the mail today. It was from someone we have never even met. They are friends of my Aunt and Uncle who live in Virginia and they have been following "Emma's Story" online. They sent Emma the sweetest little Easter dress. Now, I've been looking for a dress for her for Easter and never found one that I really loved. Then we get the perfect dress in the mail. Isn't this the sweetest dress? Thank you so much Paulette and Jack. That was so nice of you. I'll upload pictures of Emma in the dress after Easter.
Also included in the package was a little "My First Easter" bib and a bunny rattle, which Emma's been having so much fun with. Thanks Aunt Ginny for forwarding the package to us!!!
---
3/25/06: Today we went to take pictures in the bluebonnet fields. Emma loved the flowers and even attempted to eat them. I guess that's what you get when you teach her how to feed herself. She was wearing her LSU dress in honor of the LSU basketball team playing today and it also matched the bluebonnets!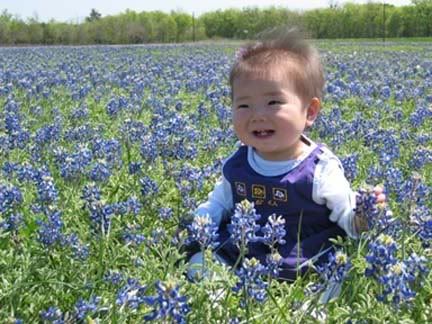 ---
3/24/06: I'm attempting to archive some of my website, so the home page isn't as long. The posts from April 2005 through February 2006 can be viewed on the "Archive" button on the left.
---
3/23/06: Emma says "Hi Aunt Marion & Uncle Douglas. I got your card!!"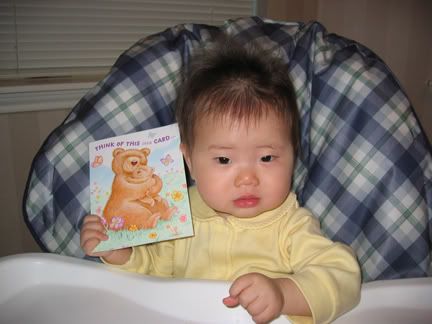 ---
3/21/06: Yesterday we went for Emma's physical and occupational therapy evaulations. It went fairly well and they were mostly pleased with her development so far. The things we need to work on are rolling over (which she does sometimes), feeding herself (which she hasn't done) and getting used to being on her tummy. Other than that, they say most of her motor skills are at the 11 month old range. They were suprised at her size. They say most Chinese girls they see are much smaller.
So after screaming and having a major temper tantrum last night at dinner, here's what happened at breakfast this morning (see video below). Now, she only got a cheerio in her mouth about every five minutes or so, but we're working on it.
Click here for the video.
---
3/20/06: I think she's ready to be a super model!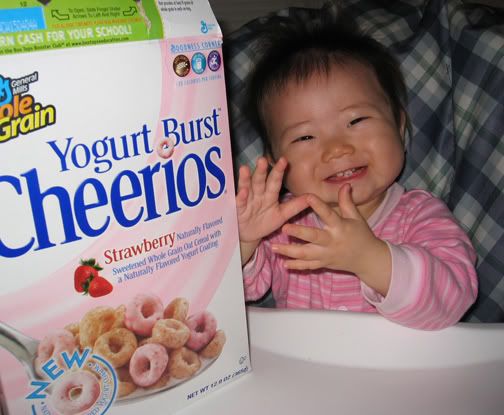 ---
3/19/06: Guess who is the latest favorite celebrity in Emma's World? One hint. He's a hairy red mop who hangs out in the "street" with a big yellow bird and a grouchy green mop. She starts laughing and giggling whenever he's on tv.
---
3/17/06: Emma is getting love letters from boys already! She got this Valentine's Day card from her friends Nattie & Ian in Dallas. Sorry Melissa. Gonna have to nip this one in the bud. I'm keeping your boys far far away from my little girl!!!!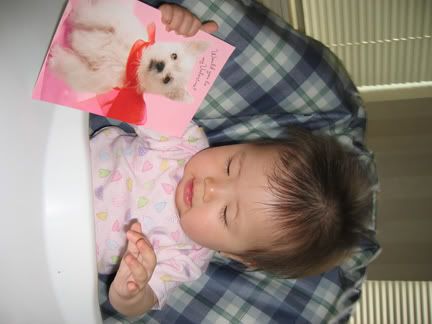 ---
3/07/06: I learned a very valuable lesson today. Blaine bought me an awesome diaper backpack for Christmas, and we traveled all over China with it. It's wonderful. You can fit so much stuff in there. I have everything in there...bottles, cheerios, gerber fruit stars, burp cloth, bibs, baby spoons, toys, even an extra set of clothes for Emma. One thing I forgot....to put extra diapers in there when they get used. Today we visited the adoption agency so Emma could meet the ladies there. I had changed her after our lunch date with Daddy (so she'd be nice and fresh for the agency visit). By the time I got there, it was obvious she needed changing again. So we said a quick "hello" and I went to the restroom to change her. Uh oh!! No more diapers!!!!! Thank goodness, it was contained by the diaper and wasn't too smelly. So we made the visit short and sweet and made a quick stop at the drugstore for some extra diapers.
---
3/06/06: How time flies! Yesterday was our one-month mark for when we met Emma and today was her first post-placement visit by the social worker (and today is also the one-month anniversary of her adoption day!). The social worker's visit went really well. Emma was in a great mood and was smiling, squealing and letting herself be known through the entire visit. Our SW asked us about her eating and sleeping habits and how she (and we) are adapting to our new life. The visit was short, but went very well. It's amazing how much Emma has changed in just four weeks. From a mad little confused baby to a happy little girl who has such a sparkle in her eyes.
Tonight we ate at a restaurant and a gentleman came up to us and said that they were "waiting" for their granddaughter from China and he wanted to come and tell us how beautiful Emma was. I still forget how obvious it is that she's adopted.
---
3/01/06: Emma's first doctor's visit was monday. We visited the international adoption specialist for a variety of tests. First thing that happened is she got weighed. We were suprised to find out she weighed just under 16lbs, because in China weeks earlier, they said she weighed 16.8lbs. and we know she hasn't lost any weight since then. Next, she got a couple of vaccinations we know she did not receive in China (which she let us know she did not like). We talked with the doctor for a while and she was pleased with Emma's development, except for the not crawling thing. Emma gets very upset when you place her on her tummy. She doesn't know what to do with her arms or legs. She does hold her head up, but even though we've been working with her on it, she hasn't made any progress. The doctor suggested that we contact Early Intervention to see if she qualifies for their program. It's not something that will be detrimental if she never learns to crawl, but they want her to get checked out anyway.
After chatting with the doctor, we went to get bloodwork done. That was quite an experience. I had to hold her around her chest with one arm and brace her head with the other, so she wouldn't move. It took quite a while for them to get the amount of blood they needed for the number of tests they want to run and she screamed and turned beet red during the whole thing. After it was over, everything was fine with the world according to Emma. However, everyone in the waiting room was looking at us when we left the lab. I guess they didn't think such a little thing could make such a racket.
Congratulations to Brooke & Kendra who received referrals for their beautiful daughters this week. Their journey of a lifetime is just about to begin. Hold on girls, it's a wonderful ride!!!