Welcome to our adoption website. This is so friends and family can keep up with us during our amazing journey to adopt a baby from China. We traveled to China in February 2006 to bring our daughter Emma home. Our travel journals are archived in the drop-down box under the web buttons. This website continues so Emma's family and friends can continue checking out her progress and daily adventures.
---
3/22/2013: Spring break has come and gone. We worked most of the week, but took a couple days off to have an extra long weekend. We made our way up north so Emma could visit her China Sisters. We mostly hung around the house and let the girls play. Emma walked into their house and it was like old times. She loves her sisters!
We went to the fancy new museum downtown. The teenaged boy in this picture is Tom. He's the son of Nelson, who was our guide in China. He's attending college nearby and joined us for a few days.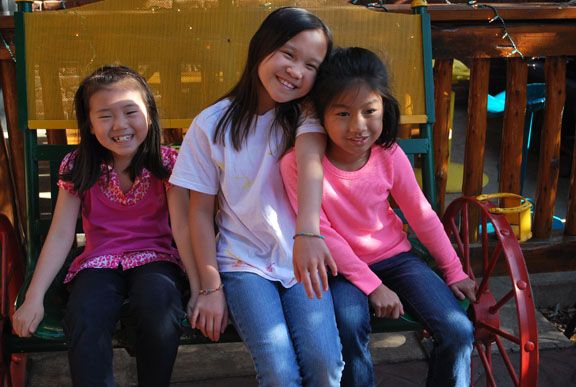 There was lots of swimming. April took a watermelon, brushed on some olive oil, then threw it into the pool. The girl who could get it to the side of the pool first, got the first slice. They loved it.
The three youngest waiting for the watermelon to be tossed.
Although it looks like the watermelon is about to land on their heads, it wasn't anywhere close.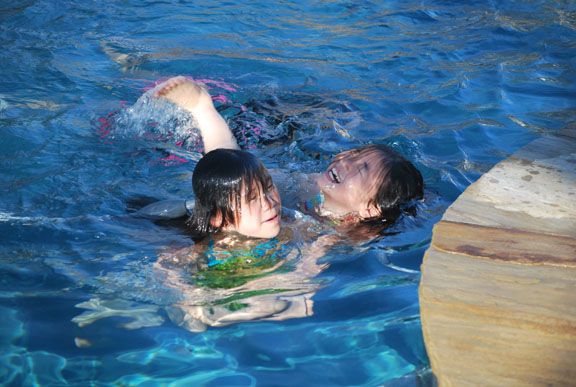 Love these girls and the opportunity for Emma to spend time with a family that was formed like ours was.
Last weekend we spent some time at the rainforest and aquarium. The monkeys were very friendly and came quite close to the visitors.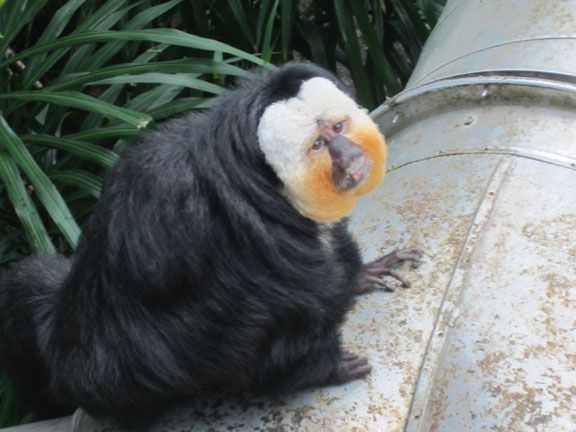 Ms. TKD
---
2/15/2013: I've been informed I have been neglecting my blog duties, so here you are!
February: Yea! I've caught up. This past week was belt testing again. Emma tested for her orange belt on Friday. We cheated and looked on the website and saw that she has been promoted. Whoo hoo!! (ETA: She got her orange belt and ANOTHER RED STRIPE!!!) We go for the award ceremony this coming week. I didn't have a very good position to take photos, so here are the best I have.
Through the mirror.
Afterwards, we were rewarded by a demonstration by a 6th degree black belt. Mr. McCoy was awesome!
We had some friends from Canada come to visit for a couple of weeks. They were loving the weather here and were in no rush to get back to the snow. We managed to catch a lame Mardi Gras parade while they were here. Wasn't much to see, but it was nice to be outside.
Emma met a cute little pup while we waited.
January: Back to work and school after a nice Christmas break. We finally went to the new pier and took advantage of the half price special going on in January. It was so much fun until that last spin on the tea cup ride. My stomach wasn't too happy after that.
My self-portrait.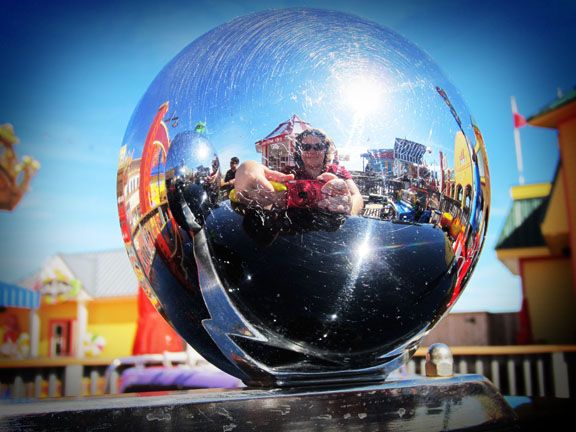 My. Little. Pony has been a huge hit here lately, so when we found an airbrush tattoo of one, she was so excited. It actually lasted a whole week so she got to show her friends at school too.